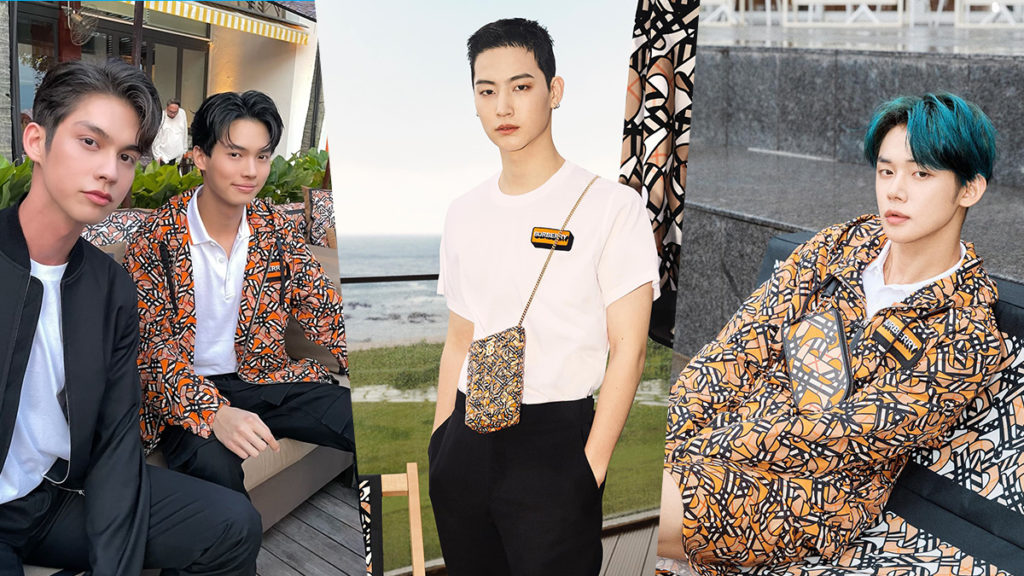 Heavily focused on the Asian market, legacy British brand Burberry continues to strengthen their links with the continent. Following the Lola Bag craze among Asian stars, Burberry is now celebrating their TB Summer Monogram collection with takeovers in worldwide holiday destinations. After collaborating with Ananti Cove in South Korea, Burberry has taken the immersive experience to Tanjong Beach Club in Singapore. Naturally, with Burberry's A-list of house friends, the events have turned into star-studded affairs.
TB Summer Monogram
In July 2020, Burberry's Creative Director Riccardo Tisci introduced a reiteration of the TB Burberry monogram of his own design. Titled "TB Summer Monogram," the design featured bold interlocked TB initials—in honor of the house's founder Thomas Burberry—merged with the brand's check pattern. Since then, Burberry has released TB Summer Monogram collections every year with stars such as Kendall Jenner and Naomi Campbell fronting the campaigns.
This year, the TB Summer Monogram campaign stars the supermodel Gisele Bündchen and features a variety of pieces for women and men. However, the real highlight is the journey across the world Burberry is making to promote the collection. From customized spaces in holiday locations to striking pop-up stores, the British brand is beating on the seaside resort trend and the tour has strategically landed in Asian cities including Busan and Sentosa.
Burberry at Ananti Cove
On July 7, 2022, Burberry inaugurated a pop-up shop and unveiled their resort takeover of the Ananti Cove Hotel in Busan, South Korea. In addition to adorned sunbeds, seat cushions, parasols, and even a floating circular pontoon within one of the four hotel pools, Burberry also built a lounge offering drinks and snacks created by Chef Laubenuit.
Turning up to the event were a bevy of stars including actors Wi Ha Jun, Mun Ka Young, and K-pop stars Mingyu, Yeonjun, and more. Take a closer look at the impressive guest list attending the launch of Burberry's Ananti Cove immersive experience below:
SEVENTEEN's Mingyu & The8
Often tapped by fashion brands for social media endorsements, SEVENTEEN's Mingyu is a regular fixture at fashion events. The singer joined the launch of the TB Summer Monogram pop-up alongside his equally stylish bandmate, The8.
Wi Hajun & Mun Ka Young
Squid Game star Wi Ha Jun and True Beauty leading lady Mun Ka Young were spotted flaunting major fashion prowess in Busan. The famous actors keep close ties with the British house and, in addition to endorsing the brand through Instagram posts, they recently fronted the cover of DAZED Korea dressed in full Burberry looks.
Red Velvet's Yeri
Member of K-pop group Red Velvet, Yeri maintains strong links to several fashion houses, so evidently, she was present at the unveiling of the Ananti Cove takeover. The singer rocked the athleisure trend effortlessly, dressed in a black swimsuit, jacquard cardigan, and printed shorts.
GOT7's JAY B
Fresh off GOT7's stellar return, JAY B has proven to be a coveted star for fashion brands. Event after event, the idol keeps building up his friendship with several luxury labels. One of them is Burberry, with whom JAY B has collaborated for magazine photoshoots, events, and brand endorsements on social media.
TXT's Yeonjun
TOMORROW X TOGETHER member Yeonjun continues to fire up excitement with his fashion adventures. The singer is no doubt one of K-pop's most prominent Burberry friends and proved his style chops by wearing a black tank top and logomania items from the brand's TB Summer collection. From dabbling in the world of design as guest Creative Director of Privé Alliance to racking up more than 1.5 million likes on a single Instagram post on Burberry's feed, he undoubtedly is one to keep an eye on.
In addition, celebrities such as actress and former After School member, Nana, SF9's Rowoon, (G)I-DLE's MINNIE, and actress Seol In-ah also attended the event. The Korean stars channeled the collection's summer aesthetics dressed in items such as nylon tops, printed shorts, and logo appliqué hoodies.
Burberry at Tanjong Beach Club
Celebrating summer on July 14, Burberry took its TB Summer Monogram collection to Tanjong Beach Club in Sentosa, Singapore. Following previous iterations in Saint-Tropez and Busan, the fashion powerhouse transformed Tanjong Beach Club into a bespoke space.
As one might expect, several celebrities from the Asia-Pacific region gathered for the occasion. The Thai TV icons Win Metawin and Bright, in particular, raised high expectations and generated online conversation even prior to their airport departure to Singapore. Ahead, check out the celebrities that graced Burberry's takeover of Tanjong Beach Club:
Win Metawin and Bright
Following his attendance at Milan Fashion Week—where he reaped major feats—Thai heartthrob Win Metawin was spotted traveling to Singapore. As a brand favorite, the actor has previously endorsed Burberry's Lola Bag and participated in several fashion events including Louis Vuitton's destination show in May. Needless to say, his attendance at Burberry's TB Monogram launch guaranteed a social media frenzy.
Likewise, fresh off his activities as Adidas brand ambassador during the Manchester United FC visit to Thailand, actor Bright headed to Sentosa. The star, who has become the King of Endorsements in his home country, was spotted wearing a full Burberry look at his arrival at Changi Airport. Large crowds gathered to receive him and his fellow Thai stars Win Metawin, Gulf Kanawut, and Bow Maylada.
Bow Maylada and Gulf Kanawut
With fashion resumes that include endorsements for brands such as Gucci, Prada, and Coach, Bow Maylada and Gulf Kanawut were obviously on the VIP list for Burberry's event. The Thai stars made waves with their departure to Singapore, dressed in coordinated looks, and continued to show off their flawless style through social media posts.
Raisa
Indonesian singer Raisa was another celebrity invited to the star-studded cocktail party. Raisa, who is a well-known figure in Asia, had previously attended the opening of a pop-up store in her country and modeled several looks from Burberry's TB summer collection.
Chau Bui
Model and fashion influencer, Bui, who made it to Forbes 30 Under 30 Asia list in 2021, represented Vietnam at Burberry's TB Summer Monogram launch. One of the most stylish personalities in attendance, Chau Bui joined the logomania dressed in a printed silk shirt, matched with wide-leg pants, a crop top, and a Lola Bag.
Burberry's Asian Takeover
Last year, Burberry recorded a 22% growth in sales in Asia alone. With the continent's robust market, it only makes sense the luxury brand is focused on fortifying its presence in countries like Korea, China, and Thailand. Events such as the star-studded TB Summer Monogram tour are proof of it, but additionally, Burberry is making major moves toward an Asian fashion takeover.
If Burberry's A-list of Asian house friends and brand ambassadors is anything to go by, we can surely look forward to more of the British brand's future endeavors in the continent.
Interested in more fashion coverage? Recap the best celebrity sightings of Men's and Couture Fashion Week here.