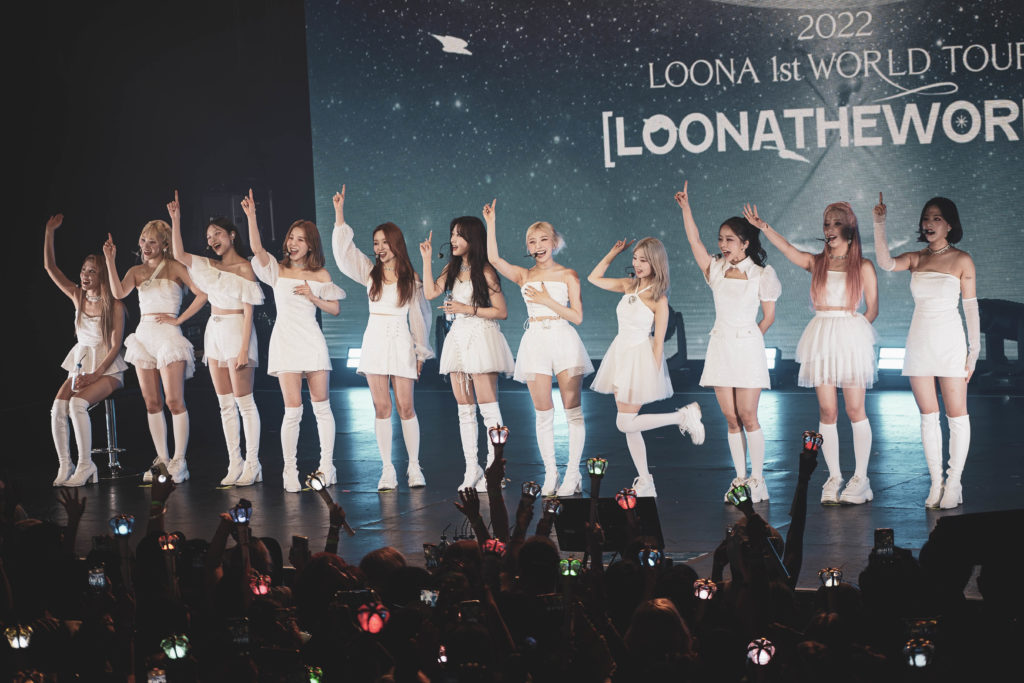 As stop nine in their first-ever world tour "LOONATHEWORLD," twelve-member girl group LOONA took to the stage at Palladium Times Square in New York on August 19th.
The fans named "orbits"- were clearly excited to see them in person for the first time, singing along with their songs before the show started and turning their lightsticks (aptly named Orbit-bongs) to the signature color of their favorite member, lighting up the venue in a sea of rainbow colors.
It was a sentiment echoed by the girls themselves. Members Heejin, Hyunjin, Haseul, Yeojin, Vivi, Kim Lip, Jinsoul, Choerry, Yves, Gowon, and Olivia Hye took every opportunity to thank the crowd for coming out to see them and express how excited they were to finally perform in front of fans. Vocalist Chuu was not present for this tour due to scheduling conflicts, but LOONA made sure to fill her shoes, having her parts covered by leader Haseul.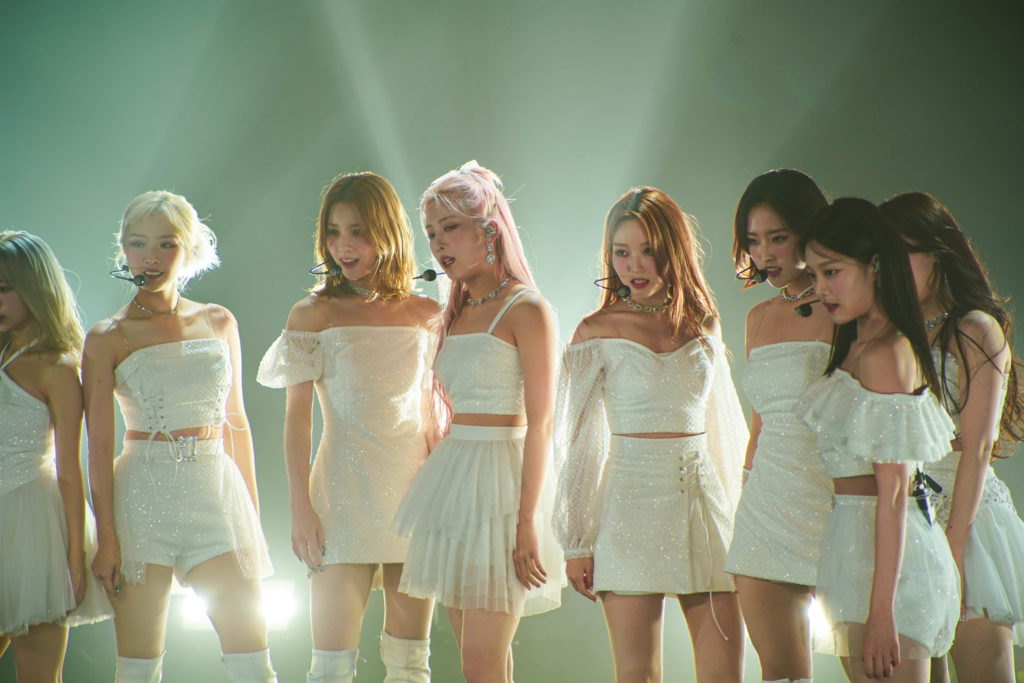 (Hi) High Energy
If there's one thing LOONA's concert didn't lack, it was energy. From both the crowd and the members themselves, there wasn't a silent moment the entire night.
The group came out swinging, opening the show with 2020's bold and intense "So What," donning bright and sparkling white outfits. With the audience sufficiently hyped up, they flowed into the slower, tropical house b-side "Heat" and the energetic retro song "Star," proving they don't need the bombastic girl crush sound to keep spirits high.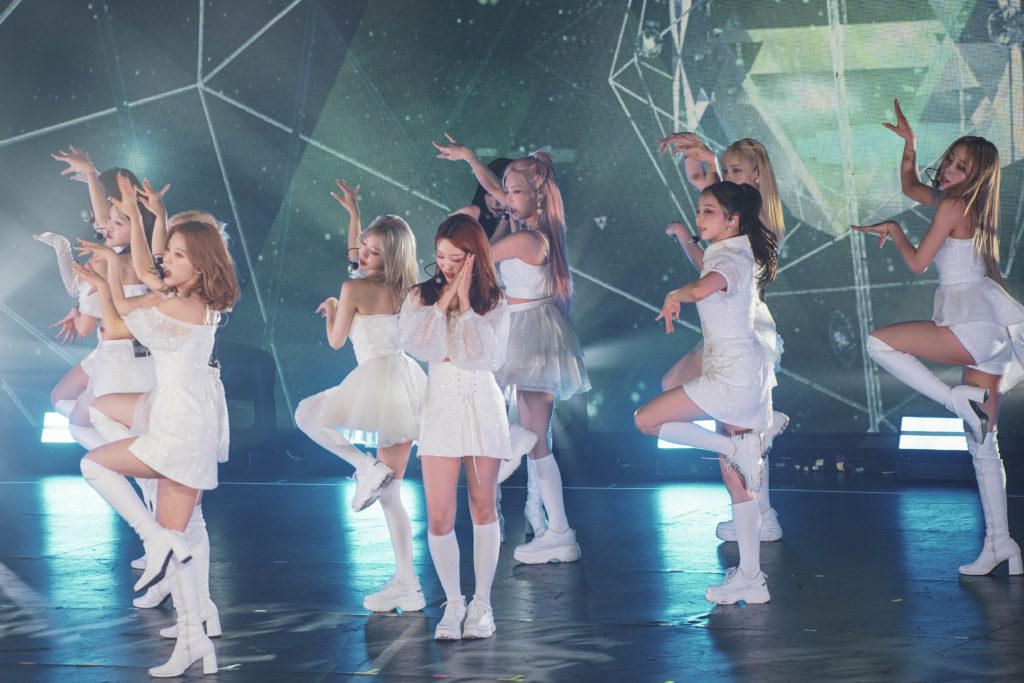 After a quick pause to greet the audience, they moved on to one of their more recognizable songs: 2019's hit "Butterfly," a song that cemented LOONA as dedicated and talented performers with a complex choreography that they perform with ease. Yeojin even mentioned that the group especially loves "Butterfly," so seeing the crowd's energy during that performance makes it even more special to them.
Different Colors of LOONA
LOONA debuted by introducing members in three separate units before debuting altogether. Since sub-units are such a key part of LOONA's history as a group, a portion of the concert was dedicated to a performance by each unit.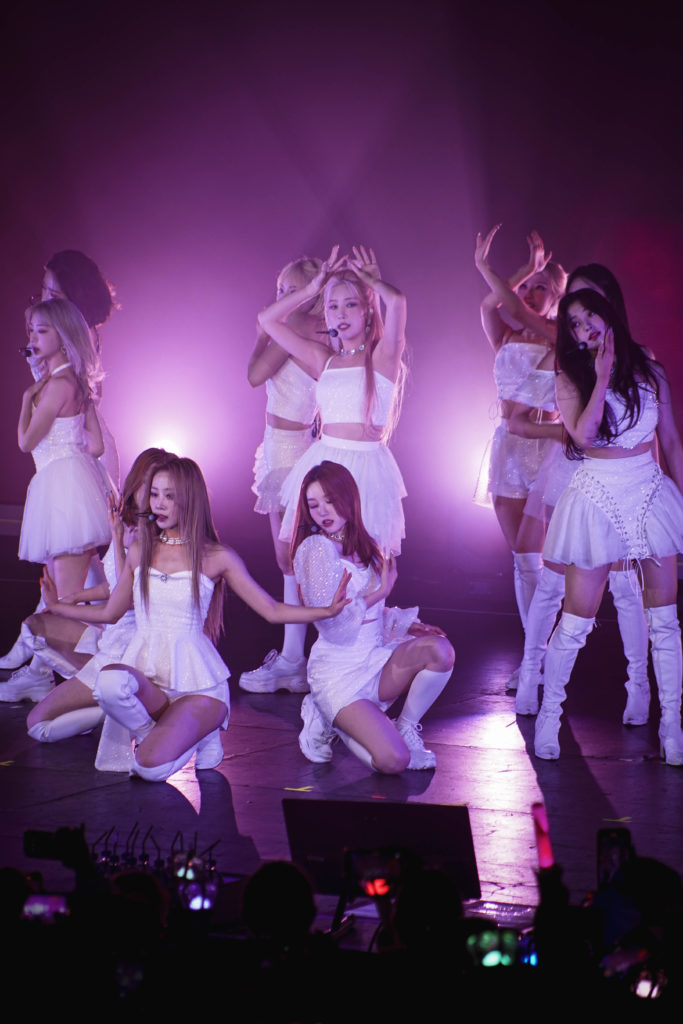 Before performing, the members took some time to explain that each unit has a different color, which makes each of them charming in their own way. Haseul described LOONA 1/3 as "beautiful", Kim Lip said Odd Eye Circle's charming point was being "sexy," while Olivia Hye said that yyxy's was "scary."
They then turned to the crowd to ask their opinion on the units' charming points, but were met with loud cheers of "everything!"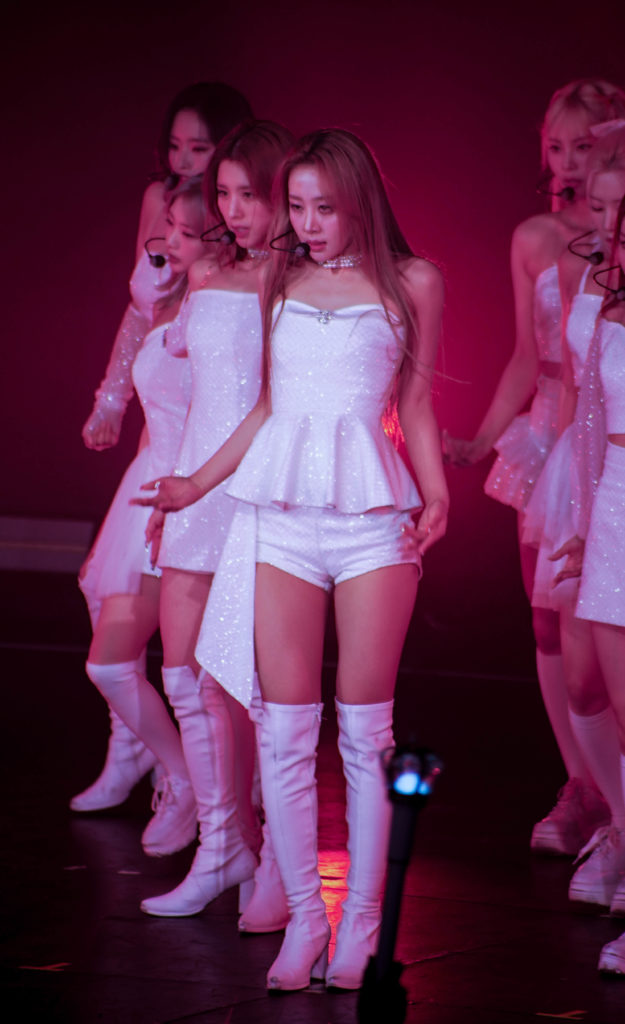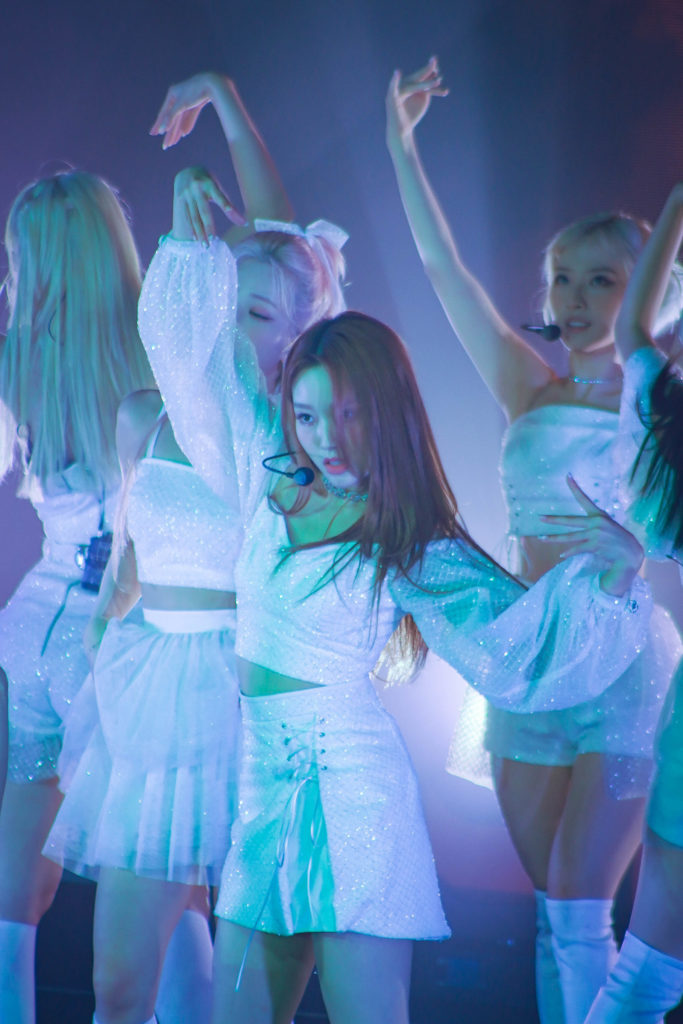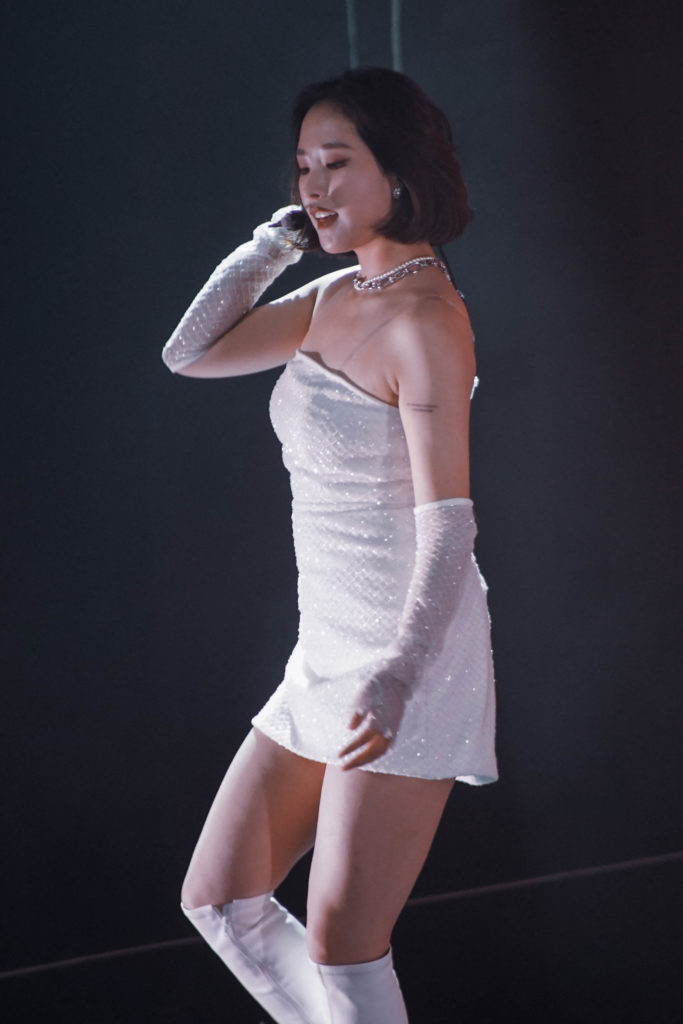 Each unit performed one of their songs. Yves, Gowon, and Olivia Hye sang yyxy's dreamy ballad "one way," after which Heejin, Hyunjin, Haseul, and Vivi took on 1/3's upbeat "You and Me Together."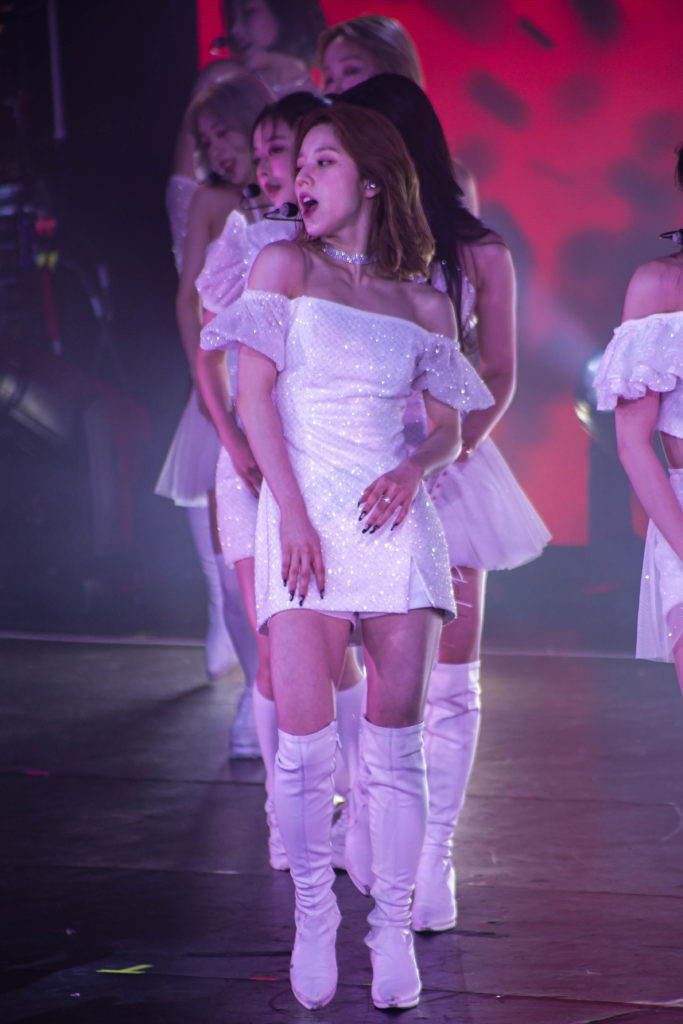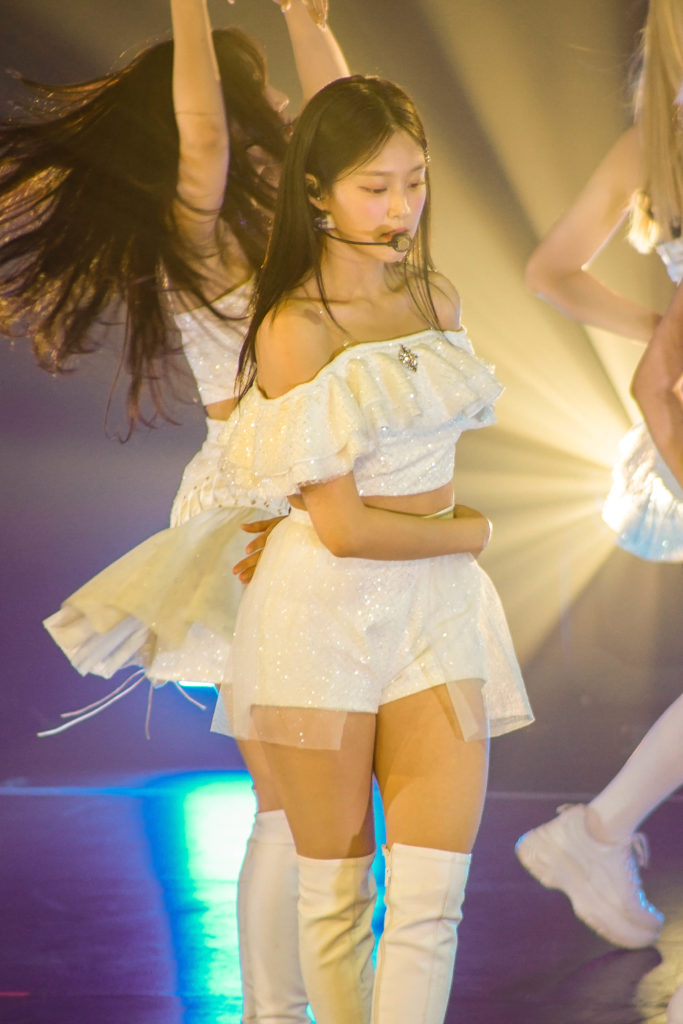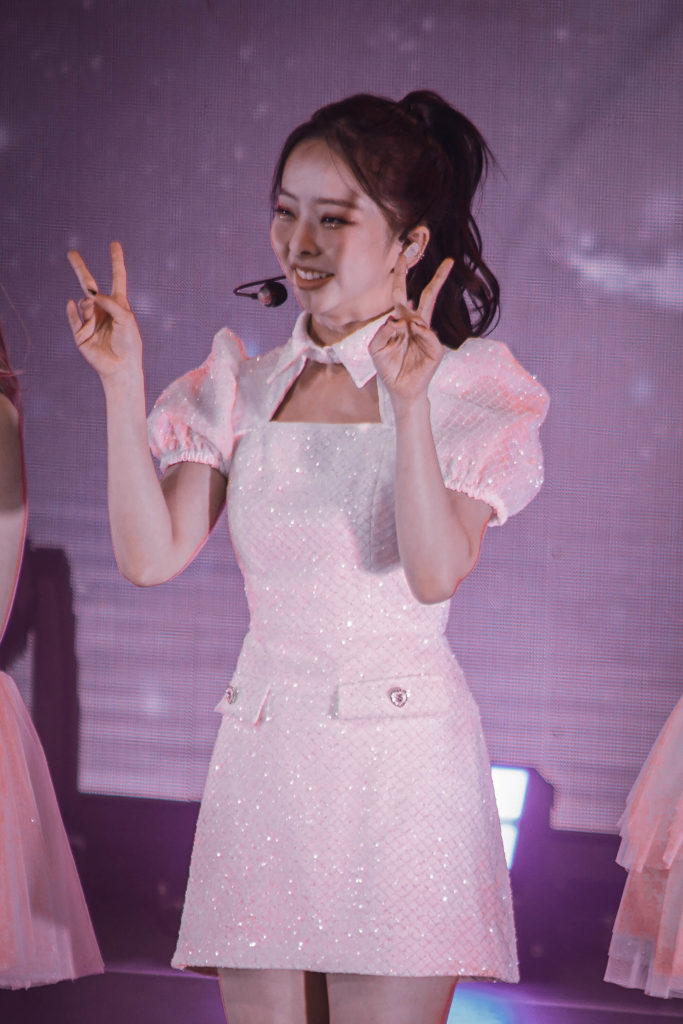 Haseul and Yeojin then took to the stage to sing "My Melody," ending the song with arms wrapped around each other.
Finally, Kim Lip, Jinsoul, and Choerry performed the English version of Odd Eye Circle's "LOONATIC." Kim Lip and Jinsoul performed from staircases to the side of the venue, surprising fans that had been standing further back from the stage.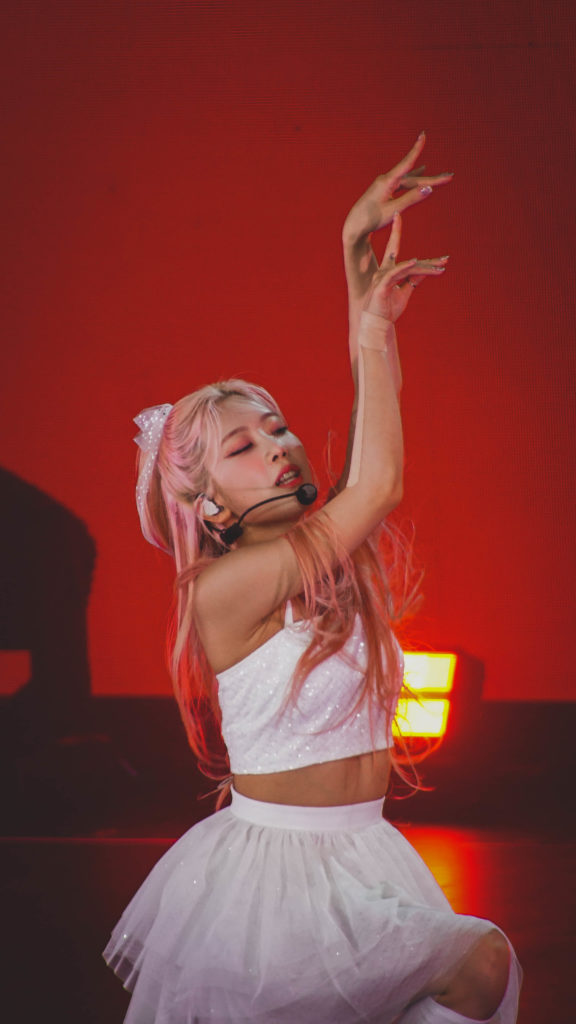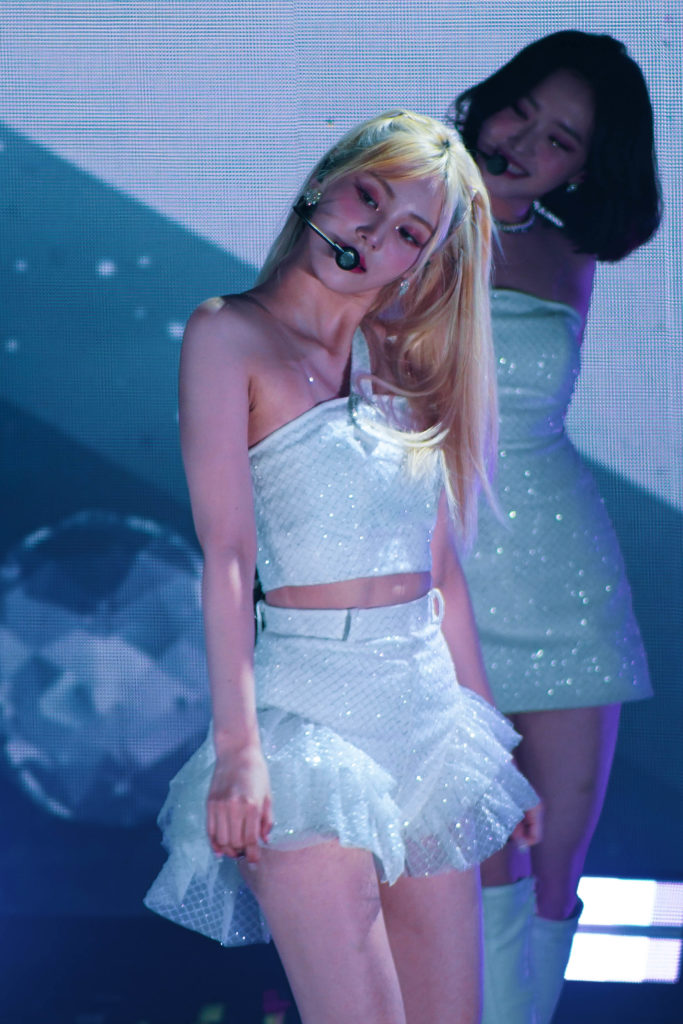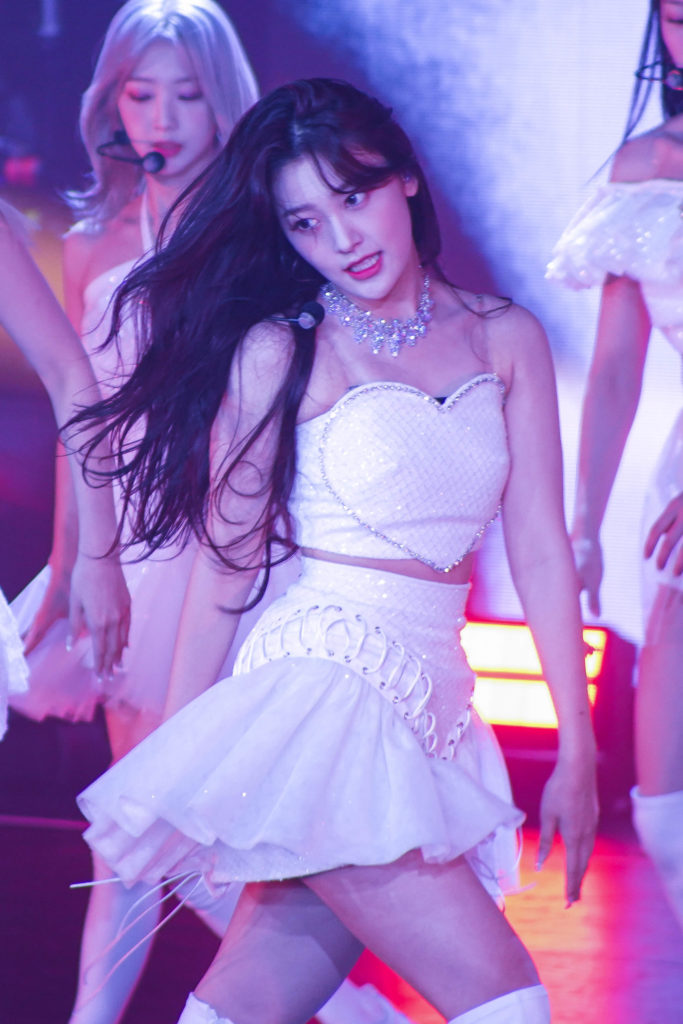 Much like fellow girl groups Red Velvet, TWICE, and IZ*ONE, each member of LOONA has a corresponding color. During group performances, most lightsticks were set to the color of the fan's favorite member. But for each subunit, fans changed their lightsticks to the colors of the members performing, changing from a colorful rainbow to a sea of green and orange, in the example of Haseul and Yeojin's song.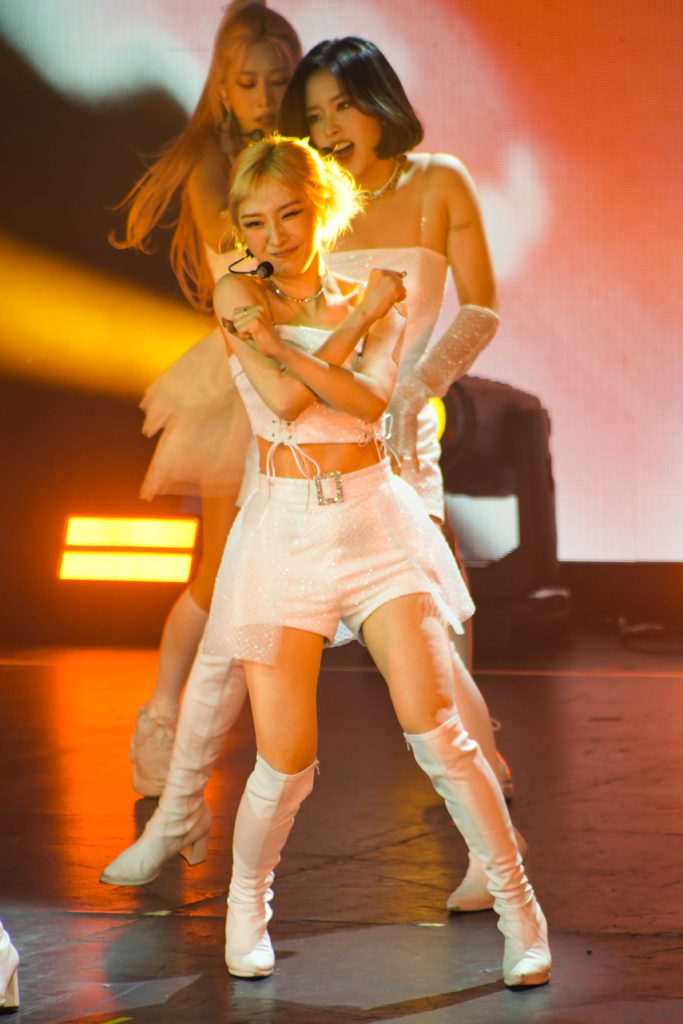 LOONA's Got Talent
Interspersed between songs, and to give members time for outfit changes, were pre-recorded VCRs of a mini show called "LOONA's Got Talent," where members took the time to show off their other talents, like bottle-flipping, ventriloquism (featuring GoWon's "little sister," GoTwo), or opera singing.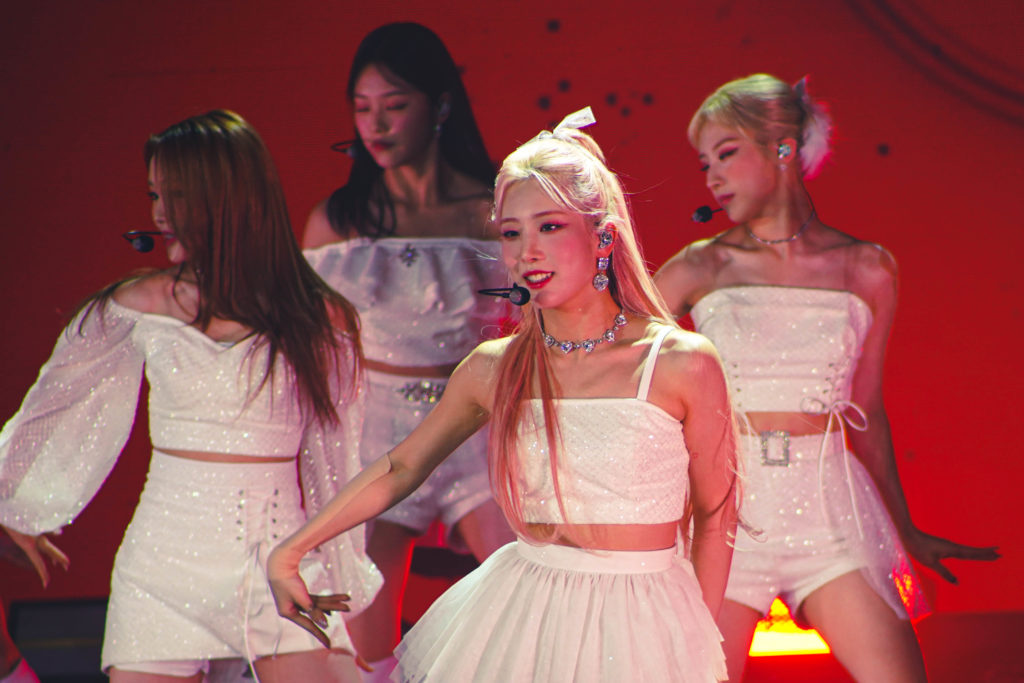 After part one of "LGT," they changed into hot pink and black outfits, and went on to perform fan favorites "Stylish," and "Pale Blue Dot," along with all-English b-side "Dance On My Own" and most recent title track "Flip That," a bright and refreshing take on UK house.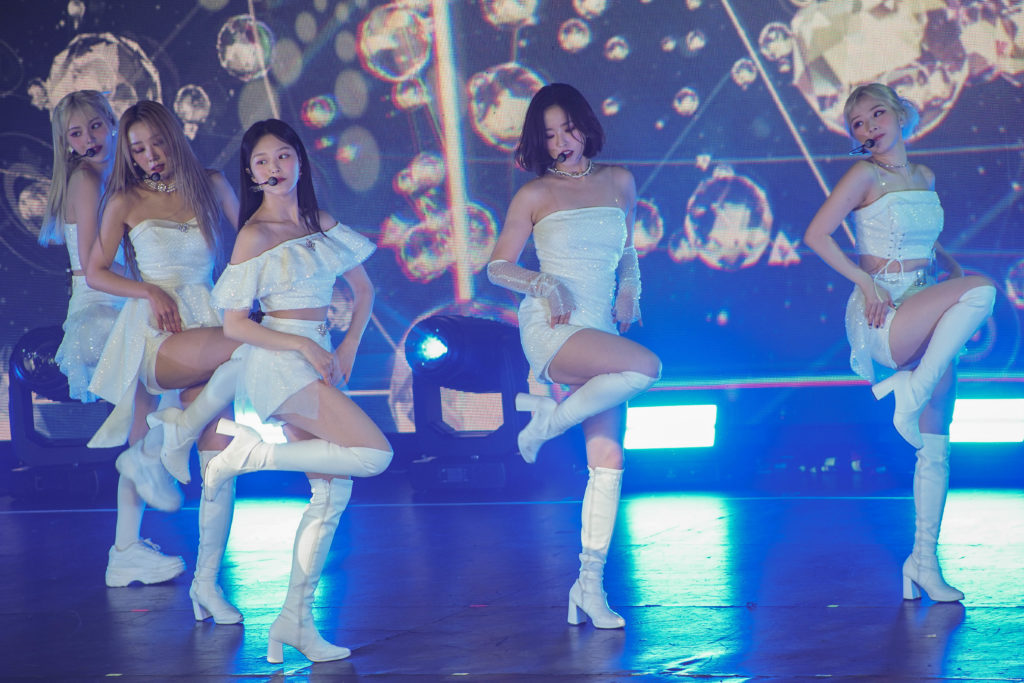 After part two was a second outfit change, into black, red, and gold marching band-inspired looks. This segment really drove home LOONA's skill and energy in performing, with slick, synchronized choreography and addicting vocals. They blazed through the up-tempo and empowering "WOW," into "POSE," a track from their time on Queendom 2, where they placed second. They then went into the last two tracks of the set, 2021's "Why Not?," an infectiously poppy song that had even security bopping along, and the explosive 2021 title track "PTT (Paint The Town)."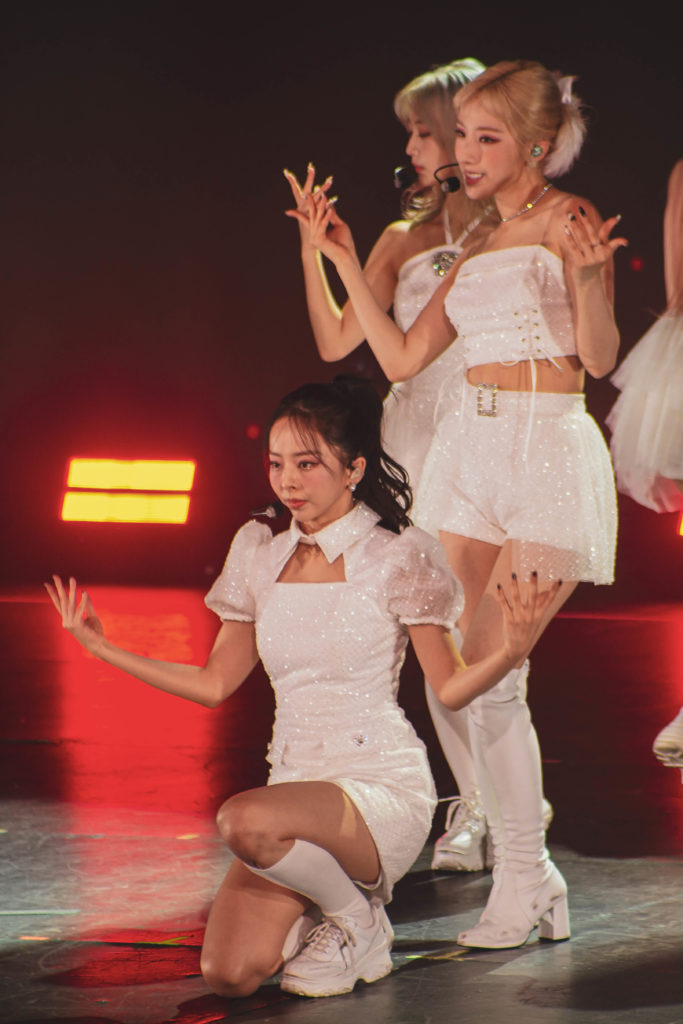 Stan LOONA
Although not quite as large as fellow girl group fandoms like ONCEs or Blinks in number, Orbits definitely rival them in passion. Lined up since the early hours of the morning, carrying lightsticks, and dressed in replica outfits from LOONA music videos, it would be clear to even the newest fan that Orbits are a dedicated group. But it became evident throughout the show that this love was not one-sided. As much as Orbits adored LOONA, the adoration was returned ten-fold.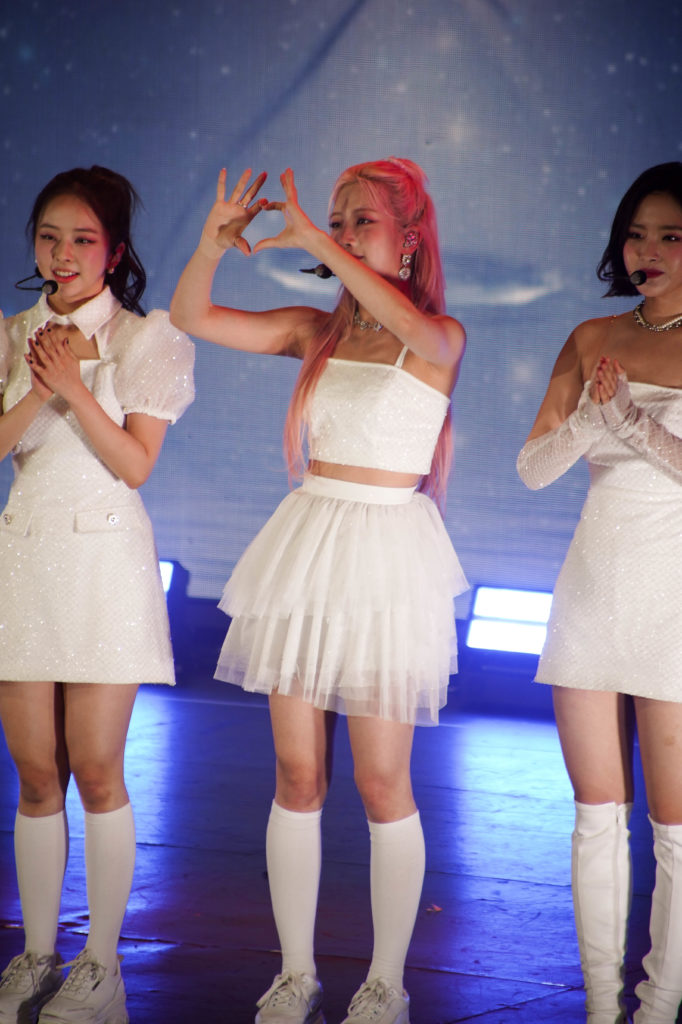 In between songs, LOONA would stand and chat to the audience, talking about how excited they were to be performing in New York City, and how happy they were to see Orbits in person.
Yves, who hadn't been feeling well prior to the show and had to spend any time not performing in a chair, said that although she hadn't felt well, the cheers from the crowd made her feel much better and gave her the energy to perform. Haseul told the crowd that the venue had been so cold while rehearsing, but was now warm due to Orbit's passion.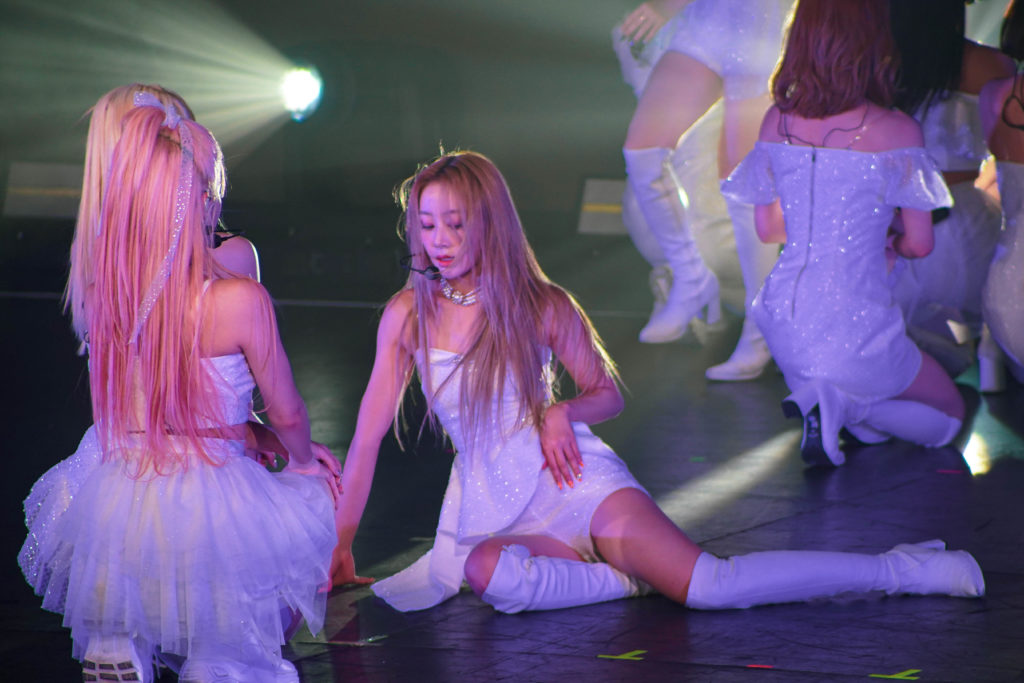 Each member made a point to thank fans for coming and to emphasize how they couldn't wait to come back and perform for Orbits again.
They also included one last segment of the VCR before their encore, with personalized messages from each member that were both recorded, and handwritten for fans. During this VCR, fans lit up the venue with the color of each member, further showing their love for LOONA.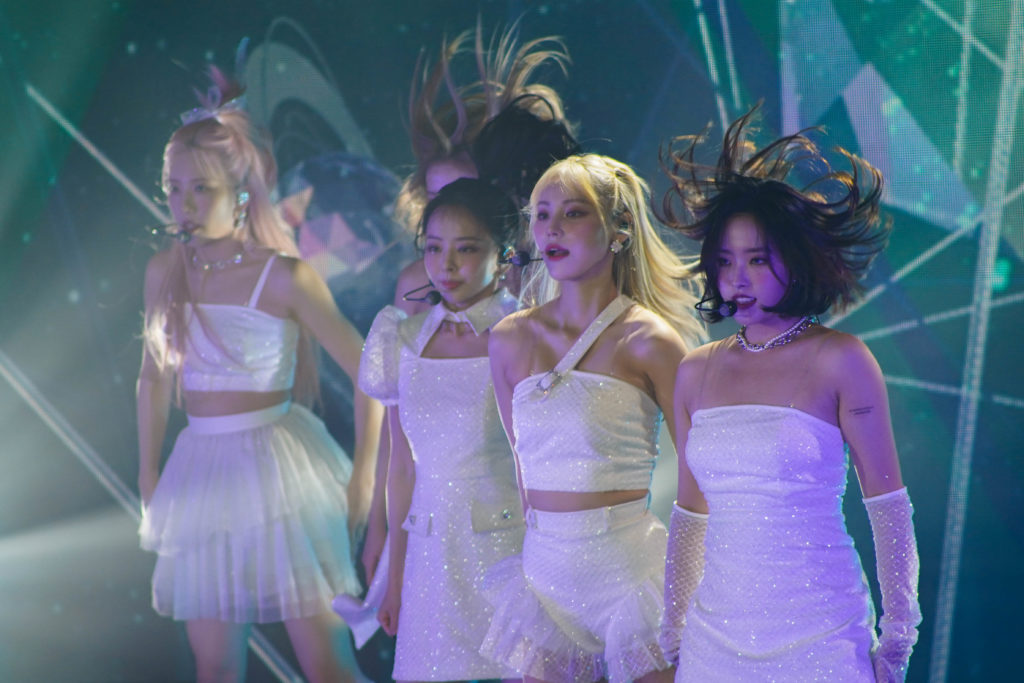 Cheers to Four Years
Although they said "Paint The Town" would be their last song, every concert has to have an encore. They came back out on the stage for two last songs- the mid-tempo song "Playback," where members took the time to interact with the audience, picking up signs and taking selfies with fans' phones.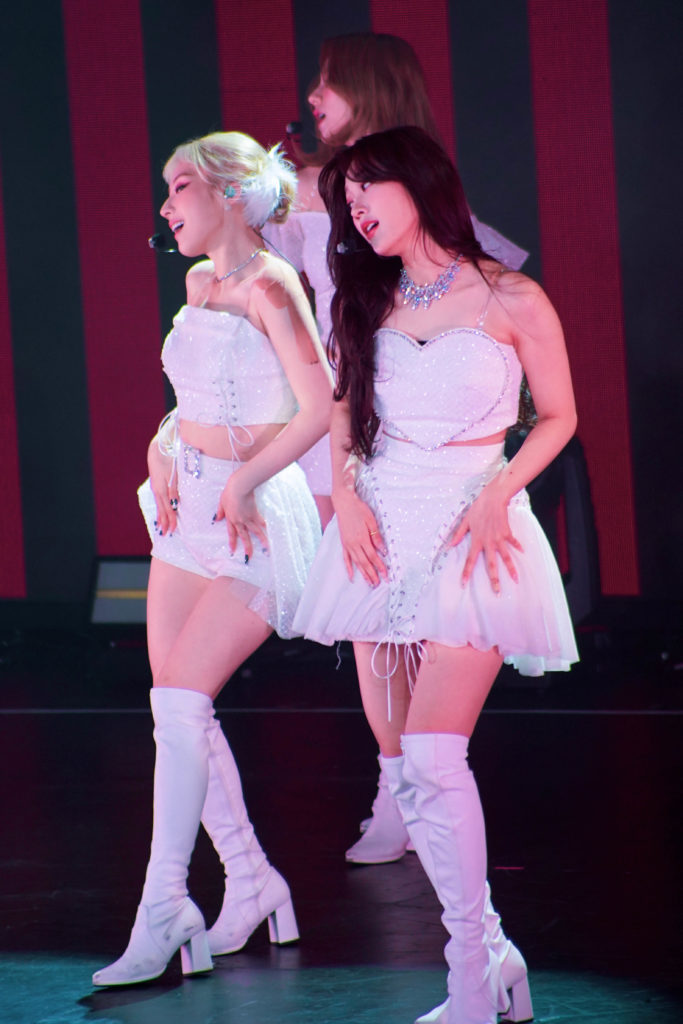 They closed out with a highly anticipated performance of their debut "Hi High," which despite its fast tempo and upbeat sound had fans feeling emotional. As member Olivia Hye said, "Hi High" and LOONA's group debut were on August 20th, which would have been the date in Korea at the time of the concert. This meant that while on stage, it was officially LOONA's fourth anniversary as a group. Through tears, Olivia Hye was sure to stress how they've come this far because of Orbits and promised to be back soon.
They closed out the show with a group picture, asking the audience to hold up four fingers in honor of four years. Even when commemorating group milestones, LOONA were sure to include Orbits in their celebrations.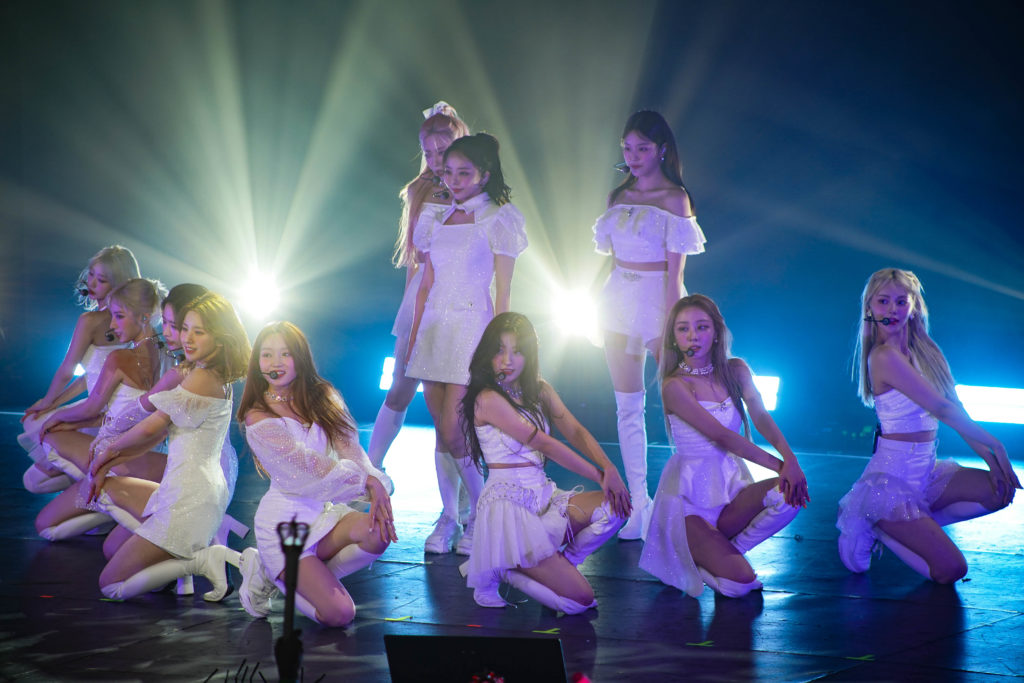 LOONA's first world tour LOONATHEWORLD will continue in select cities in North America through the end of August, and then in Europe in the fall.
Be sure to follow LOONA on Spotify, Instagram, and Twitter.
For more concert coverage, check out our recap of KARD in Chicago.