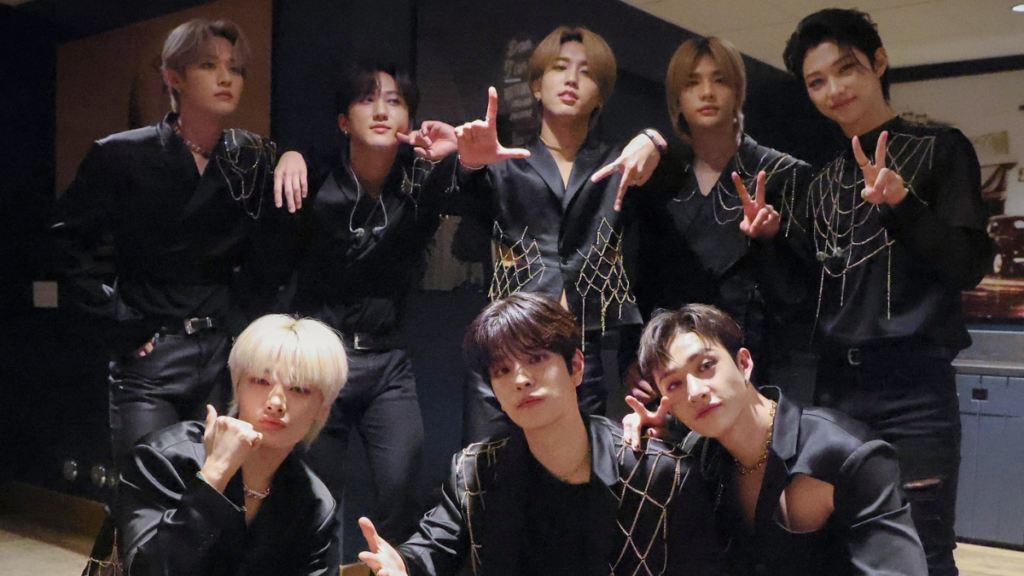 It's a perfect Saturday evening in Los Angeles, neither too hot nor too cold with a smattering of clouds in the sky. As 8 o'clock draws near, it's time to enter Stray Kids' world.
On July 9, the octet—Bang Chan, Lee Know, Changbin, Hyunjin, Han, Felix, Seungmin, and I.N—performed at the iconic Kia Forum in Inglewood, California for the first time. Marking the sixth stop on the North American leg of their 2nd World Tour "MANIAC," not only did Stray Kids sell out their July 9 show, they also sold out an added second night at the 18,000-seat Forum.
Throughout the three-hour show, the eight members expressed how it's been two and a half years since they performed in the states and emphasized their hopes for everyone to stay healthy. This statement held some extra weight with Felix, I.N, and Lee Know having just recovered from COVID-19. Although they were fortunately asymptomatic, Stray Kids postponed their Atlanta and Fort Worth stops before the three were released from their quarantines on July 8.
But for the Forum concert, Stray Kids were back and bigger than ever, bringing their signature "noisy" and rambunctious music, their unrelenting energy, and, of course, their laughter.
STRAY KIDS IN THE BUILDING. 🔩🕸🕷#StrayKids_2ndWorldTour #SKZ #StrayKidsinLA #Stays pic.twitter.com/wqRqGcXVA3

— The Kia Forum (@thekiaforum) July 10, 2022
A Return to Remember
The eight appeared on stage in a classic dramatic fashion. As the intense VCR, pounding bass, and curling fog built up the energy, the large circular centerpiece slowly descended onto the stage. The screams exploded when it lifted, corresponding with the amplification of the scratchy, electronic hook of "MANIAC" over the boom of the bass. Amid the flashing lights, the sleek silhouettes of the members were finally revealed.
Stray Kids kicked off the show with the title track of their ODDINARY album following a synchronized spin reminiscent of a drill. Their all-black styling with delicate golden spiderweb details also complemented their next performance, "Venom," while giant mechanic-looking spider legs framed the stage.
The creative mix of stage design and choreography continued with the dangerously sexy "Red Lights." Originally by Bang Chan and Hyunjin, Stray Kids adapted the fan-favorite to include all eight members. The concert choreography featured the group wearing leashes attached to the centerpiece above them, creating a striking image of movement and restriction.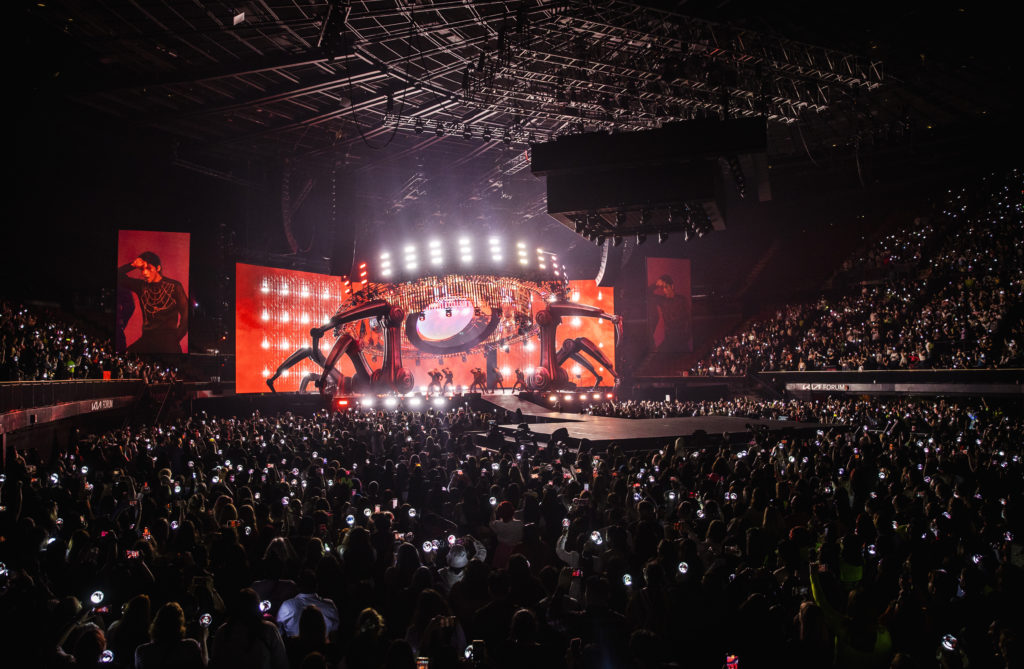 However, the seductive atmosphere of "Red Lights"—"the hottest song ever," per Bang Chan—didn't last long. Stray Kids gave enthusiastic shouts of "What's up, LA!" during their introductions. From then on, they were the Stray Kids every STAY—their fandom name—knows. Han embodied the comfortable family vibe of the group when he gave a long yell of "Stray Kids" to an equally excited crowd. 
Han's enthusiasm was understandable. Much has happened in the two and half years since Stray Kids were last in the United States for their "District 9: Unlock" world tour. In this time, the group has added four new Korean albums to their discography, including their first full-length project, GO LIVE, in 2020. Its repackage, IN LIFE, followed a few months later. NOEASY, Stray Kids' second studio album, launched their portmanteau repertoire, while the compilation of rerecording of their older tracks, SKZ2021, slotted in neatly between the work containing "Thunderous" and their latest mini album, ODDINARY. Now for their "MANIAC" tour, the octet is playing venues almost four-times the size of those from "District 9: Unlock," such as the legendary Kia Forum.
"I feel the energy already," Bang Chan said as he looked out at the crowd and their glowing lightsticks. "Tonight's going to be a good night!"
Hi Stay!! Here's the SKZ LA D1 Setlist at Inglewood 💚@thekiaforum#StrayKids #스트레이키즈#2ndWorldTour_MANIAC#MANIAC #MANIAC_SKZ#YouMakeStrayKidsStay #STRAYKIDSINLA #StrayKids_2ndWorldTour #StrayKids #StrayKidsinInglewood pic.twitter.com/DXsB2r8fs9

— Ana ₇ 💜 (@ana__2126) July 10, 2022
Hey, You Wanna Come In?
Ever since their debut in 2018, Stray Kids have cultivated a reputation for taking the "road less traveled." Their "MANIAC" concert reflects this in their vocal skills, the raw energy of their choreography, and the special addition of a live band. As if the "Stray Kids" call was just a warm-up, main rapper Han showed off his vocal range in the stage of their debut track. Bookended by their "do it with my gang" songs ("Easy" and "All In") and the funky favorite, "Back Door," "District 9" featured an unexpected note change from Han, kicking the already high pitch even higher.
"Charmer," Hellevator," and "Thunderous" proved to be even more enthralling live. Lee Know and Changbin, in particular, caught the eyes of fans when they let loose (lots of hip action) during the final chorus of "Charmer." Meanwhile, "Hellevator" was all about restraint. The eight were stretched vertically across the large stage, giving the impression of pillars standing tall. They only dove into the choreography when the first chorus arrived, their downward movement colliding with the EDM drop.
"Thunderous" marked the halfway point of the concert. Bang Chan, I.N, Han, and Seungmin first danced to the new daegeum intro on raised platforms as an ink painting of trees fluttered on the screen in the background. Stray Kids carried this traditional influence through every aspect of their performance, including their robes and the intricate, palace-like design on the smaller stage's centerpiece, which descended from the ceiling with bright spotlights.
Thunderous #straykids #STRAYKIDSINLA pic.twitter.com/N8u4vvk35B

— bern 🎪 saw skz 😭 han & chanlix vc 🥺 (@onetwo3racha) July 10, 2022
The live band accompanied Stray Kids for the majority of the show, adding a "rawness" and a "surrounding stereo" feel, as Bang Chan said, to the group's high-energy tracks. "God's Menu" was one of those songs that got a unique live upgrade (although the original remains iconic, too). The amalgamation of fierce drum beats, the new wailing strings addition, the killer point choreography, and the crowd's shouts of "dudududududu" continued to cement its top place in Stray Kids' discography.
I Want to be ODDINARY
Given that it's Stray Kids, their concerts are bound to have a gold mine of random moments. During their 10-minute (mostly English) chats with STAY in between the "Waiting For Us" and "Muddy Water" stages, the member left fans with unforgettable memories. The "Muddy Water" unit was already off to a great start when Han proceeded to slide off a sleeve of Felix's jacket, commenting "He looks hot, man." Not one to miss out on creating chaos, Changbin pretended to search for Felix's abs among laughter from the crowd and the other members.
After a screaming competition directed by Felix, Hyunjin showed off his "Motley Crew" choreography alongside the band, almost raising the noise levels back to where they were for the shouting match. Han even teasingly asked "Stray Kids' dancer Hyunjin," via a translator, "Do you have a girlfriend? I want to fill the spot next to you."
Changbin prepared an original "Cypher," rapping while Felix beatboxed until the band joined in. A sly smile crossed Felix's face when he steered the conversation to the next part, "Now we have our next stage waiting for us." While the screams in the venue increased, he raised an eyebrow, visibly pleased fans got the pun, as he added, "Ooh, do you guys recognize [that]?"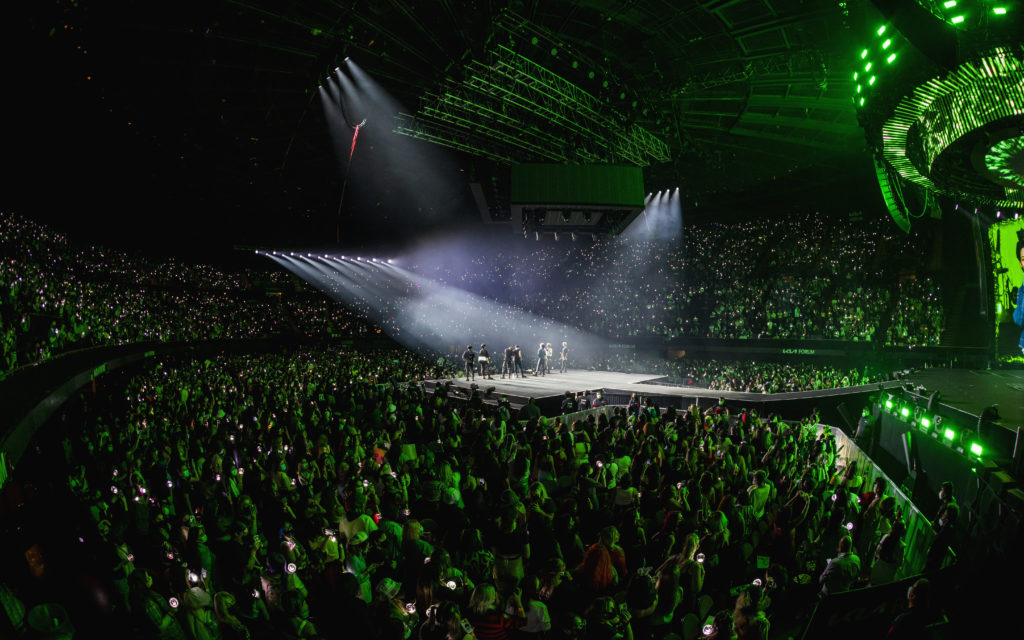 Surprises and familiarity also marked the "Waiting For Us" unit's hosting after their performance of the sentimental ballad. When the crowd spontaneously began a "best leader" chant, Bang Chan, once again, demonstrated his deflection/acceptance of compliments with a "thank you, thank you" and a shy bow. Meanwhile, Seungmin did a short cover of "Off My Face" by Justin Bieber, showing off his unique timbre. He first sang acapella until he confidently said, "I think he knows it," as he realized the guitarist could accompany him.
"Drive" by Bang Chan and Lee Know proved to be another iconic Stray Kids concert moment. When the track was released in 2021 through SKZ-Player, fans couldn't help but question whether it was really just about "driving." Lee Know didn't help the situation by announcing at the show, "Since we're in LA, we need to go for a drive." Laughter and anticipatory screams followed in its wake along with the duo's autotune tests.
Bang Chan fanned the flames even higher when he asked, "Hey Lee Know, do you want to go for a drive?" After their short stage, the leader threw out the question, "Do you know what this song's about?" He took a slight pause to hear the enthusiastic "Yes!" from the crowd and then answered with an amused pointed look, "Well, I do." Another comedic beat of silence and Bang Chan continued with a little laugh, "It's about driving."
🐺 : "LEE KNOW DO YOU WANNA GO FOR A DRIVE"

#STRAYKIDSINLA #minchan pic.twitter.com/szJtIBwYVd

— 🐺찬밍🐰 (@my_minchan) July 10, 2022
The classic humor of Stray Kids made more appearances after "Muddy Water" by Felix, Hyunjin, Han, and Changbin. Han couldn't resist making a joke afterwards, doing two takes to get a louder reaction with Bang Chan's encouragement: "That is 'Muddy Water,' and this," as he held up his water bottle, "is mineral water."
Clearly, the rapper/vocalist/songwriter was on a roll because he dropped a "Knock, knock" joke, despite a fan's resounding (but funny) "No!" and Bang Chan's "Oh my gosh" reaction. After running off the stage following the "achoo" and "Bless you" facepalm moment, Han revealed, "I just learned this joke from YouTube!," causing even more laughter to fill the Forum.
You Make Stray Kids STAY
All eight members expressed their thankfulness for STAY in their final English statements. "I finally feel alive again," maknae I.N said after they performed "My Pace" and "MIROH" with confetti guns. "I promise I won't get sick like this again." Felix relayed a similar message when he looked out over the crowd, "We're finally here with all our STAY." He continued, firmly stating, "STAY is the reason we're still here united, we're still strong."
Hyunjin spoke straight from his heart when it was his turn, noting that his rest led to reflection, "I realized how hard it is for me when I can't perform on stage." He added that nothing can be as "beautiful as this moment right now."
Meanwhile, Lee Know and Seungmin gave special shout-outs to LA. "It's been a while since I came to LA, and it's such a great place," Lee Know said. "The beach is pretty; the sky is pretty. I hope all of you made great memories."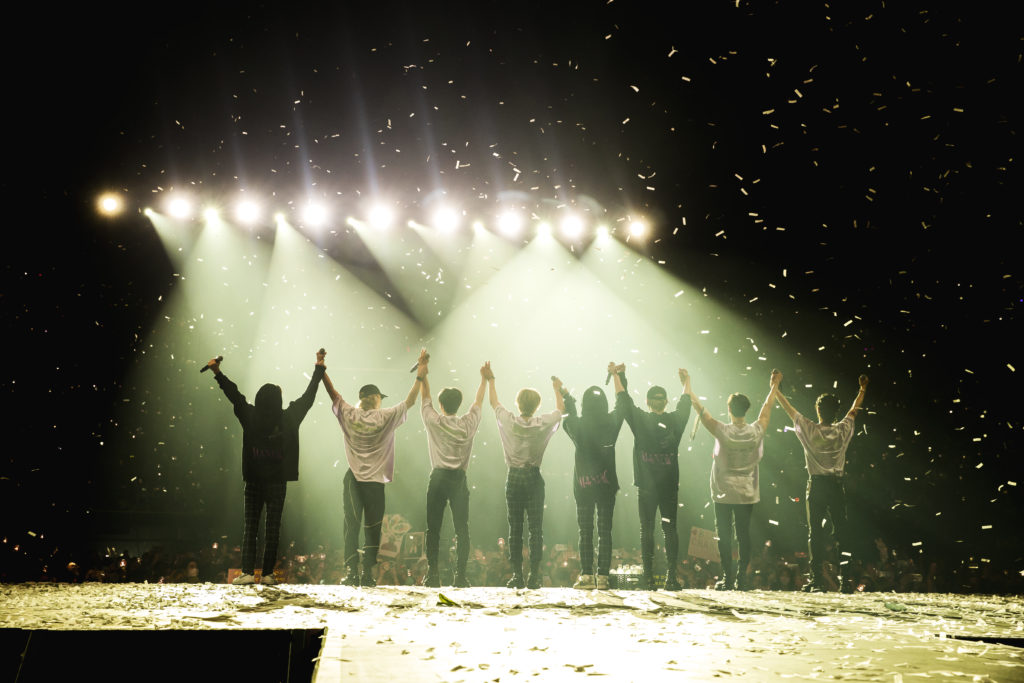 Seungmin revealed that LA is where he learned English, learned basketball, and "tasted delicious In-N-Out burgers." He even suggested the fast-food chain for those fans who hadn't had dinner yet (there were many). The vocalist inspired more than a few STAY, as the In-N-Out nearby suddenly experienced high traffic following the concert. (This even reached Seungmin's ears, which he told the LA Day 2 crowd about).
Changbin then brought the focus back to the stage: "I really want to cherish this moment, this scene forever." He compared the refreshing feeling he was experiencing now to the one he felt when he saw Santa Monica Beach the day before. The 3RACHA rapper and producer even hinted that he already made two songs, though he kept his lips locked about the titles.
But Bang Chan summed it all up: "The reason why I'm doing this is because I feel like each and every one of you have your own stories, your very own identity…the fact that we can have this place to be just free of no boundaries. It doesn't matter who you are, where you're from, who you choose to be…Because here, you're all STAYs, we're all Stray Kids."
Stray Kids Everywhere All Around the World
Before the members officially left the stage, they excitedly got ready to do a call-and-response with STAY. As Bang Chan noted, it was a special thing between them and their fans. They began with "Stray Kids everywhere all around the world," and the rest of the crowd completed the line, cheering, "You make Stray Kids stay!"
The members soaked in the feeling, the music, and the energy as they sang the last two tracks: "Star Lost" and "Haven." With lyrics fitting for a concert, like "I won't be as far away from you as you think" and "Gather here in this haven right now," STAY singing along only made the memories that much sweeter.
Feels like Haven. 💚
What a way to wrap up TWO UNFORGETTABLE SOLD OUT NIGHTS! What was your favorite part of the shows?#StrayKids #2ndWorldTour_MANIAC #STRAYKIDSinLA #SKZ pic.twitter.com/SP3SVUR7w1

— The Kia Forum (@thekiaforum) July 11, 2022
Then the music ended and the band left following their solos, but Stray Kids still lingered on the stage. Unintentionally funny to the end, they made jokes about starting from the top and even went as far as mimicking the opening notes of "Maniac." Han also inspired an acapella encore of "Haven" before disappearing beneath the stage. In-N-Out made one last appearance, as Seungmin said to STAY, "In-N-Out, if possible" before making his exit. And while ending with such a random thing like In-N-Out is very Stray Kids, the eight made sure their final words were "We love you!"
With the North American leg of Stray Kids' "MANIAC" world tour almost complete, there is much to celebrate, least of all that they were able to perform stateside after two and a half years. But above all, as this concert showed, Stray Kids are going their own way (with STAY, of course)—and always will.
Keep up with Stray Kids on Instagram, Twitter, Facebook, TikTok, and YouTube, and learn more about their 2nd World Tour "MANIAC" on Live Nation's site here.
Want more Stray Kids? Check out EnVi's celebration of their fourth anniversary here!