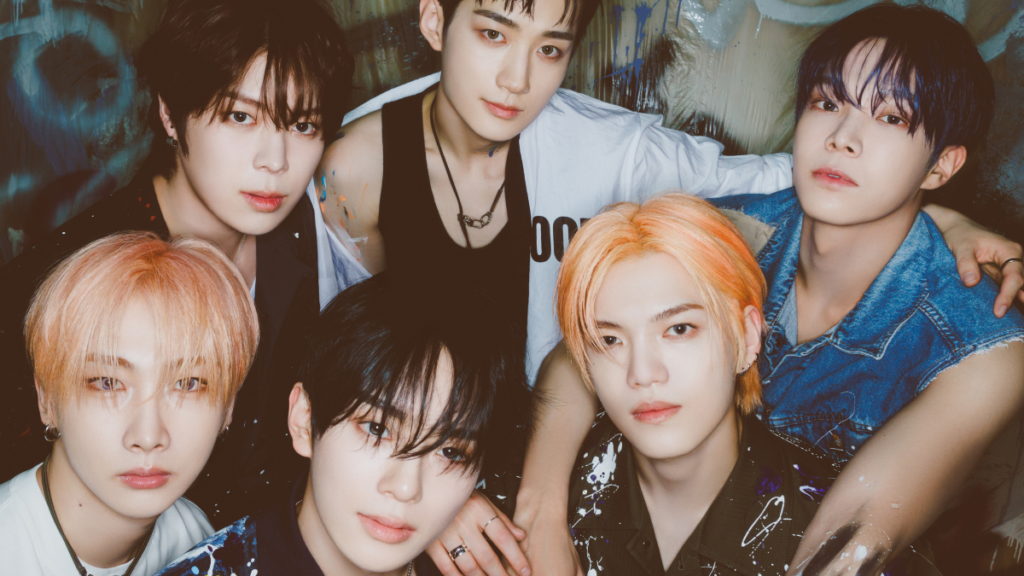 Boy group VERIVERY is back with their seventh mini album Liminality – EP.DREAM. This is the second chapter to their Liminality – EP.LOVE single album, which was released last November.
This EP has two versions, PLAY and PLAN. The group imagines these methods as the two ways dreams can be achieved, and the album and concept shows how the group come together to accomplish a common goal. As fans come of age, these topics are relatable to the struggle of finding one's place in the world.
Their title track, "Crazy Like That," which dropped May 16, "is about all of us running toward a goal like crazy," the group shared. It outlines their commitment to chasing their goals in the K-pop industry, especially since it has been five years since the group's debut.
In an exclusive roundtable, band members Dongheon, Gyehyeon, Kangmin, Yeonho, Yongseung, and Hoyoung expanded on how their personal dreams informed their creative process and the preparation for the comeback.
VERIVERY are trying new things
The title track is a pop interpretation of industrial techno and UK garage. For the band, it was a genre they never tried before, and is notably brighter than their past few comebacks—a slight nod to their cutesy debut era, yet the intention has changed.
"When I first heard that the name of the album was going to be 'Dream,' I thought of the members and the fans. In this process of working to achieve our dreams in the K-pop industry, I can never leave out the members and the fans. The songs are like my journal entries … [and] are definitely pleasing to the ears, but please keep in mind that the songs are about our stories," Dongheon said.
"Many K-pop artists have already tried this [UK Garage] before, but I look forward to showing our own interpretation," he added.
Compared to their debut, this song marks the trajectory of the band's growth. "When we debuted, we put on cute performances asking the audience to remember and support us. The title track we released this time talks about dreams and encouraging people to work towards them, and I find this to be the difference between the two," said Kangmin.
As for the must-listen part of the title track, Yongseung shared his love of Dongheon's part. "I think it is Dongheon's part after the first verse. I really like how he sings like he is whispering. I'm sad that he does it only once in the song," he admitted.
In addition to the music, the members worked hard to show new sides of themselves in this comeback. Filming the music video presented new challenges, but the group was able to overcome it with one another and their own grit.
For Hoyoung, what immediately came to mind was the music video scene where the members were perched on a truck. "We were all too scared so we had to hold hands. A staff member handed us some tissue to wipe the dirt off our hands, but we were too scared to even grab it from such a high place," said Hoyoung. "The entire filming process was really enjoyable though."
Dongheon shared his admiration of Yongseung's preparation. "There is a scene where Yongseung takes off his shirt. To film that scene, he went on a really harsh diet and exercised twice a day. I was really impressed by his effort. I hope you notice that in the music video," said Dongheon.
"It was really hard!" Yongseung exclaimed.
VERIVERY Plan Hard, Play Hard
Now that the band has several years of activity and a world tour under their belt, they can reflect on their experiences and what they would have done differently. When the band was asked about advice they would give to their past selves, their answers focused on either self-care and being more confident about who they are—a reminder of what really matters when working toward our goals.
"When we made our debut, I had to cut my hair short. Other people praised me for my look and encouraged me, but if I can give advice to my past self, I would tell myself to be more assertive, and express my opinion that I don't want to cut my hair short," Gyehyeon shared.
Yongseung agreed with Gyehyeon. "I would tell myself to focus on the things that I really want. Until now, I was focused more on what the tutors, the company, and the members wanted to see from me. I don't think I have spent enough time on myself," Yongseung said.
For Kangmin, he wondered about his potential had he taken care of himself more. "I had a big appetite until I was 9 years old, but since then, I would wake up late and not eat well. I think that's why I didn't get any taller. I would tell my younger self to go to sleep early and eat well," he said.
EnVi then asked whether the members identified more with the "play" or "plan" concept so far, and most of them leaned toward play.
"I personally think that I'm a 'player,' as I'm spontaneous and I don't plan things ahead. I tend to improvise when the time comes," began Yeonho.
The youngest member, Kangmin, followed. "I think I'm a planner," he said.
"Liar," quipped Dongheon. For Dongheon, he was honest with himself. "I think I'm a player," he said. "It would be fun for the fans to think about what versions they relate to more as they listen to the songs. "
Gyehyeon followed next. "I tend to get random spurts of ideas, so I guess I'm a player," he said.
Yongseung was clever in his response, synthesizing the two concepts, and saying "Planning is a play for me, so it's difficult to choose."
One thing is for sure, incorporating both are necessary to achieve one's dreams.
VERIVERY Emphasize the Beauty of the Process
In addition to the title track, VERIVERY makes it known that the other songs on the album are just as infused with the band's story, color, and message to uplift fans. Yeonho recommended "Smile with you ( )" because it is about their hiatus, while Dongheon opted for "Juicy Juicy," "which will cool down your summer with its cuteness," he said.
"I like the song 'Fine' because it tells you it's okay to worry about something," said Kangmin, referencing a song from their 2022 album SERIES 'O' (ROUND 3 : WHOLE), though it is still relevant to their current comeback.
Above all, VERIVERY just wants to rejoice in what it means to be young and hungry, for themselves and fans alike.
"I want the fans to be impressed by the title track and the message that we are sending. The process of working to achieve your dream is very beautiful, so I would like the fans to acknowledge that too," said Yongseung.
Aside from dream-chasing and looking toward the future, the members emphasize the importance of finding the small joys in their present day.
"For me, [my current source of happiness] is when I think about what to eat with the members for breakfast or after the practice the next day, right before I go to sleep," said Kangmin.
"When I was young I tended to find happiness from a big change. I thought only big happiness matters but I saw a limit to that. Nowadays, I try to find happiness in something small. For instance, working out with the members or eating healthy makes me happy," said Hoyoung.
Keep up with VERIVERY on Instagram and Twitter, and check out EnVi's album breakdown here!