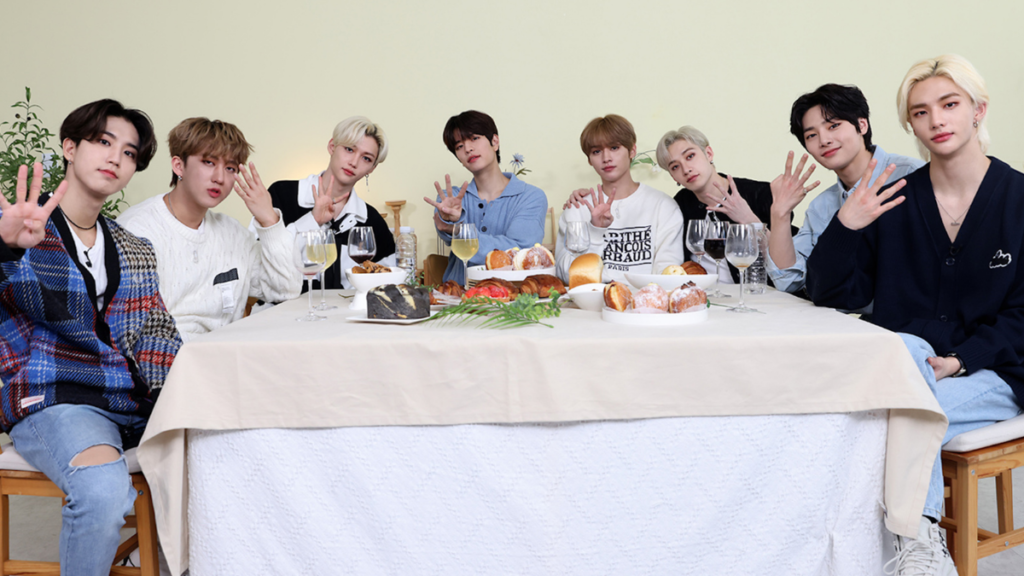 March 25 marks the anniversary date of JYP Entertainment's self-produced boy group, Stray Kids. The eight-member boy group celebrated four years in 2022. The day, more commonly referred to as "0325" by the group's fandom, STAY, was filled with many surprises. Here's a roundup of what happened in Stayville on the group's fourth anniversary.
Han & Changbin Freed from Quarantine
On March 18, the group released their latest mini-album, ODDINARY. The album was well-received, garnering over 1.3 million pre-orders and the title track, "MANIAC," surpassed 43 million views in just one week. Unfortunately, at the start of promotions, it was announced that the group's main rapper, Changbin, tested positive for COVID, with Han following shortly after. The remaining members, except Felix and I.N, tested positive in the days following that announcement.
On 0325, however, it was announced that both Changbin and Han had tested negative and were released from quarantine. STAYs were overjoyed with the news and attributed it to it being the first blessing of the group's lucky anniversary date.
"MANIAC": First Win on Music Bank
Adding to the list of celebrations on the day, Stray Kids earned their first music show win for "MANIAC" on KBS' Music Bank. With 10,596 points over 8,112 points for (G)I-DLE's "TOMBOY," Stray Kids earned their 12th music show win. Additionally, Stray Kids achieved the highest score on Music Bank in 2022 to date. Elated fans expressed their excitement by trending the hashtags #MANIAC1stWin and #StrayKids12thWin.
First-Ever Winners of Virtual Gayo Award: A Second Win for "MANIAC"
Shortly after celebrating "Maniac's" first win, stays received another news. Stray Kids had made history as the group to win the first KBS World Virtual Gayo Top 10 Golden Cup. They beat competition from Solar of Mamamoo to gain the Golden Cup.
The Virtual Gayo Top 10 is a music show by state broadcaster KBS which uses a virtual stage to give a unique feel to performance videos. The show is a virtual remake of KBS' previous music program, Gayo Top 10, which aired from 1981 to 1998.
Surprise SKZoom
The Stray Kids members came together via Zoom for a surprise live broadcast titled SKZoom Live. The meeting was live-streamed on YouTube at 8 PM KST, as half of the group is still in quarantine. Rappers Changbin and Han, who had just been released from quarantine, shared one screen. Felix and I.N also shared one screen with the remaining squad joining in from quarantine. SKZoom Live was described by STAYs as chaotic, as some members experienced technical difficulties during the stream.
MAHAGRID x Stray Kids Collab
Following the SKZoom Live, at 5 PM KST, Korean clothing brand, MAHAGRID, revealed that they would be doing a collaboration with the group releasing on April 5.
MAHAGRID is a Korean streetwear brand that is most known for its bright color palettes and vintage graphics. The brand typically rolls out collections with cohesive pieces like jackets, sweaters, tees, and accessories. Fans of bold graphics and 90s inspired designs should keep an eye out for this collaboration. Follow MAHAGRID on Twitter for more details on the collaboration as they release!
ODDINARY "Re-Comeback"
Once the final members' positive COVID results were announced, fans were devastated as more than half of the group would now be in quarantine. At this point, main dancers Hyunjin and Lee Know took to JYP Entertainment's Dear U bubble app on March 21 to joke about being nervous for their comeback in order to lift their fans' spirits. Since all ODDINARY promotions were put on halt, the boys thought it would be funny to pretend as though the album had yet to release and to anticipate a lot from them. STAYs played along as well, finding joy in the silly joke.
Right at the end of 0325, however, it was announced that the group was having a "re-comeback."
The jokes the boys and fans made turned into a reality as the group decided to do a re-do of the ODDINARY promotions once all the members are healthy and able to work again. The re-comeback schedule shows off two full music videos for "Lonely St." and "FREEZE," as well as dance practice videos, live show countdowns, behind-the scenes shots and more! STAYs were shocked and excited to see that their idols' hard work would still be recognized, regardless of their circumstance. 
Keep up with Stray Kids and their "re-comeback" by following them on Twitter, Instagram, YouTube, and TikTok!
Interested in more Stray Kids? Read all about 3RACHA: Stray Kids' Creative Geniuses!