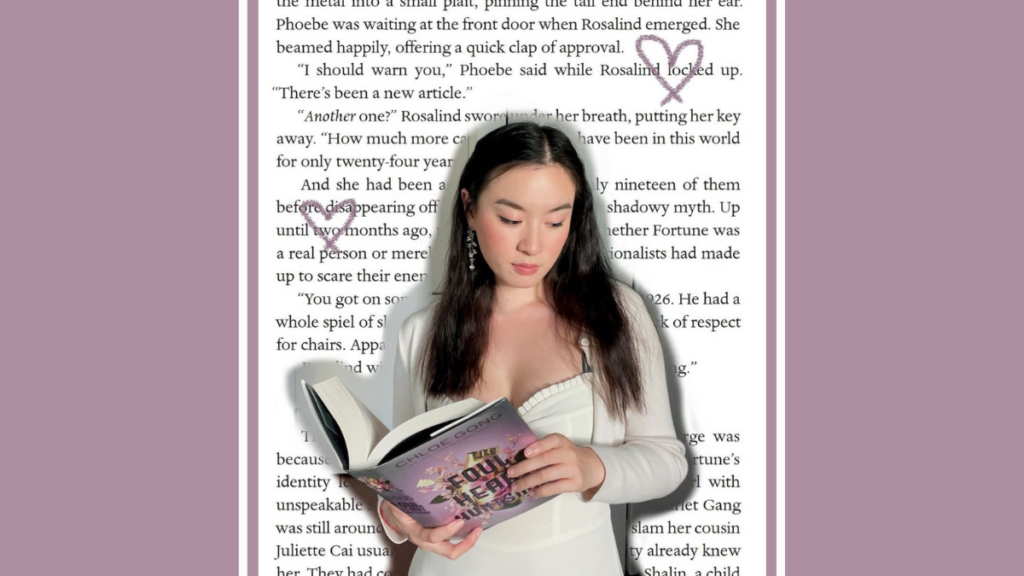 *Writer's Note: this interview contains some spoilers for Our Violent Ends and Foul Lady Fortune
2023 has been the year of Taylor Swift — and of author Chloe Gong. Just like Taylor Swift, whose "Eras Tour" film is currently in theaters in the U.S. and soon heading to international screens, Gong and her characters are going through their "Eras" era.
Foul Heart Huntsman, Gong's sixth published book, concludes the Secret Shanghai series and marks the end of this era that started in 2020. Released on September 26, the 560-page Foul Heart Huntsman is now a New York Times bestseller, shooting to number two on the competitive list in its first week.
The Secret Shanghai storyline began with the These Violent Delights duology. In 2020, Gong's Romeo and Juliet retelling set in 1920s Shanghai took the young adult reader's world by storm. The mafia rival families and star-crossed lovers of These Violent Delights achieved a place on the New York Times bestseller list, won Best Youth Novel at the New Zealand Sir Julius Vogel Awards in 2021, and accomplished TikTok virality status. Meanwhile, the second book of this duology, Our Violent Ends, left readers in anguish a year later, jokingly calling Gong to pay for their therapy bills because of the — hmmm — explosive ending.
The spinoff duology starts with Rosalind's story in Foul Lady Fortune, in which Juliette's cousin must face her mistakes, her newfound immortality, and her unexpected chance at love in the growing turbulence of 1930s China. Before Foul Heart Huntsman wrapped up these characters' stories, Gong published Last Violent Call. This bundle of short novellas, featuring the Secret Shanghai characters, brought a wholesome intermission to the adventure and peril the gang usually faces.
EnVi caught up with Chloe Gong over Zoom ahead of Foul Heart Huntsman's September 26 release date to chat about deadlines, plot twists, and growing up with her characters.
The Foul Heart Huntsman Era
Just before we joined the Zoom call, Gong posted a photo on Instagram. To commemorate the arrival of her UK editions of Foul Heart Huntsman, she featured them alongside a stack of the U.S. versions. Gong's signature humor appeared in the caption, writing, "…the set is complete. the prophecy is fulfilled. the family photo has been taken…," the last sentence referring to the final slide with the entire Secret Shanghai series together.
Later in the day, afternoon fall sunlight streamed into Gong's New York City apartment. Like you might expect from a fellow reader, my eye was drawn to the overflowing bookshelf peeking out in the corner of our video call frame. Throw pillows and blankets on her gray L-shaped couch, along with Gong's UPenn quarter zip, added even more coziness.
A Taylor Swift-related question kicked off our conversation, a topic Chloe Gong is all but happy to discuss. "[Rosalind] is going through her Speak Now era because she's in such pain, right?" Gong replied, starting with her leading lady and which Taylor Swift album era she would be. "But I think a lot of [Foul Heart Huntsman] is also her Lover era because she's trying to…trust and everything," the young author added.
"I always said that Foul Lady Fortune is basically 'right where you left me' in song form. So that was Rosalind in the first book," Gong summed up. Readers literally found Rosalind right where they left her after Our Violent Ends because of her immortality. Gong continued, "I think in the second one [Foul Heart Huntsman], she kind of phases a bit into 'Last Kiss' in the beginning, and she's like 'I can't believe I got left behind.'" This shift happens because Orion no longer remembers her after the events that went down in Foul Lady Fortune. Rosalind's trust issues heighten by tenfold as a result, leaving "The Archer" kind of flavor throughout the conclusion of her duology.
As for the others in the main cast, Gong had her answers ready. "Orion is in his 1989 era because he's kind of just off doing his thing and discovering himself," something you might do when you wake up with amnesia and a mother who is using you for her immortality experiments (small things, you know). Despite these hurdles Orion and Rosalind face together in "Foul Heart Huntsman, the two of them are the "1989 bonus track, 'You Are In Love,'" Gong firmly stated.
Orion's younger sister Phoebe and her sort-of-kind-of lover Silas are both in their Reputation era as they "circl[e] around each other." On the other hand, Gong couldn't decide whether Rosalind's younger sister Celia was in her Red era or folklore era — both definitely fit the steadfast Celia. Evermore is reserved for Oliver, Orion's older brother and Celia's espionage partner, who just "angst[s] and keeps secrets," to the annoyance of the majority of the cast.
Growing Up and Saying Goodbye
Yet conclusions mean goodbyes. And Gong has been with her Secret Shanghai gang — starting with Roma, Juliette, Alisa, Celia, and Rosalind — since she was a teenager. "It's so bittersweet," Gong reflected, her arms crossed over her knees. "I'm very, very sad to end it because I have spent so long with these characters. They feel so familiar with me. They've essentially grown up with me," she emphasized. "I have gone through my own coming-of-age experience while writing theirs, and it is a very sad thought that I'm never gonna experience that again."
Luckily, Gong has a much longer path in front of her. "I'm obviously gonna write more YA in the future," she noted with a small laugh. But the bittersweet taste is still there: "I'm never gonna be growing up with these characters in the exact same way." The going-on-25 author wrapped up her thoughts saying, "That can only happen once."
Despite the sadness, though, Gong understands this is where the Secret Shanghai needs to end. "I am a big believer that stories need an end," she began. The seasoned author elaborated further, stating she would need to put her characters through more "peril" if she wanted to ensure there was still plot available to create another story.
This is why Rosalind's spin-off duology came to be. Foul Lady Fortune — and eventually, Foul Heart Huntsman — was written to resolve Rosalind's character arc. The prickly and secretive Rosalind Lang had more growing to do, especially given where Our Violent Ends left off.
As Gong explained, almost as if she was speaking to her femme fatale character face-to-face, "This is what I wanted to do for you. This is the story that I needed to see you through for me to feel happy with what we're doing here. And now that we're here, I want to give you your resolution." Gong continued looking directly into the camera with a solemn expression, adding, "She deserves some peace."
For now, this is where readers will leave these characters. Foul Heart Huntsman is out in the world; the Secret Shanghai series is complete. This final book is "the culmination of everything I wanted to do in this world," emphasized Gong.
Again, But Better (But Different)
However, in order to reach the end, Gong first had to put her beloved characters through just a little more pain and angst — particularly the main leads, Rosalind Lang and Orion Hong. With Orion's memory wiped, their relationship has to start from square one once again. Somehow they need to relearn each other while also knowing that they used to know each other "so well," as both the spy duo High Tide and as romantic partners. "They're doing it again, but better, but differently," Gong said with a wry smile and a hint of laughter in her voice.
This "role reversal" Gong plays with in the Foul Lady Fortune duology is intentional. However, the unique story structure posed some challenges. It was a bit "stressful" to ensure that she was not just saying the same thing that was found in the first book. "It needs to be saying something new. The reflection has to be then using that compare and contrast to actually do something different," noted Gong. "But it has to feel very seamless where you're like, 'Oh, this is a parallel, but I don't feel like I'm reading it again.'"
Fortunately (pun unintended), Foul Heart Huntsman as a book "came together a lot more smoothly" than its predecessor. Unlike with Foul Lady Fortune, where Gong had initially struggled to find its voice, she knew the direction she needed to take with Foul Heart Huntsman. "I went in very clearly knowing which plot points I wanted to get in there," the author said. There was no major rewrite this time around because "I've set up so many of the threads in both the first book of the duology and in the original duology," Gong continued, as she had the "questions and and themes…[she] want[ed] answered."
However, the actual process of writing the last Secret Shanghai novel proved to be an obstacle. Not because Gong had to figure out the heart of the story, but rather, the young author also was writing her adult debut — Immortal Longings — and the novella collection, Last Violent Call. (The latter was a "surprise project," which originally was going to be published after Foul Heart Huntsman. However, Gong and her publishing team agreed it would fit in best before the series conclusion.)
With "so many things to juggle simultaneously," Gong realized she is not a multi-project person. Looking back on this experience caused her to say while laughing, "Which, by the way, I'm never doing that again. I will be taking my time from now on." She added, "I've learned my lesson."
"I found that I couldn't switch projects day-by-day. It was very, very hard," Gong emphasized, even when these book deadlines were close together. Besides the vast genre differences between the three books — including an espionage thriller, dystopian-tinged epic romantic fantasy, and wholesome slice-of-life love stories — Gong's brain just "doesn't work like that."
"I need time to fully sink into a world and to be planted there with the characters," she revealed honestly.
A Character Study
Speaking of characters, the history Gong built off of to create her Secret Shanghai world was also crucial to forming her leads. Foul Lady Fortune, historically, "worked off of the existing lead-up to this time" — which included the turn of the new decade, the Chinese Civil War in the 1930s, and the looming Japanese invasion. Foul Heart Huntsman follows the lines set up by Gong's research while also ensuring "it serves to recreate the historical atmosphere as closely as it can" despite both books being "work[s] of fiction."
"Everything I invent — fiction and plot wise — serves to compound and complement what is going on rather than defy it," Gong underscored as we discussed researching for this duology. The Foul Heart Huntsman author shifted gears, noting how her understanding of the various viewpoints of the times helped inform the beliefs of her characters. Gong brought in a contemporary parallel: Just like if you stopped people on the street in 2023, you would find many perspectives, and the same goes for the past.
But Gong needed to investigate further to create the well-known depth and relatability of her characters. "So while the characters are allowed to believe different things, I still need to know what exactly is it that causes these beliefs," she said, alluding to the political divides found in Foul Lady Fortune and its sequel. 1930s China was fraught with tension, even within the same family, in part because of the Communist and Nationalist split. Gong added, "What has happened? Why would they hold certain opinions?"
Plus, the opinions a character holds at the beginning of her books may not be that perspective they have by the end. Gong was firm when she stated, "If I moved a character through their world correctly, they should never start a book believing the same things they do when they end the book." Rosalind, Orion, Celia, Phoebe, Oliver, and Alisa (among others) have gone through too much not to have grown and changed in some way.
Our conversation eventually turned to the unexpected star of Foul Heart Huntsman: Phoebe Hong, Orion's younger sister who hides something more behind her "ditzy" personality. Gong revealed she dedicated an entire revision cycle to honing in on Phoebe, specifically her "mommy issues."
"I think Phoebe was the most surprising one in this whole book. I really didn't think she would steal the show as much as she did," Gong exclaimed, a bit of laughter escaping as we focused on this unpredictable character. However, the now-dubbed "mommy issues" of the youngest Hong child was "actually the interesting crux of her character," so Gong just "went from there" in terms of Phoebe's character arc.
If Phoebe was a surprise while writing Foul Heart Huntsman, then the reunion scenes were one of Gong's favorite parts. Since these scenes are spoilers for events that happen before this duology, Gong kept her responses a little bit cryptic, only sharing, "There are reunion scenes that you have been waiting to see for a very long time."
She did continue, but in vague terms, "It was just the best to get to write those conversations, write those encounters in a way that still made sense for new readers." While Foul Heart Huntsman concludes the second, but connected, duology, this series still makes sense if readers have not taken a dive into These Violent Delights and Our Violent Ends. "I always say, if someone has started with Foul Lady Fortune, they shouldn't be lost at any point," Gong explained. However, for those readers who have been with the Secret Shanghai characters since day one, there are some special "treats."
Plot Twists and Happy Endings
Gong is famous for her plot twists — just take a look around TikTok, and you'll see countless readers and their shocked reactions. Yet, the young author is very intentional about how she approaches twists. "I never want to do a twist just for the sake of shock factor," she noted. Gong needs to think about where the twist comes from, and how she can "justify" the twist in terms of the character, the plot, and the circumstances that have brought the story to where it is at that time.
She also has a few other questions she thinks about: "What does it say about this character if we are surprised by the fact that this has happened? How do we interrogate our idea of them? And how does that change the way we see them now?" And Gong has even more questions to consider, including, "What does it take to lead up to something like this? What would push a character to do this?" In addition, she views the twist as a catalyst for some sort of change in the character. "After the plot twist, how would a character work past this? How would a character reflect on this, and then change who they are from that?" Gong concluded. At the end of the day, "It should feel like a turning point instead of swerving off the road" — unlike the highway meme.
During our interview, Gong brought up a major plot twist in Foul Heart Huntsman (no spoilers here, though!). "Yes, maybe in that moment you should feel 'Oh my goodness, how did that happen?'" Yet, Gong emphasized: "But upon reflecting on it, if it has been set up correctly, it should not be unexpected."
The ending of Foul Heart Huntsman, too, should not come as too much of a surprise. While These Violent Delights is inspired by one of Shakespeare's famous tragedies — Romeo and Juliet — the Foul Lady Fortune duology is adapted from As You Like It, one of the Bard's comedies. As Gong noted with a glimmer in her eye, "It is in the Shakespearan spirit to end on a jovial note." (And she knew this would be the tone of the ending before the duology was even completed.)
In her author's note in Foul Heart Huntsman, Gong takes a quote from the Norton introduction of As You Like It, which applies to her newest book and its world. "The play ends on a utopian note that doesn't necessarily serve to say all of society's ills are gone," Gong began. "But in this moment, we can choose to live life in bliss instead of whatever is to come," she continued. "It felt incredibly fitting for this time period that these characters are living in," added Gong. By the end of Foul Heart Huntsman, an unstable peace has been reached, but more is on the horizon, including the imminent outbreak of World War II.
Gong wrapped up her thoughts on a more positive foot: "You always get this feeling something is still about to go wrong, but at least right now, it is okay."
Long Live
There is a lyric in Taylor Swift's song "Long Live" that fits Foul Heart Huntsman to a tee: "It was the end of a decade but the start of an age." Not only are the Secret Shanghai characters moving towards rounding out the 1930s, but Gong — and her readers — are closing one chapter and beginning a new one in the current age.
After Gong concluded her U.S. tour for Immortal Longings, she jumped straight into online and in-person promotions for Foul Heart Huntsman. This included another two week book tour that consisted of a New York Comic Con stop in October and some Canada dates, which was a first for the bestselling Gong.
Currently, the never-stopping-author is "slowly picking" at the sequel to Immortal Longings, her third duology. Coming out of two back-to-back tours and needing to write at the same time has proven to be challenging for the seasoned writer. "It's been hard because I'm also revising it while it's release season," Gong admitted. But the Immortal Longings sequel era is not here quite yet.
For now, the spotlight is on Rosalind Lang and her Secret Shanghai gang. If Rosalind's Taylor Swift era is Speak Now (Taylor's Version), then the soundtrack for the conclusion of her story is "Long Live." And there's another lyric in this track that is very applicable to the present feelings swirling around, "'Long live all the magic made'…One day, we will be remembered."
Even though it is time to say goodbye to the Secret Shanghai world and its beloved characters, indeed we know, magic was made.
Keep up with Chloe Gong on TikTok, Instagram, and X (formerly Twitter). Foul Heart Huntsman (along with the rest of the Secret Shanghai series) is available to purchase wherever books are sold.
Want to dig deeper into your new favorite read? Check out EnVi's interview with YA author Susan Lee here!