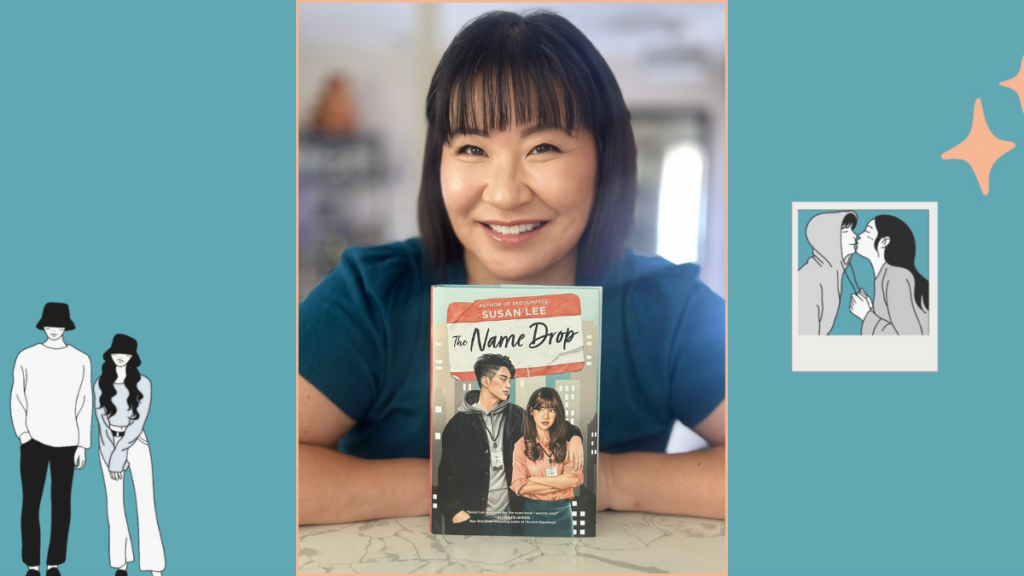 "You are beautiful. Now, run."
Three letters — "KNJ" — follow the dedication in author Susan Lee's sophomore novel, The Name Drop. If you are part of the BTS A.R.M.Y like Susan, then maybe you hear wailing guitars when you read these five words. Maybe you pause to think "Kim Namjoon" (also known as RM, the leader of BTS) when you see "KNJ."
And you wouldn't be wrong. Susan's dedication takes inspiration from BTS' 2022 track "Run BTS." Specifically, the last lines where RM makes a subtle change to the original post-chorus with "Run beautiful, run, yeah, you gotta run."
"That song was constantly playing in my head," Susan said during our late night/early morning chat. "I don't listen to music when I write," she added. "But it was playing in my head because it's all about this journey that BTS had to take about not being taken seriously and having to believe in themselves. And then they hit fame and… suddenly they're wondering, 'What's next?' and they just kept saying, 'You gotta keep running.'"
Just as "You gotta run" pushed the seven musicians forward, these words fueled Susan despite her own doubts while writing The Name Drop. To celebrate the release of The Name Drop, EnVi chatted with Susan Lee over Zoom about her book two, her sources of inspiration, and the hopefulness in her latest young adult novel.
Introducing The Name Drop
It's around 8 a.m. in California when Susan joined the video call. As soon as we connected across continents and time zones, I could tell the interview was going to be a relaxed one, like catching up with a good friend. Susan wore a cozy blue shirt that matches The Name Drop's cover and round, tortoiseshell glasses, while my outfit of choice was also a soft blue T-shirt.
This is the vibe that sets the tone for our hour-long chat centered around The Name Drop (along with some unsurprising BTS mentions). Susan's newest novel, which was released on Sept. 12, follows Jessica Lee and Elijah Ri as they navigate love, life, and some K-drama-worthy plot twists during their internships at Haneul Corporation, a Korean tech company headed by Elijah's father in New York City. A case of mistaken identity — caused by their unexpectedly shared Korean name — leaves Haneul heir Elijah among the unpaid interns and Jessica suddenly in charge of them as the executive-in-training intern. While the two characters are searching for different things in the City That Never Sleeps, maybe what they also needed to find was each other.
Just as I asked Susan and her author friends about their BTS biases, The Name Drop author paired her main characters with who she believes would be their favorite BTS member. Leader RM is the bias of Jessica Lee, who is sure-footed yet rambly-when-anxious (a frequent occurrence). "She's super practical and by the rules, but if it makes sense, she's going to take a chance on something," Susan explained. The similarities are uncanny between the two natural leaders, like how Jessica drives forward the hackathon project executed by her internship cohort. And she does so despite the higher-ups of the company not even giving a chance or sparing a glance at the group's hard work.
Meanwhile, born-and-raised in Korea, Elijah is the Jungkook to Jessica's RM. As Susan said, "Elijah just wants to have fun." His wealthy upbringing does influence his laid back personality, where his every need and want — for the most part — was met above and beyond. Yet, Elijah is most similar to Jungkook because of their willingness to just try, to just do it. "He sees things like, 'Why not?'" Susan elaborated when pairing Elijah and Jungkook together. "And I think Jungkook kind of has that free spirit, being the maknae, the youngest in BTS."
The Inspiration Behind the Book
The Name Drop started out as a simple question: "What would it be like if you shared the same name with someone?" "Korean names oftentimes are [unisex], like you can use [them] for girls or guys, so, I thought, wouldn't that be funny?" Susan noted.
While Elijah and Jessica have their fair share of (fictional) same-Korean-name frustrations, Susan knows firsthand what it's like to have the same name as someone else. While the experiences she shared during our conversation were not quite as extreme as the mistaken-identity shenanigans Jessica and Elijah went through, there still was a touch of bemusement curling her words.
Sephora was the setting for Susan's personal anecdote about similar names. As salespeople do, they always ask her for her first and last name to look up her membership. But Susan knew better. "Oh, you'll never find it that way," she relayed with a small laugh. Susan continued, gesturing to add emphasis to the story, "There's always this moment where the salesperson stops. And she's like 'Oh.' Because there are hundreds and hundreds [of Susan Lees]."
"And I was like, it's just kind of this funny pain point of when you share a very common name," Susan reflected with a tinge of humor. "But what if you actually shared a legal name with someone and what would happen?"
The Name Drop became more than just a mixed-up names situation. The intense Korean drama series Sky Castle and the "world of the very uber rich in Korea and the demands on the kids in this world," alongside Susan's personal experience working in the corporate world at a Korean-owned company, also informed her sophomore novel. She emphasized that this background "definitely informed some of the elements of the book, but with a more creative bend."
From the get-go, readers notice how toxic and misogynistic the office culture is at Haneul Corporation. "It happens in startups a lot… the misogynistic culture where men try to shoot down women in meetings happens all the time, including things like your handwriting should be much more feminine-looking and things like that," Susan noted.
When we spoke about these scenes in The Name Drop (especially the "feminine handwriting" one), she admitted, "Some of the more outrageous things in [The Name Drop] are actually very true." Memories from her time in the corporate world, such as working in a "very, very conservative Korean technology company" early on, included the rules in the handbook. "In the handbook, it would tell us how many inches the skirt is allowed to be above your knee," Susan remembered. "Or women could only wear navy or black or gray — like [the handbook] said this back in the day," she added, drawing parallels to how Haneul required Jessica to change into company-approved clothing at the start of her internship.
Writing Book Twos
Writing and publishing the second book is notoriously difficult. Not only is there often just a contract before a polished story, authors have a team now and a tighter deadline to get everything written, revised, and ready for publication.
"Especially in YA [young adult], there is so much emphasis put on the debut, and there [are] a lot of resources for debut authors to try to navigate the whole experience," Susan said, alluding to the group chats, the mentorship programs, and the social media support for first-time published authors. "But the moment you debut on a Tuesday, nobody tells you what happens on the Wednesday." Honesty colored her words as she chuckled, adding, "I don't think we talk enough about what happens next."
Having Seoulmates, her debut novel, and her just-released second book under her belt now, Susan has a unique perspective carved from newness but also from experience. She elaborated on her book-two thoughts: "I think that the difference is also with your first book, you have the luxury of time." A writers' debut may have had years of crafting, revising, and editing behind it to ensure that the story is at the best that it can be. But there is a time crunch with an author's second book that does not necessarily exist when polishing and promoting their debut.
Susan elaborated with more insight from her own experience, saying in a matter-of-fact way, "I sent my first draft [of The Name Drop], no beta readers, no CPs [critique partners], nothing, straight to my editor, and she read it messy. In fact, I didn't even have the last five chapters," she admitted as the sun began to brighten in her California home. "I'm like, 'Something happens here.' I haven't figured it out yet."
"It also just feels like you've got a lot of support, and you also now built a readership," Susan continued, as she spoke about some more external differences in this experience. "So that is both terrifying, because you don't want to disappoint them, but also really exciting that you've got people who you already know have loved your writing from the beginning."
Yet, even among this nervousness/excitement, Susan experienced "overwhelming imposter syndrome." This admirable honesty and vulnerability came in response to a question inspired by BTS V's interview with W Korea ahead of his solo debut. "Like how many times I asked myself, 'Well, maybe I'm a one-and-done," she added.
"I thought I was a hack," Susan said, taking us into the not-so-fun parts of her writing thoughts. "I really kept believing that I can't do this." It didn't help that there were many times where she "got stuck in the writing." Unfortunately, because of the time-limit pressure, Susan couldn't fall back on the solutions that worked with Seoulmates. Options like stepping away from her writing for a little bit or going on writing retreats with friends to figure things out weren't as feasible with The Name Drop.
Luckily, as the book's dedication hints at, BTS and their inspiration were there to push her through some of the particularly tough parts of the journey. And as if he were by us right-then-and-there, Jungkook went live while we were chatting about these difficult moments. "I don't know if you saw, but Weverse just gave a notification that JK is live!" Susan exclaimed, laughing at the perfect timing.
Hopefulness in New York City
Since The Name Drop is a young adult romantic comedy, hopefulness underlines Elijah and Jessica's story. Part of this hopefulness is embedded in the characters' perception of New York City. Susan lived in New York for 11 years before moving to California; however, teenaged Jessica and Elijah are totally new to the greatest city in the world.
"I had to include a lot of tourist places that people [who] are there for the first time would want to go [to], when in actuality, these are places I haven't been to since I first came to New York 11 years ago," Susan explained, referring the locations she selected for The Name Drop. This is why New York City tourist staples like a boat tour around the Statue of Liberty and even the New York Public Library are the settings for pivotal moments in The Name Drop.
"The first things I remember seeing [are], 'Ooh, this place is gross and ugly. It smells bad. And why do they put their garbage on the sidewalk?" she remembered with a small relatable laugh. But Susan had to look at New York City through Jessica and Elijah's perspective. And this lens was underscored by newness and newfound independence.
"I had to write it looking through the eyes of not only people new to New York, but new to being on their own in New York," she continued, understanding that capturing the distinct energy of the city was important to the book. Susan took me through her thought process, emphasizing a shift in physical perspective. "The best way to appreciate New York is to stop looking down and start looking up."
She cited taking note of colors, the many air conditioning units, and the bright lights of the buildings in New York to help round out this new view. "When we're in New York, you walk with your head down or we'll look at your phone or you're on a mission, you know where you're going," Susan added. Yet, as The Name Drop author pointed out, "Very rarely do we lift our eyes and look up."
Happily Ever Afters
Rom-coms are not complete without a happily ever after, and The Name Drop delivers much-needed serotonin with kicking-and-screaming moments of happiness. But what does Elijah and Jessica's ideal date look like?
After pondering the question, Susan answered, "Now that they're together, it's less about the grind of proving themselves and more about living fully as themselves." She continued, noting that the epilogue of The Name Drop touches on this ideal date vibe, "They're just going to eat at their favorite place. They're having conversations about their family. I think [their ideal date is] when the two of them are together, walking, holding hands, having inside jokes with each other."
Susan also had a dream cast ready for The Name Drop main leads. The sunshine smile of Choi Woosik — who stars in Oscar-winning film Parasite, popular drama series Our Beloved Summer, and more — is Elijah Ri to a tee. "I just think he could be such an adorable Elijah," she said, leading us to have a little fangirl moment about Woosik and his acting versatility.
As for Jessica, another notable K-drama actor was Susan's choice: Park Bo-young, the leading lady in popular Korean shows such as Strong Girl Bong-soon and Doom at Your Service. "She's that perfect vibe for Jessica," Susan explained, adding that both are "this wide-eyed, doe-eyed person who looks at things with such wonder, but also skepticism." While we began wrapping up the question and the interview, we both agreed that the chemistry between Jessica and Elijah — playful and trusting — could be perfectly captured by Choi Woosik and Park Bo-young.
Next Up From Susan Lee
As the sun grew brighter in California and the nighttime grew deeper on the other side of the world, we came across a question Susan wishes she was asked more often. "I don't think we talk about writing and being an author enough as people's careers," began Susan. "So I do wish that people were like, 'Hey, what do you want to be doing in this whole scheme of things?'"
The "whole scheme of things" being a writing and publishing career. What do you see writing and releasing in the next five, the next 10, maybe the next 15 years? Susan put it best, saying, "Not just like, what are you working on next? But what do you hope for, for this career as an author for yourself?" As one might expect, writing books can take a lot of time, energy, and commitment. So it makes sense that many just take it one step at a time.
However, Susan is in the boat where "we kind of want to see where this thing will take us." Then, what does this author career path look for Susan? "For me, my number one goal as a writer is I want to build a backlist," she replied firmly. "I want to build a significant enough backlist that at any point in time when readers find me, they have other books that they can read from me."
Writing an adult romance novel is one goal, Susan revealed (although it's not too much of a surprise given how much she loves romance books). But otherwise, "I just want there to be books for readers to find," she admitted. "Secondly, my other goal is to not forget the type of reader that I am and the type of reader that I want to reach that are often forgotten. And that's the reluctant reader," Susan continued, concluding her response with a broader goal. "I hope that my books always remain accessible to reluctant readers."
The Name Drop was released on Sept. 12 from Inkyard Press, and Susan announced her upcoming rom-com, The Romance Rivalry, the day after. Talk about building a backlist! "I just want to thank everyone who's taking the chance on me, reading my books, and supporting me," expressed Susan when I asked her if she wanted to add anything else. "I hope that I will continue to write books that readers find and that they enjoy."
With that, we reached the end of our video call. But one important message, among many, from our conversation lingered: Don't cast your eyes down on the ground. Rather, keep looking up. You never know what you'll find. And Susan embodies that positivity too: "I'm very thankful that I'm done with the Book Two. I'm ready to see what Book Threes are like now."
The Name Drop is now out where books are available. Keep up with Susan Lee and her upcoming stories on Instagram, Twitter, and TikTok.
Want more book recommendations and author interviews? Check out EnVi's chat with Ann Liang, author of the young adult rom-com This Time It's Real here!