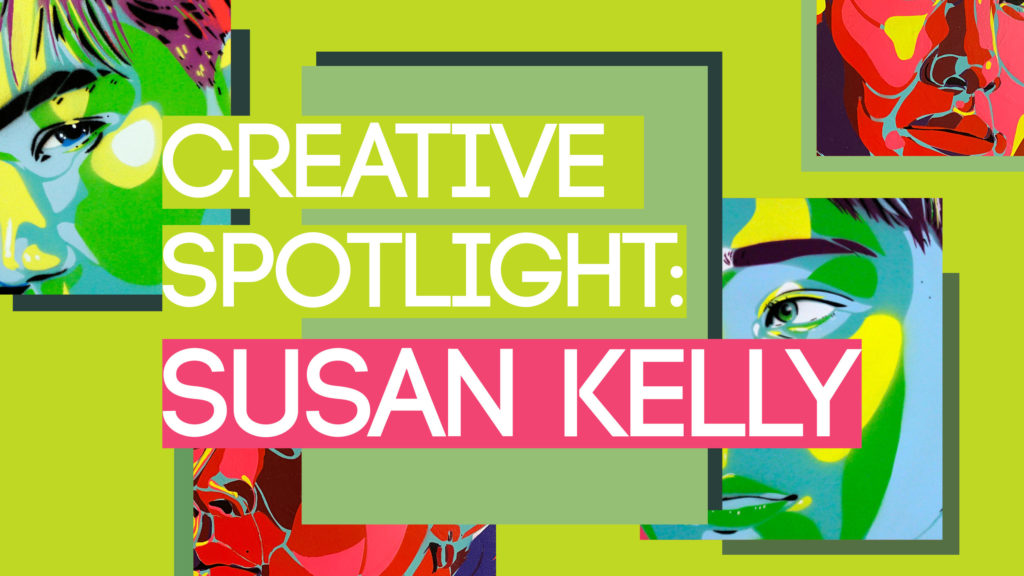 The year is 2017, EXO is active after a successful year with the album EX'ACT and its repackaged counterpart, LOTTO; this was when she first emerged in the spotlight. She was different from the rest — unique, but it wasn't unwanted. On the contrary, everyone wanted more from her, and she had no reason to deny their requests.
With a personality as colorful as the glass in her paintings, Susan Kelly is the mind behind the infamous EXO glass stained glass pieces. Susan is a full-time artist based in Long Island, New York but her artwork has traveled as far as Korea. And that artwork is now in the hands of Park Chanyeol's mother.
Falling Into the Rabbit Hole
Kelly was long into the K-pop genre by the time EXO debuted. Her journey is similar to many, an accidental domino effect that changed her life for the better. It happened through YouTube, Kelly recalls the event saying, "everything happens through the magic of Youtube."
What happened to middle-schooler Kelly, on what seemed like a regular day of watching random videos, was prompted by a tiny thumbnail on the screen. That was her Alice in Wonderland moment, all thanks to Jaejoong flashing his chest for the Japanese version of "MIROTIC" by TVXQ. 
The ride down the rabbit hole was never-ending but exciting for Kelly, who automatically thought to herself after being indulged by K-pop for the first time, "This is the best thing I've ever seen in my entire life, now I need to know — who are these guys? Where were they born? Who they mama? I gotta figure this out." To put it in perspective, it has been 12 years since Kelly first watched the video.
That was just the beginning.
Kelly's artistic turning point came after a concert, EXO PLANET #2 – The EXO'luXion to be specific. This was the first time EXO came to the United States, and it was the first time Kelly would experience them live. The concert wasn't in Kelly's plans; it happened due to pressure from her friend who wanted to go. Kelly remembers only going because "[they] were the only two K-pop friends I had."
She knew the moment she walked into the venue that it was bound to be a crucial moment. "This is it, this is happening again." At this point, seven years had passed since Kelly first fell down the rabbit hole, but on that fateful night, she relived her first encounter with K-pop.
Kelly revealed the flame of passion fueled by that single night by explaining what happened after the concert, "I was like, 'I only want EXO stuff,'" she said. "I took everything I made, and I just threw it in the garbage. I thought, 'this is not EXO stuff, I don't want it. I'm going to make EXO stuff from now on.'"
When asked about why she was mesmerized by EXO, Kelly responded, "How clean their dance moves are, and their vocals are the best. I can't even say anything about Baekhyun's vocals ever, he can just outsing anyone. All of it put together, makes them into a cool, strong, put-together group." 
Even now, six years after the start of her EXO-L life, Kelly remains vocal about her love of the group. Sporting a black EXO Planet T-shirt with matching heart EXO earrings she made herself, her love is radiant. Furthermore, she smiled as she recalled her memories, the ones where professors would criticize her newfound muses and would ask her to paint something else. "What am I going to paint, a landscape? No. I'm going to paint Chanyeol, obviously. Give me a bad grade, I don't care."
Don't Mess Up Her Tempo
Passion for K-pop and dedication mix for the majority of Kelly's artwork. What seemed like a strange combination for the school's faculty and Kelly's peers, seamlessly came together in her workshop. "In the end, I think I was too persistent about it," she said. "I'm an artist, I'm going to be an artist. If I have to open up my own gallery to showcase my EXO stuff I don't even care. Eventually [faculty] were okay with it."
Kelly's emergence on Twitter with her glass art was unique. Fan art has been popular for ages, however, no one was using glass as their canvas. To this day, it is not a widely practiced fan art technique. "I felt like I had won something," is what Kelly said about seeing how she was one and alone.
The beautiful mosaics that Kelly has gifted the community are all thanks to a small glass art workshop near her house. "When I see other stained glass artists, they tend to be older, and they want to make suncatchers or maybe some church pieces. I came in with a picture of Zico of Block B and told them to teach me how to make this man. They wondered why I couldn't just make a butterfly."
The older women in the shop eventually taught her how to cut and use the specialized equipment. After she figured out the basics, Kelly thought it was best to get out of the shop's hair, so she took her equipment home to start her glass art era.
The process is long and tedious, and that was why Kelly fell in love with it. Before her venture into glass art, she was working with spray paint which took much less time. For her, the hardest part was the physical toll that her newfound canvas took. Another aspect that was different from her previous work was the difficulty in creating effects such as bruises from EXO's "Monster" era. "It's just a lot of practice and studying," Kelly said. She practiced and studied, and eventually, learned to incorporate tones into her difficult task.
Her longest piece took two months, mostly due to her schedule. Her shortest piece was the 10×10 piece she gifted to Park Chanyeol's mother. "It was weird; it was weirdly surreal, to have the idol you like, you follow around and probably know too much about their life, the mother receives your art is wow." Kelly earned the opportunity to gift her art due to her participation in a Korean cultural exchange program. 
She didn't expect his mother to be there. Instead, she planned on leaving her gift with the manager. Luck was on her side as she popped out from the kitchen, and in a heartbeat, Kelly knew she was the one and only. "She was surprised — I don't think she would have ever imagined that I would pull out a glass portrait of her baby," Kelly said. "It was nice since I watched as she stared at it for a long time, I really felt the appreciation."
After Mama Park studied the art, she called over the manager and motioned to a spot on the window. Right before her eyes, Kelly's art was put up in "the holy land of Park Chanyeol." This is, in her opinion, her peak, although she may disagree as she has a long way to go before she retires. After her trip, ironically, her professor bragged about her encounter with Mama Park, "Yeah, yeah, okay," Kelly said. "Now you're going to use me in your story."
She's Dreaming of More
For now, Kelly is in a transitional space. Sadly, she has no access to her materials, although she wishes to get back to work on her stained glass art as soon as possible. She doesn't promise anything but hopes to put out something new in the summer. Something that can be anticipated, however, is her Etsy shop, EXOLANSIS, where she has tried to create and fill up with K-pop merch such as custom earrings.
Susan's dreaming a dream that seems far-fetched, but never impossible. While artists usually rent a gallery for their work to be displayed, Kelly opts for an abandoned church. Kelly continues breaking boundaries, but her muses won't change. Instead of saints gracing the windows, Kelly imagines the light shining through her EXO glass art along with the art inspired by other idols. It may be a while before that dream is turned into reality, but make sure to support Kelly's Etsy and visit her website artistsusankelly.com to contribute to what will become the holy grail of K-pop glass art.
Want to read more about K-pop focused Artist? Check out our interview with artist @EVILHYA here!
Thumbnail by Nevi