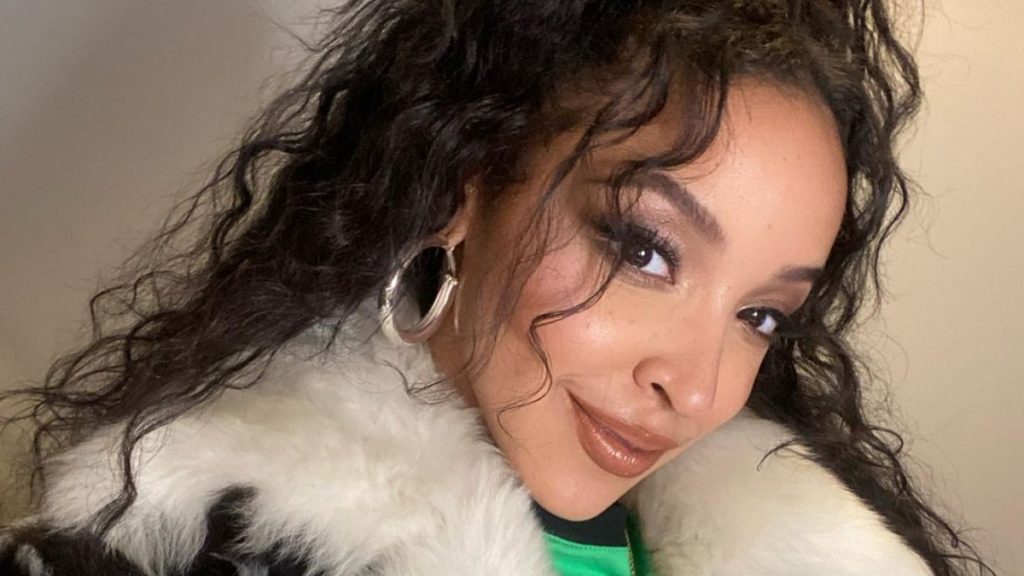 It is no surprise to K-pop fans when their favorite idols name Tinashe as an artist they admire or wish to collaborate with. Since the release of her hit single, "2 On," the American singer, songwriter, and dancer has branded a place in the hearts of K-pop idols. From members of GOT7 and BTS to aespa, and more recently NCT 127, idols are proud to express their love for the multi-hyphenated artist. Tinashe's compelling choreography, prime vocal performance, and effortless beauty have led her to be labeled as K-pop's ultimate crush.

The Beginning
Following the disbandment of her girl group, The Stunners, in 2011, Tinashe officially debuted as a solo artist. Tinashe would then release her first studio album, Aquarius, in 2014, which gave fans the hits "2 On" featuring rapper ScHoolboy Q and "All Hands on Deck." "2 On" became a worldwide hit, having debuted in the Top 20 on the Billboard charts in 2014. Tinashe even recognized its impact in a Glamour interview, sharing it was the track that put her on the map.
Once "2 On" hit the music scene in South Korea, this would mark the period that Tinashe's presence was truly felt not only among K-pop idols, but other Korean R&B and Hip-Hop artists. It would be a common occurrence to hear her name mentioned in interviews as an admirable artist and dream collaborator. This did not go unnoticed by K-pop fans; Tinashe's presence in K-pop actually became an ongoing topic within the fandom. Many fans would joke about how many idols were 'whipped' about Tinashe or how she even had a chokehold on the industry itself.
The Revival
In a recent interview with Billboard, NCT 127's Jungwoo revealed Tinashe to be an artist he would love to work with. This came as no surprise as the NCT member has shared several Tinashe songs with fans before. Fans of NCT, NCTzens, were quick to tag the singer about Jungwoo's interest in collaborating.
Though just a pure moment of expressing a wishful partnership, Jungwoo's mention of the musician reignited the conversation around K-pop's love for Tinashe. Long-time fans couldn't help but reminisce on the days when Tinashe reigned as the main topic among K-pop idols, especially from 2016 to 2018. This proves that even as her musical career grows, her presence in K-pop remains.

The Tinashe Fanclub
Over the years, there have been numerous idols that have shown their support for Tinashe in various ways, showing their appreciation in interviews, sharing their favorite tracks or pictures, even covering dances, and more.

One cannot speak about Tinashe and K-pop without mentioning BTS member j-hope, who has been vocal about his respect and admiration for the artist on several occasions. In multiple interviews, j-hope has named Tinashe as a dream collaborator for future projects. The K-pop artist was even seen having the musician as his wallpaper on his computer, more than once. Seeing his interest in working together, Tinashe expressed her openness to the collaboration.
GOT7's Yugyeom is another notable SweeTee. In 2017, Yugyeom caught fans off guard when he posted a picture of Tinashe to his Instagram. The lack of context was amusing to fans, but nonetheless, a cute gesture to show his support for the singer. Yugyeom would even go on to sample "2 On" in one of his official SoundCloud tracks, "You Know," making a whole song based on the hit single.
K-pop idols weren't the only ones to mention Tinashe. Being an R&B singer himself, artist Jay Park was also a big fan of the artist. So much so that in the English version of his song "All I Wanna Do," Park mentioned her in the lyrics: "I want them good vibes only / It's just me and my homies / And if you don't know me / Then you better stay the fuck outta my section / Unless you Tinashe." The track caught the attention of Tinashe on Twitter, thanks to Park's fans mentioning her. The pair would actually meet nearly two years later at the Roc Nation Grammy's Brunch, where Jay Park happily posted a selfie with her on his Instagram, smiling ear to ear.
Girl groups also hold an appreciation for Tinashe's artistry. In an interview with People magazine, aespa mentioned Tinashe as a dream collaboration for the girl group. Member NINGNING went on to share, "It [would] be an honor to collaborate with an artist like Tinashe. Her style of music [would] really mesh well together with aespa's." She also expressed how much fun it would be to create music and work with such a talented artist. Fans of both aespa and Tinashe were quick to support the vision as both have a similar cyber-futurism concept to their work. They also believed this collaboration to be a true match made in heaven as they recognized that aespa's slow songs tend to lean toward the R&B genre.
Sweet T x EXO
Though not mentioned by the Korean singer before, there is a lot of support for a collaboration between Tinashe and KAI of EXO. The two became another desired partnership with both fans recognizing their similar agility to explore genres and remarkable dance abilities. Twitter fanbase accounts, StationKai and tinashediary, came together to hold a streaming party, named #TINASHExKAI, dedicated to the pair's music. The American singer was featured as a special guest on the streaming party, speaking about the release of her new album and answering fan questions. This led to fans asking if she would be open to collaborating with the K-pop star. Her answer left fans thrilled as she shared her interest in a collaboration with KAI, even sharing that "Amnesia" was her favorite song off his self-titled EP, KAI.
This was not the first time that EXO has been mentioned when it came to Tinashe's work. In 2016, Far East Movement and electronic musician Marshmello featured both Tinashe and Chanyeol from EXO on the song "Freal Luv." This was a monumental moment in music as it remains the first and only Tinashe collaboration with a K-pop artist. This dream team came together right at the peak of her presence in South Korea. It was special for both Tinashe and EXO fans alike. As YouTuber Naomi Cannibal noted, it was a chance for K-pop fans, especially EXO fans, to be exposed and experience the singer's music and for Tinashe fans to experience Chanyeol's solo work.
"Freal Luv" still holds a presence in the music scene. Recently, the song had gone viral after Chanyeol was seen performing it at an event in Los Angeles. The song pushed up on the K-hip-hop charts, peaking at #5, even after its release six years ago.
A Pivotal Piece in Pop
This bridge between Tinashe and K-pop is not unrealistic as her performances have been deemed the same quality as the ones put on by K-pop idols. What makes Tinashe stand out, or be easy to admire by idols, is her ability to execute an all-around dynamic performance with vocals, choreography, and stage presence. This talent is what supports this bridge between the American artist and her K-pop counterparts.
Tinashe's stage expertise can also be credited to her idolizing music sensations Janet Jackson and Britney Spears. The musician revered Jackson not only as a dancer, but as a creative in music video direction, performer, musician, and more. It is important to note these two and their influence, because Spears and Jackson also have a prominent influence on K-pop, especially amongst girl groups' sound and performance.
Black Impact and Influence
It is no secret how influential Black culture has been in the K-pop industry from music to dance to fashion and vernacular. This is why it is not too far-fetched to speak on Tinashe's influence on the industry as she makes songs that a lot of K-pop idols are influenced by. Being an artist that blurs the lines between pop and R&B, many idols can find themselves wanting to achieve the same kind of style or sound. A lot of artists draw inspiration from Black artists and their music and dance styles.
To such an extent, there was even a controversy around K-pop group DIA's "WooWoo," as many noticed its great similarity to Tinashe's "Superlove." From the song production to the beach concept and music video direction, there was obvious Tinashe inspiration behind the comeback. This further proves the influence of Black artists on the K-pop industry, as well as dubbing Tinashe a 'blueprint' for female K-pop idols and groups.

Though the year 2022 marks the eighth year since the release of "2 On," there is no question that Tinashe's presence in K-pop is longstanding. Idols still to this day crown her as a dream collaborator of theirs. And with several people on this list having already collaborated with other American artists, these pairings do not seem too far out of reach.
Make sure to keep up with Tinashe on her official Instagram and Twitter, as well as subscribe to her YouTube channel.
Also be sure to stream her most recent album, 333, here on Spotify and Apple Music.
Want more music? Check out our coverage on B.I's Love or Loved, Pt. 1 EP, here!