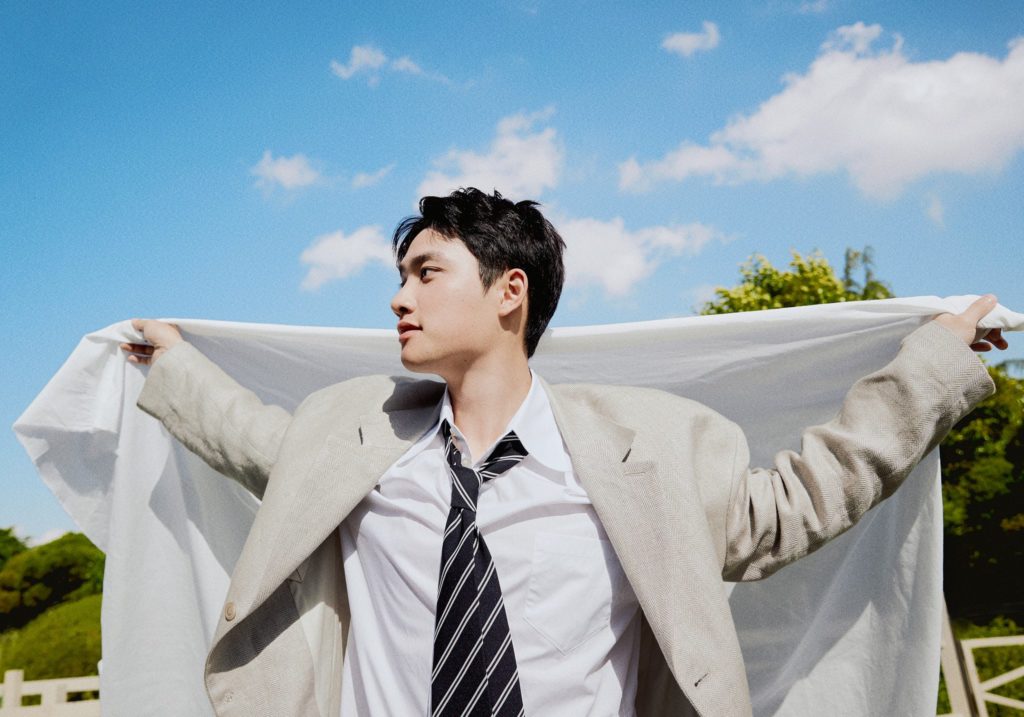 EXO's D.O. made his solo debut with his mini-album 공감 (Empathy) on July 26. D.O. became the fifth member of EXO to drop a solo album. The comeback was officially announced on EXO's Twitter page on June 25 and the highly anticipated release was met by excitement from fans from all over the world. In Empathy, D.O. opened his heart to fans with lyrics full of love alongside his sweet voice. 
Do Kyungsoo is not by any means a rookie nor someone who is a stranger to success. This multi-talented idol has been one of the vocal pillars of EXO even before his debut. With a respectable nine years in the industry and multiple singles and collaborations, D.O. is finally back with a mini-album.
"Gather the Rosebuds While You May"
The title track, "Rose," is an acoustic folk song that expresses the feelings of being in love. In the music video that was released alongside the album, D.O. is seen cycling all over the city where unexpected events happen, but he doesn't seem fazed by them. His mind is occupied by the person he loves. The phrase "gather the rosebuds while you may" shows several times throughout the music video as a reminder of his lover.
Composed by Emanuel Abrahamson, Benjamin Ingrosso, and Axel Ehnström, and written by D.O., "Rose" is a track that transports you to the place where you first felt love and reminisce those moments where all you can think about is that special someone.
For the English version, the lyrics are a little bolder, declaring love for the other person and asking for a chance. "If you need a lover / let me know and let me in / I could treat you better / steal you roses every day."
An Album with Soul
A couple of days prior to the official release, EXO's official accounts shared the "Highlight Medley' a short film, showing the main tracks of the mini-album. The four-minute short followed the story of two people who met by accident and destiny brought them back to each other's lives, beginning the story of their love.
The mini-album consists of eight tracks including the English version of "Rose" and the Spanish version of "It's Love", titled "Si Fueras Mia". The album has a combination of genres and styles that go from pop to R&B, bringing the songs alive.
Starting off the highlight medley is the track "나의 아버지" (Dad). This is a ballad composed by Dave Gibson, David Sneddon, Jon Hume, and The Aristocrats and with lyrics by Jo Yoon-Kyung. Jo Yoon-Kyung had previously worked on D.O.'s single "That's Okay" and tracks such as EXO's "Day After Day". The track feels like a letter to his father, with lyrics like "I want to be more like you / To you, I'm still a child / I'm still learning life from you." It tells a story of a child that grows to finally understand the things that they hadn't noticed before and continues to learn from the person they look up to.
Next up is the track "I'm Fine," a jazzy R&B song composed by Emile Ghanios, Josephine Carr, Celeste Williams, and Lamont Pierre Heath with lyrics by Hwang Yoo Bin, Kim Bunny and D.O. The track starts with D.O.'s soft voice as if he was very far. The lyrics express the uneasiness of someone that is too preoccupied for the person they love. The song expresses the wish for the other person's well-being. "I sincerely hope you tell me, 'I'm fine' / If you don't tell me that / before it's too late, let's try it together, one thing at a time / Don't worry about things on your own […] Even a small wish, one thing at a time, the two of us."
What it's Like to Love 
"My Love"  was written by Hwang Yoo Bin and composed by 220, eaJ from Day6 and Andreas Ringblom. Love is expressed in this track as a mix of anxiousness of not wanting to be apart, and the calm that comes after seeing a lover's face which results in everything seeming to be perfect. "The night sky, the starlight, your eyes / Everything I see with my eyes / That's just my love." D.O.'s voice in the track is calming and manages to portray the feeling of the lyrics perfectly.
The track "I'm Gonna Love You" featuring Wonstein with Korean lyrics by Danke and Wonstein, and composed by Jin Lavinge, Michael Matosic, Edwin Honoret, and Laurus "Leo" Arnarson, is a medium tempo pop song. D.O. starts the song falling easily on the groove of the acoustic guitar. After the first chorus, Wonstein makes his opening with rap giving dynamism to the song. Their voices create an amazing chemistry while carrying the track that talks about how easy it is to love and how escaping their fears isn't hard because they feel reassured by said love. "As the midday sun is pretty hot / It's natural for me to love you."
"다시, 사랑이야" (It's Love) is a Latin-based acoustic pop song with Korean lyrics by Jo Yoon-Kyung and composed by Andreas Öberg, Danny Saucedo, Cindy Gomez, and Maria Marcus. It shares a story of longing from lost love and a hurting heart that eventually evolves into giving yourself a second chance. "The tired days and long loneliness is passing by / What I want to meet around the corner / Is love again." 
The Spanish lyrics of the song revolve around the idea of doing anything for a loved one.  "Si Fueras Mia" is directed at the person someone longs for. The Spanish lyrics translate to "if you were only mine, the places I would take you, to see you happy and see you smile, there is nothing that I wouldn't do, I'd give you the whole world." 
D.O. took the task of describing the depth of what it means to love; beyond the perfect romance box, it is described as something sweet, as something that might hurt, and as something constantly changing.
The lyrics are deep and personal in a way that people can resonate with them. The tracks carry the listener through multiple types of relationships ranging from lovers to the relationship between a child and his father. D.O. successfully portrays these types of relationships with his powerful vocals and encapsulates these feelings in this mini-album.
ROSE MV feels like want to tell us that everything or anything around will means nothing because you're in love pic.twitter.com/n1CvgeH7df

— ???? (@chanbaektwts) July 26, 2021
kyungsoo basically said i love you in 8 different ways thats so sexy and so hopeless romantic of him

— BABYSOO (@dayumexo) July 26, 2021
After listening to 'Rose' by Kyungsoo it makes me love the idea of being inlove ?

— Z e n.◡̈ (@jaeedimples) July 26, 2021
rose mv teaser looking like the most fulfilling and heartwarming drama snippet pls kyungsoo is giving us EVERYTHING#ROSETeaser_ByDO pic.twitter.com/hwK2qIKbLw

— ayesha ? DKS1 (@whinyjongdae) July 22, 2021
If you'd like to listen to D.O.'s new album '공감' (Empathy) check it out on Spotify here. And if you'd like to see more of EXO you can follow their social media here. 
Want to read more on D.O.? Check out his previous comeback with EXO here!