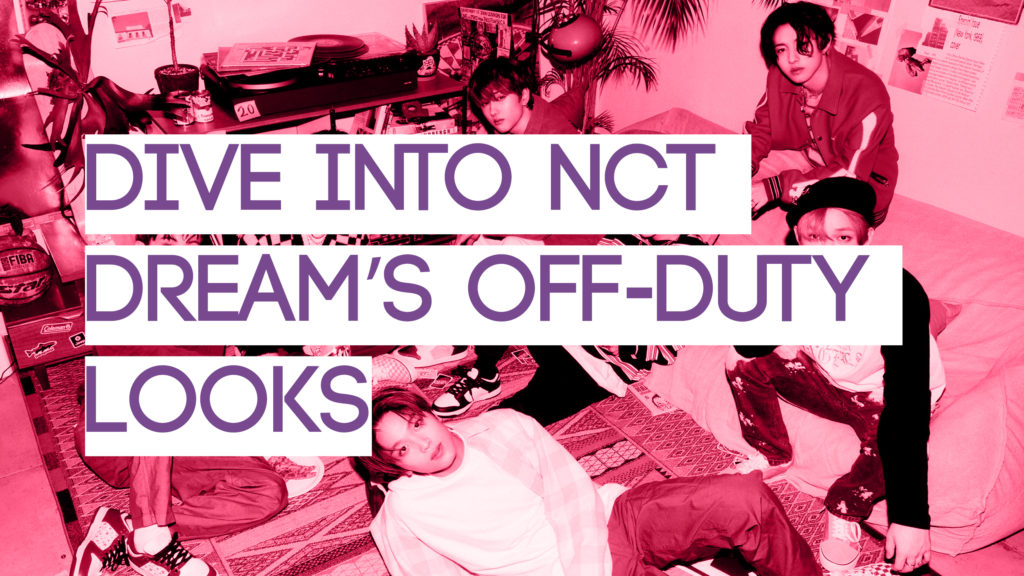 Over the last five years, NCT Dream has evolved into record-breaking million album-selling artists, donning custom pieces on stage. Playing off of each others' looks, they shine bright on stage while performing their chart-topping songs. Offstage, their individualistic sense of style is apparent, yet there are similarities that build a cohesive environment around them. Dive into their off-duty styles and incorporate them into your closet with this list!
Sweater Vest With T-shirt
View this post on Instagram
Taking inspiration from the trend with its origins in the 20th century, the fashion world has seen a plethora of sweater vests recently. One striking feature in the fall 2020 season was the sweater vest. The once "uncool" fashion item made it to many racks including Jil Sander, Dries Van Noten, Gucci, and Prada. Recently, NCT Dream's leader sported the trendy garment over a white T-shirt in "7llin' in the DREAM." Mark's pick was thisisneverthat's knit vest in olive.
Shop similar products: Venus Chunky Knit Sweater Vest by Hope Macaulay or Sleeveless Tunic Jumper by Ally Bee
Blazers
200228
Moonwalkin' to #JAEMIN#NCTDREAM#NCT #THEDREAMSHOW#TheDreamShowInManila#NCTDREAMSHOWINMANILA

Cr.CaffeineA0813 pic.twitter.com/8mzAQTclCc

— napie.?. (@Joomin_on_top) February 28, 2020
Proving to be one of the most versatile pieces, it looks like the blazer trend is here to stay. A trend that took over social media in 2020 and continues to dominate wardrobes in 2021, due to its modernization using new fabrics and silhouettes! Likewise, it made it to NCT Dream's wardrobe, specifically Jaemin's. Jaemin often spices up his airport looks with the addition of a beautiful blazer. His wardrobe includes pieces by Prada and BELLBOY. He styled his Prada blazer by incorporating it in a monochrome outfit, along with loose-fitting pants, a white turtleneck, and a crossbody bag. The look was finished with a black bucket hat and Chelsea boots.
Shop similar products: Arielle's Power Jacket and Prowess Pant.
The Classic Off-Duty Look
200804 JISUNG VLIVE ?
9/10
©nanasbananamilk#NCT#NCTzen #NCTDREAM #JISUNG #VLIVE pic.twitter.com/JiwimtWT3s

— 햄찌 맞 !!! (@jisungsanna) August 4, 2020
Skinny jeans, a hoodie or sweatshirt, along with a cap or beanie is arguably every artist's favorite look. This combination is pretty hard to miss in K-pop and is the epitome of "off-duty" looks. The functionalities of the outfit are usually tested near a comeback when the members have to hide their new hair color. NCT Dream members exude their unique charms with their different hoodies. Jisung, a pioneer in pulling off this look, showcases his charisma through a wide mix of high-end luxury and local brands. His recent picks include Thom Browne's navy pullover, F Vertical Hoodie by FIX NOTHING, and Stüssy's ash heather sweatshirt. 
Shop similar products: Organic Terry Raglan Sweatshirt by MATE the label (extended sizes available), Gingham Cashmere Sweater by NAADAM, and Florence Skinny Jeans by DL 1961.
7 Bags!
renjun and haechan having similar bags and jeno asking if they're a couple ? pic.twitter.com/lS9araiyJY

— arika ♡ (@renjeonah) April 17, 2021
When traveling as much as NCT Dream does, a bag is a must have. Though Jisung said that Jaemin never carries a bag in the first episode of "7llin' in the DREAM," all Dream members have been spotted carrying designer bags. Renjun and Haechan both hold their essentials in the Saint Laurent Large Sac De Jour Bag, though Haechan occasionally opts for a sporty Off-White duffle bag. Jaemin uses the chic yet utilitarian Dior Book Tote with his name personalized on the bag. Chenle's pick is the Louis Vuitton Christopher Backpack. 
Shop similar products: Brown Cork Backpack by Corkor, Leather Backpack by Cuyana, and Maxi Quilted Floral Totebag by Sézane.
Top It All With A Cap
View this post on Instagram
A K-pop idol essential, the baseball cap, frequently appears within NCT Dream's looks. An item that dominates the fashion scene from high fashion to high street, the baseball cap serves a multitude of purposes. NCT Dream usually brings out their caps prior to a comeback, often shielding their latest hair trends. Jaemin uses the Classic Baseball Cap by Balenciaga while Jeno often dons the Vibrate Split Ball Cap. Mark recently sported the Polo Ralph Lauren logo embroidered cap in an Instagram post.
Shop similar products: Everlane Baseball Cap
Want more on NCT Dream coverage? Click here to read about EnVi recreating NCT Dream's looks.
Thumbnail by Rebeca