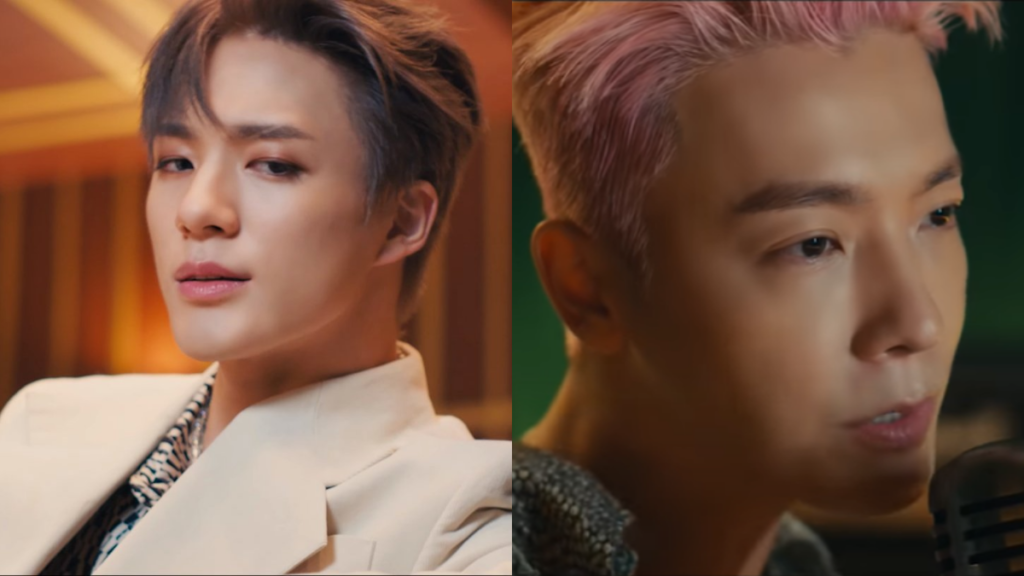 On October 11, Super Junior-D&E's Donghae announced a new digital single, "California Love," joined by NCT DREAM's Jeno, through a series of teaser images. Three of the teaser images, with a striking red background, represent the title track, while the rest of the images highlight a cool blue background to signify the B-side track, "Blue Moon" featuring (G)I-DLE's, Miyeon.
The digital single plays the role as solo pre-release songs for D&E's upcoming first Korean studio album, Countdown, to be released this October.
California Love
"California Love," is a R&B hip-hop song that showcases the duo's mature sides. Donghae participated in both compositing and writing the lyrics for the song. According to Donghae, he was playing the song while on a drive with Jeno and asked for his opinion, in which he said the song is really good, and offered for him to do a verse for it.
With a beautiful harmonization of Donghae's sweet vocals and Jeno's lower register tones throughout the song, it's surely a no skip track!
A Different Type of Sound
This genre of 'mature' sound is not new to Donghae, who has more than 15 years of experience in the music industry. For Jeno however—who debuted at an early age with the group NCT DREAM and known for youthful concepts—this is definitely a new unexplored scene for him.
It doesn't come as a surprise anyway when the song was released with Jeno absolutely nailing in pulling off the concept, showing a new different side of him fans are looking forward to since the announcement. His visuals, accompanied by his husky vocals added a different powerful aura, making him the perfect fit of the song.
The 'Father' and 'Son' Duo
Both Donghae and Jeno's 'father-and-son' relationship goes way back since Jeno's SMROOKIES days. With many videos and images content available for public access dated back from 2014.
During Donghae's Countdown live, he mentioned they first met when Jeno was in either elementary or middle school. Additionally, he has always thought that it would be nice for them to perform on a stage together as singers in the future.
Several anecdotes, shared by them through the Lysn app feature, Bubble, serve as evidence of their frequent hangouts and outings ranging from cycling to having lunch together.
Fans Reactions
Since this is Jeno's first musical collaboration, with the respectable Donghae nonetheless, fans' excitement was felt all over Twitter when the news first broke out:
As the teasers came out, with Jeno in one of them, fans quickly expressed their eagerness for the release.
The reactions are still piling up after the release with fans of both Donghae and Jeno praising them for their amazing vocals, visuals and of course, dance moves.
From Me to You
Just as the release day ended, Donghae shared a touching message for Jeno to his SNS that reads—"When we talk about music, we lose track of time. Taking this opportunity as a stepping stone, even though we are going on a different path, we will meet again for another opportunity.". He also attached a short behind-the-scenes clip of 'California Love' alongside the post.
Interested to see more of NCT DREAM's member collaborations? Check out Jaemin x Tom Ford x Adam Katz Sinding's WWD magazine featuring here!
Thumbnail courtesy of SM Ent.