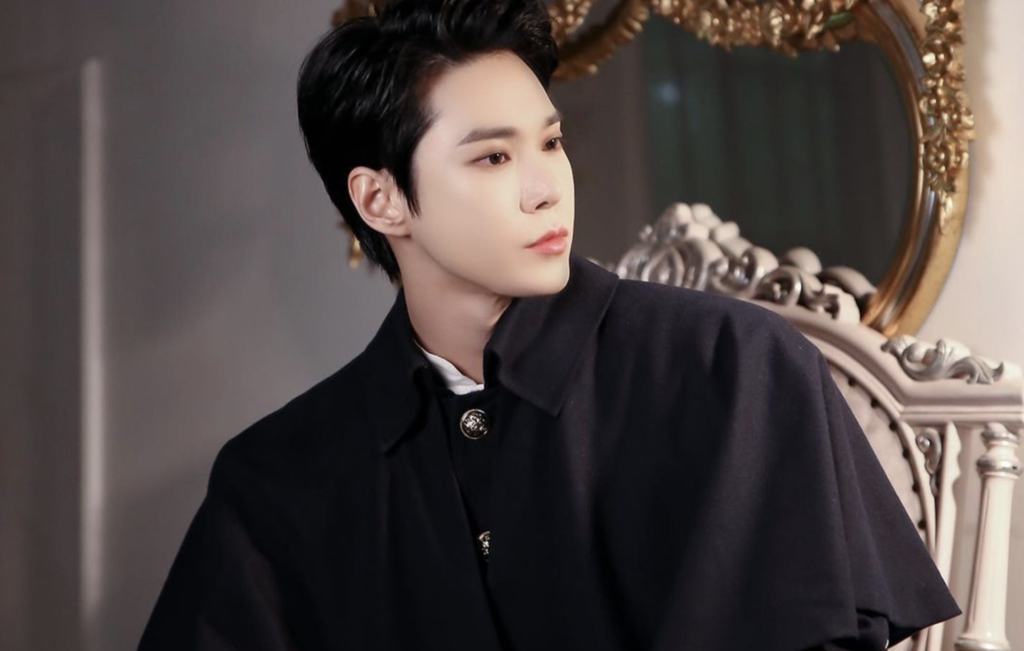 An acting debut, music collaborations, and magazine covers don't seem to suffice for NCT's Doyoung. With a packed agenda in the first half of the year, the singer continues to tackle new challenges. After hitting the small screen through the drama Cafe Midnight Season 3–The Curious Stalker, Doyoung took on the role of Axel von Fersen in the musical Marie Antoinette. His first performances have earned the approval of critics and passionate reactions from fans.
View this post on Instagram
Marie Antoinette, The Musical
Mixing fiction and reality, Marie Antoinette is the Korean adaptation of the Japanese musical of the same name. It follows the story of ​​Marie-Antoinette de Habsbourg-Lorraine, Queen of France, and the fictional character, Margrid Arnault. Unlike the original play that revolved around Arnault's efforts to lead the French Revolution, the adaptation focuses on the "life and love of Marie Antoinette."
The musical, produced by EMK Musical Company, portrays the Queen of France as a woman who enjoys a luxurious life and is misunderstood by those around her. As she navigates the events building up to the outbreak of the revolution, Marie Antoinette endures the pain of an ill-fated love. 
Count Axel von Fersen
Inspired by the historical figure of Axel de Fersen, the musical also features Hans Axel von Fersen, a Swedish Count who falls in love with the queen. In an attempt to save her from execution, von Fersen offers a plan to escape, but Marie rejects it and decides to face her tragic fate. 
Fitting for the part of the courageous and handsome nobleman, Lee Seok-hoon, member of SG Wannabe, BTOB's Lee Chang Sub, Min Woo-hyuk, and Doyoung all share the leading role. According to the veteran musical actress Kim So-hyun—who plays Marie Antoinette—each of the actors has lent their personal "charms" to the character, allowing them to perform "with a different feeling each time."
View this post on Instagram
Dorsen (Doyoung & Fersen)
After months of diligent preparation, Doyoung stepped into the role of Count von Fersen on July 17th. Praised by fans and theater-goers, the idol also received positive reviews from the media. As the musical takes the audience back to the 18th century, highlighting Marie Antoinette and Fersen's story, journalists commended Doyoung's convincing acting. "He showed outstanding singing skills, as well as calm facial expressions and stable body movements," a media outlet commented. 
A complex character, Alex von Fersen confronts the imminent loss of his lover experiencing a wide range of emotions. Rage, sadness and yearning were delivered flawlessly by Doyoung on his musical debut. As noted by critics, the star was deeply invested in the character from beginning to end. The scenes where he channeled despair and sorrow in the face of Marie's guillotine execution, particularly gathered attention. 
In his first participation in a musical, Doyoung also flaunted his ability to portray emotions through singing and the unique color of his voice. "Doyoung made full use of the stage experience he had accumulated over the years through NCT, NCT 127, and NCT U," media noticed. Reviews from attendants echoed those reports and applauded Doyoung's performance as Axel von Fersen.  
"his breathing and projection was all so perfect that I cannot believe it is his first musical. he suits the uniform so well and i was enthralled by just him standing there… *screams*" https://t.co/7ejQ0Mze5q

— ✨ㅇㅅ✨ (@appartement201) July 17, 2021
"Marie Antoinette" Act 2 Review

As they watched Doyoung cried, everyone in front of me went crazy.. When Marie was executed, he came out from the 2nd floor and he sang with teary eyes while choking up just like what he did when singing last verse in No Longer at NEOCITY— https://t.co/GJawfoYchS

— clair (@clairdelune48) July 17, 2021
"I really can't believe that this is Doyoung's first musical… For real, his voice projection and acting, all of it was the best.. Doyoung had everything.. He did so well that I kept on shaking and having goosebumps while watching ㅠㅠ Our Doyoungie really did so so wellㅠㅠ" https://t.co/FgS6KCQsCY

— 링 (@nctdaoying) July 17, 2021
Compliments From Colleagues
In addition to the positive reactions from the audience, Doyoung's castmates have also showered the singer with love. Apart from frequent social media updates where Doyoung is spotted practicing and hanging out with the group, the cast of Marie Antoinette has voiced their appreciation for the member of NCT. 
Doyoung said he's going to musical practice now and will eat with the Fersen hyung's later today. 🥰 Love how close they're all becoming.#마리앙투아네트 #DOYOUNG #도영 pic.twitter.com/Q9UOpCZlCT

— ♡ (@kdyactor) June 18, 2021
View this post on Instagram

In an interview, his co-star Kim So-Hyun shared, "In particular, Doyoung works really hard, wants to know more [about musical acting], and is calm on stage." 
View this post on Instagram
The actors involved in the show have also taken to social media to talk about Doyoung. On July 10, Lee Han-Mill — Louis XVI in the musical — shared a picture of a cup of coffee, thanking NCT's vocalist for the courtesy. After his debut presentation, on July 17, the actress Kim Sohyang, who also plays Marie Antoinette, posted a picture of a bouquet of flowers sent to her by Doyoung's family. "Everything about Doyoungie's first show was beautiful," she wrote in the caption. 
210710 Musical Actor Lee Han-Mill's Instagram Story Update

"If you buy coffee for me then you are a hyung!
I will drink it well Doyoungie hyung ☺️
@/do0_nct"

t/n: This musical actor is 35 years old 😂#DOYOUNG #도영 pic.twitter.com/DZKd4fkx6Z

— 링 (@nctdaoying) July 10, 2021
View this post on Instagram
The appreciation is surely mutual as Doyoung acknowledged the help he received from the cast and staff of  Marie Antoinette, during his preparation. "I think all of the sunbaenims and production staff, without excluding any single one of them, are my source of support. I, who's performing in a musical for the first time, am very grateful that they taught me a lot of things and guided me," he said.
NCT Support Squad
As expected from the tight-knit group, his fellow NCT members have also shown their support for Doyoung. Whether attending the show or anticipating his debut, his group mates have offered encouragement in his new endeavor.
210716 Taeyong Bubble 💚

"Sleep well. Tomorrow Doyoungie musical, fighting"

"For those who are going to watch, have fun watching it !!"

"Doyoungie prepared really hard for it"#TAEYONG #태용 #태용버블 #툥블답장

— 방구석린 🌹 𝟺∕𝟷𝟺 𝙻𝚘𝚟𝚎 𝚃𝚑𝚎𝚘𝚛𝚢 (@alientyong) July 16, 2021
After successfully kicking off his musical acting career, Doyoung continues to break the mold and set personal milestones. With remaining dates scheduled until September, the artist will continue to enchant lovers of theater. However, in the near future, there are no signs of slowing down for him. Recently, SM Entertainment announced new material from NCT 127 for the month of September. Needless to say, Doyoung's fans can look forward to more of his career evolution then.
Eager for more Doyoung? Check out our piece on his evolution into a certified style icon here!
Thumbnail courtesy of EMK Entertainment.