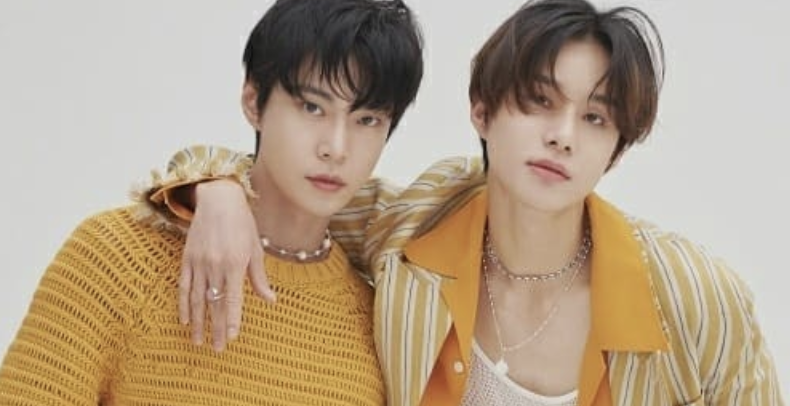 Already owning music charts with their single "Save," in collaboration with Amoeba Culture, the members NCT 127, don't make it to the headlines only for their music. Armed with "skills and charm" and known for their multifaceted careers, they've also gathered attention as actors and models. Proving this versatility, Doyoung and Jungwoo were selected as the cover stars of @star1 Magazine's July edition.
View this post on Instagram
Upon releasing new music in Korea for the first time in "more than a year," the members of the Seoul-based NCT subunit were invited to a colorful pictorial where they flaunted their incredible chemistry. In addition to going full-on yellow and matching outfits, Doyoung and Jungwoo were praised during the photoshoot for "skillfully digesting" the concept and delivering fun poses. 
View this post on Instagram
A Gift For Fans
In the cover story, the "Kim Brothers"—as they've been affectionately dubbed by fans—also reflected on returning to the music scene with the digital single "Save" and expressed their gratitude towards fans. "We wanted to show a mature and progressive image as we came back after a long time. We hope [Save] becomes a song that is like a gift to the fans," they said.
"Save" which has been featured in Samsung Memory's campaign "SAVE All The Progress," recently made it to the World Digital Song Sales chart, debuting at No.8 and becoming the twelfth single of the band to reach the chart's Top 10.
Future Activities
Apart from wooing fans and surprising the staff of @star1 Magazine with their professionalism, Doyoung and Jungwoo spoke about the activities they would like to do in the future. Stressing their strong bond and close friendship, Jungwoo expressed his interest in variety shows as well as filming content like vlogs and restaurant tours. "As long as I can show a strong chemistry with Doyoung, I would like to try anything together," he said. Meanwhile, Doyoung spoke about music activities. "I like Jungwoo's vocal tone. We both want to do music that can clearly show our tone," he told the magazine.  
Doyoung and Jungwoo have previously displayed their strong bond through photoshoots, vlogs, live videos, and behind-the-scenes footage, so fans will surely be on the lookout for the "Kim Brothers" future endeavors. 
Doyoung's Acting Debut 
As we've previously reported, 2021 has been a busy year for Doyoung. Other than showcasing his talent on the small screen through the fantasy drama Cafe Midnight: The Curious Stalker, Doyoung will make his debut as a musical actor next month. Taking the role of Axel von Fersen, Doyoung is scheduled to perform in the musical Marie Antoinette, along with seasoned singers and actors.  
View this post on Instagram
Regarding this acting challenge, Doyoung said "There are many things to learn because only excellent people are gathered. It gave me the opportunity to cherish the preparation process we had together." 
NCT 127's 10th Anniversary
Although NCT 127 has not celebrated its fifth anniversary yet, Doyoung and Jungwoo also expressed their wish to build a lasting career and become a group that's loyal to each other "even" on its tenth anniversary.
NCTzens' Reactions
After the preview pictures hit the internet, NCT fans left comments on social media praising the duo's chemistry and gushing about their friendship.
while we're on the dowoo topic, it's nice to see how their friendship progresses, it went from jungwoo being shy and timid at the start and doyoung is always there to support him and be there w him and look at them now! doing magazines shoot together, the 3rd one this year too!

— biru (@sunkkisses) June 11, 2021
Jungwoo and Doyoung proving they are an Iconic Duo and Irresistible Force in magazine photoshoots 💯 https://t.co/uHHnS4EgNK

— Woolie (@Woolie_2017) June 18, 2021
there's really something about doyoung and jungwoo being together in one photoshoot. their visuals and charisma complement each other. no wonder the magazines always want dowoo next to each other. pic.twitter.com/5d4HT51Z8R

— a. ☁️ (@dojaechi) June 18, 2021
its true having them together in photoshoots and magazines is a brilliant move. Their visuals and heights compliments each other. They synergy is also lovely. Doyoung and jungwoo power shouldnt be underestimated pic.twitter.com/R7CIXTvlfj

— doyoung's wkorea²⁶ (@xoxoxodoie) June 11, 2021
Other fans took to Twitter to recap Doyoung and Jungwoo's recent fashion feats and their evolution as models. 
List of Doyoung's magazine features in 2021 so far:

Cosmopolitan – March Issue (with Jungwoo)
Elle Japan – March Issue (with NCT 127)
Men's Non-no – April Issue (with NCT 127)
W Korea – May Issue (with Gongmyung)
Anan – June Issue (with Yuta, JW)
@ Star1 – July Issue (with JW) https://t.co/oWq1IxBWNp

— clair (@clairdelune48) June 11, 2021
doyoung and jungwoo really went from fooling around in this segement in weekly idol to being featured from big magazines almost every month (including group & unit) since 2021 😌 doyoung and jungwoo top models wbk pic.twitter.com/Mh7JJuDpsW

— chestnut 🌰 (@peachestnutx) June 12, 2021
THE INSEPARABLE DUO IN 2021, DOYOUNG AND JUNGWOO

Star 1 Magazine
Anan Magazine
Teddy x Slowacid
Cosmopolitan Korea March '21 Magazine pic.twitter.com/vFp32PAFov

— daf (@onlyfordoie) June 11, 2021
A full interview and additional pictures of the "Kim Brothers"  will be available in the July Issue of @star1 Magazine, available on June 25.
In the meantime, you can check our May Fashion Recap, where you can read about Doyoung's fashion editorial with his brother Gong Myung.
Thumbnail Courtesy of atstar1magazine