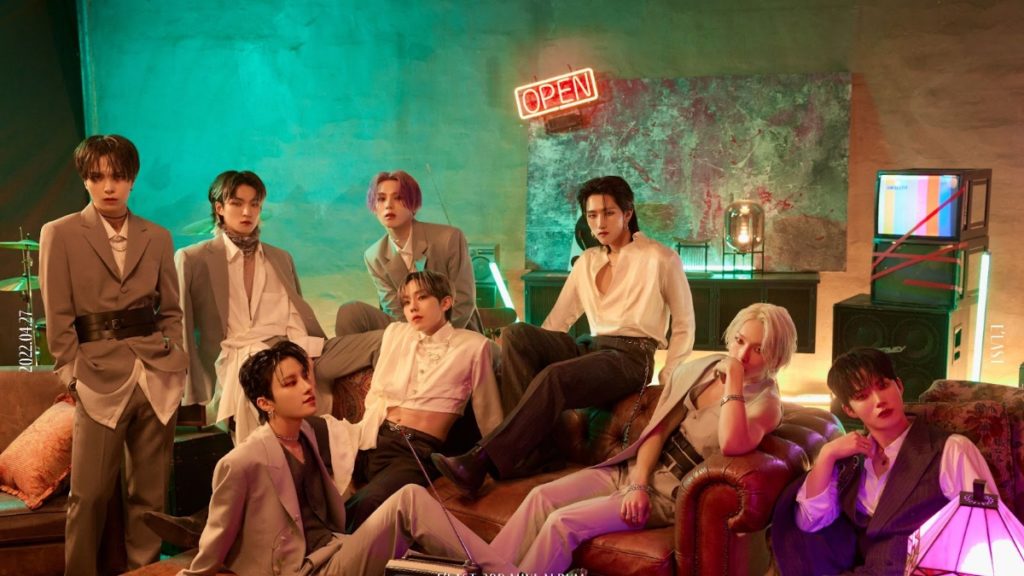 On April 27, E'LAST released "Creature," which is the lead single of their third mini album Roar. Seven months after their last release, Roar is the climax of their storyline. 
E'LAST is an eight-member boy group consisting of Rano, Choi In, Seung Yeop, Baek Gyeul, Romin, Won Hyuk, Won Jun, and Ye Jun. They debuted in 2020 with the title track "Swear," beginning their story.
Roaring to the Climax
E'LAST's have been building a story through their music since debut. In "Swear," they take an oath, leading to the story of betrayal and awakening told in their sophomore mini album Awake. Their first single album Dark Dream describes the toxic relationship in the first two songs, "Dark Dream" and "Muse." With "Creature," E'LAST brings listeners along to the height of this story, revealing all the conflicting emotions one might feel in this kind of relationship. "Pain blurs into happiness/I'm angry but I'm smiling," they sing.
"Creature" is a dark and moody song with a slick anti-drop and highlights E'LAST's powerful performance abilities. The song expresses the members' emotions after ending a relationship, which they compared with turning into a monster or "werewolves with emotional scars." While previous songs explore themes of betrayal, misunderstanding, and awakening, this song examines the aftermath of a toxic relationship, and how it can leave one feeling as if they are losing themselves to a "creature." These are shown in lyrics like "A crazy laugh comes out of my lips/Tormented, I feel a throbbing pain."
The music video drives this narrative even further, showing the members struggling with their "monstrous" side, showing a werewolf losing itself to the "creature." The music video features a strong choreography that projects these "creatures" and allows E'LAST's passionate performances to shine. The imagery of the video is also key, comparing the members to werewolves as themselves during the day, but creatures at night.
this is a masterpiece. #엘라스트 #로어 #ELAST #ROAR #ELAST_CREATURE pic.twitter.com/uyxlis9L1d

— grazia • CREATURE 🍷♣️ (@YEJUNIQUE) April 27, 2022
Roar is the Complete Package
Creature is not the only song to deal with the theme of relationships. The seven-track mini album as a whole examines different stages and feelings of partnerships, from the early sparks of desire to the heartbreak of goodbye.
The mini album opens with "INTRO," a dramatic instrumental that sets the tone for the album as being dark and moody. The sweeping orchestral music and layers of chanting and opera vocals give an ominous feeling, as if foreboding the rest of the album. Following the title track is the B-side "Desire," a polished electronic song with an upbeat chorus describing the members' desire towards another individual. They sing, "My eyes, ears, you took it all." The lightness of the song matches its lyrics, fitting the feeling of meeting someone for the first time with a more optimistic-sounding track.
Next is "Shelter," an orchestra-driven dramatic song about finding shelter in someone else. It talks about despite time and differences, they still come together in the end. The song is accented with piano and violin melodies and allows vocalists Won Hyuk, Seung Yeop, and Baek Gyeul to shine. Slowing things down even further, "Let Me Free" is a piano ballad about the end of a relationship, and saying goodbye to a lover, singing "I have to let you go." It is the penultimate track of the mini album.
Different Sides of E'LAST
Roar comes in two versions: GRAY and RED. Standing out amongst other albums, each version shows one of two different sides of E'LAST. While six tracks remain the same on each version, the seventh track varies. The GRAY version features "Nightmare," a darker-sounding song about the perfect timing of love among two intense lives.Meanwhile, the RED version features "Poison," a track that tells of a "poison-like love" that the members know they should leave but cannot.
Looking Forward
This album is a continuation of the story of E'LAST, showing new and more diverse sides of the group. E'LAST's fanbase is steadily growing, with previous comeback Dark Dream accumulating 10 million views on YouTube and peaking at #1on iTunes in the Dance genre. Roar itself has tripled their first week sales from their previous release and already garnered 2 million music video views. With this growth in mind, Creature is a mature step forward that will wow new and veteran fans alike.
Listen to Roar on Spotify or Apple Music, and follow E'LAST's activities on Instagram and Twitter.
Want to read more on recent comebacks? Check out our coverage of LE SSERAFIM's debut album here!