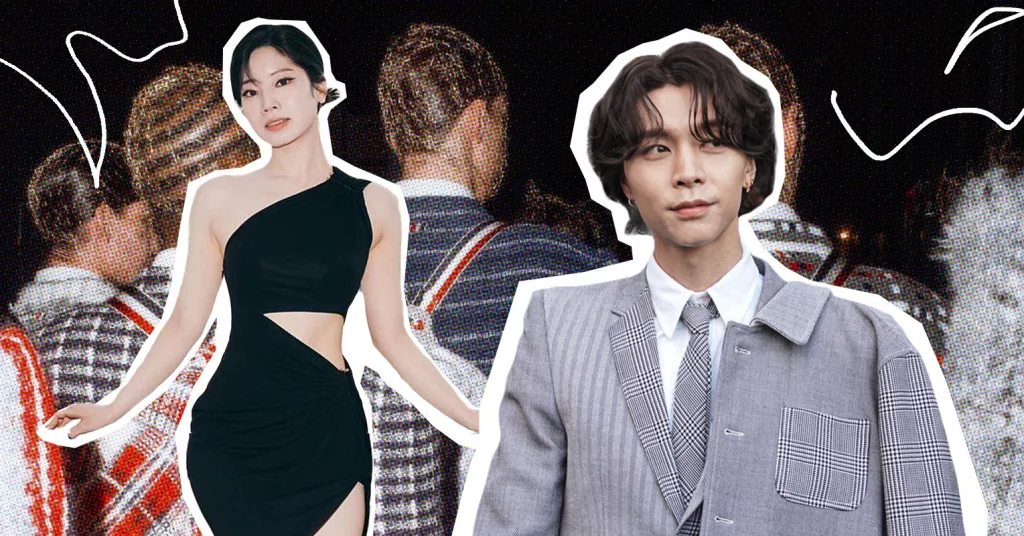 February, better known as Fashion Month, is underway and so far, it has offered plenty of noteworthy moments. Kicking off the fashion season, New York Fashion Week (NYFW) brought no shortage of buzzy appearances, both on the runways and the front rows. Initial Media Impact Value™ (MIV®)* figures from the software and data company Launchmetrics, however, prove that K-pop celebrities continue to cement their status as top players in the industry.
In preliminary data obtained between February 8 and February 17, Launchmetrics — which specializes in the Fashion, Luxury, and Beauty (FLB) industry — reports that K-pop stars Dahyun and Johnny generated important Media Impact Value™ (MIV®) numbers at NYFW.
TWICE's Dahyun Shone Bright at Michael Kors
Following a first appearance in 2022, Dahyun, from K-pop girl group TWICE, returned to the front row at Michael Kors' Fall Winter 2023 show. The star stepped out in a trendy, black cut-out dress that ensured all eyes were on her. Despite joining a high-profile guestlist, Dahyun was still responsible for Michael Kors' top-performing Instagram post, which garnered $501K of MIV®. Ultimately, Michael Kors came at the top of the NYFW brand ranking, followed by Thom Browne, Tory Burch, Coach, and Carolina Herrera.
NCT's Johnny Made an Impactful Front-Row Debut
Meanwhile, making his front row debut, Johnny Suh, member of K-pop sensation NCT, emerged as the top celebrity at New York Fashion Week, gathering $1.8M in overall MIV®. The singer caused quite a frenzy with his arrival at The Shed to attend Thom Browne's collection unveiling. For his look, Johnny opted for a classic gray suit, with a playful twist courtesy of a pair of rain boots and an untamed hairstyle. As per Launchmetrics, Johnny was responsible for the top-performing post related to Thom Browne's The Little Prince-inspired show. The Chicago-born idol gathered $529K of MIV® with an Instagram carousel posted on NCT's official account.
The numbers attest to NCT's growing fashion influence and rapid rise as one of K-pop's most stylish acts. Alison Bringé, Chief Marketing Officer at Launchmetrics, tells EnVi, "NCT has emerged as one of the K-pop star groups seen on numerous front rows and bringing a significant uplift in brand exposure during Fashion Weeks. Last season the band authored the top performing placement for the entire New York Fashion Week worth $1M in MIV, and although we're still processing this season's NYFW, our initial data shows NCT to be one of the top Voices for the week."
Asian Stars Rule Fashion Week
With celebrities from the Asia Pacific region breaking into the fashion scene, it is no surprise that K-pop stars continue to consolidate their fashion presence. Just last month, during Men's and Couture Fashion Week, EnVi reported that celebrities such as NCT's Ten and Jaehyun, ENHYPEN, and BLACKPINK's Jisoo largely contributed to positioning fashion brands on social media with their front-row appearances and posts related to shows.
Bringé explains the increasing number of K-pop stars making waves at fashion events, "Brands are partnering with South Korean celebrities more regularly when it comes to brand ambassadorships or fashion week appearances. Consumers are seeking inspiration beyond their own borders and so brands see global artists, such as K-Pop stars, as strategic Voices, which have a remarkable ability to influence global, dedicated audiences while bringing cultural relevance."
Racking up impressive Media Impact Value™ numbers, Dahyun and Johnny now join the list of stars ruling Fashion Week and showcasing the power of K-pop beyond the music landscape. As Fashion Week continues to unfold across Europe, there will surely be more chances for Asian and K-pop celebrities to keep achieving new milestones and proving they're forces to be reckoned with in fashion.
Want more Fashion Week insights? Check out how Asian Stars Stole the Show at Men's and Couture Fashion Week here.
*Author's Note: Media Impact Value™ (MIV®) is an algorithm proprietary of Launchmetrics' Machine Learning. It assigns a monetary amount to every post, interaction, and article, analyzing more than 100 quantitative and qualitative attributes specific to the fashion, luxury, and beauty industry including audience engagement, industry relevance, source authority, and content quality, to create a highly accurate method of measurement.