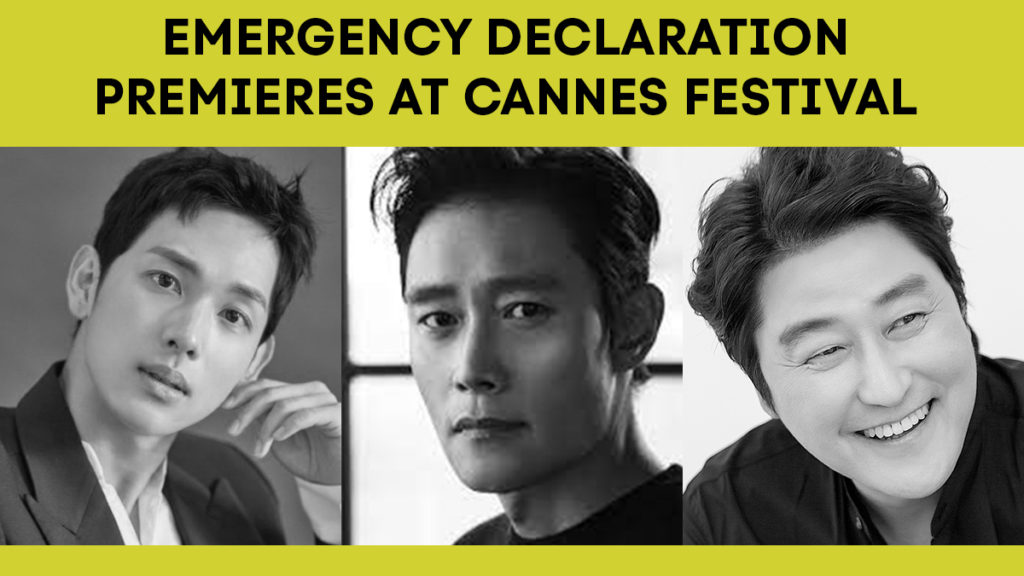 Korean cinema has had a strong presence at international film festivals over the past two decades. Led by directors of the likes of Park Chan-Woo, Bong Joon-ho, and the late Kim Ki-duk, a whole generation of South Korean filmmakers have seduced audiences around the world. This year, the Asian powerhouses, Hong Sangsoo and Han Jae-rim showed their latest work  — out of competition — at the 74th Annual Cannes Film Festival. 
While In Front Of Your Face, directed by Hong Sangsoo, was highly praised by critics, who spoke of the director's "lucidity and humanity," it was Han Jae-rim's Emergency Declaration that received mediatic attention. With a stellar cast that included Parasite's Song Kang-ho, Lee Byung Hun, and the idol-turned actor Yim Siwan, the aeronautical thriller was screened on July 16 at the Grand Auditorium Louis Lumière.
View this post on Instagram
Biologic Catastrophe (Spoiler Alert)
Though Han Jae-Rim started recording the film at the beginning of 2020 ​— before the COVID-19 pandemic broke out — Emergency Declaration coincidentally portrays a story of bioterrorism that almost suggests he had anticipated the current global situation. "I couldn't help but be surprised when I saw with my own eyes everything I had imagined in my head becoming reality," he said of his movie. 
A roller coaster of emotions from beginning to end, Emergency Declaration starts with the young YouTuber and former biochemist Ryu Jinseok (Yim Siwan) announcing a terrorist attack on a flight from Seoul to Honolulu. At first, the nature of the attack remains unknown. Eventually, it is revealed that Ryu created a mutant virus, likely to kill everybody on board. That includes Jaehyuk (Lee Byung Hun), a father who has to face his worst fears in order to protect his daughter.
Reflecting scenarios that feel too close to reality, confusion, anxiety, and anger invade the passengers as they face the shortage of masks and health equipment. While chaos and panic unravel in the aircraft, national authorities fight their own battles on the ground. The awarded Song Kang-ho, member of the jury in this edition of the festival, plays the role of In-ho, a seasoned detective whose wife happens to be on the plane and "​​devotes everything he has to solving the crisis."
An Engaged Audience
Screened at the main theater of the Cannes Film Festival, Emergency Declaration gathered an audience of more than 2,000 people. According to insiders, international media outlets were eager to attend the premiere of Han Jae-rim's movie. The tickets for the media preview quickly sold out as cinephiles were looking forward to the "perfectionist direction" Han is known for, and the performances of Korean stars who have expanded beyond the Asian market.
Attendants of the screening reported that the audience erupted in applause four times during the movie and gave Emergency Declaration a standing ovation once it was over. Although the 147-minute film ended past midnight, the clapping and whistling lasted nearly ten minutes. 
Movie-goers and media outlets took to social media to give their immediate impressions of Han's latest work. They shared clips of the cast who warmly received the ovation and thanked the audience.  "This film is my #palmedor of this 74th edition, just great cinema!!! Thank you #HanJaeRim," an attendant wrote. 
#Cannes2021 Fin de la dernière séance à Lumière 0h55 vendredi 16 juillet. Quelques mots de clôture de Thierry Frémaux pic.twitter.com/SsYKipqpMh

— Satellifacts (@Satellifax) July 16, 2021
📽 | Discurso do Siwan para a estreia de #EmergencyDeclaration no Festival de cinema de Cannes!

compartilhado no IG 🔗 https://t.co/9WCrDQbre0#ImSiwan #YimSiwan #임시완 pic.twitter.com/RU0BvbfXby

— Im Siwan Brasil (@imsiwanbr) July 17, 2021
Positive Reviews With A Warning Label
Just as previous films directed by Han Jae-rim, Emergency Declaration was received favorably among the critics. Telérama, the cultural and TV French magazine called it "an effective thriller that classically plays on the tension between the horror of the situation on the plane and the handling of the crisis on the ground." Cinéma Coréen described it as a spectacular disaster blockbuster, "a successful bet for a film that seeks to be as entertaining as it is technically creative." 
French media, in particular, highlighted Han's direction and creative vision. Aurélien Allin complimented the use of the camera and the technical execution of the movie, as well as Lee's and Song's "flawless performance." The critic also pointed at the "vitality" of the actors who made Emergency Declaration, a film equal parts "entertaining, thoughtful, in touch with the world." Allin added, "it is everything that Hollywood franchise cinema now struggles with."
Despite receiving favorable reviews from critics, certain media outlets pointed out the triggering character of the film. Emergency Declaration tackles a topic that seems too familiar to the unprecedented health crisis the world experiences since the beginning of last year. As reported by AFP, ​​ the first screening had critics instinctively adjusting their masks. Meanwhile, Telérama considered the decision to showcase this movie "unexpected," after going through other adjectives that included "bold, insensitive and sadistic." 
Yim Siwan Shaping Up For A Great Future
Yim Siwan is no stranger to the glamour and camera flashes of La Croisette. He has previously attended the Cannes Festival in 2017, with the cast of The Merciless. On his second invitation, he stunned in a black tuxedo as he walked the red carpet of Grand Auditorium Louis Lumière in the company of Song Kang-ho, Lee Byung Hun, and Han Jae-rim. Speaking to the media in fluent English, he anticipated that his character was one to look forward to. 
Video of the Cannes Film Festival Red Carpet of "Emergency Declaration"

Here is a rough Siwan cut (and restrained by the 2:20 twitter time limit), full 27:11 version:https://t.co/1rvK1aEiqs#임시완 #yimsiwan #imsiwan pic.twitter.com/dt1QPu7aGH

— Everyday Siwan ✫ International Yim Siwan Fanpage (@everydaysiwan) July 16, 2021
He was not mistaken. Media dubbed him the "Hidden Card" of the movie and according to Korean outlets, many journalists were left wondering who the young actor was. The reports echoed what Yim Siwan had previously shared in an exclusive interview. "There is definitely an atmosphere that is more interested in Korean works, and I feel that such a foundation is being built well," he said.
Introducing a film that kept people at the edge of their seats, Showbox dared to describe Yim Si-wan as an innocent-looking man that delivers an "eye-opening performance," in his portrayal of a "complicated character." The praise might appear unreliable coming from the company in charge of the film's international sales. However, even for a minority that rated Emergency Declaration poorly, the artist shined brightly among a cast of experienced and lauded actors. The former idol impressed even the most skeptical of the critics who voiced their disappointment at his reduced screen time. 
After his discharge from the military service, Yim Siwan has steadily worked toward his return to the big screen. With the Netflix drama Run On (2021), he has already reminded many why he is considered an example for singers who attempt to transition into acting. After breaking prejudices in his homeland, Siwan expects to eventually go international. "I hope there will be an opportunity to work abroad. It's not that I have to work abroad, but I think it's good because it gives me a wider range of work," he explained. 
Worth Watching?
For lovers of high-tension blockbusters and those who enjoy fast-paced scenes, Emergency Declaration is a movie worth watching. However, the action film also invites reflection. Han Jae-rim has stressed that he wanted to showcase the varied reactions of people when "confronted with a catastrophe." 
The star-studded cast coupled with the participation of the set designer Lee Mon Wok (Train to Busan), and the photography direction of ​​Lee Mogae and Park Jongchul is another good reason to anticipate Emergency Declaration. Like the French would say, "a voir en salles!"
Want more on films? Check out our piece on upcoming films that will star Korean idols here.
Images courtesy of Star Empire & IMDB. Graphic designed by Mal.