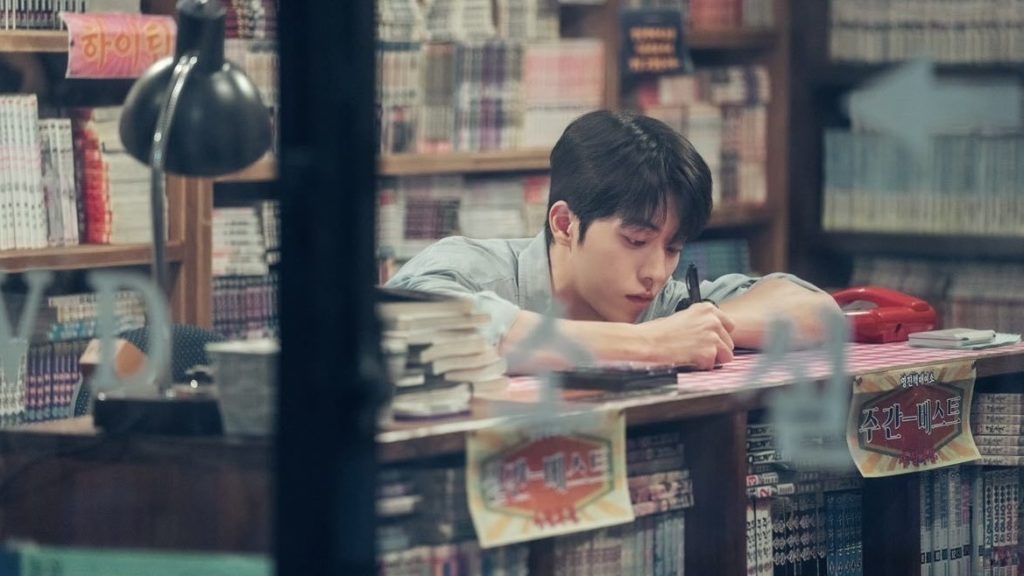 Nam Joo-Hyuk and his most recent K-drama, Twenty Five Twenty One, have captivated viewers all around the world. Since its release on February 12, 2022, the coming-of-age Korean drama has hooked the audience with its charming set of characters and intriguing storytelling.
Since the broadcast began, the tvN show has ranked first for seven consecutive weeks among Korean television dramas. In the last week of March, Twenty Five Twenty One took the second spot on Netflix's Top 10 shows. Nam Joo-Hyuk, who plays the role of Baek Yi-jin, the main lead, is a dedicated 22-year-old whose family went bankrupt in the Asian financial crisis. Hoping to overcome hardships, rebuild his life, and reunite with his family, Baek Yi-Jin and his story have resonated with the public increasing his popularity.
Nam Joo-hyuk's wide acting range spans from working on teen and college romantic dramas to historical as well as fantasy series, showing his versatility as an actor. If you're interested in seeing more from him, here are six recommendations to check out.
Moon Lovers: Scarlet Heart Ryeo (2016)
SBS' Moon Lovers: Scarlet Heart Ryeo is a historical drama based on the Chinese novel, Bu Bu Jing Xin by Tong Hua. The series opens up on a solar eclipse, where Go Ha-jin (Lee Ji-Eun/IU), travels back in time from the 21st century to the year 941 during the Goryeo Dynasty. She wakes up in the body of Hae Soo, surrounded by the princes of the Wang family. As the story unfolds, Hae Soo's personality gets her involved in a fight for the trone and a rivalry between the heirs.
Nam Joo-hyuk plays Baek-ah the 13th Prince Wang Wook, a young boy with a passion for music and arts.
Weightlifting Fairy Kim Bok-Joo (2016)
MBC's Weightlifting Fairy Kim Bok-Joo is a coming-of-age drama inspired by the Olympic Gold medalist, Jang Mi-Ran. It is starring Kim Bok Joo (Lee Sung-Kyung), a promising weightlifter who is following her dream of becoming a gold medalist. When she crosses paths with Jung Joon-Hyung (Nam Joo-hyuk), a talented swimmer and old classmate, she learns that her crush is none other than Joon-Hyung's older brother. At first, Joon-Hyung helps her win his brother's heart, however, he later starts falling in love with her. 
The drama follows a group of friends who are trying to find their place in the world, follow their dreams, and learn about the meaning of love.
The Great Battle (2018)
This historical film marked Nam Joo-hyuk's big-screen debut. The film is set in the year 645 during the Goryeo Dynasty when Emperor Li of the Tang Dynasty starts an invasion of Goguryeo. After several victories, the Tang army begins their journey to Ansi, where General Yang (Jo In-sung), fights to protect Ansi from the invasion. 
Nam Joo-hyuk plays Sa-Mool, a young boy who gets ordered by the Emperor to kill General Yang. After traveling to Ansi, he becomes unsure about his actions after he learns how good the General is to his people.
The Light in Your Eyes (2019)
The JTBC show, also known as Dazzling, follows the story of Kim Hye-ja (Han Ji-min) and Lee Joon-ha (Nam Joo-hyuk). The two form a friendship and slowly start to open up about their lives and hardships, however, Hye-ja has a secret. At a very young age, she found a watch that gave her the ability to travel back in time. Unaware of the consequences, she decides to reverse time to save her father from an accident, but she returns as a 70-year-old woman (Kim Hye-ja). Although the trip is successful, Hye-ja now an old woman, has to learn how to enjoy her new life while trying to preserve her love for Joon-ha.
Start-Up (2020)
tvN's Start-Up tells the story of young adults diving into start-up companies. The drama follows Seo Dal-mi (Bae Suzy) an ambitious young woman who dreams of becoming an entrepreneur, Nam Do-san (Nam Joo-hyuk) a "math genius" who runs a struggling startup Samsan tech, and Han Ji-pyeong (Kim Seon-ho) a successful businessman. In order to heal Seo Dal-mi's heart after her parent's divorce, her grandmother with the help of Ji-pyeong wrote letters to Dal-mi when she was young, using the name Nam Do-san. When their three worlds collide, Do-san discovers that Dal-mi remembers him as her pen pal and first love. Dal-mi, Do-san, and Ji-pyeong's desire to overcome misunderstanding will complicate their story and feelings.
The School Nurse Files (2020)
Netflix's The School Nurse Files is based on the novel School Nurse Ahn Eun-young by Chung Serang. The show follows Ahn Eun-young (Jung Yu-mi), a school nurse who has the ability to see creatures that resemble "jellies" made of human desires. When a series of mysterious events start happening at school, she joins forces with Hong In-pyo (Nam Joo-hyuk) a classical Chinese teacher that has the power of an energy field that defends him from the "jellies" to eliminate the creatures and protect the students.
What's Next?
Nam Joo-hyuk has had a long journey with acting. After debuting as an actor in 2014, Nam Joo-Hyuk has made a name for himself within the industry. The actor also became an ambassador for the luxury brand Dior and featured in the list of Forbes' 30 Under 30 for the sports and entertainment field. Nam Joo-hyuk is set to star in the upcoming film Remember. We cannot wait to see what the future holds for him.  

Want more film and TV series related content? Read all about Disney's Encanto here!