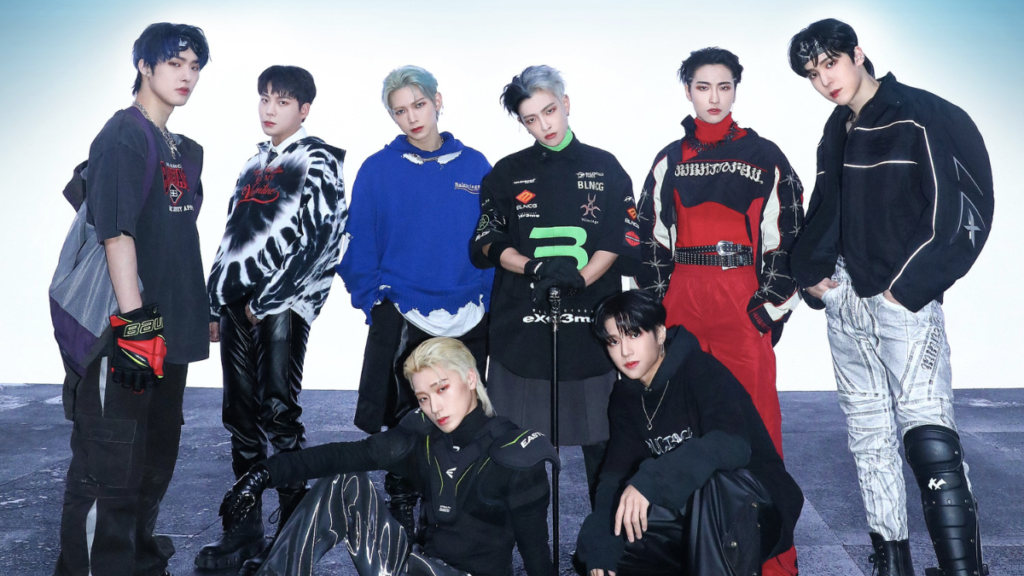 K-pop powerhouse ATEEZ have consistently raised the bar with unique concepts, commanding stage presence, and powerful vocals. Debuting at No. 3 on Billboard 200 chart and garnering over 1.1 million pre-orders with their recent mini album THE WORLD EP.1: MOVEMENT, the eight-member boy group continues to break their own records and cross impressive milestones.
Storytelling is at the heart of ATEEZ's distinct concept. Since their debut in 2018, they have followed an intricate storyline, with each song adding another piece to the puzzle. The tale follows eight pirates as they set out to achieve their biggest dreams. However, this journey does not come without obstacles, twists, and turns along the way. ATEEZ consistently show their diverse artistry while following cohesive themes of youth, perseverance, and rebellion. However, beneath the tough exterior of ATEEZ's intensity are sweet lyrical B-side songs, boldly expressing their love for their fans.
November 17 marks four years since the creation of ATEEZ's official fandom name, ATINY. In celebration of ATINY Day, EnVi compiles some of our eight favorite ATEEZ B-side tracks.
1. "Promise"
The last song in TREASURE EP.2: Zero to One, "Promise" is an upbeat song, offering assurance and commitment. The lyrics convey that no matter the obstacle, ATEEZ will always be there to guide the way. The line, "We are stars made for each other," expresses ATEEZ and ATINY are destined to be together, no matter what path they take.
2. "Utopia"
"Utopia" is a tale of reaching a goal that seems achievable only in one's wildest dreams. With the lines, "Even if it's a little far, I still climb / If it's a world without its existence / I'll make it close to our life," ATEEZ will persist to make that dream a reality, even if it seems impossible to others. Another notable highlight of the song is vocalist Seonghwa's powerful high notes in the chorus, showcasing his diverse vocal range.
3. "Aurora"
"Aurora" is a cherished song written, composed, and produced by rapper and leader Hongjoong. "It captures the emotions we felt on tour," he said in a 2019 interview after their first world tour, The Expedition Tour. "And when fans listen to the song, we want them to feel like they are watching an aurora." With lines such as, "It's going to become the brightest darkness / Wrap around me, my aurora," the lyrics send a message of hope and safety.
4. "Dancing Like Butterfly Wings"
With an electric guitar and drums as the centerpiece instrumentals, "Dancing Like Butterfly Wings" stands out among the songs in TREASURE EP.3: One To All. The lyrics inspire listeners to reach for their highest dreams. Even though the winds can be rough and unpredictable, your "hard-earned wings" will navigate you to your ultimate destination.
5. "MIST"
"MIST" is an R&B track that begins with slow beats and smooth synths. The lyrics portray walking on a dark path covered with mist, obscuring the horizon. This metaphor captures the anxiety caused by choosing a life path with an unknown future, which causes fear and doubt about the path taken. "My compass is your whisper," Hongjoong raps, receiving reassurance from another that better days are ahead, "When this mist clears it will get bright."
6. "One Day At A Time"
"One Day At A Time" is a moombahton R&B track offering comfort during times of turmoil. The song marks ATEEZ's first English song. "English is the most used language in the world, so we wanted to deliver the message in that song to as many people as possible," Hongjoong said. The song emphasizes the importance of relying on others to endure difficult situations. The chorus offers support to listeners as ATEEZ sing, "When it's overwhelming, hold on tight / I'll be here, don't forget it." They end on a hopeful note, assuring better days are ahead, singing "We face stormy weather / Rain's pouring, but it never lasts."
7. "Take Me Home"
Released in ZERO: FEVER Part.2, "Take Me Home" easily became a beloved B-side for many ATINYs. With mesmerizing synths and a soothing saxophone solo, "Take Me Home" sets itself apart from the rest of ATEEZ's discography. The lyrics portray a strong desire to return to a place of happiness after suffering in the darkness of loneliness.
8. "Cyberpunk"
With unique futuristic EDM elements, "Cyberpunk" has quickly become a fan-favorite track among ATEEZ's most recent album THE WORLD EP.1: MOVEMENT. As the album keeps an overarching theme of rebellion and revolution, the lyrics of "Cyberpunk" express one's desire to escape an oppressive society in search of the truth. As the song intensifies, the chorus bursts with energetic and immersive instrumentals, taking listeners on a journey through the city "full of lies."
On the Move
ATEEZ are currently on the road for their second world tour of the year, THE FELLOWSHIP : BREAK THE WALL. The tour includes shows across Korea, the USA, Japan, and their first-ever show in Canada. The setlist highlights songs from their most recent album THE WORLD EP.1: MOVEMENT, such as the highly anticipated B-side "Cyberpunk," and the hard-hitting title track, "Guerrilla." It also includes fan-favorite tracks from their oldest releases, such as "MIST," "My Way," and "Illusion."
2022 has proven to be a fruitful year for ATEEZ as they close out with two world tours and six recent music show wins under their belt. Check out ATEEZ's music on Spotify and YouTube, and follow ATEEZ on Twitter, Instagram, and TikTok for the latest updates.
Looking for more B-sides to enjoy? Check out our article on B-sides that went viral.