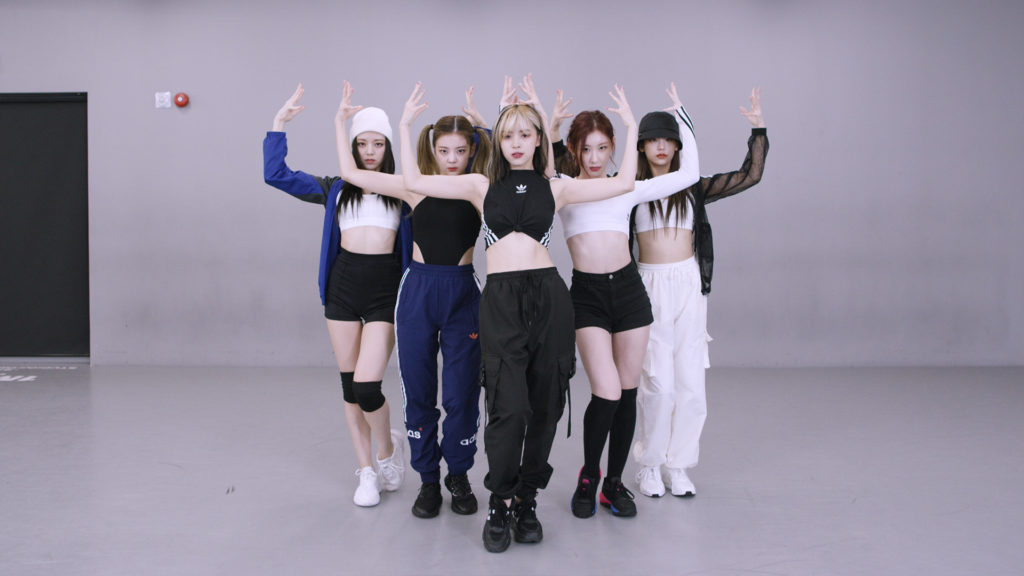 K-pop girl group ITZY are on the rise in the global music scene. Since February 2019, the five-member act has had countless opportunities to boast their abilities on stage. After three years, ITZY has unveiled addictive dance tracks, spunky personas, and dynamic performances. With many choreographies under their belt, ITZY has a number of "signature" moves that they are known for. Here are five of ITZY's most iconic dances.
1. ITZY's Crown
Are they queens? ITZY must be! Every title track choreography they have released has had some variation of their finger crown. It has been integrated in their dances as well as their ending poses.
The move is easy to identify. The key point of the "crown dance" is all on the hands. ITZY spreads their fingers and place their hands on the crown of their heads. Their crown not only makes use of intricate shapes, but it serves as a symbol of ITZY's overall bold, girl crush persona.
After their latest comeback, ITZY featured the "crown dance" on their TikTok. The quintet launched the #LOCOChallenge and #CrownDance, encouraging others to do their dance for "LOCO." During the chorus choreography, ITZY do a variation of the crown movement.
2. Breaking Their Necks
ITZY released their sophomore single, "ICY", in July 2019. "ICY" is a high energy dance track with an equally hard-hitting choreography. One of the most memorable moments is their "neck breaking move."
Here, each member hops and pretends to snap her neck. It is both comical and impressive how much control the girls have over their bodies. The "neck break" requires you to move specific parts of your body mid-jump.
This heading-turning dance is only one of many powerful phrases in the choreography. An honorable mention movement is ITZY's sassy ICY walk. Even with just every-day movements, ITZY manages to entice onlookers with their charisma.
3. RYUJIN's Shoulder Dance
In March 2020, ITZY released their third single, "WANNABE." While the song is catchy with lots of strategic repetition, many fans remember it for its enticing choreography. In fact, after the song was released, a specific part of the dance went viral— RYUJIN's "shoulder dance." Each member moves their shoulders up and down while simultaneously moving them back and forth.
Many viewers remember RYUJIN for being in the center position. Some have even compared her execution of the move to that of YGX choreographer Rijung. Thanks to her expert movements, fans spread clips of her dance across social media.
Other fans, and even idols, have attempted the difficult move. It requires lots of control and shoulder isolation. Due to the challenging nature of the move, both CHAERYEONG and RYUJIN have given fans tutorials.
4. ITZY's Finger Guns
Last May, ITZY became mafiosas for their "In The Morning" single. The playful production showcases ITZY's sleek and lowkey personas through the song's metaphoric lyrics, fight-esque choreography, and refined fashion.
One move that stands out is their finger guns. ITZY sneaks over to the front of the dance floor as though they are undercover spies holding guns. This happens as they sing, "I'm the mafia."
ITZY invited fans to cover their dance with two TikTok hashtag challenges. The #InTheMorningChallenge and #마피아챌린지 (MafiaChallenge) have over 200 million views combined.
5. YEJI's Kitty Dance
Late last year, YEJI went viral on social media for her "Kitty Dance." In "LOCO," YEJI's individual shots are cat themed with hair styled like cat ears and a full cat tower set. As she sings, YEJI does a body wave and holds her hands up to make mock cat ears.
ITZY turned the dance into a hashtag challenge. ITZY posted a clip of each member doing on the dance on their TikTok with the hashtag #KittyDance. Like their other challenges, the tag flooded with clips of fans attempting the piece.
ITZY On The Rise
With addictive music and intense choreography, the quintet always reveals more of their limitless potential as global superstars. They keep fans on their toes with their fresh concepts each time.
ITZY are sure to showcase more of their powerful performances in the future. Perhaps, at larger scales thanks to their new status as artists in Republic Records.
Want more on ITZY? Check out our piece on their musical evolution here.