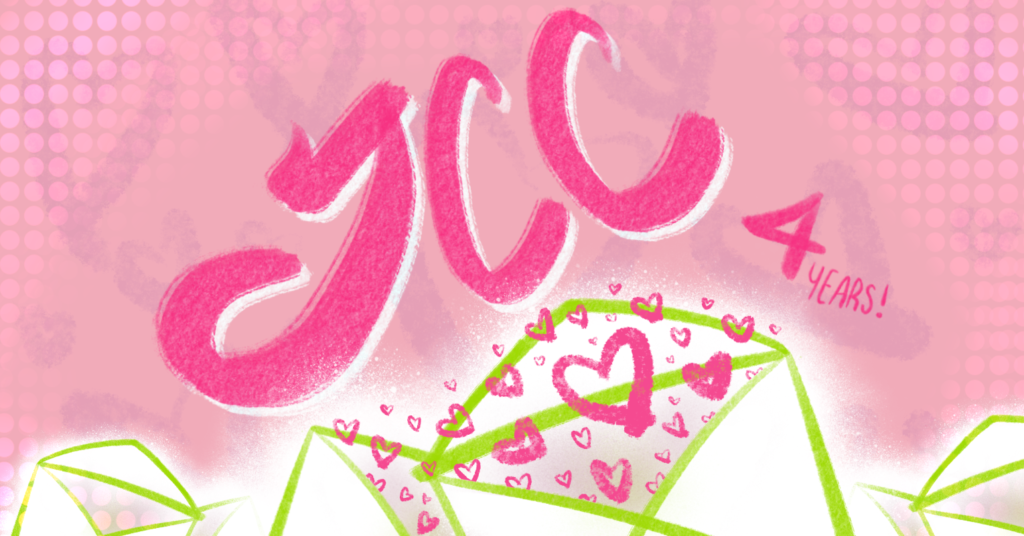 Fandom Love Letters is a series for fans to share their love for their idols through writing. EnVi understands the impact of idols in fans' lives and the importance of a safe space for expressing this through writing. Through this, we aim to foster a positive community for fans worldwide. In celebration of the fourth anniversary of NCT Johnny's YouTube series — Johnny's Communication Center (JCC) — his fans, the Johfams, wrote thank you letters for the series. 
Dear JCC,
First and foremost happy anniversary! Wow, this is probably the only regular content from the NCT channel that's still here today and I'm glad about it. There are so many things I love about JCC– how Johnny hosts the show, when he took us behind the scenes for the album production or meet up with the designers of their outfit. It gave us knowledge about the process and everything. But also, I enjoyed seeing you learning new things, and whatever you're doing with Mark who you got the best chemistry with in my opinion, I hope you keep doing JCC in the future. Lastly, thank you and I appreciate your hard work in everything, you've done such a great job! – Love, Sara 💚
Happy Anniversary! From the very first thanksgiving episode to the most recent one, surfing in California, JCC has been entertaining, funny, and even educational! I love sitting down to watch an episode and end up learning something new, whether it be about the steps of brewing beer or the process of making stage outfits. It's also so fun seeing the different NCT members on the show and how they accompany Johnny in learning new things. Thank you for providing a source of comfort through every single episode. Whenever I'm sad or tired, an episode of JCC, usually the Ikea one which is my favorite, will lift my spirits and get me motivated again. Here's to four years of JCC, hoping for many more to come! Most importantly, thank you Johnny for allowing us to be a part of your experiences. – Love, Maliha
I'd like to say thank you so much to my beloved Johnny Suh because of his JCC content, I can learn some English phrases. There's also a lot to learn in each video, which helps me realize just how many activities I should do to become productive. His videos really cheer me up. I also became a Johfam thanks to Johnny. Thanks to you, I am able to rise from my past hardships. Happy birthday JCC💚 – Love, Resty (Translated from Bahasa Indonesia by T. Aquila)
Thank you for shining my days when it was gloomy. Thank you for becoming my strength when I'm at my weak moments. Thank you for the smile that JCC gave me, it made my day better. For the laugh and for the memories that lived in my head and heart, thank you. – Love, Anita
First of all, congratulations on your fourth anniversary. I'm so proud to be here since the beginning and see all the attention that JCC is receiving through the years. Second of all, I just wanna share how JCC changed my life and a specific day. I had been going through a very difficult week, I was working with my cousin in a pastry shop during rush hours, I was tired physically and psychologically, and thinking of giving up everything until I received the notification from the JCC channel. It was episode 27 and that gave me strength and encouraged me to keep working. Thank you for being my daily dose of joy and for inspiring so many people around the world to try new things. – Love, Mikaela
I have so much to say that it wouldn't fit in a few words, but the important thing to me is to atleast say thank you, not only for the wonderful content but for the effort, dedication, and all love that Johnny gives us. I want to say something personal that left a mark on me. I don't particularly like my birthday, it wasn't a special day anymore. But this year, something amazing happened to me that changed my view. On my birthday, my favorite pole dancing JCC episode was uploaded as soon as I woke up! I had so much fun watching it that it made my day. It's a gift that I got– something to remember. Thank you, you say that you are not our sun, but I always receive strength from the light that you emanate. Love you so much, Johnny. – Love, Hyoniyo
I wouldn't have started my journey towards finding my true self if it weren't for Johnny's vlogs. All along, I was living a life caged in the expectations of other people but I have now found the courage to be a beginner while trying different things without thinking about what others will say about me. I hope you never lose yourself in the midst of your busy life as an artist. Love you always and let's continue to walk on a flowery path towards our dreams. – Love, Chii
It's been four years since it started and I can't believe I was there to witness everything from episode zero to 35. I always look forward to watching its episodes which gave me a lot of strength, so thank you for that. I'm also thankful to JCC, because I got to know a wonderful person named Johnny Suh and see the world through his lens, and also see more of his warmth shine through. It's always gonna be something I'll patiently wait for, no matter how long. Here's to more and more JCC episodes from our one-and-only Johnny Suh! – Love, Mimi
Ever since I became an NCTzen, JCC has been my source of comfort and therapy. It is the one that introduced me to our amazing, talented, sweet, gorgeous, kind, and one-and-only Johnny Suh. Every time I watch JCC, it always puts me in a good mood. It gives me comfort and joy, and it inspires me to not be afraid to try and discover new things. I just wanted to say thank you, Johnny, for sharing JCC with us and inspiring us to be confident and adventurous in life. You are a ball of sunshine, and you love building connections with people. Words cannot describe how proud I am of you and how much I love you, Johnny. Continue to create and tell stories through this amazing content. Remember that Johfams and Nctzens are here to support, appreciate, and love you always. – Love, Angel Tatud 💚
I can't believe how much time flies and you're four years old now. What got me into JCC was my best friend who recommended it to me to get to know NCT when the pandemic hit and I was depressed 🙁. To get to know a K-pop group, I usually tune in to their variety content because I only become interested if I vibe with the characters behind the music. Youtube did its magic and I got tuned into the world of "foreign swaggers" and subsequently to JCC✅️. Thank you Johnny for making this channel which gives us a glimpse into your shenanigans with the members. The videos make me smile, be in awe, and laugh out loud (JohnMark ones are the most iconic). I would definitely want to see JCC featuring more of Taeil, Jungwoo, Dreamies, WayV, SM Rookies, and many more SM idols. Praying for the continued success and longevity of JCC. – Love, Gloria (Always a Johfam)
Words are non-existent when it comes to these episodes. JCC only gave me positivity and happiness. I don't have enough paragraphs to tell how grateful I am to Johnny for making these awesome episodes. He really thinks through a lot and chooses stuff that is unique, enjoyable for Johfams, and at the same time very informative. I can list down a load of stuff that I learned through watching JCC episodes. It's like a ray of sunshine to our darkness. I don't know how Johnny manages to smile every time but I am only wishing for that smile to be forever there on his face and heart. JCC is super funny and it's unimaginably calming. I must have recommended JCC to at least 50+ people by now. Because even if you are not a fan, you fall in love with Johnny and these videos, I can guarantee you that. For me, nothing compares to Johnny's JCC. It's my best way of comfort and pleasure. It's my safe place and the place I find my true self. I wish Johnny a long life and my complete support and love for his dreams to come true. He loves us, Johfams a lot, and I genuinely feel it, and Johnny, we love you too! You are the best! Love you infinite! – Love, Aiul
Happy Anniversary Johnny's Communication Center! This has been one of my favorite series since becoming an NCTzen and Johfam, and I have definitely grown an attachment to the show. I have been watching every episode since the very beginning and I appreciate how Johnny expresses his love for trying new things through the show. Johnny also brings his members along with him and they create many funny moments and memories that always make me very happy! JCC became such a big motivation for me and I have learned a lot since watching. My top three favorite JCC episodes are Freaky Handshake (episode 18), I'm Home (episode 27), and making Christmas cookies (episode 25) because I definitely laughed the most while watching those. There are many people around the world who love JCC so much and we wish for more years to come with Johnny's Communication Center! – Love, Ari

First and foremost, I want to say happy fourth-year anniversary! I can't believe how much time has passed since the first episode. JCC is a show that has given me so much joy and comfort over the years as a Johfam, and I always cherish these moments that Johnny shares with the fans. An episode that means a lot to me is episode 10 when Johnny has a sleepover with Mark and Doyoung in his hometown. Johnny doesn't often have opportunities to visit Chicago, but being able to see how comfortable he was in showing his members where he grew up, this episode always leaves me feeling vicariously nostalgic. Precious moments like these are what make JCC so great as a fan. Overall, I just love seeing Johnny happy, whether he's doing something by himself or with members. I'll always support Johnny and JCC! – Love, Zaynab
Hello! Since yesterday, I have been thinking about what I should write in this letter. Maybe about my favorite JCC moments, what JCC means to me, or even something simple, like my favorite JCC episode? But here I am, not sure how to start, because JCC has brought a lot of indescribable joy and happiness into my life. Certain episodes bring comfort when things get hard, while others bring laughter when I feel alone. But what's more important is that JCC brings me the courage to explore new challenges. So all I could say is that I thank you, for the good things you've shown me, and all the possibilities out there waiting for me to discover with JCC! – Love, Tan
For me JCC is one of the best youtube content I ever found, I love the way we get new trivia from every episode. I really wanna say thank you to him for this content. Johnny Suh, if you need ideas for the next JCC episodes u can ask us, Johfams and NCTzens, as we have tons of ideas for JCC. By the way, you can just drop a JCC episode of you sitting down and drinking your coffee for an hour and I'm still gonna love that 😊 JCC is my comfort content. I rewatch JCC like it's my hobby. Last but not least, can we get the behind-the-scenes from your DJ show? I really wanna see that. – Love, Ama
You were one of the first contents I watched when I got into NCT 127. I became a full-fledged fan during Regular-Irregular album promotions and since then, I've appreciated how JCC has helped me get to know not just Johnny, but other members as well who have been guests in the series. I really love that JCC encourages fans like me to try new things! It's like I gain confidence seeing Johnny take on a challenging activity or hobby with each episode. Sometimes I would check out old episodes and rewatch them after a tiring day or when I needed cheering up. Thank you so much for providing my "emotional support videos". Here's to more fun adventures with JCC! – Love, Maya
Happy fourth anniversary! I still remember the time when I am still unfamiliar with NCT and I was just browsing its content on Youtube, I stumbled upon Johnny's JCC series and I immediately fell in love with it. We've come so far since then. Thank you Johnny for still uploading new episodes despite your busy schedule. Your genuine passion for exploring new things and doing activities that you like then sharing them with your fans is what makes JCC unique among any K-idol vlogs. For me, the JCC series is one of the purest vlogs in terms of content. Words are not enough to describe what I feel whenever I watch its episodes– it's a mixture of happiness whenever I receive a notification about a new upload, the excitement of watching it as I discover new stuff, the countless laughs I made whenever Johnny makes a joke or when Johnny puts on the biggest smile as he enjoys what he's doing, and the sadness I feel after every end of the episode then longing until there will be a new episode again. It's a rollercoaster of emotions but it is something I want to experience over and over again. Johnny, please continue sharing more of you through this series. We, Johfams, will always be here supporting what you do! To more years with JCC! – Love, Dawn
Editor's Note: The submissions are edited down for clarity.
Couldn't get enough of Johnny's Communication Center? Check out our favorite episodes from the show here.