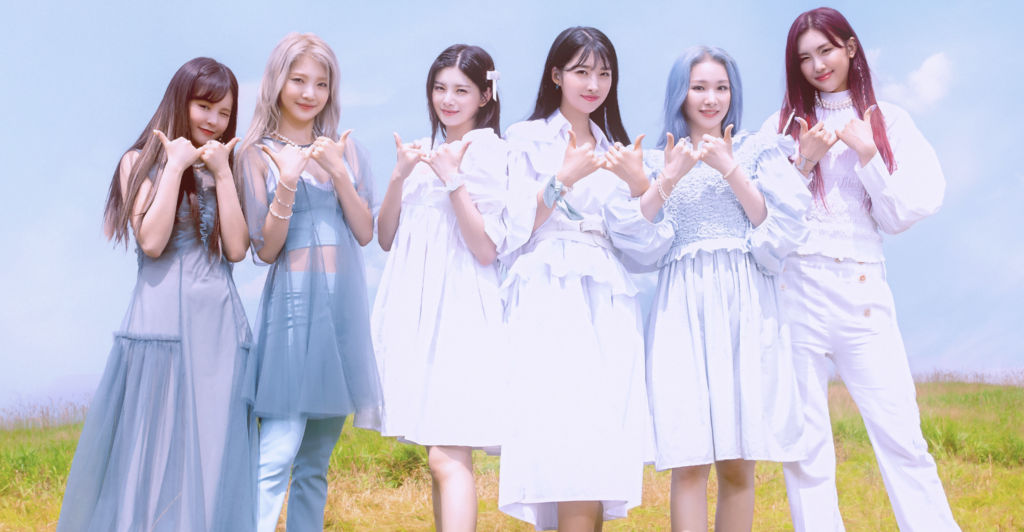 On August 25, Everglow released a music video and fundraising challenge for the Promise Campaign, an initiative of the United Nations Children's Fund (UNICEF). Through this project, the K-pop girl group and humanitarian agency hope to advocate for children around the world facing hardships. 
A Glowing Light
Bringing light to issues faced by youth, "Promise" speaks to those dealing with difficult circumstances. Members E:U, Sihyeon, Mia, Onda, Aisha, and Yiren perform wearing bright, flowy clothing in a peaceful field as night falls around them. They are depicted reaching out to a young girl alone in a forest, representing lyrics that express their continued support for children in need. Throughout the song, the group ensures their promise of a better world. 
As a bonus, the group also shared their choreography practice video on the official UNICEF Hi page on YouTube, allowing viewers to follow along. 
A "For Ever" Promise
[?EVERGLOW NOTICE]

'UNICEF PROMISE 댄스챌린지'안내?

?PROMISE 음악에 맞춰 챌린지안무 찍기#유니세프 #프로미스챌린지 #빛나는약속 #에버글로우
해시태그와 함께 SNS 전체 공개로 업로드 하면 성공!
?8.26 ~ 9.16 까지

많은 참여와 관심 부탁드립니다? pic.twitter.com/UkwtuP9Yy6

— EVERGLOW OFFICIAL (@EVERGLOW_STAFF) August 26, 2021
To raise awareness and funding for the issue, the group has organized a dance challenge. The initiative will run from Aug. 26 to Sept. 16. Everglow's company, Yuehua Entertainment, has pledged to match the donation plans based on the number of participants in the challenge during this time. To be a part of the campaign, fans can upload videos of themselves doing the choreography with the designated hashtags.
Everglow's loyal followers, For Evers, have already begun to share their renditions of the Promise dance challenge across social media platforms. K-pop dance teams around the world, such as The A-Code, The D.I.P., and AO Crew, posted their own covers, as well. They are also encouraging other fans across the genre to get involved and help build awareness for this important topic. 
EVERGLOW 'PROMISE' Dance Challenge @unicefkorea @EVERGLOW_twt@EVERGLOW_STAFF #프로미스챌린지 #빛나는약속 #PromiseChallenge #ShiningPromise #EVERGLOW #에버글로우 #UNICEF #유니세프 pic.twitter.com/ivYszvoni8

— windy✧ |??Promise Dance Challenge (@Venjkxx__) August 26, 2021
A Warm Reception
For Evers also expressed their praise and gratitude towards Everglow. In addition to recognizing the group's talents, visuals, and versatility, the fans also appreciated their dedication to the cause. Many admired how Everglow had chosen to work with a global agency serving disadvantaged children around the world to spread its message.
everglow really never disappoints

PROMISE WITH EVERGLOW#EVERGLOWxUNICEF pic.twitter.com/cmmuMHElKh

— EVERGLOW PICS (@everglowsjpg) August 25, 2021
it's really amazing how EVERGLOW suits ANY concept.

PROMISE WITH EVERGLOW#EVERGLOWxUNICEF pic.twitter.com/u4QDuE8gcB

— ً (@onlyformia) August 25, 2021
Omg everglow just dropped promise ??? Mia's rap please that was so good and the visuals I can't believe it it was so good pic.twitter.com/RSEGvZpZdm

— KingHaider005 ? || Free Palestine ?? (@Haider57154346) August 25, 2021
EVERGLOW Brand ambassador:
forever) pic.twitter.com/smTfIVplBo

— check pinned || open dm (@foreverfess) August 20, 2021
Just two years after their debut, this is a noteworthy campaign for Everglow to take part in at such an early stage in their careers. As they grow over time, their involvement in social causes will continue to have great influence. 
Interested in philanthropy? Check out EnVi's latest giving-back project here!
Thumbnail courtesy of Yuehua Entertainment.