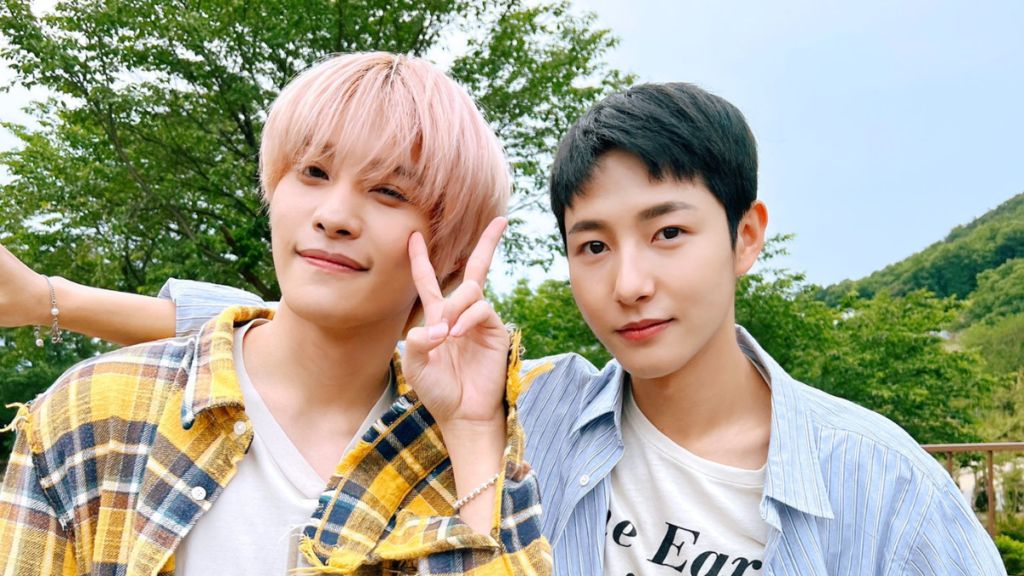 Just in time to kick off the start of summer, NCT DREAM's Renjun and WayV's YangYang release their new web series "Fantastic Trip: RJ&YY." Though the two have publicly supported one another in NCT content, this marks their first collaboration on the NCT YouTube channel. With their comedic yet admirable dynamic, the well-loved duo has become a fan-favorite in NCITY. From past Weibo lives to Renjun's features on Ten and YangYang's series titled "ETC," many have long-awaited content from the two members. 
Nonetheless, here are some key moments that are sure to draw in the hearts of Renjun and YangYang's fans from "Fantastic Trip: RJ&YY."
Carpool Karaoke
As the series begins with YangYang picking up Renjun, the two kick off their journey with a laughter-filled car ride. Discussing topics such as MBTI types, idioms, and their friendship, they sing their hearts out to both NCT and WayV songs. Featuring NCT DREAM's newest single, "Beatbox," Renjun plays it as a pre-release for YangYang. Supporting their seniors, the two harmonize with a cover of "I'm Gonna Love You," featuring Wonstein and EXO's D.O. Better known as WayV's main rapper, YangYang's vocal skills were playfully featured. Lastly, the duo provided an in-car exclusive performance of "Turn Back Time" by WayV as they pulled into the camping spot.
RenYang's Love for Hot Pot
Known for their mutual love for hot pot, Renjun and YangYang would have an incomplete camping trip without it. After discussing dinner, Renjun and YangYang agreed to buy ingredients for the evening. When shopping for groceries, the two quickly selected their favorite items, such as mushrooms, meat, bean sprouts, and soup bases. As the two roamed the grocery store, they directed their individual charms toward the camera. Following his poses with soda, YangYang asked Renjun, "Did you see my wink?" to which Renjun responded, "I don't know why he does that in front of the camera." With friendly banter between the two, the hunt for hot pot ingredients will surely make viewers laugh. Ending the grocery layover with iced americanos, the two returned to their car equipped for a memorable night.
Setting Up The Camp Site
Safely arriving at their destination, Renjun and YangYang met with new struggles to set up their campsite. As the two members attempted to put up a tarp, they met many difficulties. A clip of Renjun struggling to untangle a rope went viral on Twitter as NCTzens recall how their group members may have eased the situation. In addition to the set-up, the duo created an RJ&YY sign they displayed at the top of their car. As the two finalized the name for their series, they took some polaroids, set up a campfire, and playfully conversed with one another.
Duets with RenYang
Kicking off their duets with "Versace on The Floor" by Bruno Mars, they sang their hearts out with some dance moves. While belting out notes, YangYang did not fail to remind viewers, "Everyone, we're completely sober." Though the two were playfully singing with a soulful cover of Park Won's "all my life." To further suit the vibe, they proceeded with Bruno Mars' "The Lazy Song" and "Talking to the Moon." Interrupted by a phone call by WayV's Xiaojun, the two teased him for 'bad timing' during their high notes. While searching for songs, the two queued and danced to Nicki Minaj's "Chun-Li.". Ending the session with a slower song, they thanked viewers for tuning in with Jay Chou's "Love Confession."
Heart to Hearts
Though Renjun and YangYang have become an inseparable duo through the years, the two opened up about their friendship journey. They both discussed their trainee days in comparison to their recent memories. From their indirect conversations with others to their understanding of one another, the two laughed when recalling their early days. The duo exchanged heartfelt words as YangYang said, "I think you understand everything I say." Following, they video called both WayV's Kun and NCT DREAM's Chenle to show off their hard work. 
To refresh the heat on a hot day, Fantastic Trip: RJ&YY makes for a perfect summer escape. Viewers are sure to cool off on those days when watching this duo embark on a trip. If you are interested in keeping up with Renjun and YangYang check out their Instagram contents. As per WayV and NCT DREAM, check out their YouTube channels!
Interested in more NCT recaps? Read about Taeil's top vocal moments here.