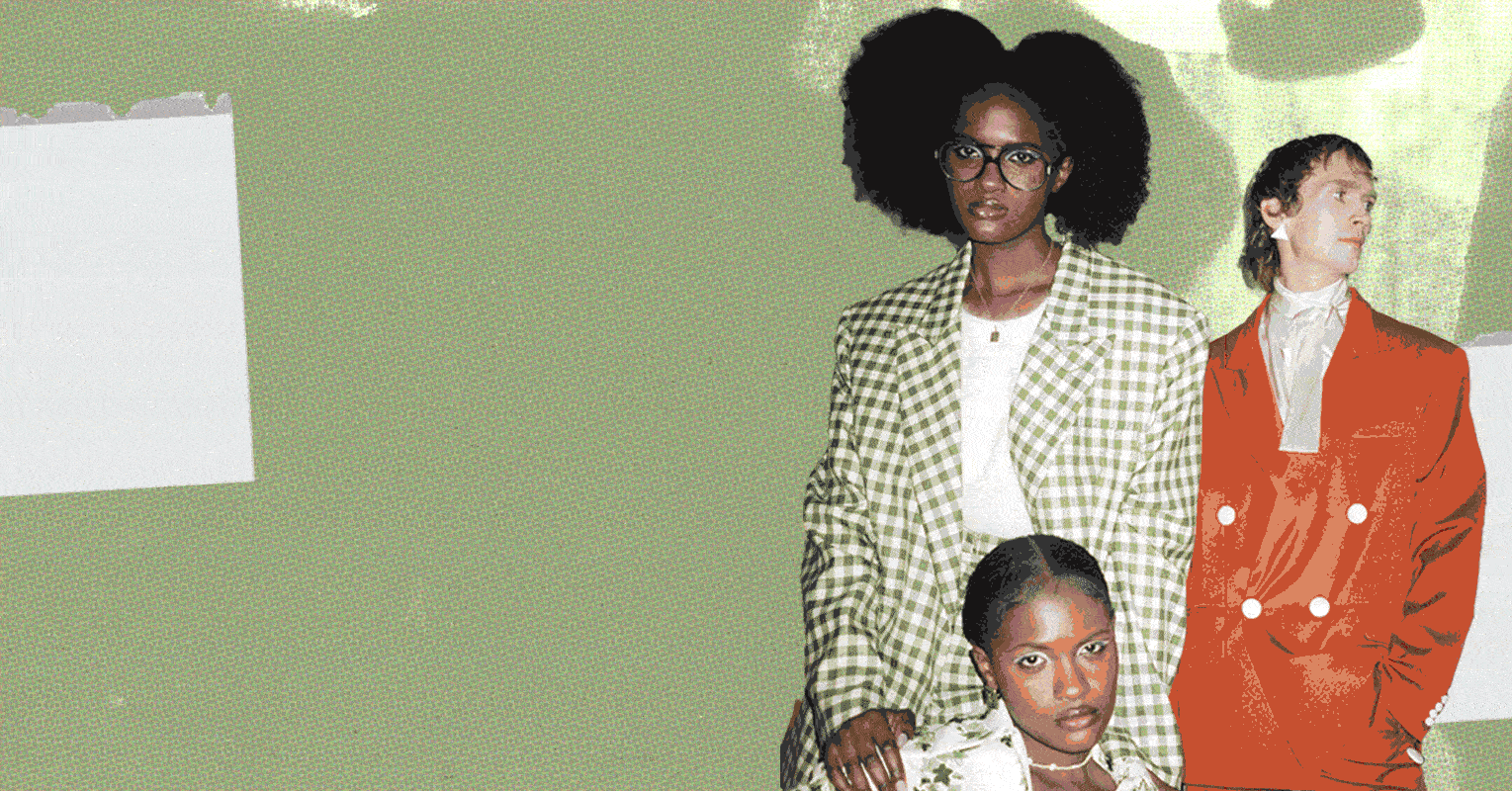 In this day and age, countless fashion brands tout inclusivity as a core value. However, few prioritize it in the way Tanner Fletcher—the creative brainchild of midwesterners Tanner Richie and Fletcher Kasell—does. Reimagining fashion and interior design of decades past, the young creatives are serious contenders to become fashion's new favorite duo. Fresh off the brand's resort 2023 collection unveiling, Fletcher Kasell talked to EnVi about Tanner Fletcher's serendipitous beginnings, genderless fashion, and creating a dream world through his eponymous brand.
Serendipitous Beginnings
When the COVID-19 pandemic hit in 2020, college-sweethearts-turned-business-partners Tanner Richie and Fletcher Kasell were ready to graduate and enter the labor force. But in the global lockdown-induced mayhem, the two felt that their job searches would be fruitless. "With COVID taking over, we sort of panicked and felt like it wasn't likely that we would be hired anytime soon," Kasell tells EnVi. That's when the couple—who met as freshman roommates at the University of Minnesota—ventured on a "side hustle."
With backgrounds in fashion merchandising and interior design respectively, Kasell and Richie started to design handmade tote bags and "COVID-wear"—their term for sweatsuits and tees. In no time, their products ended up being selected by six stockists throughout the US. The designer duo took the accomplishment as a sign to take their passion to the next level. "This was the signal that this may be more than a side hustle. We quickly shifted gears to a more intentional business and created a dream world called Tanner Fletcher."
In 2021, Tanner Fletcher made their official debut with an SS22 collection. For their launch, the couple combined their experience in fashion and interior design to create a nostalgia-infused home and clothing line. The collection contained elements now considered signatures of the brand: knits, ruffled and ruched textiles, wallpaper prints, and, most importantly, pussy-bows—because as Kasell explains, they love a good bow.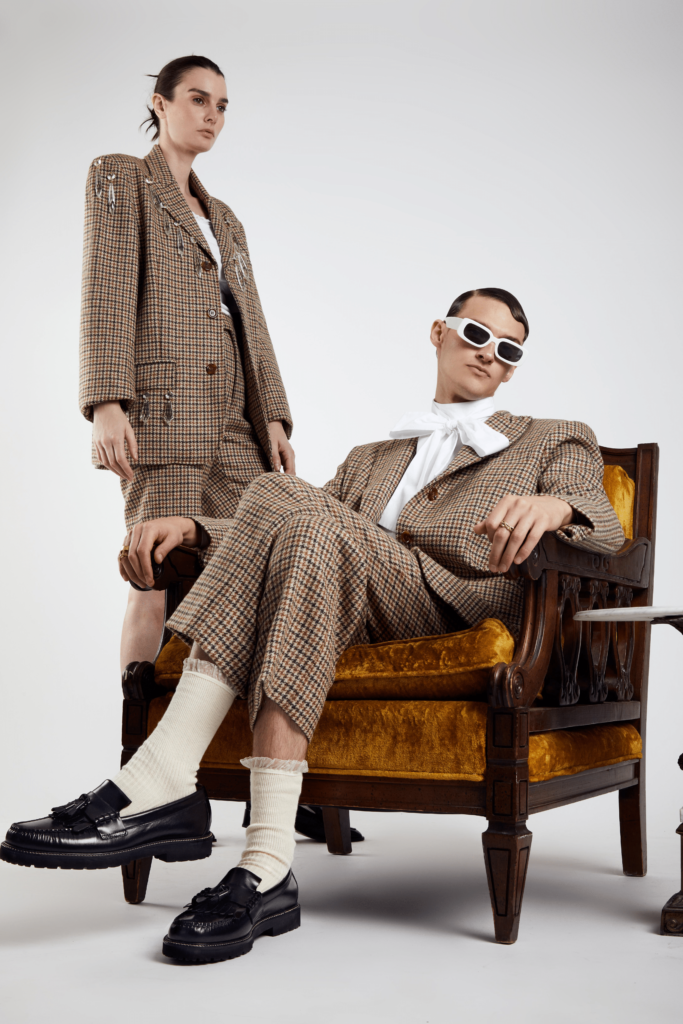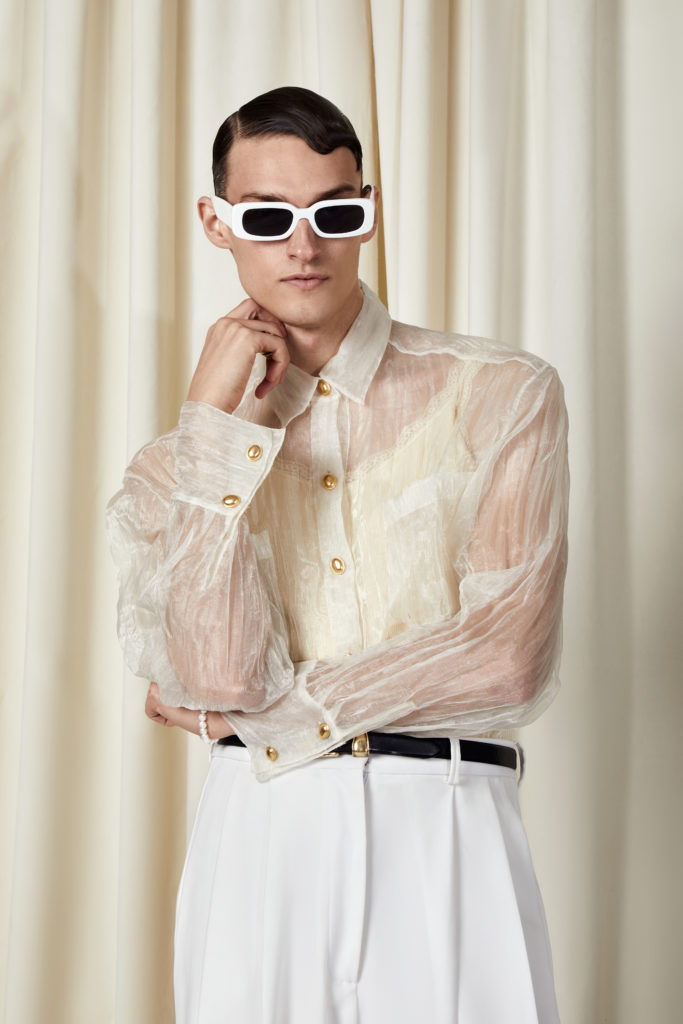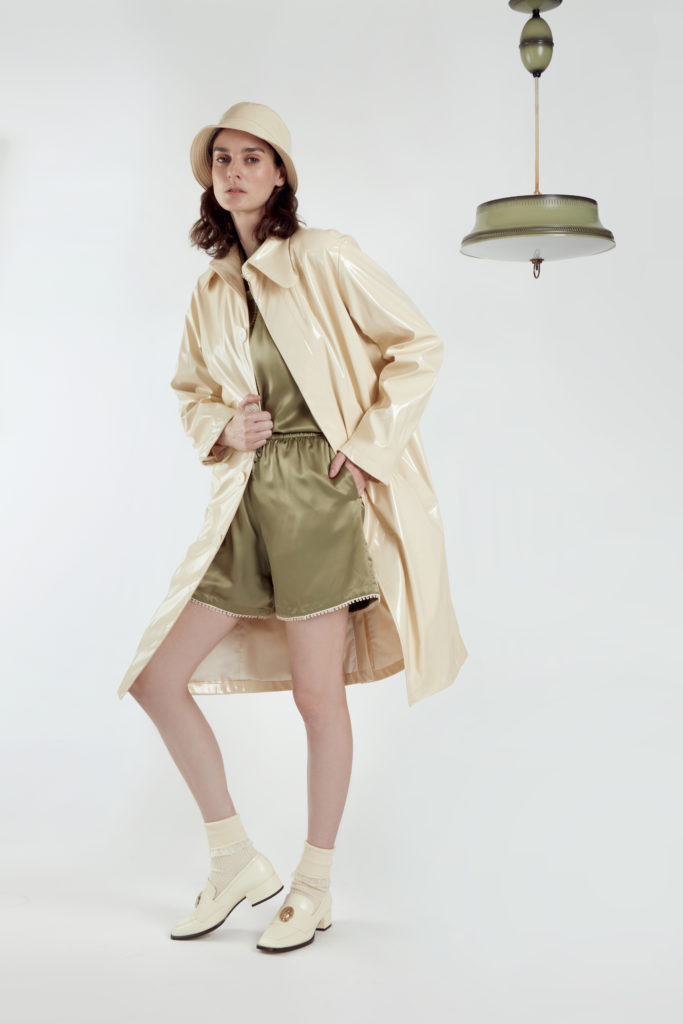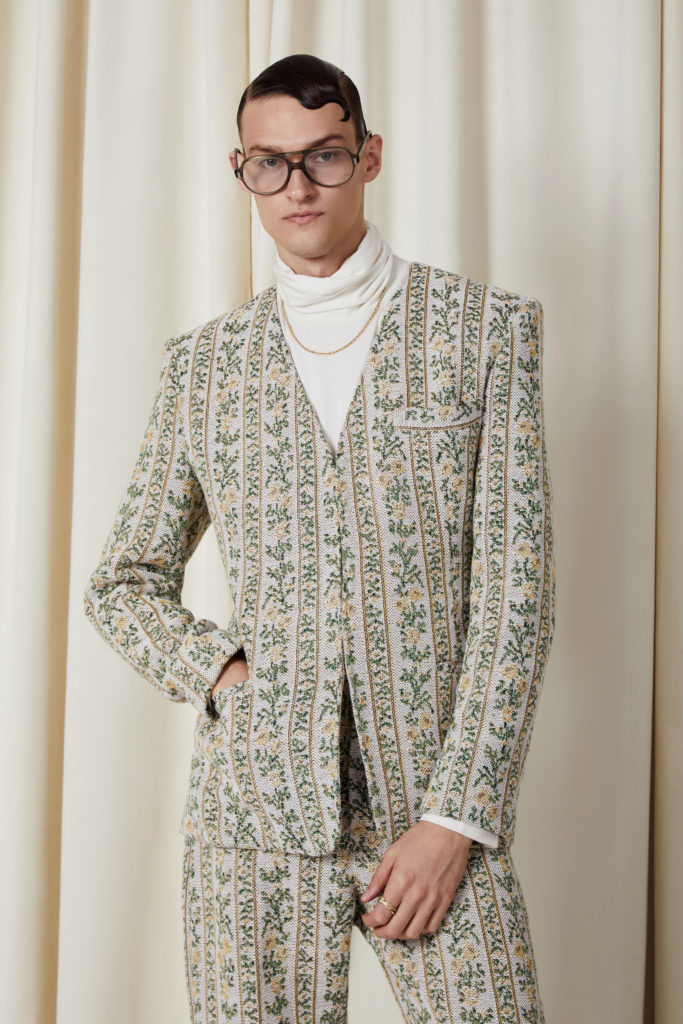 Tanner And Fletcher's Dream World
These stylistic choices are far from being coincidental. The universe Tanner Richie and Fletcher Kasell have built for their namesake brand is in many ways a reflection of themselves—their dream world as they put it. "We really wanted to create a dream world that we felt was missing from the market when we were shopping for our personal wardrobes." Kasell further elaborates, "Creating this world is a huge part of our creative expression. From our photoshoots to our events and our mix of product categories like home and jewelry, self-expression is a huge part of our design process."
That last part is hard to overlook. Richie and Kasell have reimagined fashion and interior design imprinting their personal taste on their collections. For instance, the various use of fabrics, textures, and details, Kasell says, can be traced back to Richie's interior design background. Meanwhile, the brand's silhouettes, prints, and patterns are connected to the cofounders' penchant for thrifting and referencing past eras. When it comes to their creative influences, however, there's more than meets the eye. Rooted in nostalgia, the duo pulls inspiration from a multitude of places like arts and crafts, Hollywood regency, the English countryside, and even gogo disco eras. "We really like the feeling of nostalgia and always try to get that feeling across to our customers in our collections."
One Brand Fits All
At a more personal level, when conceptualizing their brand, Richie and Kasell turned their own life experiences into cues for universe-building. "Tanner and I have always shopped between the men's and the women's department and have received our fair share of dirty looks and judgment from doing so. Our first order of business was getting rid of that and making certain that others won't have to go through that when it comes to Tanner Fletcher," Kasell states.
With that mission in mind, the emerging designer duo embraced a genderless approach to fashion. "We wanted to create a very inclusive and diverse brand that can pertain to multiple audiences and age groups," Kasell shares, not without acknowledging the challenges he and his partner have encountered in their quest to build a business that's inclusive in every sense of the word. "Our biggest challenge has been creating a size chart without gender labels. We've constantly been perfecting this and now have a great sizing scale and chart to go along with it. I think this will always be evolving and will continue to be perfected but we've come up with a really easy-to-digest way of sizing," he says of their system, which includes sizes ranging from 0 to 5.
Considering the previous statements, it is already evident that both designers are committed to turning their brand into a byword for inclusivity. However, when asked about the changes Tanner Fletcher hopes to see in the fashion industry, Kasell emphasizes, "I think inclusivity is the right word for it all. Of course, being a genderless brand, we want to be a leader in changing gender norms and getting rid of unnecessary labels in the industry. [But] we hope that other brands will follow and together we can make fashion a much more inclusive world in terms of gender. Another piece of inclusivity that we'd like to see is the people in the imagery and the overall appearance of the industry. This means more age inclusivity, more diversity in skin tones, culture and race, and more size inclusivity, all in addition to gender. […] We want to see real people wearing our clothing and will portray [our] brand in that way."
A Brand Rooted In Authenticity
Real people wearing Tanner Fletcher's designs is what the brand showed in their sophomore collection, aptly titled "Housewarming Party." In between a diverse cast of models—including Kasell's sister—the playful tailoring, and the interior decoration imprint, somehow, what stood out the most for editors and journalists was the spontaneous and familiar ambiance of the gathering. It is no wonder that Kasell regards this presentation as a highlight for the brand. "Overall, this experience has been incredible. It is certainly filled with a lot of amazing highs and some lows as well. So far, one of the biggest highlights was our FW22 presentation last February. It was our first ever fashion show and it was a wonderful experience. We both have really supportive families and had our parents, siblings and even some aunts and cousins fly in to help us out on our big day," he recounts. "The family really stole the show which really speaks to the personality of the brand. I had editors and influencers coming up to me saying they met my family and were so happy to speak with them. They really made the experience special for us because we felt more supported than ever before."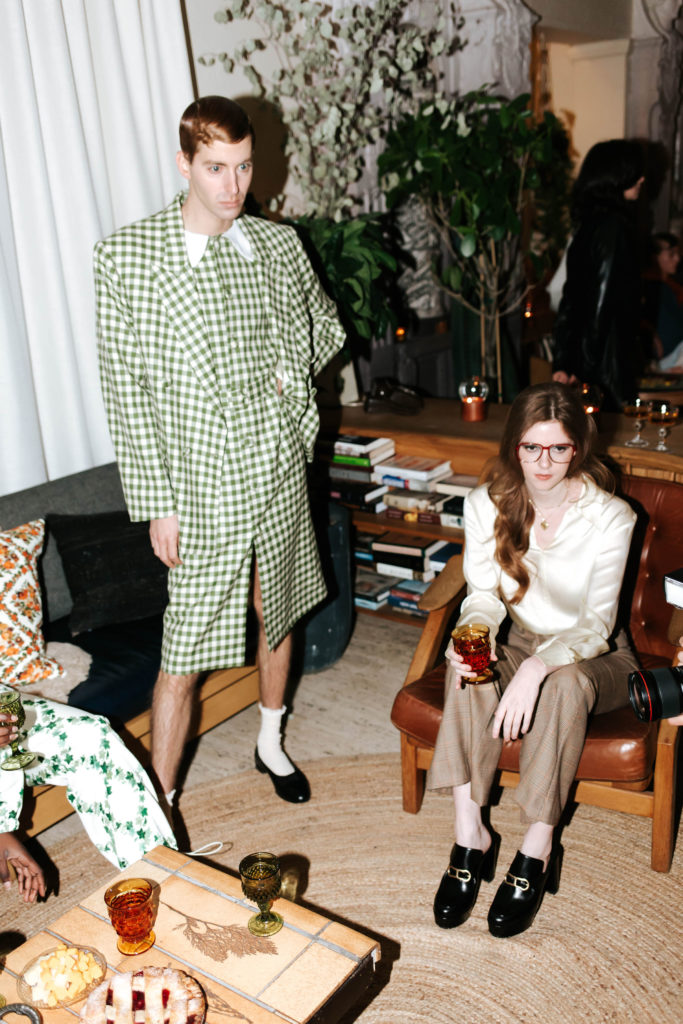 Images Courtesy of Tanner Fletcher. Photography by George Ngatuvai.
However, the support for the young designers' work is not limited to their personal circles. Despite their short career, Richie and Kasell are quickly becoming industry favorites, with stars such as the Stranger Things actor, Jamie Campell-Bower and the K-pop group CRAVITY donning their designs on the covers of magazines. With the positive reception their work has received, one might suppose the couple is aiming for greater growth, but Kasell recaps their takeaways and goals in one word: authenticity.
The greatest lesson learned in Tanner Fletcher's incipient journey, he says, is staying true to themselves. "Our brand is constantly growing and evolving so there is often a lot of noise surrounding us on what to design and business choices to make. We are so thankful for a lot of this and have utilized a lot of it. But in the end, we need to stay true to what we believe in and what we create. It's easy to be influenced by all this noise and get off the path but we've really learned to trust ourselves and stay true to what we believe in," he reflects.
As for their plans for the future, Kasell reiterates, "The goal is to keep doing what we're doing while staying true to ourselves. We will continue to build upon this world we're creating by adding more categories like shoes and handbags as well as continue using this platform with intention, by making change." And change Tanner Fletcher is surely making.
Summing Up
The Brand: Tanner Fletcher
The Designers: Tanner Richie and Fletcher Kasell
The City: Hailing from Wisconsin (Tanner) and Minnesota (Fletcher), the brand is currently based in New York.
The Influences: Past eras, Hollywood regency, arts and crafts, English countryside and even gogo disco eras.
The Favorite Pieces: "We sometimes like to call ourselves the 'pussy-bow boys' because we love a good bow. You'll notice many of our designs have some sort of bow embellishment or pussy-bow around the neck. These are usually my favorite pieces because they work perfectly on their own or under a blazer or jacket. Another favorite is anything in our signature tapestry fabric. This textile actually comes from tapestry blankets and is made out of recycled cotton. To me, this material is unlike anything I've seen before and feels really special when wearing it."
Tanner Fletcher
Laurence Silk Pussybow Shirt
Tanner Fletcher
Flo Lace Trim Ribbed V Tank
Tanner Fletcher
Barbra Lace Trim Ribbed Stretch Shirt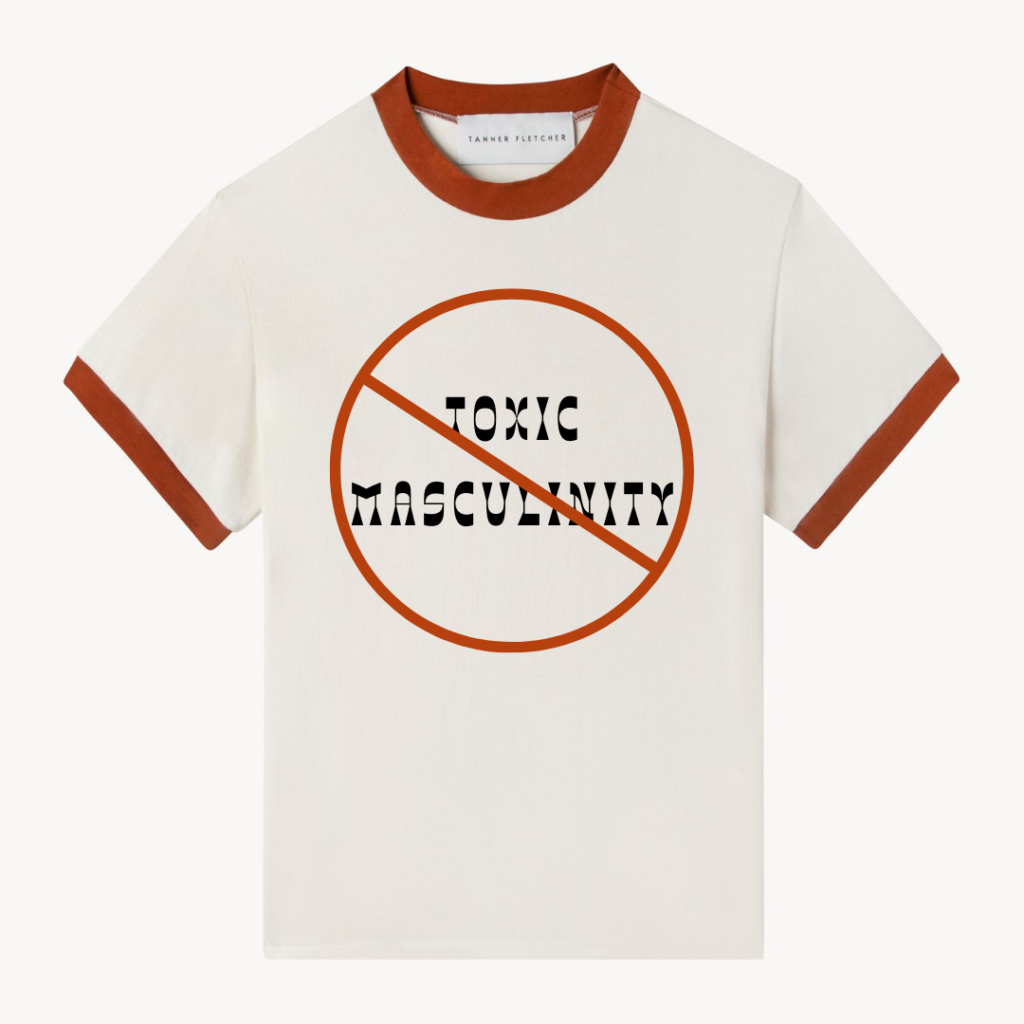 Tanner Fletcher
Toxic Masculinity Ringer Tee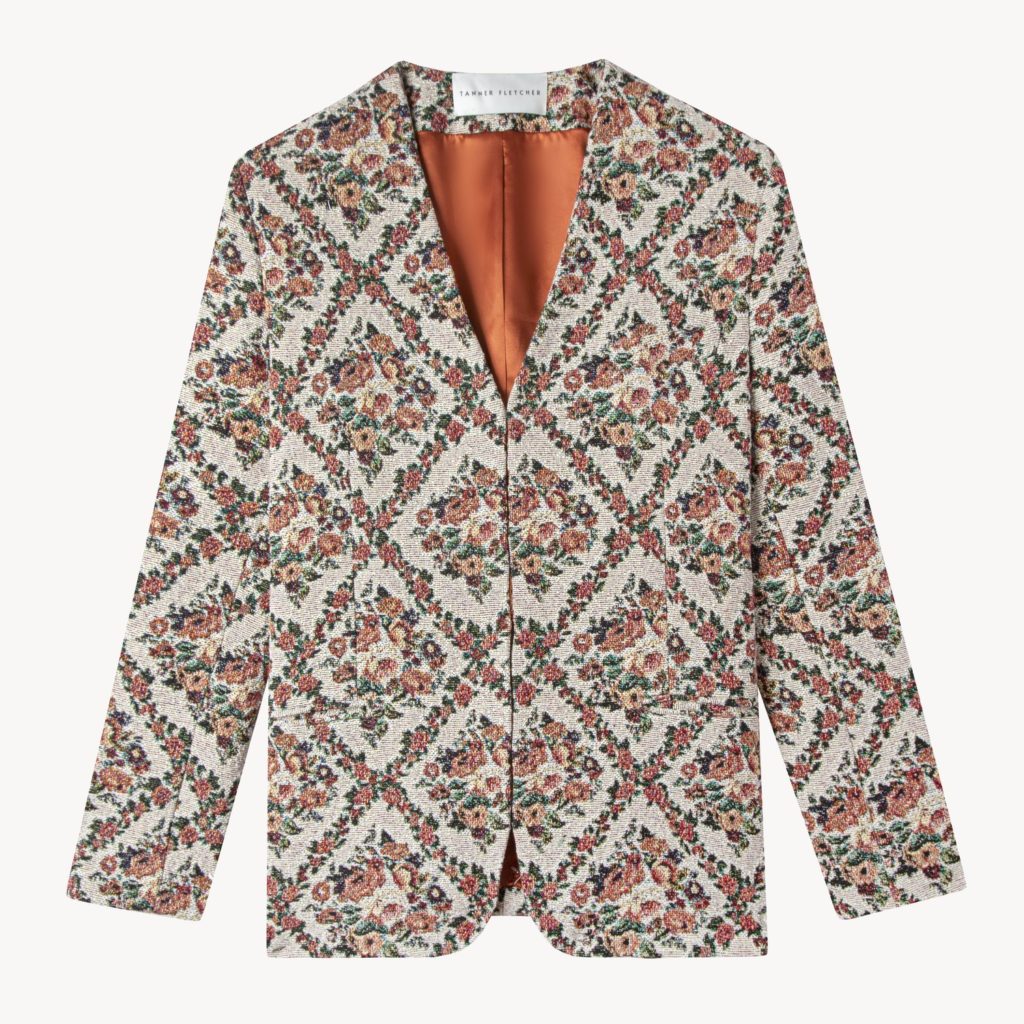 Tanner Fletcher
Sandy Tapestry Blazer
Tanner Fletcher
Fran Tapestry Pant
The Advice: "Always stay true to yourself and your vision. Remember that there will always be obstacles but no matter what background you come from, fight for what you believe in and find a way to be heard. Tanner and I come from your average middle-class families, both from small towns, and are gay, feminine boys. If we can cut through the noise, so can you!"
The Core Inspiration: "Being a genderless brand, we are inspired by enabling our consumers to have self-expression and be who they want to be without unnecessary labels."
Do you enjoy reading about the people behind your favorite fashion brands? Check out our interview with Jessica Wu, the PR Force behind Peter Do.