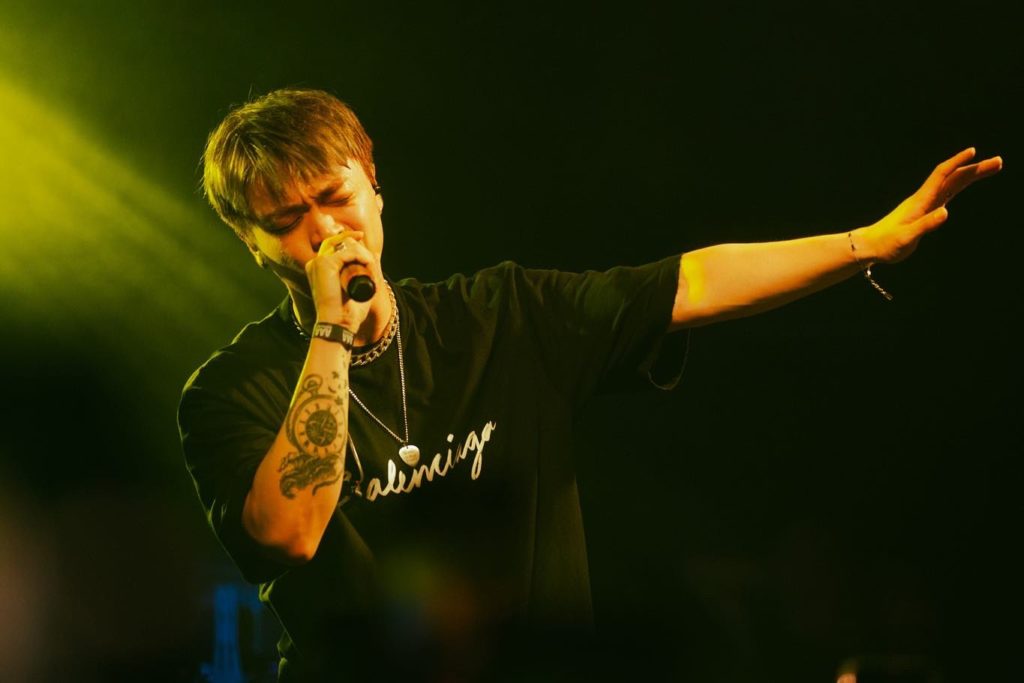 On Thursday, September 15, singer-songwriter JUNNY graced The Brooklyn Monarch's stage with his honey-like vocals. Completing his second-to-last stop of his blanc tour, JUNNY performed for the first time in New York, and the JUNNIVERSE, his fandom, welcomed him with open arms.
Bringing the Fun to Brooklyn
After a stellar opening show by Chinese artist XENZU and DJ MinJeong, JUNNY hit the stage sporting a casual look with a Dior Oblique Overshirt accessorized with silver jewelry. He dove straight into the concert setlist, running onto the stage singing "Color Me." Taking in the energy of his excited fans, JUNNY worked the stage and had fans singing with him from the start. He didn't give an opportunity for the energy to diminish as he rolled up his sleeves to expose his tattoos and began his next equally up-beat song, "Obvious."
While singing, JUNNY never lost focus of the audience. He collected flowers from adoring fans, took cellphones to record himself, and busted out a few groovy moves. Though he was having the time of his life performing these two songs, his innate talent shone the brightest when he effortlessly sang while dancing from one end of the stage to the other.
After a quick ment introducing himself and the tour, JUNNY revealed the next song, "Not About You." Fans eagerly awaited to sing the line "but I ain't talking 'bout you," a special request from JUNNY himself. As the song continued, JUNNY's adlibs and high notes impressed fans, which resulted in cheers so loud that for a moment, the singer's voice was drowned out. The high energy continued into the next song, "Mugshot," which JUNNY revealed was about his ex. (In JUNNY's words, "good riddance.")
First Comes the Fans
During a break between songs, fans shouted song requests, and JUNNY did not hesitate to comply. He sang snippets of "HIDE AND SICK" and "solo" acapella, which only highlighted the extraordinary vocal talent of the artist. The audience erupted into laughter when JUNNY put his hands on his hip and adorably replied, "Alright guys. Let me go on with my set now," Throughout the concert, JUNNY continued to engage with fans as he took selfies, grabbed flowers, a headband, completed hand hearts, and responded to fans' compliments. He even recorded a video for a fan who admitted not telling their parents about attending JUNNY's concert. There was no doubt that JUNNY truly appreciated his fans, and though he verbally thanked his fans, the look in JUNNY's eyes communicated the sentiment more than words ever could.
Stellar Collabs and a Picture Perfect Night
Despite performing alone, JUNNY included many of his hit collaboration songs including "AURA" featuring pH-1 and "nostalgia" featuring GOT7's JAY B. JUNNY did not hesitate and rapped pH-1's verses effortlessly, elevating the performance to a new height. As he sang "nostalgia" without JAY B, a fan graciously handed him a GOT7 lightstick, which JUNNY waved enthusiastically during his performance.
The audience sang along with JUNNY throughout the concert which the singer encouraged by often turning his microphone towards the fans. But the most impressive moment came when the intro for the track "By My Side" began. The entire venue belted out the first verse without a struggle even though it is in Korean. With the biggest smile featuring his dimple and a hand over his heart, JUNNY sang along, although he kept the microphone pointed towards his fans. As he neared the end of the song, the track suddenly went silent as JUNNY serenaded fans with a remarkable high note before the instrumental returned and the singer concluded the song. 
Over halfway through the show, JUNNY asked fans to turn on their flashlights for his popular track "MOVIE." In a sea of lights, it truly was a picture perfect moment between the fans and the artist, which was only emphasized more as he sang, "What a wonderful scene / I hope it lasts forever."
A Blast from the Past
Along with performing tracks from his most recently released album, blanc, JUNNY also included several of his older songs which elated the fans. Performing songs from his older album Vivid, the R&B artist brought a more sensual vibe to the show. With tracks like "Trust," "Say," "Zone," "Feel That," and "For the Weekend," JUNNY got the entire venue grooving along to the sexy songs as he threw water at fans, adding to the already wild vibe.
Heartfelt Closing
As we neared the end of the show, JUNNY gave a fittingly sincere introduction to the last song in his album, blanc. "I brought one song which is very very important to me. It's a very special song. […] It's a song called 'OH!' and it's dedicated to you guys. It's dedicated to my fans. So if it's your first time listening, please listen to the lyrics, it means a lot. And if you do know the song, please sing along with me."
If the intro was not enough to draw one to tears, JUNNY's soulful vocals and adoring stare into the crowd truly revealed how thankful he is for his fans. While singing the words "so I just need a hand to hold / Every step I take alone / Fears will take over my mind," JUNNY walked over to fans and held their hands. Pointing to his fans, JUNNY closed out the song, singing, "It's you that can make me feel alive."
After this sincere performance, JUNNY revealed he brought a secret song to perform and proceeded to sing "Get Ya!" bringing back the lighthearted mood to the venue.
To close out the show JUNNY prepared one of his most iconic songs, "Thank You," reinforcing how grateful he is for the fans that have supported him throughout his musical journey.
Unexpected Encore
After taking a group picture, fans began to chant "one more song" to which JUNNY grabbed a mic and agreed. After a quick discussion with DJ MinJeong, he proceeded to sing "New Girl," a final musical parting gift for the audience.
Thank you for today, for tomorrow, and for yesterday, JUNNY.
Check out JUNNY's music on Spotify and Apple Music and be sure to follow him on Instagram, YouTube, and Twitter to keep up with his latest updates!
Want more JUNNY? Check out EnVi's previous exclusive interview with the singer-songwriter here and GTKM Quiz here!