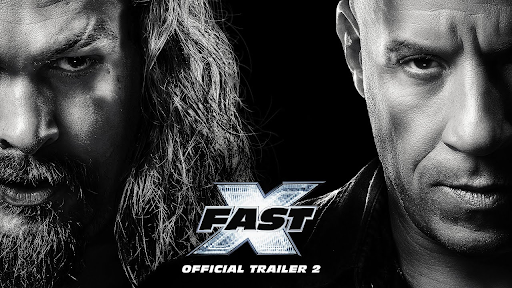 The Fast X Original Motion Picture Score was released on Friday, June 2, two weeks after the movie's May 19 release. Exploring the Fast & Furious saga's previous musical themes, the score for Fast X (2023) also introduces new depth to the franchise's ever-growing world of heroes and villains.
Behind the Sound
The Fast X Original Motion Picture Score features 35 new tracks by acclaimed composer, multi-instrumentalist, and conductor Brian Tyler. He's been with the Fast family since the beginning, scoring six of the previous Fast films. In addition to his work in the Fast & Furious franchise, he's scored over 100 feature films, including Now You See Me (2013), Crazy Rich Asians (2018), and the recently released The Super Mario Bros. Movie (2023).
Developing the sound for the Fast & Furious franchise has been meaningful to Tyler. "The idea of creating an entire musical language for the Fast universe has always been something I have enjoyed because there is a constant evolution to the franchise, and the music I have created has evolved with the films," Brian Tyler said, according to a press release. "The characters and storylines have gotten more epic, more dramatic and more emotional."
A stand-out of the soundtrack, "Dante's Inferno," is the theme for the movie's fiery new villain, Dante, who's stepped out of the Toretto family's shadowed past. Countering typical villain themes, the track avoids bringing in a darker energy, instead opting for a sense of elegance by using harp, bass, and even chords from Tchaikovsky's "Swan Lake." This integration of theme is crucial to the Fast X sound. In "Visions of the Past," the familiar melody from "See You Again," the tribute song to Paul Walker, flows in and out of the song as a reminder of his impact on the franchise.
A Furious Past
Fast X opens the pages of the final chapters of the Fast saga. In a franchise that's spanned over 20 years, Dom Toretto (Vin Diesel) and his family have outsmarted, out-nerved and outdriven every foe in their path with the power of family and NOS (nitrous-oxide). In this beginning of the end, a terrifying antagonist emerges from the shadows of their past, fueled by memories of loss and rage.
In 2011's Fast Five, Dom and his crew took out nefarious Brazilian drug kingpin Hernan Reyes and decapitated his empire on a bridge in Rio De Janeiro. What they didn't know was that Reyes' son, Dante (Jason Momoa), witnessed it all and spent the last 12 years masterminding a plan to make Dom pay the ultimate price.
Though the Toretto crew have had their fair share of highs and lows, it will take allies both old and new to keep Dante's wrath at bay. Familiar faces like Michelle Rodriguez, Tyrese Gibson, Chris "Ludacris" Bridges, Sung Kang, Jason Statham, John Cena and Oscar winner Charlize Theron return in this high-octane installment to the Fast saga. Joining Jason Momoa as new additions to the Fast family, Oscar winner Brie Larson and Alan Ritchson are just a couple of the actors riding along with the Torettos in this new chapter of their story.
The new threat of Dante will scatter Dom and his family across the globe, from their backyard barbecues in Los Angeles to Portugal, Antarctica, and beyond. With enemies and allies joining from their distant and recent past, Dom and his family will reckon with their past and fight for their future as a family.
For more Fast X content check out their Instagram and watch Fast X out in theaters now!
Interested in more ACT!ON content? Read our piece about Disney+'s new show American Born Chinese here!