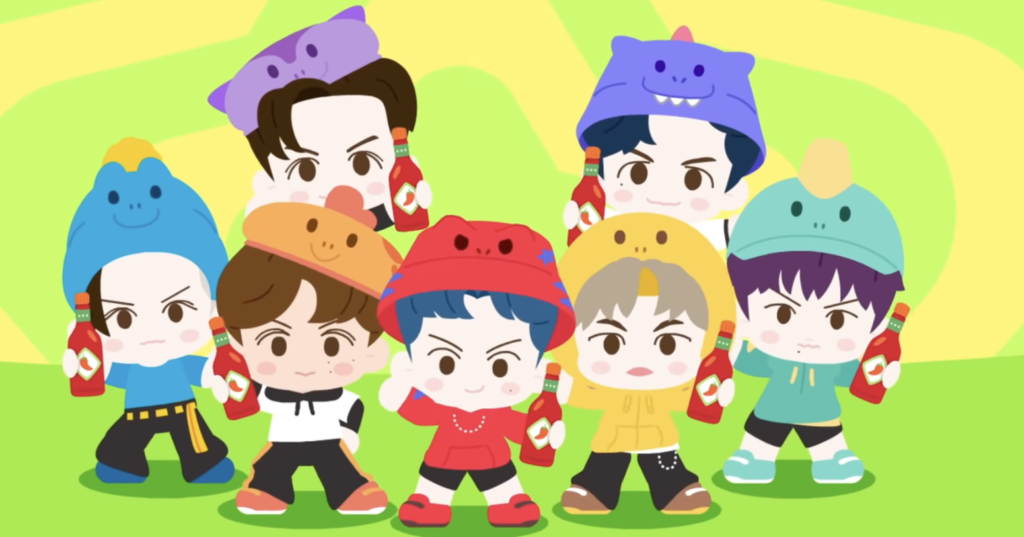 By Valerie Lopez | @valschwarie
As part of the collaboration between NCT Dream and Pinkfong, NCT Dream released two new music videos for their recent hit single "맛(Hot Sauce)" on May 28. The new child-friendly videos—an English version and Korean re-make of the song with animated figures who represent the seven NCT Dream members—dropped on both NCT Dream's and PinkFong's YouTube channels. 
In the music videos, the chibi-style animated versions of NCT Dream traveled back to the prehistoric era and ran into the dinosaurs. In order to survive the scary encounter, NCT Dream did what they do best: perform. The members performed for the dinosaurs, including Pinkfong's dinosaur mascot Red Rex, and served them delicious dishes with lots of hot sauce. To match the wholesome visuals, the lyrics were modified to reflect the intended audience.
Foreshadowing the Content
Following the educational "Dinosaurs A to Z" track on May 5, Pinkfong and NCT Dream teased the music video by releasing a TikTok featuring Red Rex on May 27. In the TikTok, the seven members and Red Rex did the "Shake It Shake It" challenge, also known as the sseuka dance. 
On May 27, NCT Dream also dropped details about the family-friendly remakes of their hit song "맛(Hot Sauce)" and released information about their upcoming merchandise collaboration: cartoon keychains of the members dressed in dinosaur onesies. Pre-orders for the keychains will open starting in mid-June.
Fan Responses
In response to the collaboration, some fans noted the differences between the original track and the modified versions. 
hot sauce hot sauce
by nct dream by pinkfong pic.twitter.com/arMb60KX5d

— ً (@jaewoosh98) May 28, 2021
NOOO THIS IS SO CUTE ???❤ PLUS THE VOICE, THEY CHANGE IT TO KIDS VOICE AAHHH ??❤❤

NCT DREAM 'HOT SAUCE' DINO VER. ?❤ pic.twitter.com/VXsPOivRrE

— ꜱᴛᴀʀʟɪɢʜᴛ ? (@spring_jaeyu) May 28, 2021
NCTzens also compared the characters of the video to NCT 127 member Johnny and figures in æspa's concept. 
the blue dino reminds me of johnny work it era ? pic.twitter.com/SwgFj2Zldl

— ysæ (@ysaaaww) May 28, 2021
Aespa vs ? NCT DREAM
Black Mamba Pinkfong vs (Snake) Dinosaurs pic.twitter.com/fcwZmI4w1p

— Fritz?? (@mimifrostyong) May 28, 2021
aes looking a little different here damn black mamba virus really fucking shit up in the kwangya huh https://t.co/WhnMNjLFY5

— b (@dneoyl) May 28, 2021
Other fans showed support by making jokes. 
My kids have memorize NCT Dream Dino ABC and Hot Sauce or y'all are going back into my womb.

— lia | HATE THAT… (@eat_sleep_lia) May 28, 2021
the dinosaurs got to meet dream before me and also can afford neobong b4 me…??‍♀️pic.twitter.com/xHsbyqgeoN

— yush- HAECHAN EDIT!! ? (@hyuckfllsun) May 28, 2021
Some fans responded to the video by asking NCT Dream to perform "맛(Hot Sauce)" in dinosaur costumes.
SM you're waisting a really great incredible amazing opportunity to post a nct dream hot sauce dance practice dinosaur ver. With these costumes… pic.twitter.com/p08EhK5GZN

— just a lost kpopper⁰ˣ¹⁼ (@idunnotoohuh) May 28, 2021
now we need hot sauce dance practice with dream wearing dinosaur onesies @NCTsmtown_DREAM

— jazz? (@bydreamies) May 28, 2021
A Hot Track
"맛(Hot Sauce)" was initially released on May 10 as part of a ten-track album with the same name. Since the release of 맛(Hot Sauce), NCT Dream has been breaking their personal records and topping charts left and right, including the Gaon, Oricon Weekly, Billboard Japan, and United World Chart.  NCT Dream has also topped their sales record earning 1 million sales in a week, and 2 million sales in 16 days. They are currently on their seventh win at Korean music shows, another personal record accomplished during this spicy promotional period.
시즈니이이이
오늘도 시즈니 덕분에 1위 했어요 !!
항상 너무 감사하고 여러분에게 더 큰 힐링이 될수 있게 노력할게요…!!
얼른 다시 돌아와서 여러분과 같이 즐거운 추억 많이 만들었으면 좋겠어요#HotSauce7thWin#NCTDREAM #맛_HotSauce#NCTDREAM_맛_HotSauce pic.twitter.com/VtcyXFiwrW

— NCT DREAM (@NCTsmtown_DREAM) May 28, 2021
With all of these accomplishments under NCT Dream's belt, it is no surprise that NCT Dream and Pinkfong banded together to create more "맛(Hot Sauce)" content for a wider audience!
Need more NCT Dream content? Check out our piece on NCT Dream's music evolution here!
Thumbnail Courtesy of SM Entertainment and Pinkfong