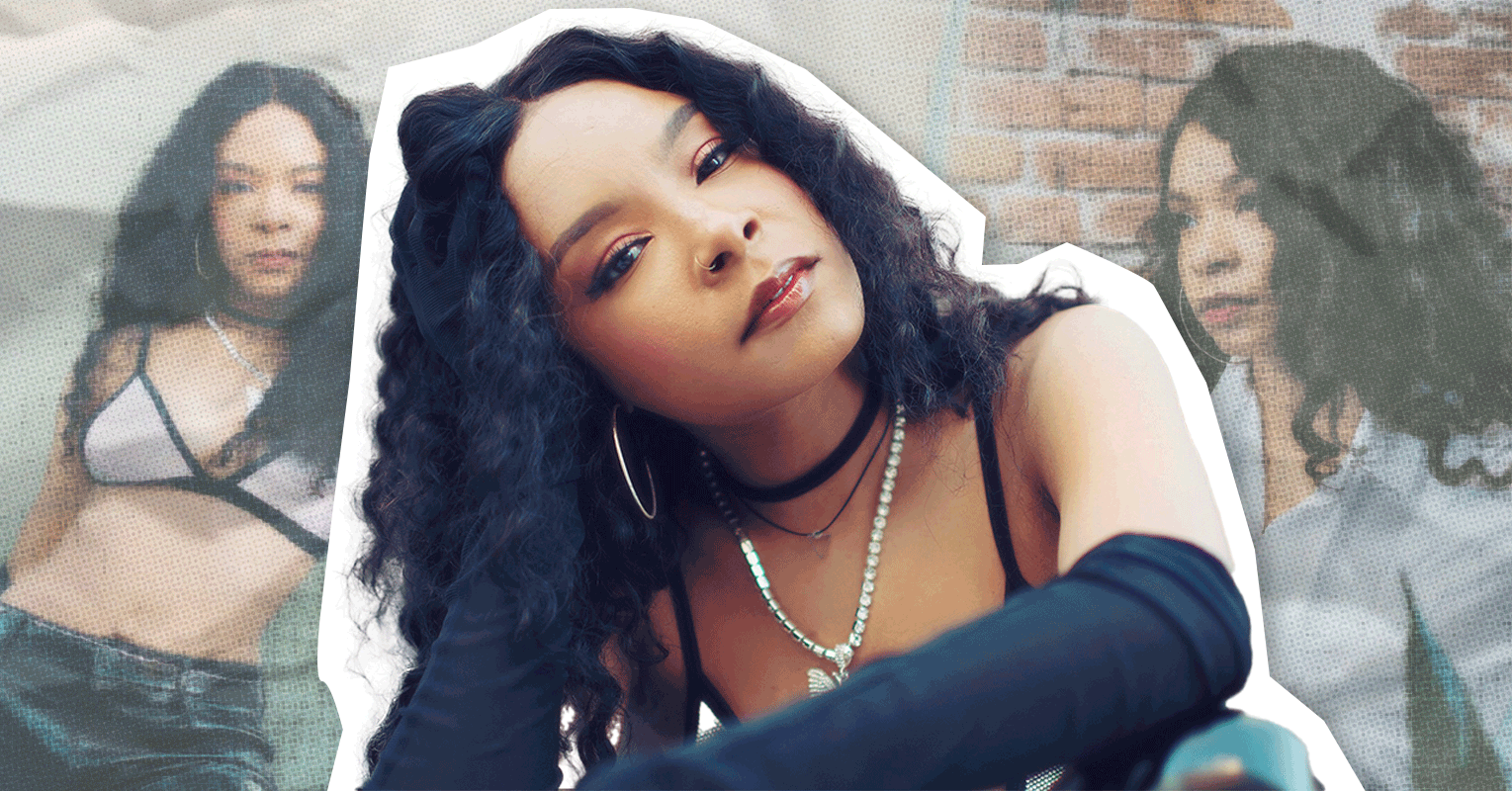 "My music is very encompassing of everything that I like. I just kind of write what I'm feeling at the time," Jenny Lyric told EnVi in a chat via email. The pop and R&B singer initially caught the attention of the K-pop community with her covers. Since then, she has evolved into a professional singer with a couple of singles to her credit and an upcoming EP. Lyric, who sings in English and Korean, has been on a mission to break conventions and forge her own path in the music industry. EnVi explores Jenny Lyric's musical career in honor of Black History Month, highlighting her accomplishments and showcasing her grit as a Black woman in the music industry.
Raised by Black Pioneers
"Around about three years old I got a recording microphone toy and ever since then, I've been singing," Lyric said about her musical childhood. Thanks to her uncle's vinyl collection, the St. Louis, Missouri-native grew up listening to legendary Black singers such as Stevie Wonder, Lauryn Hill, Erykah Badu, and Aretha Franklin.
Jenny Lyric had a more personal encounter with music in 2001. "The big turning point for me was 2001 when I got my first CD, Alicia Keys' Songs in A Minor. That's when I knew I wanted to actually pursue music seriously," she said. To the rest of the world, the 16-track album was a Grammy-winning album with hit singles "Fallin'" and "A Woman's Worth," but Jenny Lyric saw it as her starting point. Years after the album's release, the youngster would join her high school choir. She also became part of an acoustic band called Breathless Imperfection in her bid to pursue a music career.
Following in the footsteps of her idol, Alicia Keys, Lyric was inseparable from her keyboard. To her, it was a constant accompaniment as she performed in college. Jenny's love for Alicia Keys did not end with her playing the keyboard. In selecting her stage name, she opted for Jenny, a short form of her first name, Jennifer. Her second name, Lyric, was a nod to her role model who chose "Keys" for its similarity to piano keys, one of her favorite instruments.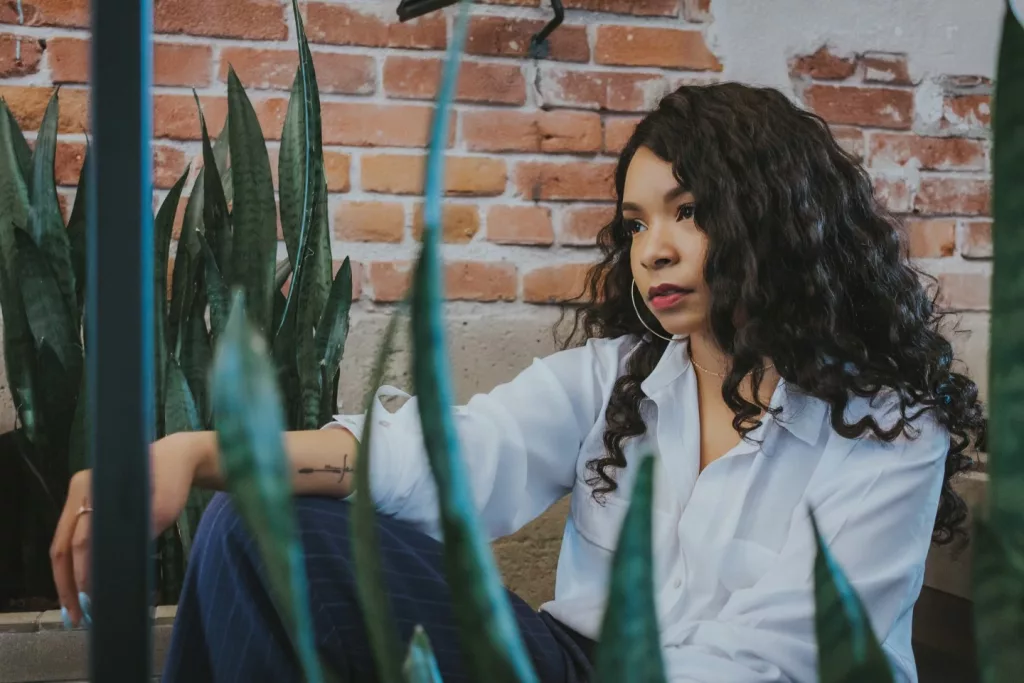 Diving into the Hallyu Wave
Jenny Lyric, like every other K-pop fan, had a set of songs that drew her into the K-pop world. "Wonder Girls' 'NOBODY' and SHINee's 'Amigo' were my first K-pop songs back in 2009." A casual listener of fourth-generation K-pop groups like BLACKSWAN and STAYC, Lyric admitted, "I am still a heavy second-generation stan! But I will say, NCT NEVER misses." Drawn by its catchy music and diverse video concepts, Lyric embarked on a journey to record her rendition of her favorite K-pop songs and uploaded them on YouTube. "I think the one person who inspired me to start doing K-pop covers on YouTube was Puma Shock," she said, referring to one of the first Black women to post K-pop covers on YouTube. Detailing her sentiment at the time, Jenny Lyric said, "I was like, 'Yo! If she can do this, I can do this too.'"
An admirable trait of Jenny Lyric is her dauntlessness. While navigating the music industry, a major rule Lyric has lived by is "don't listen to what people have to say if it is not positive; don't listen to it because people will talk you out of things before you even set it up."
Sticking to her belief, and refusing to be dissuaded by anyone, Lyric hopped on Facebook to declare her intention of forming a K-pop girl group. Her call was answered by other Black women who joined forces to create K-pop's first Black girl group, Coco Avenue. The ladies, who began as a sextet before promoting as a quintet, shared soulful covers of popular K-pop songs. They also had the opportunity to perform at major cultural events such as the Global Hallyu Forum in 2013. There, they performed a medley of K-pop hits, including Min Hae Kyung's "Mini Skirt," 1TYM's "HOT," CL's "The Baddest Female," and 2PM's "ADTOY," among others.
Coco Avenue progressed as a duo in 2014 with members Jenny Lyric and Jenna Rose. The pair recorded a sultry cover of Jay Park's "You Know," 4Minute's "Crazy," and a rendition of GD and Taeyang's "Good Boy," which they renamed "Good Girl." When asked about what she thought was Coco Avenue's biggest achievement, Jenny Lyric responded: "Really just existing. We were that group that was doing things that inspired other Black women to pursue the same careers without worrying about what people would say."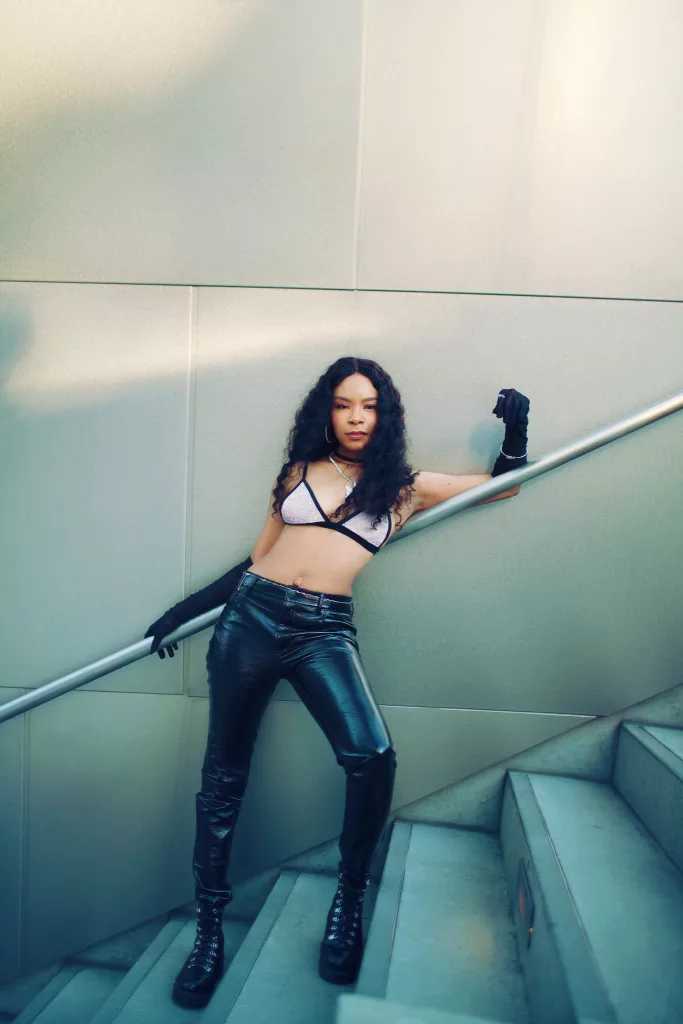 As a duo, Coco Avenue went beyond covering songs to performing at events and recording original songs in Korean. The ladies graced the stage at shows such as KTown Night Market, Korean Festival LA 2015, HiTeen Korea Pageant, KCON 2016, and Kpop Con Miami. In 2015, they won the American K-pop Festival Performance, which saw them embark on what would be their first trip to South Korea. A big deal for bothLyric and Rose, their trip to South Korea presented an opportunity to network and perform live. "We performed at a club called In2Deep [in Hongdae], and the reception we got was amazing. There were so many people of different ethnicities just giving us such a warm welcome. And that kind of validated us." Aside from the networking, Lyric and Rose made it a point to have a good time and enjoy Korean cuisine.
In 2016, they released their first original song titled "TTMU," an EDM track with Korean and English versions. The following year, Coco Avenue dropped a Korean R&B track titled "Eottae." The song was well received by fans of the duo, who cited its similarities with Jay Park's "You Know." Jenny Lyric described Eottae as her favorite song she had ever written. "There have been so many different versions of that song that I've recorded simply because I have such a soft spot for it being the first song I've written in Korean," she explained.
Shortly after the release of "Eottae," Coco Avenue announced their disbandment, with Jenna Rose and Jenny Lyric focusing on solo projects. Among the many things they wished to do together before their disbandment was working with the Korean record label AOMG. 'That was just such a big deal to us and a big dream for us. And to just have a beat where at the beginning it's like, 'I need a Cha Cha beat.' That was, uh, still my goal."
A New Era
Jenny Lyric began her solo journey by opening for South Korean rappers Reddy and G2 at the K Hip Hop Festival in Los Angeles. Before making her solo debut in 2018, she briefly joined Nuna Gang, a female quartet which described itself as a "Hallyu Supergroup," incorporating elements of K-pop into their music style.
Lyric made her solo debut with an English remake of "훔져보기 (Closer)," a '90s hit by Young Turks Club, produced by the legendary K-pop producer Shin Insoo. The song was released under Warner Music Korea and 1theK, one of K-pop's biggest channels on YouTube. Lyric was not the only one excited about her new journey. "My fans were super super supportive when 'Closer' came out. People were hitting me up about it, like, 'Yooo, your video is here [1theK].' I was like, 'Is it!?'"
After releasing "Closer," Lyric put releasing original music on hold and kept her fans entertained with occasional covers. She thrilled fans with a cover of Chloe X Halle's "80/20," Beenzino's "Bougie On and On," and a couple of Sinead Harnett songs, just to mention a few.
In 2021, Jenny Lyric made a return with the acoustic version of "Eottae." Prior to that, she collaborated with her ex-husband AJK on "View," a song about Black and Asian solidarity. Reflecting on her evolution as an artist, Lyric said: "I feel like the biggest change for me has been with my confidence. I loved being in groups, but I realized that I was also using others as a crutch when it came to making music or live performances. I was always second-guessing my ideas and decisions. These days, I'm finding a lot more confidence in myself and my creativity."
She ended 2021 with "Homies," a song she recorded during the pandemic. Lyric describes "Homies" as a song that "rebooted her inspiration." The pop song stresses the importance of friends and family and was dedicated to Lyric's loved ones. "So one of my biggest supporters is actually my friend, Messie. She's actually my manager now and she's amazing. She supports me in one of the biggest ways when it comes to my music, especially. And also, when it just comes to me emotionally breaking down, she's always there for me," she explained. Continuing her shoutout, Lyric said, "I got my friends Sierra and Nami (former members of Nuna Gang) also always having my back. My family is always there hyping me up whenever I'm feeling down. You know, I can just pick up the phone and just call. So I'm just so thankful to all these people."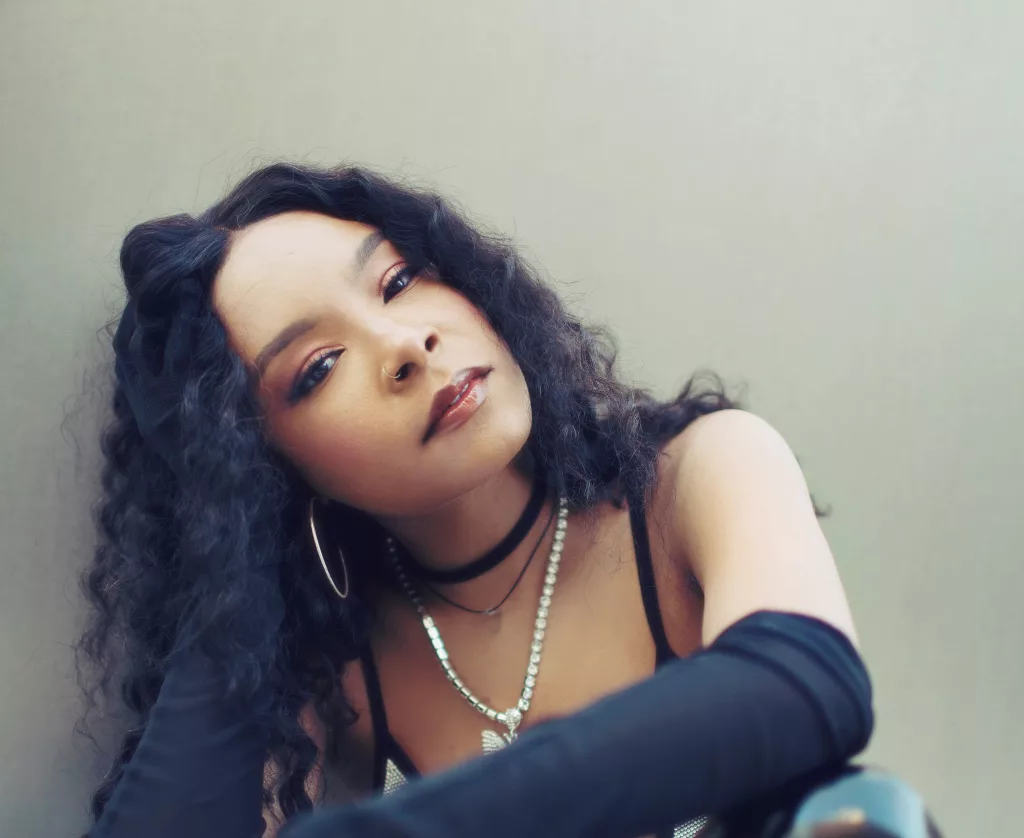 Back With No Turning Back
In June 2022, after six months of silence, Jenny Lyric made her comeback at the KTown Night Market. Held in Los Angeles, the energetic performer thrilled the crowd with a cover of 2NE1's "Come Back Home" and introduced them to her previously released singles "Closer" and "Eottae." For Lyric, performing at the Minzy-headlined event meant a lot, both as a second-generation K-pop fan and as an artist. An excited Jenny Lyric exclaimed, "Minzy was performing the same night. That was a freaking HUGE deal to me. What! I'm on the same stage as a 2NE1 member! It was a big deal. It was great. I'm still on a high from it."
Her performance was also made memorable by the audience, as she "noticed people starting to come up to the stage." Jenny, unable to hide her excitement even through email, told EnVi: "Oh my God, people are connecting with me; people are connecting with my music," she said. I was able to give that energy back. It was just such an amazing, amazing, amazing night!"
With the world paying attention to her, Jenny Lyric dropped her first single of the year, titled "Love on the Dance Floor." The uptempo, danceable song was the first song she released under her label, Local High, and featured both English and Korean lyrics. "Love on the Dance Floor" also provided Lyric with the opportunity to demonstrate her dancing abilities through the dance challenges she introduced.
Her love for audience interactions and stage performances led Jenny Lyric to make an appearance at the Kplay Fest, which she described as "100 degrees." Jenny described her favorite moment from the performance as "the crowd was great, and my amazing team of dancers and hype man killed the set! The best part of performing is getting a crowd that connects with me."
Having given fans a glimpse of her life through her music, Jenny Lyric got intimate and vulnerable with her next release, "My Own." Speaking on the inspiration behind the SoundCloud-exclusive song, Lyric said, "I'm currently going through a divorce, and I realized I have so much music I have written while suffering emotionally during the marriage." For the 31-year-old, writing her feelings in a song has always been healing for her. "I hope that the music I wrote during those days can help in someone else's healing journey just like 'Good As Hell' [by Lizzo] helped me."
Still on a music release spree, Jenny Lyric ended the year with her first-ever Christmas song, "Love and Cheer." Breaking down the song-making process to EnVi, Lyric recalled, "I was super nervous writing the track since holiday music is not my forte. I reached out to two amazing artists and songwriters, Chantel Nichole and Sierra Glazebrook, and we created something amazing together."
After releasing three singles in 2022, Jenny Lyric is set to drop more Korean singles and work on her debut EP in 2023. "I'm also hoping to work on a lot more collaborations within the community as well," she added.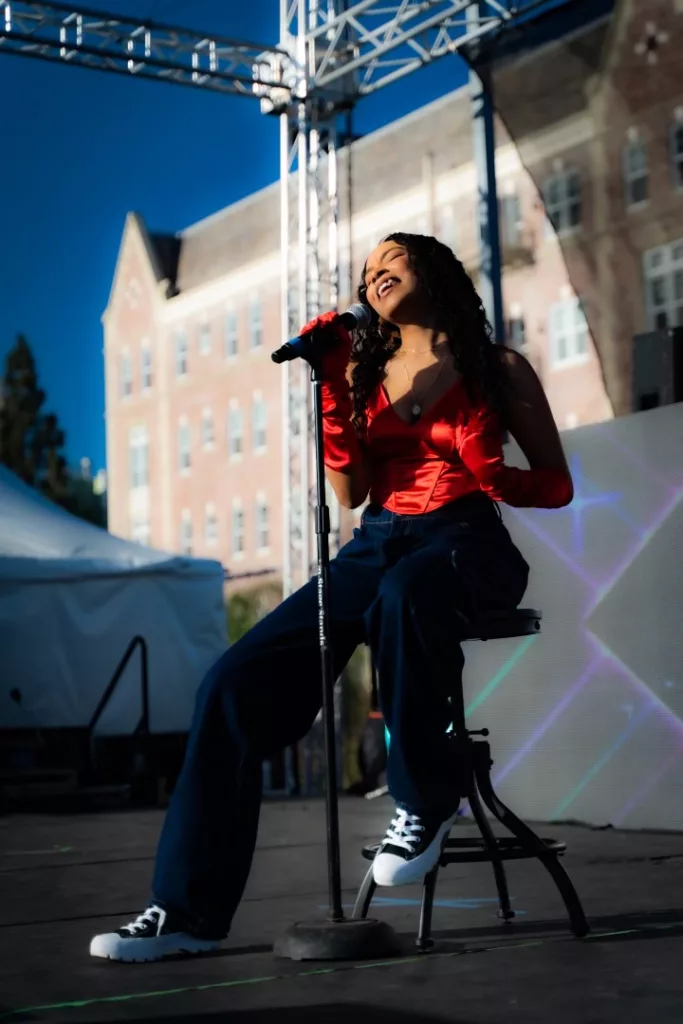 Legacy
Since her days at Coco Avenue, Jenny Lyric has been on a mission to combat stereotyping in the K-pop music scene. "I make music for the people who were called weird for liking K-pop back in the early 2000s," she explained. "My music is evolving, maturing, and becoming extremely personal as I grow." Detailing her journey, she told EnVi, "I realize that I've kind of just been moving on autopilot. It's hard to be passed up on when it comes to opportunities, but I am enjoying creating a lane for myself." Having taken a liking to a music industry heavily influenced by Black culture, Jenny Lyric admitted to hating her exclusion from performance opportunities based on her race and not her work. Beaming with enthusiasm, she said, "I do feel like things are slowly shifting as K-pop becomes more global."
She equally shared the lessons she has learned in the past decade since she started doing music. Her mantra since her K-pop cover days, Lyric revealed, is "I'm still learning how to block out any hate and just go with my first thought, go with what I'm feeling because that's what's most important. That's how you make those connections with people based on you, not on what someone else wants you to be doing or thinks you should be doing."
Jenny Lyric ended her chat with EnVi by discussing her ideal collaborations aside from producer Cha Cha Malone. "I'm really looking forward to collaborating with artists like JUNNY, who I got to chat with a bit last summer backstage at his show at the LA Korean Festival. It was my first time hearing his music, and I was in awe of his pen and his live vocals! DEAN is also and will forever be a dream collaboration for me."
In her bid to make a name for herself in a stereotyped industry and be an icon of motivation to Black women, Jenny Lyric vowed to make "self-improvement a habit."
Discover more Black women in the music industry in our interview with Bianca "Blush" Atterberry here.