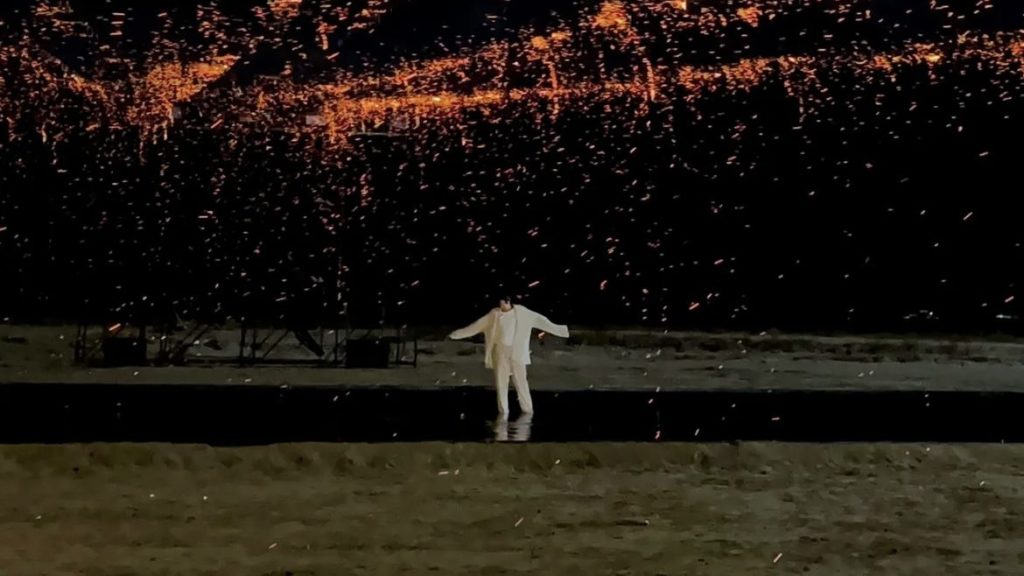 BTS' Kim Namjoon, known on stage as RM, is recognized for his genius brain and deep perspectives. As the leader of the internationally recognized boy group BTS, RM has been with BTS through concerts, interviews, and all of the group's largest accomplishments, not only as a member, but as a friend, leader, and respected brother. From before his debut to now, Kim Namjoon has shared his growth through BTS' music and his own mixtapes. Now, on December 2 at 12 AM EST, RM released his debut studio album titled Indigo, the last archive of his 20s.
The ten-track album is a record of RM, a documentary of his growth as RM and as Kim Namjoon. In it, he explores youth, loneliness, admiration, and fame, all tucked beneath the album's title, Indigo (his favorite color.) Each song on the album bares another piece of him to the world.
A Naturally Growing Flower
Nature has always been a key part of RM's persona, and fans even coined the term "Namjooning" for moments spent out in nature, romanticizing the mundane. In "Wild Flower," RM expresses his desire to live peacefully like a flower, rather than burning out quickly like a firework. From boyhood to adulthood, RM's mindset about himself and his dreams has shifted. Whereas his "dreams devour[ed]" him in his youth and he "yearned for the flames," the fame he longed for eventually "turned into shackles." youjeen's voice cuts through this realization, propelling listeners through the song with a new perspective: "Light a flower, flowerwork," she sings.
The shift from fireworks to flowerworks marks a growth from "boyhood to eternity." Instead of being in the lonely sky, prone to burning out, RM now finds himself in the peaceful fields, a flower that grows and regrows when its time is right. He's among the open land with "no name," an endless space of opportunities and identities. His feet have returned to the steady ground.
In the music video, RM is seen standing in the midst of Nakhwa nori, a traditional Korean firework festival, before the scene transitions to him standing in the middle of a purple meadow. Then, he's on the stage. All around him in these scenes is light, but as the lyrics suggest, his own beliefs have changed and given him a peaceful groundedness. "Wild Flower" is RM declaring his existence as a blossoming flower.
Colors of the Album
The album opens with "Yun," an R&B track featuring Erykah Badu. Throughout the song, RM sings, "I wanna be a human 'fore I do some art." In his Tiny Desk concert, RM divulged that the song is about the Korean painter Yun Hyong-keun, who shared the same sentiment. The song feels like a conversation between RM and Yun, and RM directly sings at one point, "To me you're the fucking contemporary." In this way, RM starts the album by declaring a degree of separation between Kim Namjoon and his art.
"Still Life" features the artist Anderson .Paak. The groovy, upbeat song is a vibe through and through. In the song, RM embraces himself and his life. He sings, "A still life that does not stop, / keep my flower blooming again," embracing the hopefulness of life and the good things that lie in every present moment. The song is named after the idea of still-life paintings, and for RM, he is similarly a canvas that is eternal and moving forward. Both "Yun" and "Still Life" were performed by RM in his Tiny Desk performance.
The third track on the album, "All Day," was recorded with Tablo. The song is bright and bold, as RM and Tablo ride on each other's energy. The song speaks a message against haters and societal standards. Instead, the two instill in listeners to fight for their truth, dig toward their identity, and embrace the "dynamite in [their] DNA." In contrast, "Forg_tful" starts slower with the soft strums of a guitar and RM's melodious vocal tone. A relaxed whistle breaks up the verses, calling for a laid-back track of a storytelling nature. In the final verse, both RM and Kim Sawol's gentle voices come together and fade out to a lovely end. The song is a sweet and nostalgic telling of youth.
The next three songs seem to work together. "Closer" with Paul Blanco and Mahalia is a sensual and romantic song admitting the desire to be closer to one's lover. The climax of the song is almost ethereal, with RM's voice guiding listeners along a loaded background. "Change pt.2" is the first of RM's individual tracks on the album. The song acknowledges the inescapable nature of change and how something, even love, can fall apart with the difficulties of trying to remain within the boundaries of another person's idea of you. RM acknowledges this outright, saying, "Fuck that Wiki, fuck all those infos / What a stranger, I don't know this fool." "Lonely" follows, describing emotions of emptiness and isolation. With this upbeat song, RM confesses to a very human and relatable feeling.
"Hectic" featuring Colde takes the next seat on the album. As Colde mentioned in the Album Magazine Film, the song captures the incomplete story of the two singer's youth at that moment. In the same video, RM shared that the urban track "Hectic" reflects the current him, at age twenty-nine. "No.2" takes the final spot, with parkjiyoon as a collaborator. The sweet song wills listeners to not look back at regrets and to trust that they've done their best. To end the album is the line, "You'll protect yourself from now on."
A Story Worth Telling
Indigo captures the intricacies of RM and is a collection of his youth. The tribute to his 20s shows the growth of RM throughout this time. In a letter to fans on Weverse, RM compares Indigo to a curated exhibit and requests listeners to play the songs in order. To RM who once told fans that having many thoughts in your 20s is like cultivating branches of a tree, it is relieving to now see the artist enter his next days as a beautiful tree and document it along the way.
Watch "Wild Flower" here, and listen to Indigo on Spotify and Apple Music!
Want more BTS? Check out our piece covering "Rush Hour" here!