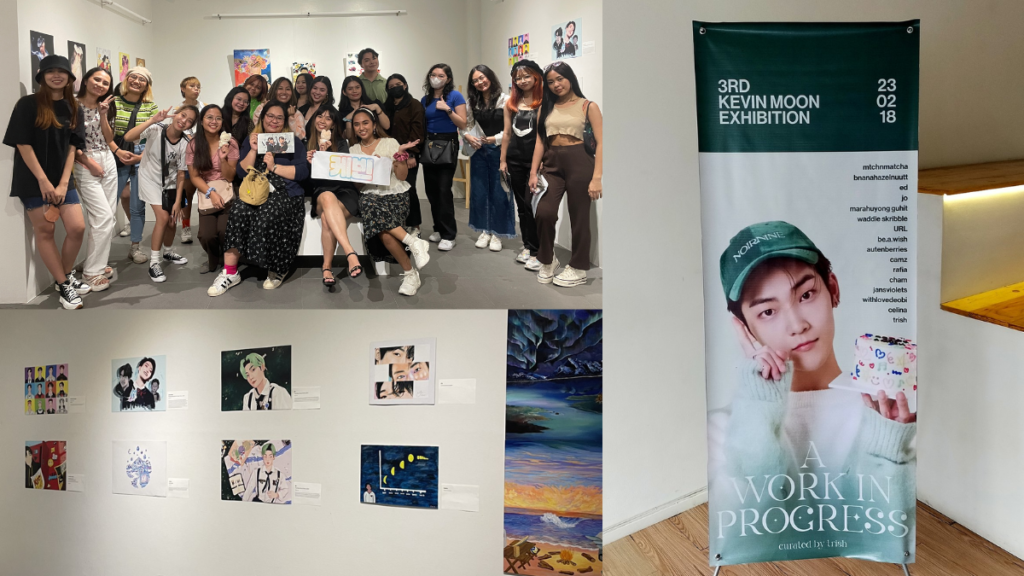 It's not a secret that K-pop fans like to celebrate big, especially when it comes to their favorite idols' birthdays. Deobis, THE BOYZ's fans, are no exception. On February 18, Filipino fans of THE BOYZ's Kevin Moon celebrated his birthday by organizing an art exhibit and cafe event at Backroom Creative Space. EnVi was invited to celebrate with Deobis and see the in-person art exhibit that had even garnered Kevin's attention. We also had the chance to chat with the exhibit's curator and some fan artists to talk about the process of creating this event.
"A Work in Progress"
Filipino fans of Kevin Moon decided to celebrate his birthday this year uniquely. Unlike the commonly held birthday cafe events for K-pop idols, they showcased their artistic talents by hosting a one-day onsite art exhibit called "A Work in Progress." According to curator Trisha Marie, it took a while to come up with the exhibit's name. She settled on an iconic and helpful quote from Kevin that stood out to her. "Because everyone goes through their own pace in life…you shouldn't feel pressured when others feel like they are ahead of you," Trisha Marie shared.
This isn't the first time Moonlights, as Kevin Moon's fans are called, held an art exhibit for the idol. Back in 2021, when onsite events were still not allowed due to the pandemic, the very first online art exhibit for the singer was launched. Kevin became the first member of THE BOYZ with an art exhibit dedicated to him. Due to the event's positive response and high social media engagement, Moonlights curated another online art exhibit the following year, but with a Halloween theme.
About the Curator
Trisha Marie is a woman passionate about both K-pop and art. Though she graduated with a business degree, her heart still belongs to creating art. Trisha Marie first picked up a paintbrush when she discovered her love of arts through K-pop during her Senior Highschool days. "K-pop has these beautiful idols, and it just makes me so inspired! Like I want to draw them so bad!" Trisha Marie happily shared with EnVi, while reminiscing about the first fanart of an EXO member she had made for a class.
Before becoming a fan of THE BOYZ, Trisha was an EXO fan. Through her fandom experience, she learned about online art exhibit Kai Museum, which later inspired the exhibit for her current K-pop bias, Kevin. Another factor she considered in curating the exhibit is that Kevin showed interest in arts as he took fine arts and psychology in college, though he eventually dropped out to train as a K-pop idol. 
Aside from curating this exhibit, Trisha Marie also created two of the displayed artworks . Her first painting is a series titled "Walkin' in Time and Colors," which is made from acrylic and gouache on canvas. It shows the journey of Kevin as a K-pop idol represented by strokes of different colors. According to Trisha Marie, it is an engaging artwork for fans to look at and guess what different strokes represent. Her second painting showcases her expertise with portraits and features Kevin in Trisha Marie's favorite colors – yellow and black.
Get to Know the Artists
The exhibition counts the participation of 16 artists – mtchnmatcha, bnanahazelnuutt, Ed, Jo, Marahuyong Guhit, waddles skribble, URL, be.a.wish, autenberries, Camz, Rafia, Cham, jansviolets, withlovedeobi, Celina, and curator Trisha Marie. While the in-person event took place in the Philippines, the collaborators are from countries all over the world such as Brazil, Spain, Indonesia, and The Netherlands.
EnVi chatted with two of the artists who made it to the in-person exhibition – Cham and Celina. Both artists had been invited and encouraged to participate by Trisha Marie. For Cham, this was her first time participating. "Kevin Moon is my bias, and I wanted to celebrate his birthday with other fans through this exhibit," she eagerly explained. Cham created embroidery and crochet artworks that featured some of Kevin's favorite items, such as his pet snake Morty and a piano, and references to THE BOYZ songs "The Stealer" and "THRILL RIDE."
Celina contributed a continuation of her last artwork for the online exhibition. She created an artwork inspired by one of Kevin's self-written songs, "604," named after Kevin's Canadian hometown zip code. Following the exhibition's theme of "A Work in Progress," Celina's artwork seeks to pay homage to Kevin's origins in his hometown. "I really like creating, inspired by the subject of our art, Kevin Moon," shared Celina. "He has inspired not just me, but a lot of other artists to keep creating whatever medium you take on to just keep creating. I feel like being able to participate in this is an honor since the other participants are known fan artists in the fandom."
Garnering Deobis' and Kevin's Love
Before the event, Trisha Marie had been diligently promoting the event online. On THE BOYZ's Weverse feed, she shared a promotional poster of "A Work in Progress" and an image of Kevin painting with the caption "brb booking ur flight tickets to ur physical exhibit 😉 (painting on the poster is by yours truly 🫶🏼)" Kevin Moon himself replied, "Omg so cool hehe."
Upon the successful wrap-up of the exhibit, Trisha Marie once again took to THE BOYZ's Weverse feed to share a short message and images of the event. Trisha Marie's and the participants' efforts did not go unnoticed, as Kevin once again cheered and commented on the post, "Feeling the love! Thank you guysss 🫶"
A few days later, Trisha had the opportunity to hop on a fan call with Kevin, where she took the time to share the online version of the exhibition with him. Kevin looked giddy at the exhibit and with a big bright smile replied "Oh my goshhh! Thank you so much, I'll have to find it."
Though the in-person exhibit was a one-day event, the online exhibit for "A Work in Progress" can be viewed HERE through March 21.
If you would like to read more of THE BOYZ, make sure to check out the breakdown of their latest mini album BE AWAKE HERE!