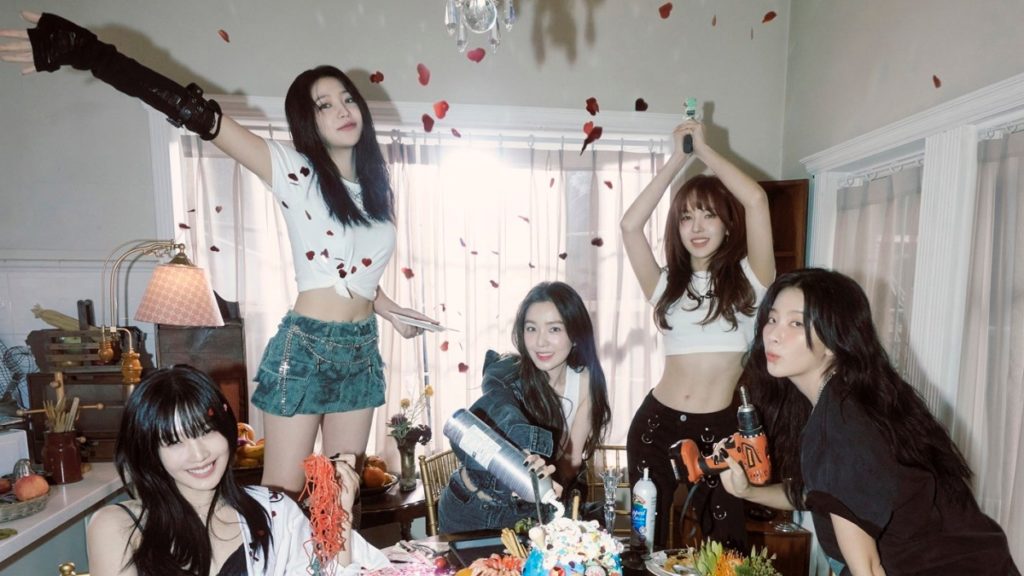 No one throws a better birthday celebration than the iconic K-pop girl group Red Velvet. On November 28, IRENE, SEULGI, WENDY, JOY, and YERI showed they are the life of the party with their latest EP, The ReVe Festival 2022 – Birthday. With over 700,000 copies in pre-orders, the ladies have broken their own record, ultimately highlighting their continuous growth.
This new EP is a follow-up to The ReVe Festival 2022 – Feel My Rhythm, which was released in March 2022 and charted on Billboard's World Digital Song Sales, Global 200, Global Excl. US, and Hot Trending Songs charts.
Bursting with immense color sonically, The ReVe Festival 2022 – Birthday accentuates Red Velvet's nature of being a stellar standout.
It's A Party, Party
The fanfare from George Gershwin's "Rhapsody in Blue" greets listeners at the start of "Birthday" and seamlessly transforms into a trap rhythm-based pop vibe that samples the iconic classical-jazz piece. It sets a cinematic tone for the mini-album that exudes confident energy from the quintet. While the title track focuses on having the best day ever, it also makes a nod to their career so far. "Birthday" references an array of songs from Red Velvet's discography throughout the lyrics, such as "Dumb Dumb," "Ice Cream Cake," "Somethin Kinda Crazy," and "Russian Roulette."
Red Velvet are well-known for throwing the bubbly cookie-cutter stereotype that follows girl groups right out the window. From eerie to horror and a bit odd, the girls will always be anything but boring.
This visual ballistic birthday bash features the girls defeating anyone stopping them from partying it up. "Birthday" is badass with a splash of vibrant and quirky. With strange unknown characters, parallels to previous music videos, whimsical settings, and colorful animation, "Birthday" is matched with an equally brilliant visual counterpart. 
Love's A Rollercoaster
Falling in love isn't always easy, but there are moments worth basking in whether they're pleasant or painful. The B-sides on The ReVe Festival 2022 – Birthday pinpoint everything from the bitterness to the sweetness of caring for someone so deeply.
"On A Ride" captures the lighthearted and romantic nature of slipping into love. Electronic effects mimic carnival noises, creating a whimsical, dreamlike sound. Meanwhile, on the opposite of the spectrum comes the road to heartbreak with the groovy, R&B-influenced exposé, "ZOOM." The track is about realizing that they've been lied to by their lover and confronting them about it. With the confident, bone-chilling line, "I'm a sharp policeman, you're a sloppy criminal," the song is on par with strong female-led tracks about catching liars in relationships such as Carrie Underwood's "Before He Cheats," Halsey's "killing boys," and TWICE's "CRY FOR ME."
Proper Farewells
From sampling Gershwin's "Rhapsody in Blue" in "Birthday" to Bach's "Air on a G String" in "Feel My Rhythm," the girls are no strangers to incorporating classical pieces into their discography. Beethoven's "Für Elise" interpolates with the sweetly haunting chorus of "BYE BYE" as the girls harmonize in singing about the end of a relationship. Goodbyes can hurt, but "BYE BYE" tells the tale of overcoming the hurt and seeing the positivity in bidding a final farewell to a lover.
All good things must come to an end, but you don't have to forget them, and that's exactly what the girls prove with the sentimental song, "Celebrate." The track encompasses the fondness of memories that have been made. The quintet's vocals capture the delicate and sensitive tone against the lo-fi track. "Every moment is precious," according to Red Velvet, as they send listeners off with the heartwarming reminder that is "Celebrate."
Until Next Time…
Fans can always count on more surprises from Red Velvet. You can now listen to The ReVe Festival 2022 – Birthday here. Make sure to keep up with Red Velvet on Instagram, TikTok, Twitter, and YouTube to see what they do next.
Want more Red Velvet? Check out EnVi's article on SEULGI's solo debut here!