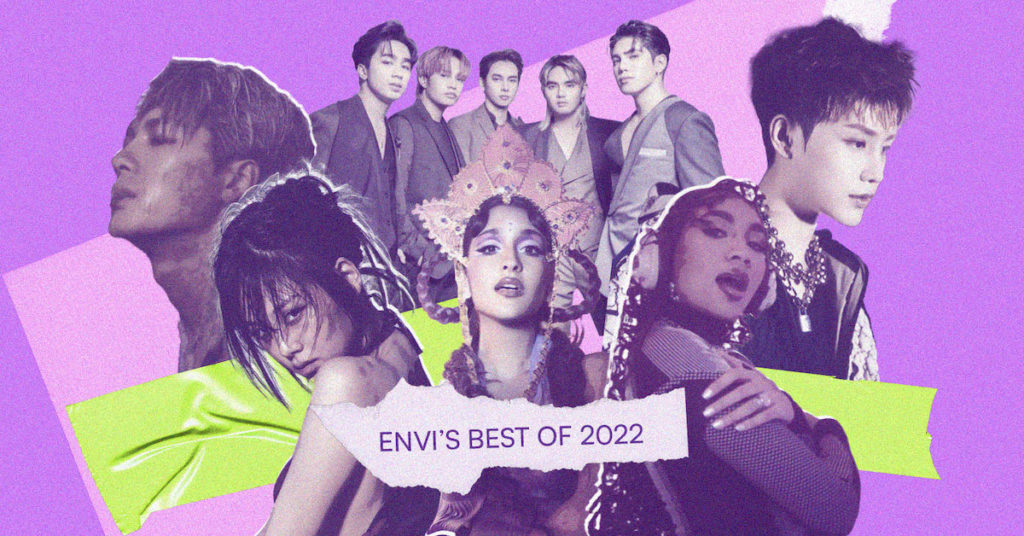 Although music and fashion have always been deeply intertwined, the rise of music videos to mainstream prominence ushered a new frontier for musicians to display their artistry. Nowadays, it's nearly impossible to think of impactful music moments without associating them with imagery to match. And more often than not, these visuals involve noteworthy fashion and styling.
As the year comes to an end, we highlight the creative connection between music and fashion in some of the most memorable music videos released in the past 365 days. From NCT 127's neon-colored "2 Baddies" to Rina Sawayama's Westerncore parade in "This Hell," scroll down to read — in no particular order — EnVi's selection of most fashionable music videos by Asian stars.
BIBI – "BIBI Vengeance"
It girl and R&B songstress, BIBI, channels female rage in her latest single, "BIBI Vengeance." The music video takes visual and thematic inspiration from Park Chan Wook's psychological thriller, Lady Vengeance (2005), with plenty of references to the cult classic. Most of BIBI's looks are tough: dark power suits, snake print coats, angular jewelry, and even sharper nails. But running parallel to that edge is a softness she's unafraid to approach. She bares it all — literally — in the rain, dancing in a striking red skirt and bikini top as the chorus builds: "I forgave you for breaking me down and treading on me." She promptly qualifies her pardoning by singing in the next line, "too bad you lost your chance." This is a revenge song after all. In her apt movie allusions and style contrasts, BIBI's sartorial storytelling makes "BIBI Vengeance" one of the most compelling styling concepts of the year. — Hajin Yoo, Fashion & Beauty Writer
CHAI – まるごと – "WHOLE"
Since their debut in 2012, the Japanese quartet CHAI has become the torchbearer of a new music genre dubbed NEO-Kawaii. Sourcing musical inspiration from punk, funk, city pop and indie, CHAI members Kana, Mana, Yuna, and Yuuki are also frontrunners in the fashion flanks. In the music video for their 2022 single, "WHOLE," CHAI once again exploited the eclectic style they've crafted with the help of stylist Soichiro Kobayashi. Adepts of statement fashion and pink color, the four members sported floral bodysuits and playful spiked hairstyles with pink and lilac highlights. As they sang about love, acceptance, and being unapologetically yourself, the group also anticipated the Barbiecore aesthetics that would command fashion throughout 2022. For anyone who understands CHAI's ethos and the plea for empathy in the song, the styling is nothing but an extension of their message: differences must be celebrated, not condemned. — Mayra Peralta, Fashion & Beauty Editor
CHUNG HA – "Sparkling"
In the music video for "Sparkling," K-pop soloist Chung Ha combines the world of mermaids and hyper pop, tying them together with a retro filter. To bring the underwater world to life, "Sparkling" features no shortage of glitter, sequins, and rhinestone accents. One outfit, comprising a multicolored knit set and a gummy bear necklace, also recalls the fashion of eras past. Combined with the set's dreamy palette, intricate makeup looks, and an irresistibly catchy tempo, "Sparkling" is a refreshing summer song with dazzling looks to match. — Valentina Doukeris, Fashion & Beauty Writer
Seulgi – "28 Reasons"
"Sultry, sensual, and sinister" describe Seulgi's solo debut, "28 Reasons" to a tee. The accompanying music video plays around the concept of good and evil, tackling questions like "can good and bad coexist within oneself?" The shifts and thin lines separating both poles translate through smart styling. A chains-clad look and a paneled corset top, paired with low-waist cargo pants, play as a contrast to a flowy white dress and a corset top with matching shorts. However, the true neutral lies in the halter knit top and voluminous belted skirt that's filtered with grayscale in the video. The play on good and evil also extends to accessories and beauty, making this music video a top-notch example of storytelling through fashion. — Vanya Harapan, Fashion & Beauty Writer
IVE – "After Like"
IVE's "After LIKE" is a love letter to the 1970s. Not only does the track sample disco anthem, "I Will Survive" by Gloria Gaynor, but the group's styling is also a glamorous tribute to the iconic decade of glitter and indulgence. In soft furs and sparkling tops, IVE reinterpret quintessential '70s style with a luxurious flair. Other times, like in their bold pop-art-esque looks, the group took a more playful approach to retro fashion. In all, IVE's "After LIKE" era proves that the super-rookie group can elegantly pull off a myriad of looks, living up to their "chaebol crush" reputation. — Hajin Yoo, Fashion & Beauty Writer
Jackson Wang – "Blow"
Backstreet Boys '90s hit, "Everybody" meets The Greatest Showman (2017) in Jackson Wang's music video for "Blow." Equal parts theatrical and fashion-savvy, the video clip is a modern take on 19th-century entertainment — circus, theaters, fairs — that resorts to fashion trends thriving in 2022. There are corsets, pearls, and a plethora of textures from silk to jacquard. The main star of the show, naturally, is Jackson who confidently rocks items such as a ruffled silk shirt, a half-bust corset, and a custom jacquard jacket by Lisa N. Hoang. With an enticing performance and a beautifully styled wardrobe, the Hong Kong star blew our minds and gave us a first peek at the visual universe he created for his sophomore album, MAGIC MAN. — Mayra Peralta, Fashion & Beauty Editor
Raveena – "Love Overgrown"
Raveena's "Love Overgrown" is a feminine, psychedelic trip through an extraterrestrial garden. In it, Raveena and Salem Mitchell undergo an emotional journey in a pink-tinted world. Baby pink, pastel yellow, and soft blue outfits dominate the beginning of the video, complementing the light colors of the set and props, with bejeweled makeup to match. Both stars later stun in magenta gowns, bringing a new perspective to one of 2022's most popular colors. Set against a magnificent display of cinematic glory, the highly detailed outfits of "Love Overgrown" help to push the video's romantic storyline. — Valentina Doukeris, Fashion & Beauty Writer
RAMENGVRL ft. Yung Raja – "Ming Ling"
In their single "Ming Ling," RAMENGVRL and Yung Raja show the world that when you think of the rising Asian hip-hop scene, you shouldn't forget about the talents from Southeast Asia. Titled after a stereotypical Chinese name, and with lyrics comprising of four languages, "Ming Ling" is an "obvious ode to Asia." The music video is set in an old noodle shop with cinematography that reminds of old Hong Kong movies. As the video unfolds, the rappers are decked out in crisp suit and tie get-ups, like characters of an old-school Asian movie — RAMENGVRL even sports pigtail buns, in a nod to another Asian stereotype. Meanwhile, in the performance scene, Yung Raja rocks a two-piece coral outfit with tassel details, giving a flashy contrast to his teal hair, while RAMENGVRL sports a textured Chet-Lo orange top with bleached blue jeans. Both rappers go bold, proving beyond any doubt that Southeast Asians can be just as fly as fellow rappers from other parts of the world. — Vanya Harapan, Fashion & Beauty Writer
MATCHA (มัจฉา) – "Complicated"
In recent years, Thai-Swiss star MATCHA (Matcha Mosimann) has carved a name as one of Thailand's most prominent emerging acts. Building up her music catalog, the singer released the reggaeton, dancehall-infused single "COMPLICATED" in September 2022. In a signature move, MATCHA accompanied the song with a galore of high-end looks, from the single cover — where she appeared clad in Jean Paul Gaultier — to the music video. The Thai star turned to brands like Area and Miaou to evoke the early aughts fashion and displayed a plethora of trendy items such as corsets, micro skirts, cone bras, and breastplates. Of course, along with the fashionable wardrobe, there were beauty statements and accessories to spare. Taking it to the next level, MATCHA sported metallic makeup, fabulous nail art, and a hairstyle that's reminiscent of Thierry Mugler's catwalks. Becoming a bona fide style icon might not be an easy feat, but for MATCHA, "it ain't so complicated." — Mayra Peralta, Fashion & Beauty Editor
BLACKPINK – "Pink Venom"
Global supergroup BLACKPINK made their long-awaited comeback in August with "Pink Venom." In the fast-paced music video, the quartet explored the year's fashion trends as they reminded viewers of their undeniable grasp of the music and fashion industries. Every eye-catching outfit simultaneously proved BLACKPINK's versatility and reflected the instrumental notes in the song. Jennie and Lisa rapped in 90s hip hop-inspired ensembles when the beat changed in the second verse, while Rosé and Jisoo stunned in equally elegant, starkly contrasting black and white dresses. The sheer range of intricately constructed outfits in the music video made it one of the year's stand-outs. — Valentina Doukeris, Fashion & Beauty Writer
Ten – "Birthday"
In Ten's latest solo, the singer favors avant-garde looks as much as he favors a slow-tempo, mature R&B sound. Talking to Billboard, Ten shared that he personally decided on the styling direction for the single. The looks in "Birthday" were all meant to showcase different sides of him: the chained-up tux, his maturity; the bare-chested cropped suit, his sensuality; and the mesh top with a black veil, his fluidity. Out of all the stunning looks present, the veiled hat and printed sheer top were a stand-out, perfectly encapsulating a balance between the star's distinctive edge and his graceful elegance. — Vanya Harapan, Fashion & Beauty Writer
NewJeans – "Attention"
In just a few months since their debut, ADOR's first girl group, NewJeans has managed to capture the hearts — and minds — of millions. Their first released song, "Attention" is a fitting introduction song for the quintet. Not only has the earworm accumulated over 100 million streams on Spotify, but the accompanying looks have garnered lots of attention too. In a sharp departure from K-pop's conventions, the girls kept their natural hair color, passing the focus on their clothes instead. NewJeans' "Attention" era can be characterized by the effortless cool breezy sports jerseys from Louis Vuitton, the eye-catching Y2K athleisure, and long, swishing hair. Thanks to the guidance of art director, Min Hee Jin, NewJeans has cemented themselves as the new icons of youthful exuberance.
— Hajin Yoo, Fashion & Beauty Writer
Nayeon – "Pop"
TWICE's Nayeon raised high expectations for her solo debut in June 2022. With the self-titled album IM NAYEON, the superstar flaunted her creative chops both musically and stylistically. While the title track "POP!" continued to build up on the feel-good music TWICE is known for, the music video was where Nayeon truly explored her many facets. From the corset trend that thrived during 2022 to the Y2K fashion resurgence that no one can get enough of, the singer took viewers through a fashion journey. But Nayeon not only reflected the playful nature of her first solo release through the slew of popular trends. The singer — and her styling team — also added a personal touch to her high-end wardrobe with upcycled fashion and rather uncomplicated beauty and hairstyle choices. If you equal K-pop to color, fun, and visuals that pop, then the rich styling makes "POP!," the quintessential music video of 2022. — Mayra Peralta, Fashion & Beauty Editor
Red Velvet – "Feel My Rhythm"
Adopting elements from the clothes typically worn by ballerinas, balletcore was one of 2022's biggest trends. Combine it with a touch of 1700s rococo and 1800s impressionism and you get Red Velvet's whimsical, dreamlike video for "Feel My Rhythm," where SM's versatile quintet embodied the sophistication and poise of ballet dancers. In the teasers, each member wore a custom pink and white outfit, complete with ballet flats, soft makeup, and slicked hair-dos. Red Velvet also incorporated Y2K fashion, courtesy of Blumarine, Expired Girls, and Delia's, and regencycore, with Valentino and Dénicheur, into the music video. The gorgeous pastel-colored aesthetic explored in "Feel My Rhythm" was a new avenue for Red Velvet but the group showed that there is no limit to their fashion dynamism. — Valentina Doukeris, Fashion & Beauty Writer
KEY – "Gasoline"
The set design throughout Key's music video for "Gasoline" is a visual treat. His A-game style, however, warranted that he was the main attraction in every frame. Within the first two scenes, the singer embodied power, dressed in a bejeweled two-piece ensemble and an all-black look with a cut-out bodysuit and spiked leather shoulders. But from the fabulous styling, the jaw-dropping birdcage look — where Key sported a skeleton armor over a vinyl bodysuit — became one of the standout moments of the clip. To enrich the avant-garde look, the star paired the outfit with smokey makeup and gold accents. As one can expect from the seasoned artist, the styling never fell behind the powerful proclamation of spirit implicit in the song. Look after look, Key made it clear that he reigns the title of Fashion Icon for a reason. — Vanya Harapan, Fashion & Beauty Writer
NCT 127 – "2 Baddies"
Following a year that served to catapult them to fashion fame, K-pop's ultimate it boys, NCT 127 continued to build their reputation as trendsetters. Just like their 2021 hit "Sticker" — which anticipated the Westerncore craze that soared this year — their music video for "2 Baddies" explored rising trends and spearheaded others that will take flight in 2023. From the racecore ensembles taken from KUSIKOHC's latest collection to the explosion of neon that fitted right in with the rise of neon green, NCT 127 used fashion to assemble a visual masterpiece. Attention to detail, heavy accessorizing, a lot of shirtless moments — that proved that shirtless was truly the new black in 2022 — and a Y2K beauty takeover made "2 Baddies" one of the group's most stylish music videos yet. Keeping it consistent with their previous style exploits, Taeil, Johnny, Yuta, Taeyong, Doyoung, Jaehyun, Jungwoo, Mark, and Haechan pull off the most unorthodox looks with ease. — Mayra Peralta, Fashion & Beauty Editor
(G)-IDLE – "Nxde"
(G)-IDLE challenged the norm with "Nxde," an empowering, feminist single that protests against the over-sexualization and oversimplification of women. In the accompanying music video, the five now-blonde (G)-IDLE members recreated looks worn by Marilyn Monroe, who is often remembered as a sex symbol rather than the multi-dimensional, smart, and talented woman she was. In a direct homage to the icon, Minnie wears a pink velvet dress similar to that Marilyn Monroe wore in Gentlemen Prefer Blondes (1953). Every detail was accounted for, from extravagant jewels to adoring men. Combined with full-fledged flapper outfits straight from the 1920s, (G)-IDLE channeled the glamorous feel of old Hollywood movies to promote a powerful, and impactful message. — Valentina Doukeris, Fashion & Beauty Writer
Rina Sawayama – "This Hell"
Rina Sawayama is one of the most stylish pop stars, always putting out unexpectedly catchy music with stunning visuals to match. For her single "This Hell", the star gave Westerncore a go in an Americana-inspired music video. The video starts off with Rina getting dressed for her old American chapel wedding as she puts on a pair of cowboy boots, and slides on a garter — all in a clean shade of white that matches her veiled wide-brimmed hat. She continues to line dance down the altar with extras seated around, dressed in cowboy get-ups to match. Her second look is a matching head-to-toe red latex paired with a campy bedazzled cowboy hat. A more casual collared crop top with a wrapped skort and another pair of glossy cowboy boots follow up. However, the finale look, consisting of a metallic bandana top and distressed pair of jeans dripping in embellishments, is the real centerpiece of this Wild West extravaganza. — Vanya Harapan, Fashion & Beauty Writer
SB19 – "WYAT"
Time traveling through fashion-defining eras, P-pop Kings SB19 celebrate the power of reconnection in the music video for "WYAT." The quintet arrives first in the '50s, clad in modernized staples of greaser fashion: pompadours, jeans, white tees, and leather jackets. Pablo, Ken, Justin, Stell, and Josh then move on to the '70s to pay homage to disco and glam rock — are Ken's sequined ensemble and red hair a nod to David Bowie's Ziggy Stardust? We want to believe yes. Dressed in flared pants, pointed-collared shirts, and dazzling items, the Pinoy group offers a lesson on how to roller disco before landing in an arcade paradise in the '90s. Moving freely between styles and eras, at their return in 2022, the quintet dons the best of streetwear. As a group recognized for bridging generations with their music, SB19 perfectly pairs up their music video with the main intent of their single: "reconnecting everyone with a song that they can enjoy and groove to." — Mayra Peralta, Fashion & Beauty Editor
LE SSERAFIM – "ANTIFRAGILE"
Following their fearless debut, K-pop powerhouse quintet, LE SSERAFIM returned with another spirited track proclaiming empowerment. The title is "ANTIFRAGILE" and their outfits, emblazoned with fire motifs and dangling with chains, reflect the track's message of prowess; a theme that manifests in short crop tops and low-rise denim that show off the group's physical strength. Toughness notwithstanding, other "ANTIFRAGILE" era looks are softer. Kazuha's ribbon skirt and Chaewon's creamsicle fur hat serve as a visual reminder there is power in femininity too. — Hajin Yoo, Fashion & Beauty Writer
Woozi – "Ruby"
This year, SEVENTEEN's lead producer and vocal team member Woozi explored a new side of himself in his solo release, "Ruby." The fashion in the music video is an ode to the bold and glamorous style one would expect from a rockstar. For instance, the zebra print two-piece suit and the shimmering metallic blouse he wears while shredding his guitar are both looks you'd see on the frontmen of glam rock bands. Meanwhile, the ruffled white blouse and drape-necked red shirt are also nods to the more androgynous and grungier side of a rockstar's wardrobe. However, the real highlight was Woozi sporting the 2021 re-release of the 1996 iconic Gucci velvet tux — fittingly colored in ruby red. With the music video sets designed to look like a cross path of catwalks and the backstage of a runway show, we can clearly tell that "Ruby" was intended to be a subtle tribute to the never-aging influence of rock music in fashion. — Vanya Harapan, Fashion & Beauty Writer
Yuna – Can't Get Over You
Fashion Week front rows, a fabulously trendy wardrobe, and the coolest hijab game make Malaysian singer Yuna, a certified style maven. Further proof of her status as a well-informed fashionista is her music video for "Can't Get Over You." Taking cues from this year's trend book, Yuna crafts outfits that perfectly sum up everything the fashion industry obsessed about in 2022. Biker-inspired pieces by MISBHV nod at the racecore aesthetics, while a full-pink look references the Barbiecore craze that took over the world thanks to Valentino. Yuna also gives viewers a taste of neoncore with a maxi fur coat fashionably styled with leather gloves and cargo pants. When it comes to the popular singer, however, the real standout moments come from her beauty statements and her unconventional take on modest fashion, which includes checkered scarves, large lace head covers, and sequined caps. We frankly can't get over how good Yuna's style is. — Mayra Peralta, Fashion & Beauty Editor
Did you enjoy reading about the best style in Asian stars' music videos? Find out how Asian celebrities have consolidated their influence in the fashion industry here.