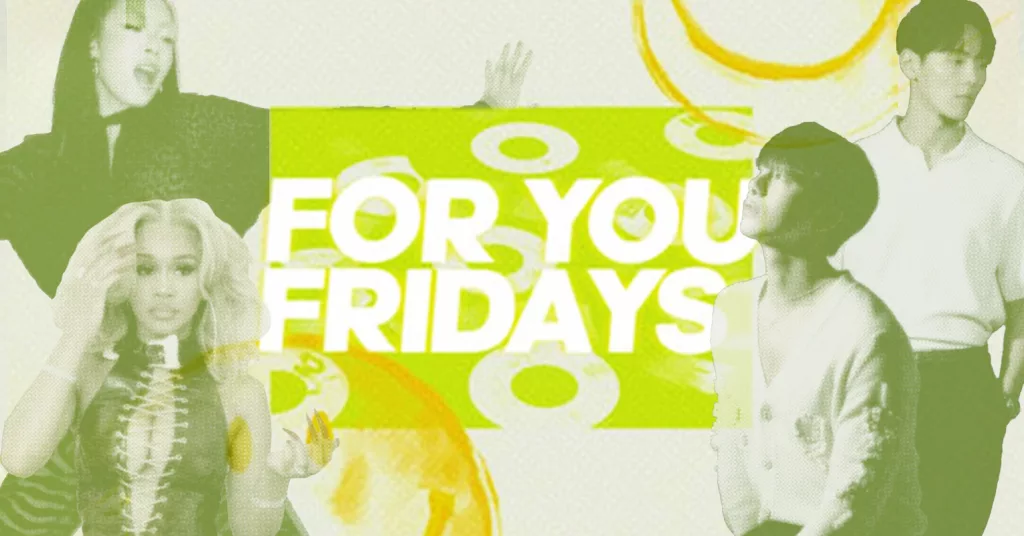 Happy Friday! Another week finished also means brand new music to usher in the weekend. In the latest installment of our new For You Friday series, Team EnVi is here to roundup this week's hottest releases just for you. Oh, and we've got a playlist for you to listen along with too!
"Eve, Psyche & The Bluebeard's wife (Rina Sawayama Remix)" – LE SSERAFIM
Rising K-pop girl group LE SSERAFIM has given us one of Summer '23's most viral hits with "Eve, Psyche & The Bluebeard's Wife." Originally released on their debut studio album, Unforgiven, in May, the song began to pick up traction once the weather warmed up. Millions of listens and an English version later, the group dropped the first remix with BIBI, CAMO, and Mirani, followed right after by a version with American singer-songwriter UPSAHL. Now they're back with the ultimate girl's girl Rina Sawayama for another rendition.
It starts off with a more acoustic and tropical sound (it makes sense, trust us) than its previous versions. The song takes on a different vibe when Sawayama comes on. She gives a shoutout to "all the women that's shaking history up / we're flawless and we're fearless." She references women artists going against the status quo, which undoubtedly includes herself and LE SSERAFIM. After a short verse, Sawayama joins the members in a chorus before the track ends.
LESSERAFIM Socials: IG | TK | YT
Rina Sawayama Socials: IG | TK | YT
"growing up sucks" – Taylor Mecca
NY-based songstress Taylor Mecca's "growing up sucks" is a coming-of-age track that is brilliantly cathartic. Backed by a delicate acoustic guitar melody and amplified by swelling orchestral strings, Mecca sings about the introspective thoughts that come with transitioning into adulthood. She reminisces about her memories spent playing with dolls to owning fake IDs that no longer serve any purpose. Mecca achingly wonders, "Am I insane for holding on until my fingers hurt?"
The hauntingly bittersweet track is the first single off her upcoming EP Sidelines, which navigates similar themes of accepting the growing pains that come with life. Listeners can look forward to more emotionally-fueled songs from Mecca that encompass the trials and tribulations of young adulthood.
"Keep It To Myself" – Sadye
Sadye's latest single, "Keep It To Myself," was described by the alt-pop singer as "…the fuck boy, circus anthem of my dreams." The track was produced by Slush Puppy, who has worked with notable artists such as Leah Kate and Nessa Barrett. Opening with a distorted yet melodic organ, the song quickly slips into a whimsical, upbeat nature with dreamy synths and driving 808 beats.
The chorus bursts to life as Sadye uses her sharp tongue to sarcastically call out the person she was seeing—making it clear that there was no chance of her catching feelings at all. With a confident bite, she sings, "I can keep it to myself / I'll pretend that I don't know you, if and when I see you out." Continuing to push the envelope with her emotionally-fueled lyrics and edgy pop production, Sadye is an alt-pop artist worth watching.
"BIG 7" – Burna Boy
After months of touring, singer-songwriter and producer Burna Boy is back with his highly anticipated release "BIG 7." After previewing a snippet of the song at concerts, such as his sold out Citi Field Stadium concert in New York on July 8, fans have been eagerly awaiting its official release. The Nigerian superstar pays tribute to seven of his closest friends and family, including the late fashion designer Virgil Abloh and rapper Sidhu Moose Wala. The groovy hip-hop song is paired with a bright and captivating music video. It depicts a day in New York City with people in the neighborhood playing basketball, shooting dice, and skating in the park with cameos from rappers RZA and Busta Rhymes.
With the lyrics "Don't like squares in my crew / If I call you my brother, then you're stuck with me," "BIG 7" is the perfect, catchy summer song to vibe to with the one's you'd consider real, lifelong friends. The song is the perfect single to preface Burna Boy's upcoming album I Told Them…, releasing on August 24.
"Man of the House" – Marilyn Hucek
Marilyn Hucek has returned with an instrumentally-enhanced rendition of her emotionally raw single "Man of the House." The acoustic version of the track offers a more stripped-down and vulnerable nature. This brand new rendition accentuates the emotional weight that is carried within the song. Written by Hucek, Lila Holler, and Nate Jawor, the song is meant to resonate with anyone who has had to grow up in the face of hardship.
The sparkly synths lift the track upwards to a climactic chorus where Hucek belts, "I'm the man of the house now / I have something to prove… stepping into your shoes." Alluding to her own personal experience of caring for her father who was battling early onset Alzheimer's, she hopes that the overall message can be one that others find comfort in. Hucek stated in a press release, "This song is based on real experiences, but the emotions behind these experiences are more universal. I hope it can inspire and help anyone who feels the same."
"It's not easy for you" – MISAMO
MINA, SANA, and MOMO of TWICE team up in the Japanese subunit MISAMO. The trio released their debut album Masterpiece featuring the addicting pop song "It's not easy for you." Starting with a captivating guitar riff that remains constant throughout, the track immediately draws listeners in with its darker tone. The members depict a story of someone obsessed with them, unable to be pulled away from their orbit. SANA and MINA sing, "To an infinite loop of feeling lost and thrills / The more you struggle, the more addicted you'll become." MINA, co-writer of the song, shared that the lyrics were inspired by her fans' comments about being obsessed with the K-pop group.
As MINA sings in the pre-chorus, "This charm is a dangerous poison / Once you've found it, you'll be captivated." That is the perfect way to describe "It's not easy for you." Listeners will become obsessed with the tune and find themselves listening to the entire album on repeat.
"Breaking Point Remix (feat. Victoria Monét)" – Leon Thomas
Singer-songwriter and producer Leon Thomas is back with a new take on his hit R&B single "Breaking Point" through a remix featuring R&B star Victoria Monét. The heart-wrenching ballad follows the two Grammy-nominated artists as they acknowledge the vulnerability behind saving a failing relationship. Leon confesses his perspective of the relationship first singing, "It's hard for me to listen / When there's miles and miles of distance / Feel your heart is driftin' but you're right there." In the following verse, Victoria achingly sings "We boilin' 'til the water drifts away into a feelin' / By now we know that we are past the point of healin'." In a beautiful and emotional refrain, the couple sings that they are "Way past the breakin' point / 'Cause I can't turn down the noise… And we're both just fillin' voids."
As co-writers of the ballad, the two tell the narrative of a couple realizing that love is more fragile than they first thought. They come to the heartbreaking conclusion that despite the love they still have for each other and their shared efforts, it's not enough for them to maintain a healthy relationship.
Fans can look forward to more soulful R&B songs from Leon on his upcoming album Electric Dusk to be released on August 18.
Leon Thomas Socials: IG | TK | TW | YT
Victoria Monét Socials: IG | TK | TW | YT
"Love me a Little" – SHOWNU X HYUNGWON
SHOWNU X HYUNGWON debuted as MONSTA X's first subunit with the release of their mini album The Unseen on July 25. The use of a heavy bass, repetitive piano, and electric guitar in the duo's title track "Love Me A Little" builds a sultry and sensual sound throughout the song. The lyrics, co-written by HYUNGWON, add to the seductive feeling of the song as both idols ask the person they're interested in to "love me a little bit." SHOWNU bluntly sings, "Your gaze is getting right into my deep wound / The person that swallowed me whole" showing that despite his unreciprocated feelings, he is still completely captivated by his crush.
The slow burn and brooding feeling are emphasized in the music video. The duo holds emotionless expressions as they sing about their unrequited love. With powerful dance moves and a ravishing performance, the synergy between SHOWNU and HYUNGWON seems unmatched. Listeners can explore more of the duo's various takes on love on their five-track mini album.
"not_me_tho" – Jaboukie
One of the internet's favorite trolls, Jaboukie Young-White—known by the mononym Jaboukie—has released his new single "not_me_tho." Following last month's release, "GONER," this latest track drastically differs from the alt-rock/EDM hybrid sound he kicked off summer with and instead gives us a catchy, lo-fi hip-hop groove. "not_me_tho" features cheeky and in-your-face lyrics in typical Jaboukie fashion.
The chorus is just a repeat of "not me tho / I'm a free ho," funny and relatable enough to scream at the top of your lungs with your friends in the car or at the inevitable end-of-summer barbecue. The song clocks in at just over two and a half minutes, and the short almost unfinished ending combined with the addictive beat lends itself to instant replays and TikTok trends.
Also an accomplished standup comedian and actor, Jaboukie is on the path to conquering music as a true triple threat.
Other new songs on this week's For You Friday playlist include Ashnikko's "Cheerleader," "LOLO" by Yugyeom, C.Y. Ing and myno's "Summer Girl" and many more.
Want more of the latest releases? Follow EnVi Media on Spotify for more curated, themed playlists featuring all your favorite artists, and check out last week's For You Friday here!