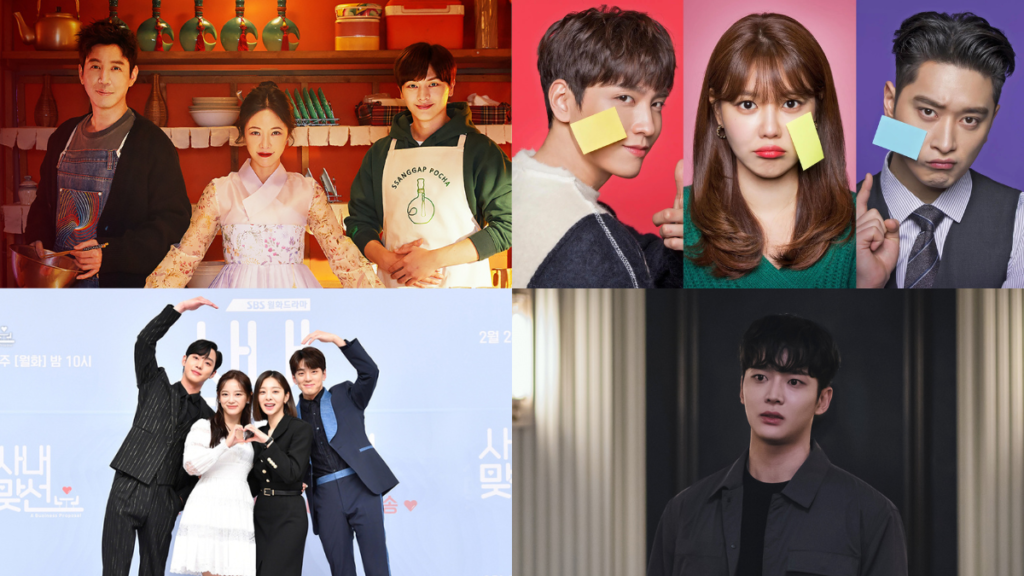 With carefully crafted storylines and space for unlimited imagination, our minds often run wild with web novels and webtoons. Immerse yourself in your favorite webcomics through stunning videography, talented casts, and all the extra special effects in adapted K-dramas! Here are some of EnVi's favorite webtoon-turned K-dramas featuring K-pop idols!
True Beauty (2019)
Have you read True Beauty before on LINE WEBTOON? With a love story inspired by the K-pop entertainment industry, it is reminiscent of the K-pop world that we see today, put in a romantic comedy. The original artist, Yaongyi often posts Instagram stories about her love for SF9 and BTS. Drawing inspiration from her experiences working as a fitting model, she keeps up to date with fashion trends and uses herself as a reference for the main female protagonist, Jugyeong Lim.
The illustrations of male protagonist Lee Su-ho are a spitting comic-version image of ASTRO's Cha Eunwoo. Eunwoo is the perfect K-pop idol to cast in True Beauty (2020) as he acted in My ID Is Gangnam Beauty (2018), which featured a similar storyline to True Beauty. True Beauty follows a girl who uses the power of makeup to transform the way she looks in hopes of not being bullied for being ugly. With the fear of not wanting to be exposed in public, she tries to avoid all situations which would put her carefully-made visage in danger!
Business Proposal (2022)
Featuring Kim Sejeong and Ahn Hyo Seop, Business Proposal sees the main leads in a love contract story cliché. Despite following a plot that has been used many times in K-dramas such as Marriage Contract (2016) and Because This Is My First Life (2017), the two actors bring their own charms to deliver an incredible drama. The female lead, Kim Sejeong, was a former IOI and Gugudan member prior to going solo in 2016 with "꽃길". Acting in successful K-dramas such as The Uncanny Counter (2020) thriller mystery series, Sejeong has played a variety of roles that have given her enough practice to scare off male suitors for her friend in Business Proposal (2022).
Likewise, Ahn Hyo Seop was once an idol trainee, training with GOT7 members as revealed on the show Happy Together. Despite not debuting as an idol, Hyo Seop developed close friendships with GOT7's Jackson as featured in Celebrity Bromance (2016). The two friends shared fun interactions, joking about their trainee days and how JYP forced them to practice hiphop fundamentals in order for them to be considered for debut. From acting in Dr. Romantic 2 (2016) to Abyss (2019), Hyo Seop uses his past experiences and channels his inner stern personality to play his role in Business Proposal. As Kang Tae Moo (Anh Hyo Seop) warms up to the radiant energy of Shin Ha Ri (Kim Sejeong), the pair becomes a lovable duo in the K-drama world!
Tomorrow (2022)
In the mood for a spooky, fun, Halloween-friendly show? Join Rowoon from SF9 in webtoon-based drama to help souls on earth find meaning to life while resolving issues in the past with lingering ghosts on earth. Featuring a familiar grim reaper Lee Soo Hyuk, who also played a grim reaper role in Doom At Your Service (2021), this drama is not to be missed!
Tomorrow starts with an accident, with Choi Jo Woong (Rowoon) falling into a coma after attempting to stop someone from jumping off the Dongjak Bridge. To wake up, he makes a deal with the ruler of Jumadeung. By working with the special unit team to save lives, he wakes up earlier from his coma and gets rid of bad karma collected from his past life, saving him from one of modern mankind's biggest fears: unemployment.
Previously, Rowoon acted in other webtoon-based dramas such as Extraordinary You (2019) and the King's Affection (2021). With an acting career that started just around 2017, Rowoon has surely become a K-pop idol acknowledged for his multi-talents with 3 awards in 2020 alone. Perhaps, Rowoon is the real-life version of a webtoon character!
Mystic Pop-Up Bar (2020)
If you're interested in a fantasy comedy K-drama, this one's for you. Featuring none other than the iconic BTOB member Yook Sungjae, you know that this drama brings laughter! With a magical moveable bar that opens only at night, passersby come in and talk about their lives with the host over drinks. Wol-Ju, played by Sugar member Hwang Jung Eum, serves them drinks and food while trying to provide emotional consultation to her visitors through dream-walking in their memories.
Sungjae is part of the vibrant K-pop boy group BTOB that debuted under Cube Entertainment in 2012. With talented, witty, and extroverted members, Sungjae has undoubtedly been influenced by their behaviors, which has helped him play multiple different roles on screen. In Guardian: The Lonely and Great God (2016), Sungjae showcased his wit as he played Yoo Deok Hwa, often making funny remarks as he lived with the Goblin played by Gong Yoo. Sungjae was incredibly successful in this role, and his performance contributed to the success of the drama at the 10th Korea Drama Festival Awards in 2017. Currently, Sungjae is starring alongside DIA member Jung Chae Yeon in the new webtoon-based drama on Disney+, The Golden Spoon (2022) as Lee Seung-Cheon.
So I Married The Anti-Fan (2021)
For many K-pop fans, being able to marry your bias is the ultimate fantasy. What if this actually happened, but it was for the sake of a show? So I Married an Anti-Fan was previously made into a Chinese film in 2016, featuring EXO member Park Chanyeol and actress Mabel Yuan, before being produced into a full 16-episode romantic comedy K-drama in 2021 with main leads Choi Tae Joon and Sooyoung.
Girls' Generation member Sooyoung plays the female lead – a journalist who loses her job after an accident with Who Joon (Choi Tae Joon) at a party. Jobless, Geun Young (Sooyoung) gets offered to participate in a reality TV show after getting famous for publicly protesting about being fired because of Who Joon. As she faces increasing financial difficulties, Geun Young accepts the offer reluctantly while having a sneaky plan of anonymously revealing Who Joon's true nature on the internet.
From stage to screen, Sooyoung is widely known as a member of Girls' Generation. On top of being an excellent performer, she has acted in a series of K-dramas and films that have prepared her for her roles. Most recently, she can be seen on the Netflix series, Run On (2021) playing the role of Seo Dan Ah, the fierce CEO of a sports agency who is the only child in her family.
Ending Chapter
Although fictional characters are sometimes too good to be true, live actions of webtoons help us visualize these scrumptious storyboarded scenes in full detail. With the popularity of webtoons, manhwas, and comics, the future of K-dramas seems like it'll be keeping us entertained! In the final months of 2022, webtoon-based dramas such as The Sound of Magic (2022), The Law Cafe (2022), and The Golden Spoon (2022) are sure to provide the perfect escape from reality.
Interested in more ACT!ON content? Read our guide to understanding food in K-dramas here!