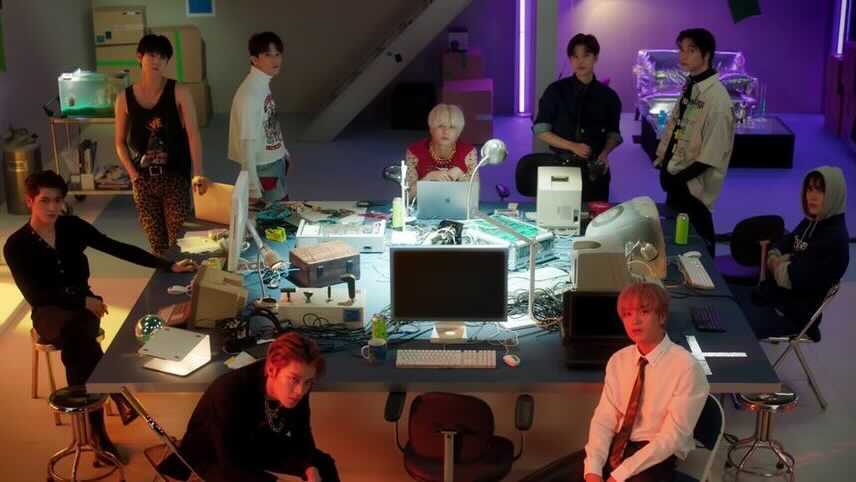 Following their recent NCIT updates, on August 21, K-pop boy band NCT 127 dropped their long-awaited concept teaser for their forthcoming third full-length album. Titled "Who Is STICKER," the teaser features an explosive plot twist. The members turned from everyday college students by day to mysterious, bad boy hackers by night. 
NCT 127 : Who is STICKER#NCT127 #NCT#Who_is_STICKER pic.twitter.com/tyJXtSkcX6

— NCT 127 (@NCTsmtown_127) August 20, 2021
Who is STICKER?
The video is set in the fictional university Neo Culture Institute of Technology. The members are surrounded by computers, further pushing the "coding club" narrative, shown days before on social media.
View this post on Instagram
Each member had their own close-up shot, showing them engaged in activities related to their individual interests. Yuta played FIFA, Johnny made coffee in a petri dish, and Taeyong tended to his aquatic friends. 
Reaching its climax, the video flipped to an alternate state. Kick-started by Jungwoo fiddling with a security camera, the screen glitches and the viewer is transported to a new scene. Neon lights and strobing are sprinkled throughout the second half, keeping the overall "electronic" atmosphere to the "club room." Darker lighting, edgier styling, and bass-heavy music were present.
View this post on Instagram
Social Shenanigans
After the teaser video dropped, NCTzens were stunned yet again as the group's official Instagram account changed their layout. The profile picture and highlight covers transformed from varsity-themed to a Matrix-style, cyberspace layout.
THEY UPDATED THE STORY TO SHOW THEY'VE BEEN HACKED TOO pic.twitter.com/8INxg5VB0z

— tika ? (@dalkomyeoja) August 20, 2021
Some fans linked the concept and video details back to prior comebacks, connecting the dots and diving deeper into the SM Culture Universe. They theorized the choice of concept and how it could connect to their label mates' concepts.
plot twist: black mamba isn't a person but a large organization operating in both worlds with their operatives acting as undercover spies gaining trust of the rebellion and getting ready for AE revolution
jaehyun is their main 'guy in the chair' and hacker pic.twitter.com/0VwGMJOp1p

— taeyeon's wife and jaehyun's manager (@jaechanted_) August 20, 2021
So they can access into different "dreams" through technology? And those dreams are what concepts they show on each of their album? Like EXO are playing games with different concepts (according to Power era?). Sort of like parallel universe? https://t.co/hBEdcmFGyD

— pinkblood (@idontcareforrea) August 20, 2021
STICKER
STI:inSTItude
CKER:haCKER
So in the day,they are normal students but at night they are hackers??? And where is STICK? https://t.co/WkNrP2HO6h

— ᴸ⁻¹⁴⁸⁵♡²³♡¹¹ (@bbh_pjh411) August 20, 2021
thinking so much pic.twitter.com/fBZefiz03S

— brie (@JAEMINSREID) August 20, 2021
Having waited months for NCT 127s comeback, fans proved to be extremely satisfied with the teaser.
THE SWITCH TRANSITION IS KILLING ME pic.twitter.com/IFeR17ayyY

— `Seara ༊` kinda ia ! (@sluvvyxta) August 20, 2021
but the duality… pic.twitter.com/BSOhrwYq3N

— riz ⨾ (@euglees) August 20, 2021
I HAD TO PAUSE AT JOHNNY PART CAUSE I SUDDENLY REMEMBER :

"my dad knew I liked beans, so like he was just playing with the beans. He dropped it, he dropped it on the rock, it slid and then hot water started falling… and then.. coffee." https://t.co/WhovLJin1S

— Niya? (@hyunjinchoa) August 20, 2021
As the first teaser of the new era, it hit the mark and successfully stirred up NCTzens across the world. Fans are anticipating what the group has in store for them in the upcoming weeks. We can't wait to see what other creative content NCT 127 will share next! 
To read more about NCT 127's recent activities, click here! 
Thumbnail courtesy of SM Entertainment.