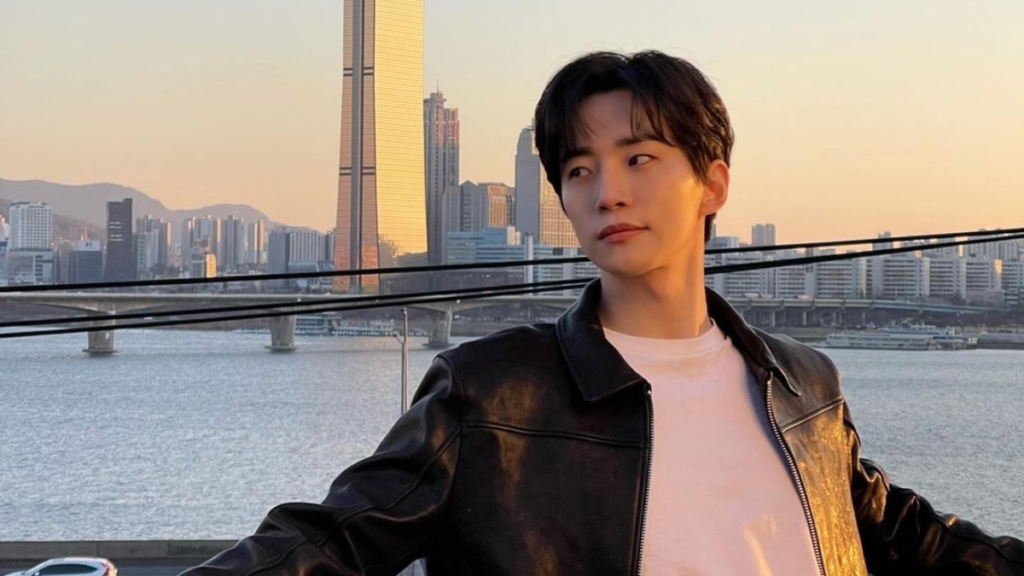 Junho, best known as K-pop boy group 2PM's main vocalist, has been the talk of the town due to his recent accolades. From being nicknamed "Little Rain" in his pre-debut days to receiving the Best Actor award for his most recent performance in The Red Sleeve, Junho's perseverance is reflected in the challenges he's taken on–especially when it comes to acting. For the sixth installment of ACT!ON's Stage to Screen series, EnVi follows Junho's journey from a veteran idol to a stellar actor.
The Start of It All
Born in Seoul, the bustling capital of South Korea, Lee Junho was stardom-ready since his teens. 16-year-old Junho caught the public's attention in 2006 when he won the SBS survival show Superstar Survival. Placing first out of the 6,500 participants, he secured a trainee contract with JYP Entertainment. In 2008, Junho then appeared in Mnet's Hot Blood Men, a documentary following 13 trainees as they prepared to debut as K-pop boy group One Day–which then split into two: 2AM and 2PM.
10 out of 10 with 2PM
2PM officially debuted, six months after Hot Blood Men, with their first single "10 out of 10" and EP Hottest Time of Day. The group's popularity skyrocketed with their second EP 2:00PM Time For Change. 2PM proceeded to put out EPs and studio albums, becoming a sensation in the K-pop industry. Junho proceeded to sweep hearts with his beautiful vocals, dance, and songwriting skills–he is credited with 110 songs by the Korean Music Copyright Association (KOMCA).
In 2011, 2PM released their first Japanese studio album Republic of 2PM. The group continued releasing Japanese albums such as Legend of 2PM. After a series of South Korean concerts in early 2017, 2PM went on hiatus as the members started enlisting for their mandatory military service. The hiatus finally came to an end in 2021 with their long-awaited comeback "Make it," the title track of their 7th album MUST.
Riding Solo
In 2013, Junho debuted as a soloist with the self-produced, composed, and written Japanese mini-album Kimi no Koe. The solo mini-album was an instant success, debuting third on Oricon's daily chart. The well-charting album led up to his first solo tour, Junho 1st Solo Tour Kimi no Koe. After a few more Japanese releases as well as his 2nd Japanese tour, he released his first Korean album One, which contained 11 tracks–Korean versions of his self-composed Japanese tracks. However, his official Korean debut as a soloist was in 2017 with the mini-album Canvas.
Venturing Into the World of Acting
A shoulder injury and surgery did not stop Junho from creating opportunities for himself. Instead of dwelling on the situation, he took the chance to attend a film audition right after his discharge from the hospital. And, so began his journey in the acting world.
Junho's acting debut was on the big screen, in 2013, with Cold Eyes. The action-thriller follows a team of detectives that form a police department's special crime unit. The film carries viewers through the intense battle of wits between the special unit and a gang of robbers. Junho plays the role of Squirrel, a young and ambitious detective. His debut film, with co-stars Sol Kyung Gu, Han Hyo Joo, and Jung Woo Sung, garnered 5.5M cinema admissions during its run. Cold Eyes was also invited to the annual Toronto International Film Festival in 2013.
Junho's performance in his debut role was what landed him his next gig in 2015. At the recommendation of Jeon Do Yeon, Junho was cast as Yool in Memories of the Sword, a martial arts historical film. Starring Lee Byung Hun, Jeon Do Yeon, and Kim Go Eun, the film follows Seol Hee, a young girl played by Kim Go Eun, who sought revenge for the death of her parents. Junho plays the love interest of Seol Hee. In the same year, he also starred in a coming-of-age film Twenty. Acting the role of an aspiring comic artist, alongside co-stars Kim Woo Bin, Kang Ha Neul, Jung So Min, and Lee Yu Bi.
Building His Repertoire With a Variety of Roles
After experiencing the big screen, Junho then delved into the small screen, building experience from a variety of different roles in both film and television.
After Junho's role in Twenty, he takes on the challenge of playing a junior associate in a law firm in 2016's Memory–his first television experience. In the 2017 office comedy drama Good Manager, Junho got recognition for his role as the villainous prosecutor-turned-finance director with the Excellence Award at the 31st KBS Drama Awards. Junho then landed his first lead role, in the same year, with the romantic melodrama Just Between Lovers. He portrayed an emotionally scarred, catastrophe survivor Lee Kang Do who bonds with Ha Moon Soo (Won Jin Ah) over their connected traumas and finds solace in each other. Junho is also seen adorning a chef hat in the 2018 rom-com K-drama Wok of Love. His character, Seo Poong–a talented chef, finds himself cooking at a run-down Chinese restaurant due to unforeseen circumstances.
2019 was a busy year for the idol-actor, starting off by acting in his first Japanese film, Rose and Tulip. Junho portrayed a double role with both Nero, a famous artist, and Dae Won, a naive student with boyish charms. The characters agree to switch places upon meeting each other. Soon after the Japanese film, Junho tackles law again with 2019's courtroom thriller Confession. He plays the role of a young attorney whose sole goal is fighting to clear his father's name. For his last role of the year, he takes on the challenge of portraying a very distinct character. Comedy meets history in the romantic film Gibang Bachelor, also known as Homme Fatale. Junho takes on the role of Heo Saek, the first male gisaeng or courtesan in Joseon.
Back on the small screen after his discharge from mandatory military service in 2021, Junho was most recently seen in The Red Sleeve, a historical romantic K-drama set in the 18th century. Junho played the role of Yi San, a Crown Prince who falls in love with a courtesan. While period dramas are not new to the actor, his performance as Yi San landed him several accolades such as Best Actor, Top Excellence, and Best Couple. His versatility as an actor can be seen with all these different roles under his belt.
Breaking Boundaries and Making History
Earlier this year, Junho was appointed as Kakao Webtoon's new endorser for the Super Webtoon Project, a campaign leading the adaptation of webtoons into dramas and films. The commercial film with Junho for Siren received amazing results, with the webtoon reaching over 1 million views in just 24 hours from the campaign's launch.
Junho is also a part of The Actor is Present, a campaign by the Korean Film Council (KOFIC) aiming to showcase 200 representative Korean actors–half of which are male and half female. KOFIC describes him as a "professional entertainer in a boy's mask."
Throughout his career, Junho has collected a number of awards, both as an idol and an actor. Since receiving his first acting-related award in 2017 for Good Manager, he now has a total of 11 acting award wins. His most recent one, however, is definitely one for the books. On May 6, Lee won the "Best Actor" award at the 58th Baeksang Arts Awards for his role in The Red Sleeve, becoming the first idol-actor to achieve this.
What's Next?
Junho is set to appear alongside Girls' Generation's Yoona in the upcoming rom-com Kingderland, playing the role of Goo Won–a chaebol heir. Since the announcement, fans have been excited to see the two idol-actors and their chemistry on screen.
Fans have been enjoying his performances on stage as well as his impeccable acting. As he carves his path in the Korean film and drama industry, Junho's recent endeavors have been breaking the mold of "idol-actors." We can't wait for what he has in store for us next!
Eager for more ACT!ON content? Check out the installment of our Stage to Screen series with SF9's Rowoon here!