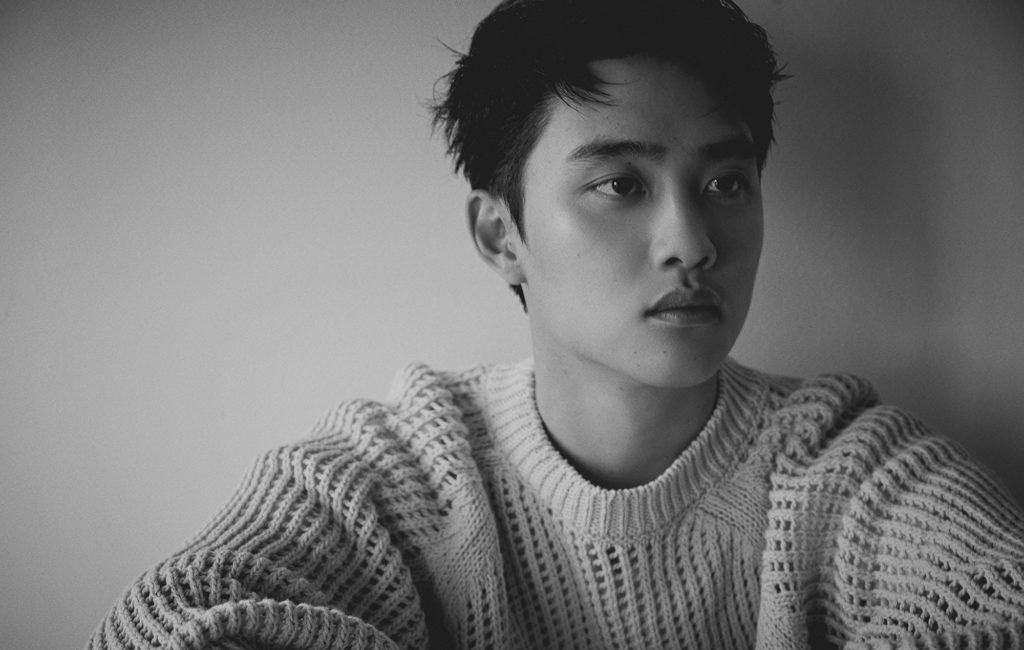 Best known as one of K-pop EXO's main vocalists, Do Kyungsoo, stage name D.O., has proven to be as versatile on-screen as he has been on stage. In ACT!ON's Stage to Screen series, we explore idols who have made acting a serious career path. In our first installment in the series, we'll follow Kyungsoo's evolution from vocalist to leading man.
D.O. the Idol
Born in Goyang, South Korea, the 28-year-old has been singing since his primary school days. After winning a local singing competition in 2010, he auditioned for SM Entertainment and trained for his last two years of high school. Introduced as the eighth member of EXO in 2011, Kyungsoo solidified his position as one of the industry's powerhouse vocalists right from his debut on the teaser track "My Lady." 
Kyungsoo has had his fair share of solo tracks, such as a few OSTs and some SM STATION tracks–including a duet with iconic SM producer Yoo Young Jin. Just after his enlistment, Kyungsoo left fans with the comforting SM STATION track, "괜찮아도 괜찮아 (That's okay)." In January, a live clip of the idol performing the track surprised fans after Kyungsoo returned from his military duty.
His first solo mini-album, Empathy, was released last July and received critical acclaim as it climbed global charts. The success came despite there being no music show or variety show appearances due to his filming schedule.
Kyungsoo the Actor
Diving into the acting world was twofold for Kyungsoo–he has had roles in both drama and film. His appearance as himself in SBS' To The Beautiful You (2012) aside, Kyungsoo made appearances in It's Okay, That's Love (2014) and Hello Monster (2015). However, his first starring role on television came in 2018, in tvN's historical romance 100 Days My Prince. Starring opposite Nam Jihyun (Suspicious Partner, 365: Repeat The Year), Kyungsoo plays Crown Prince Lee Yool, who disappears suddenly for one hundred days. 
Kyungsoo's foray into film began with 2014's Cart, directed by Boo Jiyoung. In September, the film made its world premiere in the City to City: Seoul sidebar of the 2014 Toronto International Film Festival. Following Cart, Kyungsoo starred in four more films: Unforgettable (2016), My Annoying Brother (2016), Room No.7 (2017), and Swing Kids (2018). 
Challenging, Standout Roles
Each role was challenging and unique, but highlighted what Kyungsoo is a standout at–naturalistic acting. In the romantic drama Unforgettable, Kyungsoo is the romantic lead in a 1990s-era coming-of-age romance, with a Jeolla accent to boot. He tackles comedy next with My Annoying Brother, where he plays newly-blind athlete Dooyoung opposite Jo Jongsuk as his estranged older brother. 
Comedy meets thriller in Lee Yongseung's Room No.7–Kyungsoo stars opposite Shin Hakyun as Taejung, a part-time DVD room worker that hides drugs in the titular Room 7. In the historical musical Swing Kids, set in a prison camp during the Korean War, Kyungsoo is a rebellious North Korean soldier who falls in love with tap dancing. To round out his filmography, Kyungsoo adds fantasy to the list with the blockbuster Along with the Gods series, playing Private Won Dongyeon in Kim Yonghwa's gritty film about the afterlife. 
What has set Kyungsoo apart from other idols who move into acting is his choice of roles. Though he hasn't shied away from the genre, his choice of romantic roles strays from the stereotypical. Instead, the warm veneer of 90s nostalgia freshens the age-old story of a first love that Unforgettable recounts. In his first recurring K-drama role in It's Okay, That's Love, Kyungsoo's character suffered from domestic violence–his delicate portrayal of a complex character to capture was well-received. In addition, the drama itself handles the contentious topic of psychiatric disorders that are rife with stigma, diverting from safe slice-of-life romances that popular at the time. He's also moved to animated films, lending his voice to Moongchi in the movie about the adventures of a stray dog in Underdog (2017).
Awards and Accolades
It's clear that acting is one of Kyungsoo's true passions. In 2015, while on KBS' Guerrilla Date with EXO, he expressed his pleasure at being recognized as a rising star in acting and that it was something he was hoping to do seriously. Now, six years later, Kyungsoo's acting chops have continued to be recognized, with nearly 20 award wins for his acting. In addition, he recently took home the "Most Popular Actor" at the 2019 Baeksang Arts Awards for 100 Days My Prince, making that his third Baeksang.
As of March 2021, Kyungsoo features in the Korean Film Council's The Actor Is Present campaign. The campaign, comprised of 100 male and 100 female actors, aims to profile what they call the "200 actors that best represent the present and future of Korean cinema" to the global film industry. 
KOFIC praises Kyungsoo's diverse acting choices, paying particular attention to setting him apart from other "idol-actors." He has shifted the public opinion that idols get by on good looks and personality rather than acting talent. Despite having no formal acting training, Kyungsoo has been consistently praised by actors and directors alike in the media, setting a new standard for what it means to be an "idol-actor." 
What's Next
Fans of the actor can expect new projects from Kyungsoo soon. Filming for Kim Yonghwa's The Moon, a sci-fi set in outer space, just wrapped filming on October 12. The Moon is set to release sometime in 2021.
대한민국 최초 달 탐사 소재!
우주에 홀로 남겨진 남자와
필사적으로 그를 구하려는 지구의 또 다른 남자! 🚀#설경구 #도경수 #김희애 #김용화감독#더문 🌙 #크랭크업 완료! 🎬 pic.twitter.com/34Q9krvVDi

— CJ ENM Movie (@CJENMMOVIE) October 13, 2021
Kyungsoo is also set to star in Secret, a romance about a piano prodigy and the mystery girl he falls for. Secret is a remake of a 2008 Taiwanese film that originally had megastar Jay Chou in the lead role. Filming is still ongoing, and there is no release date yet. 
EXO fans have long been enjoying his performances on screen, and Kyungsoo continues to make waves in the film industry. After successfully carving his path as not just an "idol-actor," we can't wait to see what he does next. 
Looking for more idols on screen? Check out our coverage on NCT's Jaehyun in Bungee Jumping of their Own.
Thumbnail courtesy of SM Entertainment.