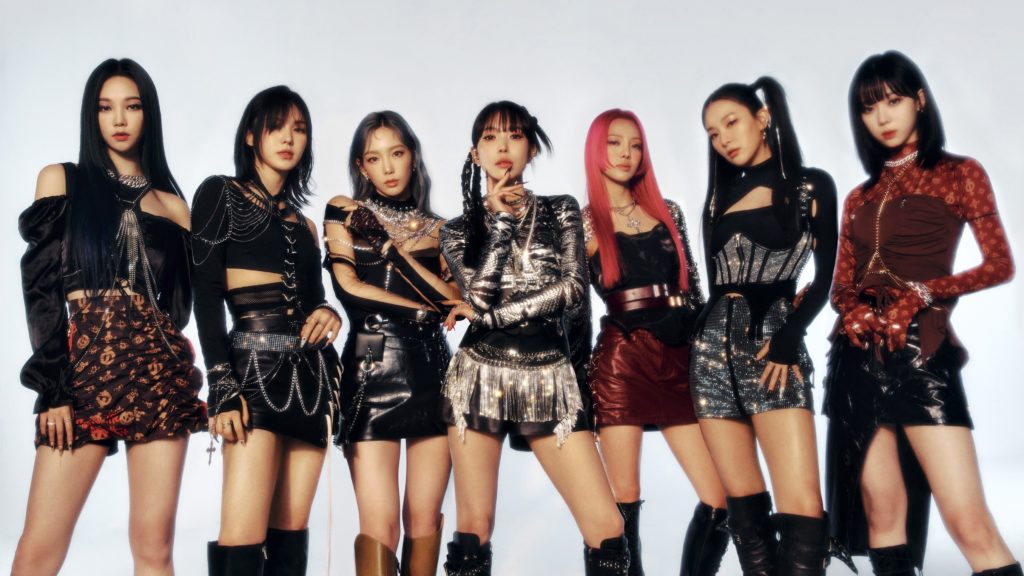 Generations of K-pop come together in SM Entertainment's latest project announcement. Named after BoA's song, Girls on Top (GOT, for short) is a new Avenger-class K-pop supergroup project is in the works. GOT consists of all female artists in SM Entertainment and will debut various units to suit different themes. The first unit is GOT the beat, which is a strong dance performance group. The lineup consists of legendary solo act BoA along with Taeyeon and HYO from Girls Generation, Red Velvet members Wendy and Seulgi, and aespa's WINTER and KARINA.
The official announcement of the group came on December 27 at 12 AM KST. The group's official Twitter account posted a picture of the first seven idols posing in lace, leather and chains. Their first official stage is at SM Entertainment's upcoming company-wide concert, SMTOWN LIVE 2022: SMCU EXPRESS@KWANGYA, on January 1. GOT the beat's debut single is set to drop later that week on January 3.
Since the group's first Twitter post, other official social media accounts have become public. Girls On Top now has TikTok, Instagram and Facebook pages.
Hinting At the Large-scale Artist Collaboration
The possibility for collaborations opened up earlier this month when SM Entertainment announced its upcoming album, 2021 Winter SMTOWN: SMCU EXPRESS, on December 27. It will also host a company-wide collaboration live concert on January 1. Various artist paths crossed on the teaser image for the winter album and concert, including the paths for BoA, Girls Generation, Red Velvet, and aespa.
Earlier this week, fans began suspecting that the intersection at the BOA, Girls Generation, Red Velvet, and aespa line was more than a special stage. Various members teased their new project group throughout the week.
Suspicious Social Media Interactions
Most recently, Seulgi teased her cool, strappy ensemble. She captioned the photo with "I got the beat" and a rockstar hand emoji. Then, Taeyeon responded to the post with explosions.
HYO also teased the collaboration with photos of her tasseled outfit in the snow. The dancer shared that she filmed and recorded a song, with the hashtag "#GOT." Fans now know that "GOT" is the abbreviation for Girls On Top.
Taeyeon shared some of her "Pink Blood" as well. The Girls Generation leader posted a screenshot of her streaming BoA's hit "Girls On Top." BoA reposted the story, calling her "GOT Taengoo," which fans had previously thought was "God."
WINTER also raised fans' suspicions this week when she sent a photo of herself, KARINA, Wendy and Seulgi on LYSN's bubble messenger. In her caption, she stated she was with GOT Seulgi and GOT Wendy. Additionally, at yesterday's 2021 SBS Gayo Daejeon, Seulgi posted a photo of a cookie that WINTER gifted her.
With the sudden influx of cross-generational and SM artist interactions, the Girls On Top subtly prepared fans for the big news.
Who Are The Girls On Top
This combination of Girls On Top features SM Entertainment's female artists from various "generations" of K-pop, lead by BoA, a pioneer in the K-pop scene who has helped in the globalization of the genre. Known for her impeccable dancing, live vocals, and stage presence, BoA celebrated her 20th anniversary last year in 2020 with her Better album.
Although she has kept a low profile in 2021, BoA's new role as a member of Girls On Top shows she has no plans of slowing down. Most recently, she directed aespa's latest single, "Dreams Come True."
2021 is Girls Generation's 14th year together. While they have not had a group release in a few years, the members have made time to meet with fans and work on their own projects. Taeyeon has become a regular cast member in the Korean variety show, Amazing Saturday. In July, released the chart-topping single "Weekend."
In August, HYO returned to music with her "Second" single featuring BIBI. The Girls Generation dancer turned solo artist and DJ had an equally impactful release, landing on multiple global charts.
This year is also a big year for Red Velvet. In August, the five-member group made waves with their latest single, "Queendom," and mini-album of the same name. It was their first full group release since 2019. Earlier this year, Wendy had her solo debut with her Like Water EP, also debuting as a DJ on SBS Youngstreet and actress. Seulgi featured on Wendy's album and has since collaborated with GOT7's Bambam for his latest single. She is also the host of her own show, Seulgi Zip.
A year in, and aespa are following in the steps of their seniors and carving their own path to success. They shot up in popularity following the release of their third single "Next Level" and first mini-album, Savage. While WINTER and KARINA have yet to release their own music, they are also making a name for themselves. WINTER's powerful vocals have resulted in the nickname "Yoo Young Jin's Daughter." KARINA has shared her dance with multiple stages and has even her own show on the History Channel.
Bring on the "Pink Blood"
With such an impactful lineup, it is clear why there is tons of excitement for Girls On Top's upcoming stage and debut single. SM's latest project transcends the generational barriers.
This is SM Entertainment's second supergroup. The first was SuperM, who debuted in 2019. A similarly eclectic lineup, SuperM consists of members from SHINee, EXO, NCT, and WayV.
Be sure to tune into the upcoming 2022 SMTOWN LIVE concert on January 1 for the Girls On Top's first ever stage! The concert will be free and available to stream on both YouTube, BEYOND LIVE, TikTok, and Twitch.
Want more on this Girls On Top lineup? Read up on BOA's legacy over the past 20 years here.
Thumbnail courtesy of SM Entertainment.