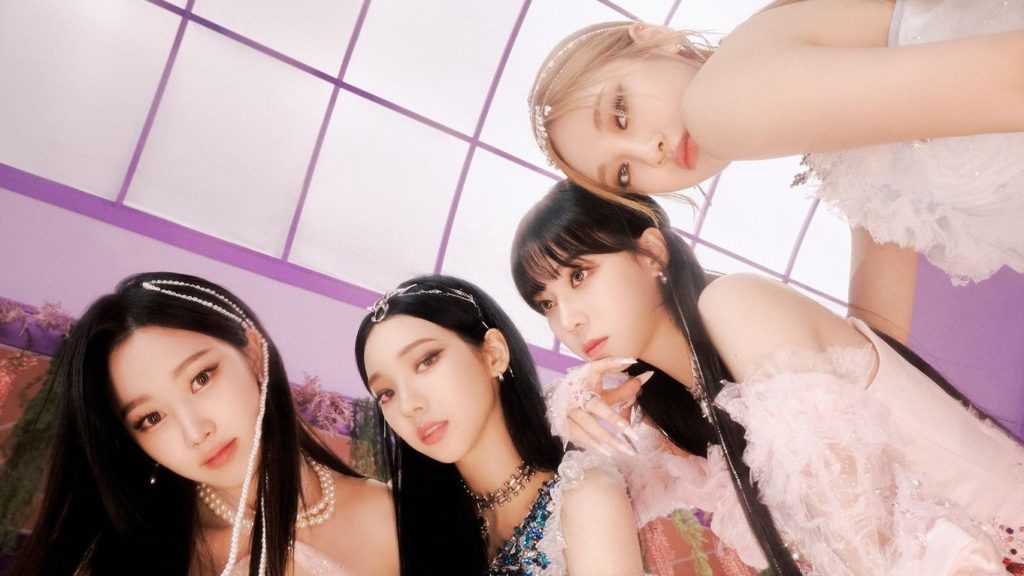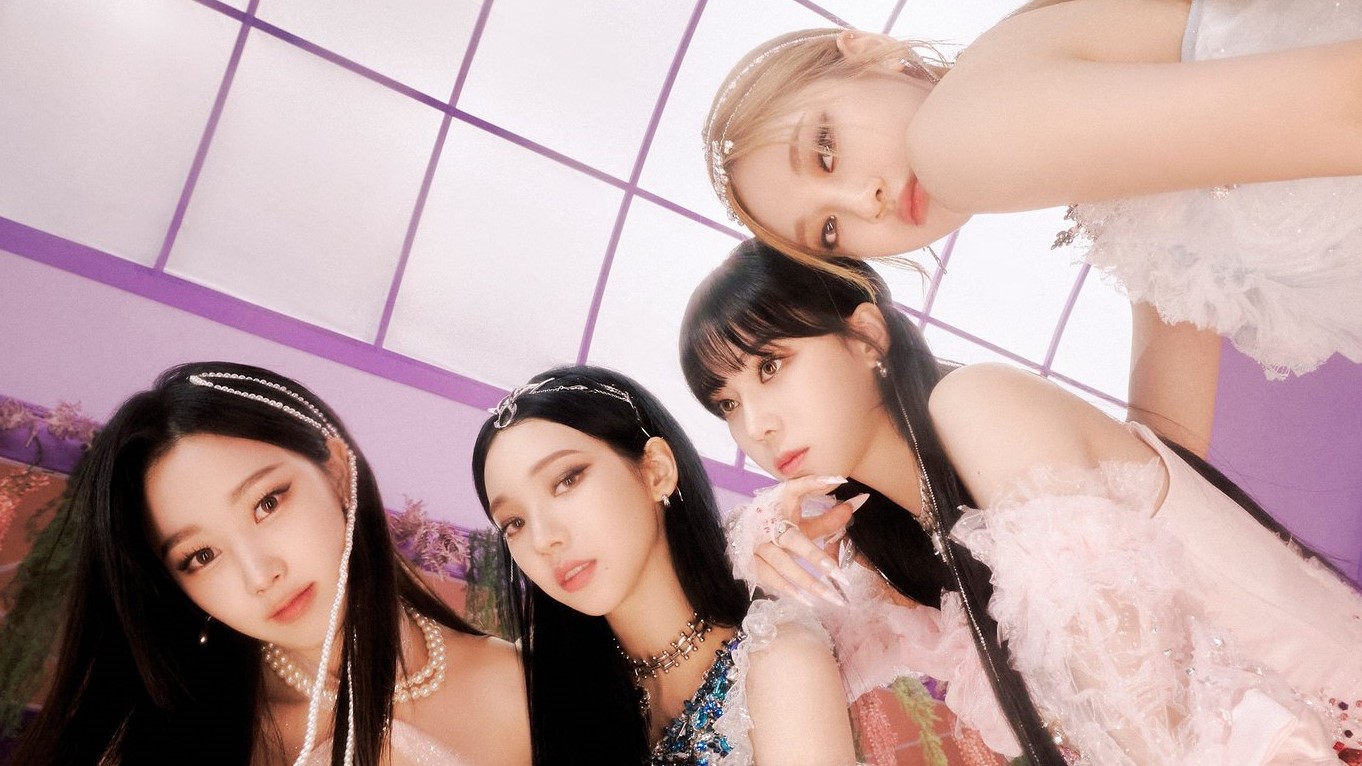 aespa has killed the game all 2021. They soared to new heights with each release, boasting their limitless potential as idols and simultaneously sharing more of their cinematic KWANGYA tales. SM Entertainment's most "Savage" quartet began 2022 strong, returning to the KWANGYA on New Year's Day. On January 1, aespa performed their latest hits on the SMTOWN LIVE 2022: SMCU EXPRESS@KWANGYA stage. 
Opening with a Bang
Once aespa's song was announced, the stage went black; the only things visible were an orchestra in front of a dark forest. The musicians opened aespa's stage with the orchestra version of aespa's debut single, "Black Mamba"- previously played at the 2021 UN Day Concert. It was no coincidence the SMTOWN concert opened with "Black Mamba." aespa's debut marked the start of SM Entertainment's SM Culture Universe project, seeking to create storylines and universes for each artist.
The dramatic rendition of the EDM track built anticipation for aespa's grand entrance, creating a blood-racing atmosphere. aespa entered the scene in familiar "Black Mamba" stage attire: black outfits accented by beige tones, tassels, and other glitter-y embellishments. Not only did their outfits scream royalty and power, but the singers oozed charisma as they shouted, "Hey!" to commence the start of their thrilling performance. The once organic trees became luminescent, and the girls began to dance.
The quartet followed their orchestra version of "Black Mamba" with a brief opening introduction. NINGNING, aespa's main vocalist, was sure to wish MY, their fans, a happy new year. "We hope we can make eye contact and sing for MYs in person, in 2022," Winter shared earnestly.
aespa: technological and ethereal
aespa flaunted their versatility in their performances of their chart-topping songs "Next Level," "Dreams Come True," and "Savage."
SHINee's Minho introduced the "Next Level" stage with a brief video clip searching for naevis, aespa's digital ally, and NINGNING. He drove through a portal that opened up, and the quartet appeared on the platform of the SMCU train station. aespa performed the song as the P.O.S, portal, glitched between a desertscape and grids- presumably both part of the KWANGYA.
Later, the singers took MYs back to 90s with their next song, "Dreams Come True," initially by SM Entertainment's group S.E.S. aespa performed their version, the title track for SMTOWN's 2021 winter album, SMCU EXPRESS.
Adorning their 90s-inspired modern wear, the girls danced before a giant tree screen while the floor filled with fog. The mesmerizing atmosphere of the stage was a perfect match for aespa's enchanting vocals. "Dream Come True" was the first of five stages counting down to the debut of SM Entertainment's next girl group project, Girls On Top.
aespa's last song of the night was their battle anthem, "Savage." The four members wore their princess-like off-white outfits from their SYNK DIVE teasers. They sang and danced to their hit track on the KWANGYA train platform, which contained many bright lights and lines, giving it a digital atmosphere.
Next Level Collaborations
aespa are not the "Next Level" singers for no reason. Each member has unique charms and talent that they each got to present in various collaboration stages throughout the night.
First was NINGNING, who sang alongside SHINee's Onew during the ballad segment of the night. ONEW's deep, clear voice meshed with NINGNING's soulful voice in a performance of "Way."
Following the ballads, GISELLE surprised fans by joining HYO's "Second" stage. The duo displayed their chemistry as GISELLE sing-rapped her way to centerstage, joining HYO in a brief dance number.
More of GISELLE's hip hop charms emerged during her stage with NCT's Taeyong, YangYang, Hendery, and Jeno. The five members performed their song, "ZOO," which came out in SMCU EXPRESS. Keeping up with the boys, GISELLE solidified her status as a main rapper, giving her verses which she penned herself. The performance ended with sass as GISELLE pushed her way past a "fighting" Hendery and Taeyong.
Last and certainly not least was WINTER and KARINA's collaboration project, GOT the beat. Joining BoA, HYO, Taeyeon, Seulgi, and Wendy, the girls debuted in the first of many subunits as part of SM Entertainment's all-female company-wide supergroup. KARINA and WINTER showed that they GOT the beat in their powerful debut stage of "Step Back."
United By The KWANGYA
United by their connection to the KWANGYA and SM Entertainment, aespa joined the rest of the performers for a music video of their company's song, "Hope From KWANGYA." The optimistic track asks for people to join hands and look forward to tomorrow together in spite of the turbulent times. While the song is comforting in the current pandemic, it is also a reminder that many of the artists we like are brought together by their struggles and effort over the years. They are united by their dreams.
The SMTOWN LIVE 2022: SMCU EXPRESS@KWANGYA is one of many collaborations that has assembled some of SM Entertainment's most successful acts. With multiple collaborations throughout the night, it is almost certain that aespa, as well as other artists, will continue to collaborate in the future- inside or outside of the KWANGYA.
What is also certain is that it's the women's time to shine. 2021 was a defining year for aespa, and the members will continue to boast their power and talent as aespa, and potentially Girls On Top, in 2022.
Want more on SMTOWN LIVE 2022? Check out our coverage of Kangta's stage here.