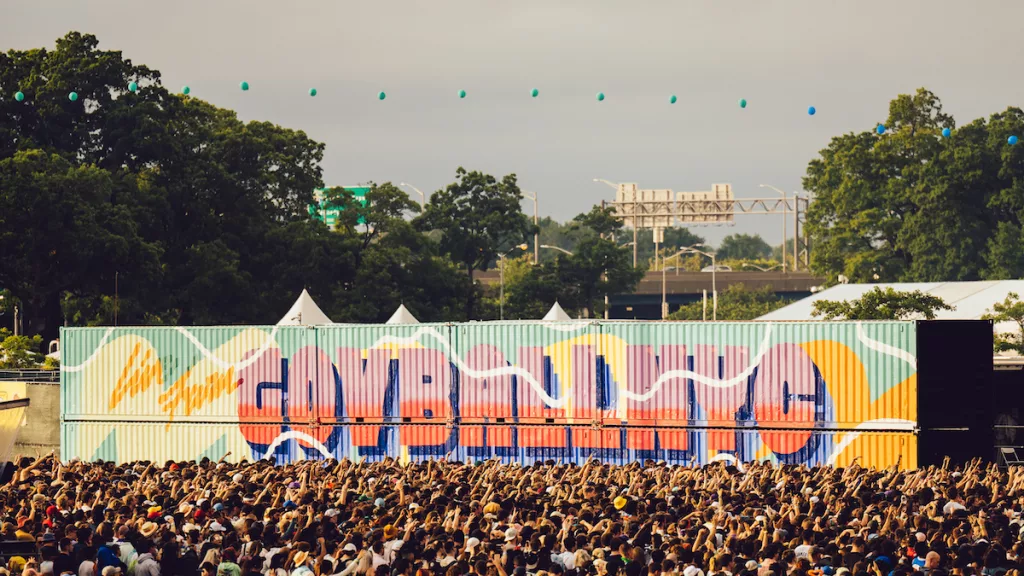 Over the years, Governors Ball has grown to become one of the greatest music festivals in the United States. With a diverse music program, the multi-genre, three-day bash is a mandatory stop for music lovers in New York. This year, in addition to debuting a brand new location, the festival is introducing K-pop into its lineup. EnVi caught up with Jordan Wolowitz, Co-Founder and Partner at Founders Entertainment — responsible for the production of Governors Ball — to discuss the festival's origins, booking K-pop group aespa, and what festival-goers should look forward to.
A Love Letter to New York
Since its launch in 2011, the Governors Ball Music Festival — also known as Gov Ball — has reunited contemporary music icons in New York City. An event as vibrant and diverse as its host city, Gov Ball reflects the melting pot of influences that characterizes New York and its residents.
Jordan Wolowitz, Co-Founder and Partner at Founders Entertainment, explains that the idea came from a group of best friends in their mid-20s — himself included — wishing to "put on a great music festival" for their city. The New York City native and music business expert tells us over a phone call, "Very quickly, the festival grew from a one-day [event] with 20000 attendees to three days with 50000 attendees. For the last 12 years, we've become the music festival for New York."
The commitment to making Gov Ball a cultural touchstone of New York is also evident through the festival's involvement with the city residents. "We grew up in New York so it's important for us to be very inclusive of everyone. We were in Manhattan until 2021 and we've also been in Queens, so obviously it's very important for us to include the residents, the restaurants, and everything else to be part of our show."
World-Class Lineup
Often referred to as one of the top live music events in North America and the world, in 2023, Gov Ball brings together world-class acts including Lizzo, Diplo, Rina Sawayama, Kendrick Lamar, Odesza and aespa. Jordan, who is in charge of curating, negotiating, and booking artists for the show, explains that a lot comes into consideration when deciding the lineup for an event of this kind.
"If you're putting together a very big festival like Governors Ball, you definitely have to take into account — especially with your headliners— what was their last play in New York City, are they selling out arenas, are they selling out stadiums, what are their stream numbers looking like," Jordan says. "Obviously, aespa, Lizzo, Odesza, Lil Uzi, they're all fantastic artists that fit our festival. But if you look down towards the bottom of the lineup poster, I also love booking young artists that a lot of people have not seen yet, or that still play at small clubs in the city. Maybe some ticket buyers are saying 'I've never heard of [these artists],' so they can get to the festival early and find new bands that they love."
Naturally, organizing one of the biggest music festivals in the United States also means procuring representation across music genres. Jordan emphasizes the importance of showcasing a diverse lineup that reflects the contemporary music scene. "One of the best things about festivals like Governors Ball is that no genre is off limits," he says. "In 2021 we had J Balvin, one of the biggest Latin artists in the world, headline Saturday night. The crowd, the energy he brought, it was incredible. Governors Ball will always be super inclusive of all genres of music."
K-pop's Debut at Governors Ball
Accordingly, as music acts from the Asia Pacific continue their global rise, Governors Ball will feature a K-pop act for the first time in this year's edition. Girl group aespa was tapped for this history-making performance and will be present at the second night of the event. Jordan tells EnVi that in his search for "quality K-pop" to add to Gov Ball, he came across aespa thanks to an industry friend. "[…] She said they'd be great for the festival. She has great taste in music and I really trust her point of view, so I started to listen to them and they are fantastic. I thought they'd be such an amazing representation of K-pop at Governors Ball."
Regarding the genre's explosive popularity in the US and the increasing number of music festivals adding South Korean acts to their lineups, Jordan explains that a decisive factor has been witnessing first-hand the quality of K-pop's performances. "I can really only speak for Governor's Ball, but on my end, [what sparked interest] was that I was finally able to go see them. I have friends in the industry, friends at labels, and agencies, and I was encouraged a few years ago to start going to shows or go see some of these acts in arenas around New York, but to get to see it myself with the crowd, with the performances they put on, I [realized that K-pop] is as good as any other genre in terms of the quality of their live show and that's why I appreciated it so much," he says.
Now that Governors Ball is taking K-pop to one of the most-anticipated summer music festivals, expectations are understandably high. Despite making their debut toward the end of 2020, aespa are among the leaders of K-pop's fourth generation. With accolades that include selling over a million albums in one day and a cameo at the 2022 Coachella Music Festival, their performance is highly anticipated. "I put them on our main stage on Saturday night directly, before our headliner," Jordan shares. "Playing at 6:45, 7:45, on a Saturday night on Gov Ball it's one of the best sets of the weekend and that's where aespa is playing. I think not only myself but the festival attendees, in a good way, are going to have very high expectations of what they're gonna see: big production, choreography. It's gonna be great."
A New Location For An Historical Edition
Another first that festival-goers can look forward to is the introduction of Flushing Meadows Corona Park as the home to Governors Ball. The public park is located in the northern part of Queens, New York City, and has previously hosted two World's Fairs. At this new location, attendants will have plenty of space to spread out on grassy lawns as they watch performances and enjoy food and drinks from select vendors — including some of Queens Night Market's favorites.
As Jordan puts it, this is a great opportunity for ticket buyers to enjoy a lineup of world stars in a renewed backdrop. "We are very excited to have Gov Ball in Flushing Meadows Corona Park in Queens. We've been trying for years to have our festival there. It's one of the most famous and most beautiful parks in all of New York City so whether it's people who come for our shows for ten years or people who are coming for the first time, [they] are not only coming to see great music but also a beautiful, famous New York City Park."
Governors Ball will take place between June 9 and June 11 with stars such as Lizzo, Lil Uzi Vert, HAIM, Diplo, Omar Apollo, Kim Petras, Ice Spice, Rina Sawayama, Lauv, Suki Waterhouse, and many more in the program. You can check out the full lineup here and buy your tickets at https://www.governorsballmusicfestival.com/tickets/.
Excited about aespa's first appearance at Governors Ball? Read everything about their third mini-album, MY WORLD, here.