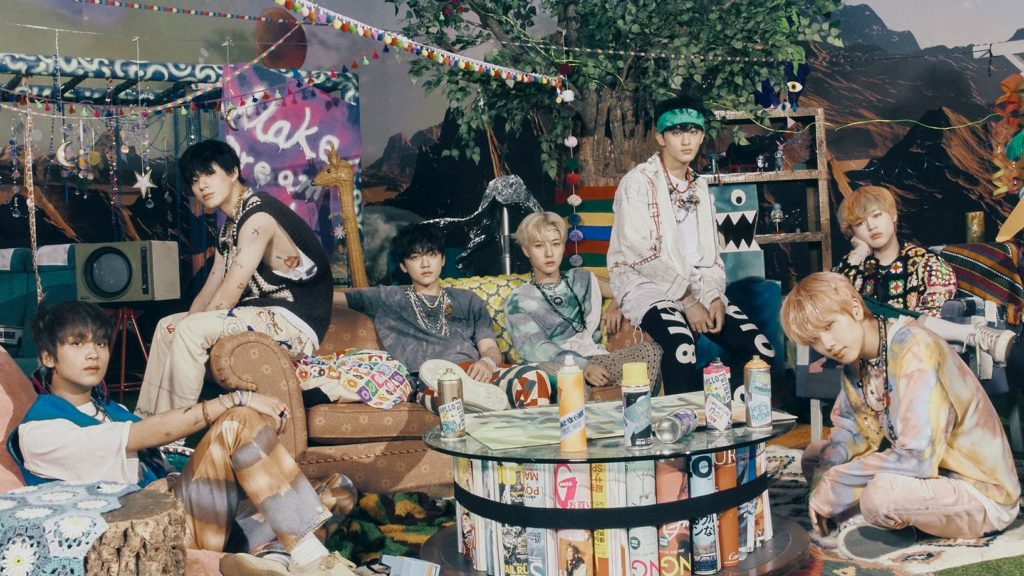 On Monday, June 28, NCT Dream blessed their fans with a full-length music video for their repackaged album title track "Hello Future." In previous weeks, various teaser images for the repackaged album had been released, with the pinnacle of teasers being a short stage held by KBS. Because of these teasers, the music video for "Hello Future" had been highly anticipated and it didn't disappoint, especially in the beauty department. 
Skin Doodles
The music video followed the styling and design aspects found within the teasers, with vibrant colors, and depictions of nature, and jolly cartoon-like images. In accordance with these motifs, the members were seen with fun and graphic temporary tattoos, not just on their faces, but it can also be seen trickling down to their arms and hands too.
Designs included flowers and butterflies, like those found on Jisung and Haechan's necks. These were similar to the images in the album artwork.
View this post on Instagram
View this post on Instagram
Other tattoo designs incorporated graphic lines and arrows, like those found on Jeno's arms, which matched the patterns found in the members' outfits. In a close-up shot of Renjun, a tattoo can be seen on his arm spelling out "hello," referencing the title "Hello Future." 
View this post on Instagram
Alternative Highlighter
Unlike the teaser images, multiple shots within the "Hello Future" music video revealed unusual highlighting details. Jaemin sported chunky glitter swiped across his cheekbone, giving the shot a summery, festive vibe. Renjun dubbed dried flowers on his cheek which was reminiscent of Mark's NCT 2018 look and matched the petals that rained down on members in multiple shots. 
? mark lee smtrue postcard yearbook 2018 pic.twitter.com/I0x6ihDx1I

— ♡ a f n e e (@shiencitizen) April 16, 2021
Happy Hair
Throughout the teasers, the members' hair remained constant, however, within the "Hello Future" music video there were several styles that stood out. Chenle rocked rainbow locks, with sections of his hair differing in pastel shades, whilst the other members' looks changed profusely when their hair was styled with fun, wispy sections sticking up. The changes correspond with the set and costume changes.
Mark wore a green bandanna, similar to Haechan's hair accessory from "Fire Truck" by NCT 127. The paisley-printed scarf held down his curly bangs and added a pop of color, contrasting against his dark hair, which was matched with his previous grey-blue hair. Mark noticeably went without the various tattoos and highlights the other members sported so the bandanna was his stand-out accessory.
View this post on Instagram
Overall, the "Hello Future" music video's beauty styling successfully captured the overall fun-loving vibe of the seven-member group and further drew attention to the uplifting vibe of the song as a whole.  
Read more about NCT Dream's first repackaged album, Hello Future here!
Thumbnail courtesy of SM Entertainment.