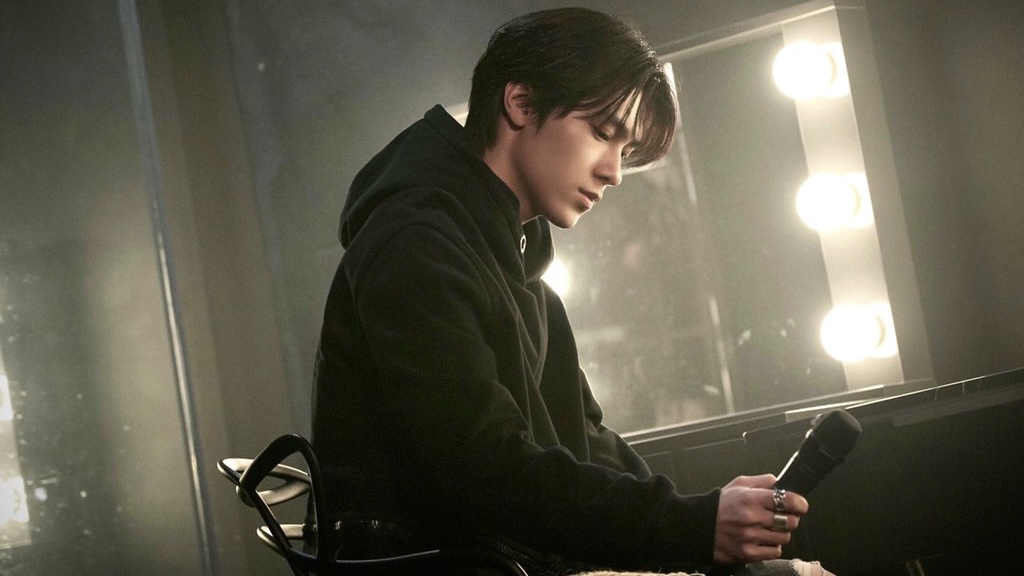 On September 14, WayV released the music video of "WuKong" by rapper, Hendery. This is his first solo take on the group's YouTube series, [PlayV]. The English track has Hendery referring to himself as WuKong "the monkey king," a character in the Chinese mythology of an impatient, short-tempered monkey who finds enlightenment and becomes a benevolent and enlightened being.   
Hendery The K-I-N-G
The track has lyrics by Hendery, was composed by Hendery and Kun, and is a hip-hop heavy rap with a strong message. It opens up with Hendery's deep voice making a statement of what is to come, "Welcome to my kingdom" he raps.  
As all-powerful and capable, Hendery presents himself as a rule breaker. Through the video, viewers see the artist's sharp gaze directed to the camera while rapping into a microphone in an empty room. The lights give him a mysterious aura as he carries on the track. 
View this post on Instagram
Lines like "You don't know me, that's why I'm so mean" may seem bad to an outsider, but in reality, they are different from what they present. Similar to "Only Human," a track from WayV's first full album, Awaken The World, in which he also participated as a writer, Hendery's lyrics talked about the struggles of being an artist under the judging eye of people, of how people saw them in a stage and how different it was once they were alone. 
For "WuKong" the message is a little different. This time he knows that people are watching him and judging him, but he is strong and confident in himself, embracing the looks and putting himself on the top. 
Meet WayV through [PlayV]
WayV's YouTube series "PlayV" was created as a way for the members to portray their talents and musical projects on the group's official youtube channel. The previous release with Xiaojun was the dance video of their track "Good Time" from their mini-album Kick Back.
[PlayV] includes self-made tracks, remixes of their own songs, and both dance and music covers. The channel allows the members creative freedom to do as they wish. A constant on the channel, however, is WayV's leader, Kun, who expresses his passion for creating music. 
View this post on Instagram
For "WuKong" the track was arranged, recorded, and mixed by Kun. The leader's efforts of supporting his fellow teammates never go unnoticed, with Hendery even thanking him on Instagram.
View this post on Instagram
A Surprise For Fans
"WuKong" came as a surprise for WeiZenNi who got to see a bolder and sharper side of Hendery. They took to Twitter to share their thoughts on the new track. 
Finally what we have been waiting for so long has been released! 💗 Don't forget to stream this, let's make Hendery happy. Now drop the # here! pic.twitter.com/9UetG8hxl6

— TEAM HENDERY (@teamhendery) September 14, 2021
The fact that Hendery is so talented and has so much more potential! I wish this was longer. Also, the credits lookin' sexc 😉
Really proud of you both!https://t.co/QlCT4OSSXm pic.twitter.com/fvVxeDIzh7

— kun baobei ☁️ KUNRA!!! (@nuoyingksss) September 14, 2021
hendery talented beautiful amazing lovely kind incredible gorgeous… pic.twitter.com/8ZKTfYg0pg

— 🗯 (@xdjclub) September 14, 2021
even his silhouette looks gorgeous😭 pic.twitter.com/PH2r6aZcpn

— DeryCream (ayoko na fls)🌸🧃 (@hendery_sbutler) September 14, 2021
so gorgeous and talented yes hendery! 💖🙌 pic.twitter.com/C3hnsiz906

— hendery folder (@hengfolder) September 14, 2021
Each of the Vision all has individual talent aside from their common talent. They can choreograph, music compose, writing and many more to come. But they never let their talent shine alone, they always work together create a piece of art. Never doubt WayV's teamwork ever 💪 pic.twitter.com/sl5SXWJ1QT

— 👑 A R A 👑 (@thenamesiIove) September 14, 2021
Hendery i hope u know that actually i really happy for you about your new song, i hope you also happy cz u finally can have your own song, Hendery ur great, cool, talented, ur so fuckin wonderfull, im totaly proud of you, ur rapp its so cool, im honestly scream when i see it😆🧡 pic.twitter.com/u01W35Ol15

— 𝕙𝕩𝕔𝕒𝕟𝕪𝕓𝕖𝕖 (@hxcanybee131) September 14, 2021
How can this man be so talented and beautiful at the same time? The world needs to know that!
Hendery as K to the I to the N to the G❤ pic.twitter.com/p0q1ZV4784

— Vodoo (@pea_cheats) September 14, 2021
hendery playv talented king talented amazing gorgeous sexy TALENTED pic.twitter.com/Rye8Lc8Ybp

— amy (@dejunplusdery) September 14, 2021
To listen to the track you can go to Kun's SoundCloud where you can also find other tracks featured on the series. If you want to check more of [PlayV] subscribe to WayV's YouTube channel here.
Want more? Check out our coverage on Xiaojun's [PlayV] here!
Thumbnail courtesy of SM Ent.