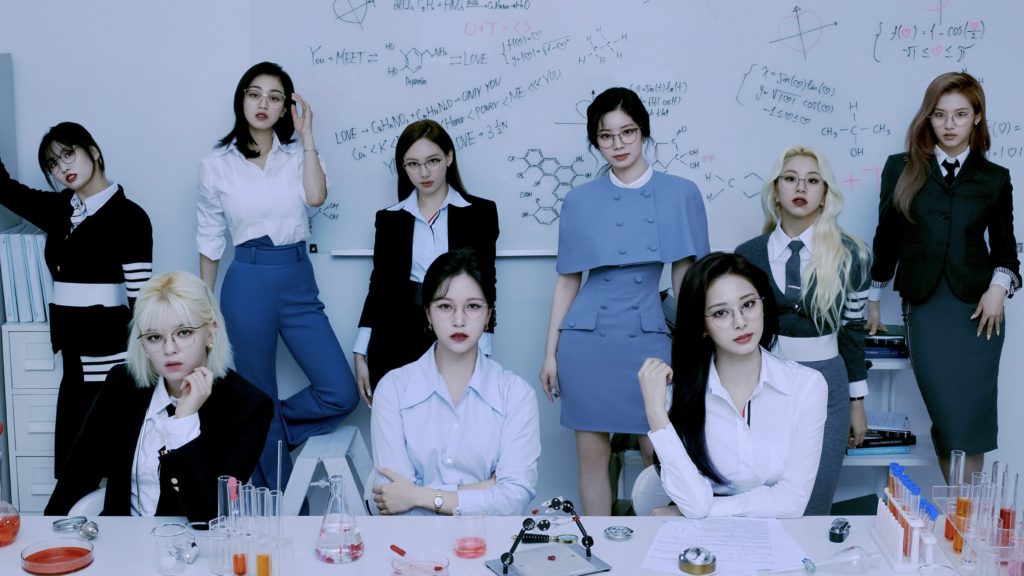 From February 15 to February 27, global girl group TWICE held the American leg of their World Tour. Each date was sold out, and it's no surprise why. The nine-member multinational group had a big year in 2021. TWICE grew their global empire with back-to-back Japanese, Korean, and English hits after joining Republic Records in 2020.
Re-Inventing Their Korean Sound
If you are already familiar with TWICE, then you may remember them for their bubblegum pop days singing cutesy upbeat love songs like "Cheer Up" and "TT." Although the group still has their upbeat pop flair, they began straying away from the overly innocent sound with their 2020 hits "MORE & MORE" and "Can't Stop Me." TWICE returned to Korean audiences in 2021 with their Taste of Love album, continuing on their path of maturity with "Alcohol-Free."  The nine-member group explores a love that makes them feel drunk in the tropical love song.
While the song and album were geared toward Korean audiences, they received global recognition. The lead single charted on Billboard's Global 200 for 8 weeks and earned a top 3 position on Billboard's World Digital Song Sales Chart. It also charted on Gaon's Weekly Music Chart. The Taste of Love album sold over 559,000 copies, and landed on international charts as well. In South Korea, it landed a spot on Gaon's Weekly Album Chart at 2 and Gaon's Annual Album Chart at 24. The mini-album peaked on the Billboard 200 Chart at 6 and remained on the top 200 for three weeks. It also reached number 1 on the Top Album Sales Chart. TWICE's EP also charted in other countries such as Japan, Belgium, and Finland.
TWICE's Japanese Releases
TWICE began their 2021 musical year in April. Their first release was the Japanese single "Kura Kura" with an EP of the same name, and was later added to their Perfect World album. The single landed a spot on Japan's Oricon Weekly and Annual charts, and has gold certification.
Next was their "Perfect World" single in June, released ahead of their album in July. The rock-infused song is a post-breakup urging a former lover to "get lost." Similar to "Kura Kura,"  "Perfect World" received gold certification and chart on Oricon's and Billboard Japan's Weekly charts.
TWICE culminated 2021 with "Doughnut" in December. The slow R&B song was an admission from the singers that their heart has a hole shaped like their lover. It was the perfect song for the winter season.
A Grand American Debut
Ahead of their official US debut, TWICE appeared on American television. They performed "Cry For Me" on The Kelly Clarkson Show and "Alcohol-Free" on The Ellen DeGeneres Show.
Not new to American audiences, TWICE then made their United States musical debut with their pre-release single "The Feels" in October. The all-English song is a funky love confession from TWICE. The song's dance was received well for it's fun grooves, and trended on TikTok thanks to the #getthefeelswithtwice challenge with over 300 million views. TWICE performed the hit on The Tonight Show with Jimmy Fallon.
Not just an internet sensation, TWICE received numerous rankings on global charts for their single. In the US alone, it appeared on the Global 200, Billboard Hot 100, and the Mainstream Top 40 Airplay charts. However, "The Feels" also ranked in the United Kingdom, Japan, South Korea, and other countries.
In November, TWICE followed up their single with their Formula of Love: O+T=<3 album lead by "Scientist," which was released in both South Korea and the United States. The girl group sold over 630,000 copies of their album on Gaon, 394,000 on Hanteo, and 58,000 in the United States. Further proving their dominion over the international music scene, this album made it on the Billboard 200 for 8 weeks, the World Albums Chart, Gaon Top Albums, Oricon Top 50, and more. Similarly, the lead track also charted globally. TWICE also won Song of the Year (November) at the Gaon Chart Music Awards with "Scientist."
Solidifying Their Status As A Global Girl Group
Even though artistry and reach are not determined by numbers and chart rankings, there is no denying TWICE's international empire. The group released hit after hit in 2021, and enamored fans with a new take on their upbeat pop style each release. With a strong 2021, TWICE will certainly continue down this path to superstardom in 2022.
Want more on women in music? Read up on our piece on rising girl group aespa's concept here.