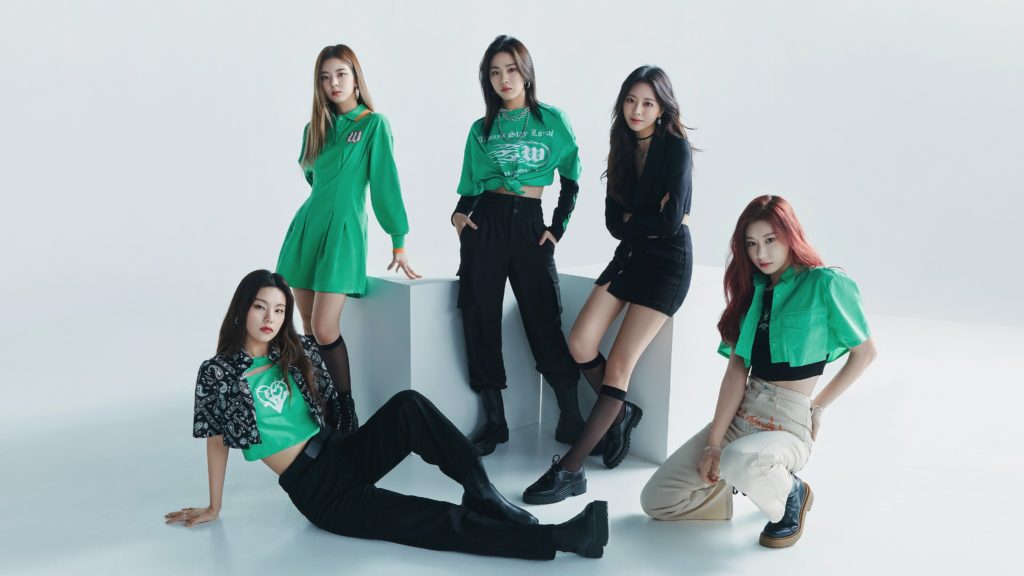 Global K-pop girl group ITZY is the latest face for global Swedish fashion brand H&M's Spring/Summer 2022 campaign. The collection, titled "H&M with ITZY" was revealed on the group's Twitter and the brand's country-specific websites for Japan and South Korea on March 10. The pieces will be a part of their DIVIDED collection for a limited time.
WANNABE Green With ITZY
The surprise announcement came first on March 7 on H&M Japan's official Twitter page. The brand uploaded a short video featuring closeups of green and black ensembles. Although their faces were not visible, fans of ITZY were quick to speculate that it was members RYUJIN, YEJI, YUNA, LIA, and CHAERYEONG.
The DIVIDED line usually features clothing considered trendy and encompasses a variety of color and pattern choices. The line is aimed at consumers in their teens and early 20s. The modern designs of dresses, crop-tops, and cargo pants are in tune with ITZY's cool and comfortable style. The resulting collection has two themes: "DANCE PRACTICE LOOK," featuring oversized clothing to lend comfortability with a strong statement, and "OFF DAY LOOK," showing casual, everyday wear with a feminine touch. For Japanese MIDZY, ITZY's fans, the retailer also offers premium shopping opportunities across six locations nationwide in Japan. The designs are inspired by streetwear and centered around a saturated green color. It has been a long-time contender in Spring/Summer collections on runways and is expected to stay at the top this season as well.
The H&M collaboration is ITZY's second project this year, preceded by their collaboration for a video series with Pokémon. Following NiziU's (a Japanese girl group under JYP Entertainment) brand endorsement with H&M last year, ITZY's subsequent endorsement is an energetic step forward that showcases their power and presence as a global group. This is the group's second collaboration with a clothing brand having represented Burberry in various magazine shoots before.
The MZ Generation's Representative
In their announcement, H&M described ITZY as the MZ Generation's representative. The Korean term refers to the grouping of Millennials and Generation Z, who are the new target group for many brands.
ITZY's relevance in being termed the face of this group is backed by their commercial success on the global forefront. They have established a strong social media presence, with 15.4 million followers on Instagram, 4.6 million followers on Twitter, and 6.9 million followers on TikTok. Their recognized international presence comes with being the global spokesmodel for cosmetics-brand Maybelline and securing a partnership with sportswear manufacturer Adidas. On the music front, they have a certified double-platinum record for their first full album Crazy In Love. ITZY's other EPs, Guess Who and Not Shy, have also been certified platinum.
By the end of 2021, only three years since their debut, they had claimed the title of a 'million-seller' group. They were also the first 4th generation K-pop girl group to rank 11 on Billboard 200. In addition, the group made their successful Japanese debut last year under Warner Japan. Their strong resonance and likeability with younger audience groups make them ideal representatives for this H&M campaign.
The announcement also comes in tandem with the individual teasers for their first single, 'Voltage,' set to release in Japan on April 6.
MIDZY Show Support
Following the initial announcement, MIDZY poured their support for the group online. While some were hoping that the retailer would make the collection available worldwide, others praised the group for consistently landing deals with some of the biggest brands.
The collection is expected to go live on March 24 on the official website as well as retail outlets in Japan, South Korea, and Taiwan. To keep up with the latest teasers, campaign videos, and behind-the-scenes, follow ITZY on Twitter, Instagram, and H&M Japan's Twitter.
For more coverage of K-pop stars in the world of fashion, check out our recap of the most notable fashion moments of February 2022 here!