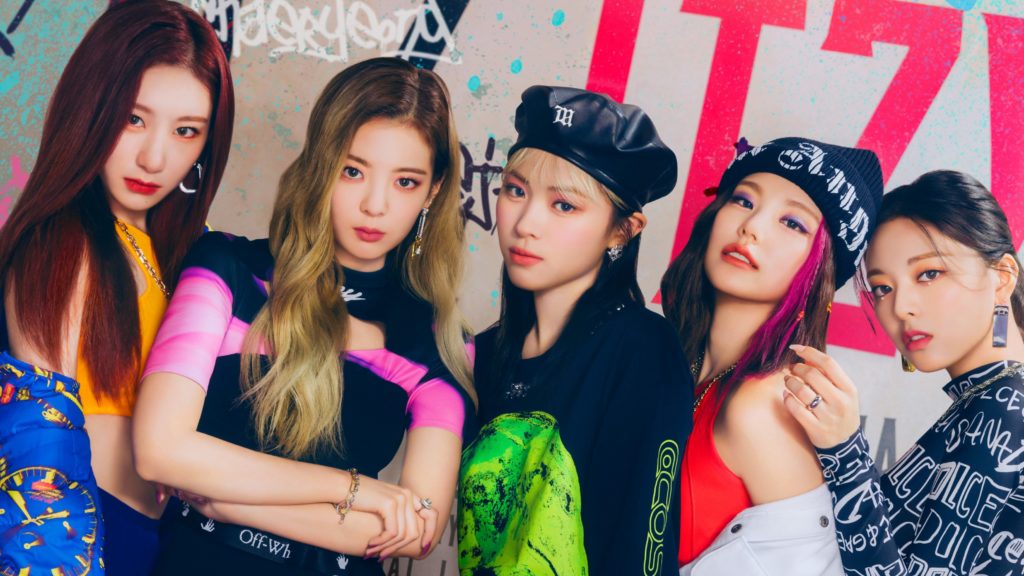 Three years ago, global K-pop group ITZY debuted on February 12, 2019. Since then, the quintet—YUNA, CHAERYEONG, RYUJIN, LIA, and YEJI— released five EPs and their first full-length album. Each release has been different from the last with music in Korean, English, and Japanese. They never fail to show off more of their unique charms as K-pop's spunky and confident gals. On top of establishing the ITZY sound, their work has made waves with large album sales, chart rankings, and social media numbers. A testament to their impact, their latest music milestone came earlier this week. ITZY signed onto the top US label, Republic Records. With a plethora of accomplishments in three years, ITZY has undoubtedly grown a lot with each release. Here is a look into how ITZY has evolved from track to track.
A "DALLA" Debut
ITZY debuted in February 2019 with their single album, IT'z Different— a clever play on their name (ITZY) and lead track "DALLA DALLA" (Different, in English). This name alone is a bold message as the name "ITZY" comes from the Korean verb "to have." Their name implies they have everything you can want in a group. With this level of boldness in their group name and album title, it comes as no surprise that their main single is a striking declaration of self-love.
In "DALLA DALLA," the then-teenage ITZY took over the turbulent EDM beat with a mix of girlish vocals, sing-songy rap, and rhythmic chanting. With lyrics like "I love myself, I am dalla, dalla" and "Bad, bad I'm sorry I am, that's just the way I am," it is hard not to fall for their girl crush charms. Not only do they care for themselves, but they also want others to feel the love. They chant "Keep your chin up" for listeners, reminding them that there is no competition.
"DALLA DALLA" is an empowering anthem everyone needs to hear since there is no point in confining ourselves to other people's standards. Throughout the song, ITZY unapologetically reiterates that they are here and nobody can change that; nobody can change how different they are, which, after watching the music video, I could agree. Who else has a color-changing dog, or their own TSA fashion playground?
With an overall youthful and confident concept, ITZY showed their potential as artists and self-love icons. Their debut was powerful—not just for music. The quintet's debut single ended up with a top two spot on the World Digital Song Sales Chart, K-pop's Hot 100 Chart, and Gaon's Digital Song Chart. The music video for the track currently has 293 million views on YouTube.
A New Take on "ICY"
Following their debut, ITZY returned with more music in July 2019. They released IT'z ICY, leading with "ICY." Another show of confidence, "ICY" serves as a message to ITZY's haters: "They Keep Talkin', I keep walkin'." ITZY's sophomore single continues the confident theme from "DALLA DALLA."
"ICY" is an electro-pop hit that hinges on ITZY's refreshingly youthful image. The heavy dance beats help ITZY show off a powerful dance performance while they boast high pop vocals and more ITZY-esque chant-raps. One call-out moment is CHAERYEONG's smooth line, "I'm icy but I'm fire." This moment is hard-hitting for both the juxtaposition in the lyrics and CHAERYEONG's control over her voice. Another killing point is RYUJIN's deep rap, giving her parents a shoutout for making her how she is. Her tone is a pleasant contrast from ITZY's usually higher pitched lines and a strength ITZY utilizes more now.
To top off the high-energy single, ITZY strutted across Downtown Los Angeles in their vibrant music video, which now has 240 million views. The video for "ICY" is a breath of fresh air since it makes use of open space as opposed to the many greenscreen effects in their debut video. Topped off with colorful animations, ITZY acts rebellious with their intense head-turning aura.
The girl crush icons only saw more success with their first comeback. They debuted at 11 on Billboard's World Album Chart, 12 on Japan's Oricon Album Chart, and 10 on Oricon Digital Albums Chart. Domestically, ITZY made it to the top three on Gaon's Top Album Chart with over 120,000 copies sold. Not only did they cement themselves as K-pop's ICY girls, but ITZY also showed that they were made for international success.
ITZY "WANNABE" Nobody
"WANNABE" serves as the nail in the coffin for ITZY's self-love era—their final reminder that they have a strong sense of self. Released in March 2020, "WANNABE" is a dance-pop song from their IT'z ME EP, which sold over 144,000 copies. The song itself has over 416 million views thanks to its catchy chorus, standout choreography, and empowering storyline.
The song starts with a sound that sounds like a windup doll, which LIA, in the video, has one in her hands and breaks. There are many impactful visual moments that complement the song's message. In line with their sassy personas, a lyric that stands out is "It's none of your business, I do my own business." This happens as LIA walks across a table in her heels and wages a one-man food fight in a fancy dining area.
The song's chorus also stays in mind as they repeat, "I don't wanna be somebody, just wanna be me." Even though this single is in line with previous tracks, it is more mature than "ICY" and "DALLA DALLA." It is less of a brag song and more of a symbol of ITZY's independence and unparalleled confidence. A proper coming-of-age track, if you will.
ITZY also saw commercial success with "WANNABE" like their previous tracks. The single ranked sixth on Gaon's Weekly Digital Chart, fourth on the US World Digital Song Chart, and 22 on New Zealand's Hot Singles Chart. IT'z ME ended up 13 on Oricon's Weekly Album Chart, first on Gaon's Weekly Album Chart, fourth on Gaon's Monthly Chart, and fifth on the US World Albums Chart. Not only did it chart, but RYUJIN's shoulder move went viral.
The "NOT SHY" Girls
Still oozing the girl boss edge, ITZY turned over a new leaf with "NOT SHY." Their first title track about romantic love, "NOT SHY" is nothing short of an ITZY-style confession. They profess their feelings bluntly in their chorus and ask for a confession in return. "Tell me everything because I'm not shy," the girls demand.
While crushes were a new concept for ITZY at the time, they managed to keep it in line with their empowering image. ITZY actively subverted the shy girl stereotype for young girls with a crush as they boasted their "not shy" personalities.
To suit the narrative, their music video has a western theme, where the girls are cowgirl robbers. Perhaps this means they steal hearts, or maybe this concept is a subtle reference to the infamous Bonnie and Clyde tale. Regardless, the quintet show off their charisma as they sing and dance over a catchy whistle tune. Similar to their past songs, their raps have a special quality that is highlighted by RYUJIN's deep voice, YUNA's high tone, and the group's overall unique distinctive tone.
"NOT SHY" is not only a shift in concept for ITZY. It is an era full of new milestones for the girl group. ITZY sold over 206,000 copies of their NOT SHY EP, breaking their record from previous comebacks. The title track has over 184 million views on YouTube. Like their previous releases, ITZY topped Gaon's Album Chart and placed within the top eight for Oricon's Top 50 Album Chart and Billboard's World Album Chart. For the first time, ITZY made it to Billboard's Global 200 and Global 200 Excluding US.
You Won't Guess Who ITZY Are "In The Morning"
Compared to their former comebacks, the contrast between "NOT SHY" to "In The Morning" is starker. Part of GUESS WHO, the mafia-themed title track has a more sleek and alluring atmosphere to it than the outwardly boastful nature of their previous singles. ITZY's fashion in "In The Morning" also has a more mature vibe as they wear tons of leather, suits, and gowns.
Simply put, the theme of the song is dark. The lyrics directly refer to Mafia—a double entendre to the game and the mob. Even so, ITZY still has their youthful appeal in "In The Morning." The girls compare love to a game, and they are set on stealing hearts. Another nod to their playfulness is the fun acrostic poem in the final pre-chorus with the syllables in "mafia."
The badass atmosphere is complete with a video that portrays ITZY as undercover mafiosas. Their choreography also illustrates their theme with finger guns, imaginary handcuffs, and hand slices.
ITZY's first 2021 single, "In The Morning," has garnered over 197 million views in less than a year. The GUESS WHO album sold over 330,000 copies, landing a spot on Gaon's 2021 Top Albums Chart, Oricon's Top 50 Albums Chart, and numerous European charts. Thanks to their comeback success, ITZY debuted on multiple Billboard charts, including Billboard's Artist 100 Chart, Billboard 200 Chart, and the Top Album Sales Chart.
A Mature ITZY Are "LOCO"
In September 2021, ITZY released their latest single "LOCO" as part of their first full-length album. CRAZY IN LOVE is their highest selling album to date with 500,000 copies sold. (Perhaps it was destined for success for sharing a name with Beyoncé's classic hit "Crazy In Love.")
Thanks to the album name, the meaning of "LOCO" is obvious. The girls adopt insane personas as they sing and dance about how crazy their love drives them. The K-pop Harley Quinns exude explosive energy with a mix of two-toned hair colors, pattern-clashing outfits, and bold cuts in their clothing. Not to mention they have many solo scenes that flaunt their visuals—some of which also illustrate a prison break.
Like any ITZY song, there is a balance between rap and singing over a strong beat. Even so, this track has some memorable moments from RYUJJN's husky raps to YEJI's iconic "SOS for this kitty" and LIA's sultry "So dangerous, so so dangerous." Even the lyrics have a greater sense of maturity than their previous songs with subtle but present adult themes.
Thanks to their latest comeback, ITZY finally broke past 1 million cumulative album sales over the past three years. They also reached their highest yet spots on the Billboard Album Sales Chart and Billboard 200 Chart at number one and eleven respectively. Like all of their past works, CRAZY IN LOVE landed a spot on many global charts. Their "LOCO" era is ITZY's most successful comeback to date, further showing that the group is on an upwards trajectory.
What's Next for The Queens of Quirk?
From themes related to self-love to romantic rendezvous, ITZY's music has undeniably evolved over the last three years. While they still possess the same powerful, girl crush spunk and heavy beats, the quintet has grown up. They have a number of accolades under their belt to show for their artistry and increasing global influence. As ITZY says in "ICY": "up, up, up we go…no one can stop us now."
The rising girl group continues to thrive in 2022 even without a comeback. Earlier this month, ITZY was revealed to be Pokemon's ambassadors for their latest Pokemon games. The girl group also gained attention after news broke that they signed onto Republic Records two days ago. With new global conquests, ITZY's next music-related project is sure to continue their growth narrative and break more of their personal records.
Want more on ITZY? Check out our piece on their latest deal with Republic Records here.