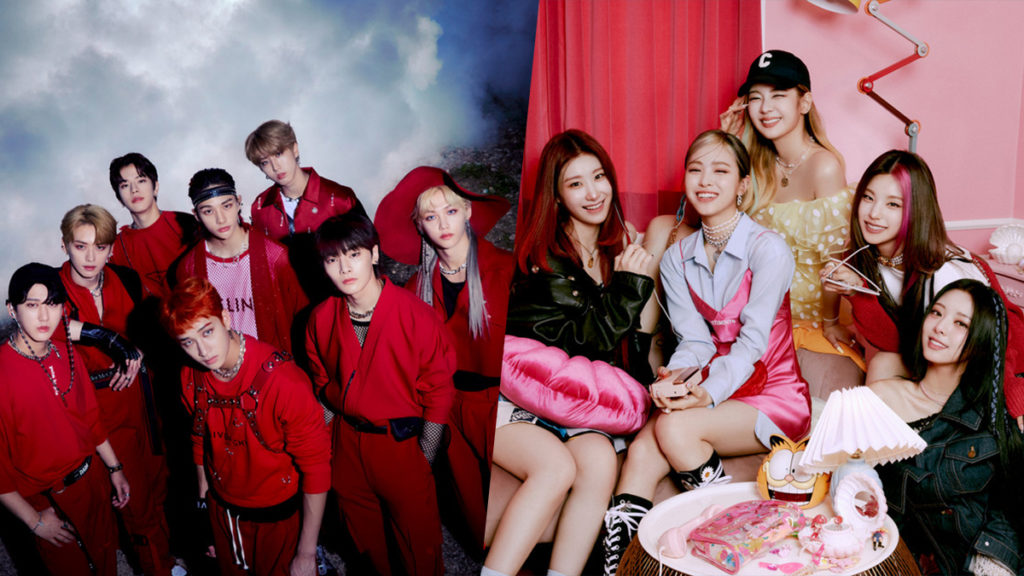 There is big news for two of JYP Entertainment's K-pop acts, ITZY and Stray Kids. The "fourth generation" groups are now part of Republic Records, joining TWICE who signed with the US label in 2020. This action is part of JYP Entertainment's efforts to expand their partnership with Republic Records and attain global expansion.
The Republic Records deal comes as no surprise since both ITZY and Stray Kids have promoted various English language content, including songs. It is clear that JYP Entertainment has had its eyes set on a global market for the two groups since their respective debuts. With TWICE's recent success with their American debut, it natural their junior groups are finally following their lead.
How Stray Kids Have Become Global Artists
Stray Kids debuted with a bang in 2018. Prior to their debut, the boy group released the pre-debut single "Hellevator" in 2017. In January 2018, the group then released their pre-debut EP, Mixtape, which peaked at 2 on the World Albums chart. These projects only helped create noise for their debut. In March 2018, Stray Kids officially debuted with I Am Not, leading with "District 9." Their EP peaked at 5 on Billboard's World Album Chart. Since then, Stray Kids have had a powerful global fanbase. This comes as no surprise since two members hail from Australia and more speak English.
Over the years, Stray Kids have released over 10 EPs, accumulating over 4.33 million album sales. In 2021, alone, the boy group sold over 2.67 million copies after they became "one million sellers" with their NOEASY album. As of December 2021, the album has 1.3 million sales, making it number 8 on Gaon's 2021 Album Chart. Additionally, Stray Kids's gift to fans, Christmas EveL, sold over 743,000 copies. These milestones are huge for the group— they have a hand in the overall production and writing in their albums.
Stray Kids's Streaming Power
Along with hefty sales, Stray Kids have high streams and international chart rankings. They have five songs with over 100 million streams on YouTube. Their best performing music video, "God's Menu," alone has over 302 million views on the platform. They also have 5.8 million monthly listeners on Spotify.
Their streaming power and album sales point to high chart rankings. According to Billboard, Stray Kids have topped the Digital Songs Sales Chart over 26 times. After three years, the boys reached the top spot for the first time with their single, "Mixtape: OH." This is a special milestone since this track marked HYUNJIN's return to the eight member group. After the release of NOEASY, Stray Kids had seven songs on the World Digital Song Sales Chart simultaneously. Their song "Thunderous" was the highest charting in the top 3.
In 2021, Stray Kids also charted at 13 on the Hot Dance/Electronic Songs chart with their "Going Dumb." This project was a collaboration song with Swedish DJ Alesso and Chinese singer CORSAK.
Stray Kids & Social Media
On top of their music accomplishments, Stray Kids also have immense popularity on social media. Stray Kids made it to Twitter's 2021 most mentioned K-pop artist list at number 12. The group has over 7.1 million followers on Twitter, and a presence that even Ryan Reynolds has acknowledged. They have 19..1 million followers million followers on Instagram and 10 million on TikTok.
Introducing ITZY, A Leading Girl Group
It is no secret that the five member girl group have had their sights set on an international fanbase for years– ITZY has released some of their Korean singles in Japanese and English. Their efforts have not been in vain. The girls have numbers to show for their efforts.
Known for their self-love, strong beats, and spunk, ITZY debuted in 2019 with the girl crush single, "DALLA DALLA," or "Different" in English. Since then, the girls have dropped numerous EPs and their first full-length album, Crazy In Love, which acquired over 500,000 sales. Each release has outdone the last, and as of last year, the quintet exceeded one million cumulative album sales.
ITZY Flirt With Global Charts
On top of high sales, ITZY has high streaming numbers and chart positions. All of their title tracks since debut have surpassed 100 million views on YouTube. Their song with the highest views is their 2020 hit, "WANNABE," with over 415 million views. In addition to their YouTube power, ITZY have over 5.6 million monthly listeners on Spotify.
ITZY are also no strangers to Billboard. They have entered the Billboard 200 chart twice, their latest entry for their debut album peaking at 11. They have also entered the top 12 on Billboard's Artist 100 chart and charted on the Global 200 on multiple occasions. Their latest album topped the World Albums Chart and had a top 8 spot on Japan's Oricon chart.
An Undeniable Social Media Presence
In addition to their music, ITZY has an impressive presence on social media. They have 4.4 million followers on Twitter and 14.8 million followers on Instagram.
On TikTok, the singers have 6 million followers and 68 cumulative likes. The group has gone viral on the platform for their unique dances on multiple occasions. Their most popular trend was the #LOCOChallenge after the release of their last single, "LOCO." The challenge was a mix of two point dances, the "Kitty Dance," which has 17.1 million views, and "Crown Dance" with 51.1 million views.
What's Next?
While their future projects remain unknown, both Stray Kids and ITZY have a promising future. They are global sensations in their own right. Most recently, Stray Kids served as the Korean Pavilion's ambassador for the Dubai Expo 2020 and performed before the South Korean President, Moon Jae-In. ITZY, on the other hand, joined forces with Pokémon to promote their latest games.
Certainly, JYP Entertainment's recent partnership with Republic Records will mean that there will be more opportunities for both groups to shine in the global market. After all, ITZY and Stray Kids are now part of 2021's top label.
Want more on JYP Entertainment? Check out our piece on NMIXX's debut announcement and teasers here.