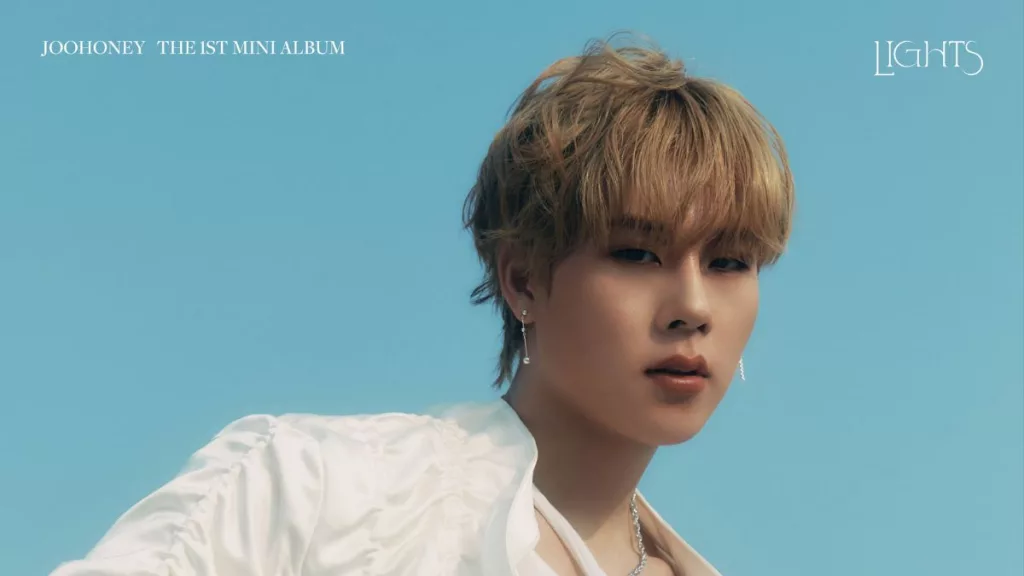 After eight years of promoting as a member of MONSTA X, JOOHONEY is finally making his debut as a solo artist. The group debuted back on the 14th of May 2015 with "Trespass," and from the get-go, JOOHONEY stole everyone's attention for his gritty, one-of-a-kind rap tone. Fast forward to now, the group has grown into becoming a well-respected boy group in the industry with a distinct and beastly identity. Shortly after the group's eighth anniversary, JOOHONEY shines as a soloist with debut album "LIGHTS," featuring six self-written songs including the title track, "FREEDOM."
Visions of Light
To give a clearer glimpse of what's to come from his solo debut, the rapper released three sets of concept photos that showcased his various sides. For the first set, the rapper sets a more sentimental and vulnerable tone as he stands in the midst of a field as the sun sets behind him. Here, JOOHONEY is dressed in an oversized asymmetrical white tee, matching white cargo pants layered with a ruched bomber jacket which he switches for a soft pink cardigan in some frames.
JOOHONEY takes a 180 as he traded that melancholic feeling from the first set of photos for the second one, as this set opts for a more edgy and bold one. Dressed in a net hoodie and bomber with lace-up detailing, the musician poses under sultry red lighting. In another look, he's dressed in distressed denim jeans, tangled in between ropes. Although the rapper is seen in similar hair and makeup as the previous set of photos, he poses with more confidence and attitude, reminding us of the JOOHONEY we often see on stage.
In the last batch of photos, we see the more youthful and fun-loving side of JOOHONEY. Here, he sports various street-style outfits including a tie-dye purple jumper that's paired with several layers of statement jewelry and a retro-style headband. In some photos, props that are often associated with youth make an appearance, such as a skateboard and a video game machine. To emphasize this youthful concept, his makeup was done in a more playful way with bright coral blush and freckles drawn across his cheeks — an array of smiley faces painted atop his cheeks completes the look.
Long-Awaited Freedom
Coming out with a bang, the title track for his solo debut is titled "FREEDOM." It begins with a ballad-like opening as the rapper sings a heartfelt verse about searching for freedom. Right at the end of the opening verse, the beat drops, along with a resonating bass, creating a dynamic tone-shift. The song is powerful with a slow yet heavy hip-hop beat that picks up in its chorus, fittingly paired with JOOHONEY's soulful vocals and blunt rapping.
In its lyrics, the rapper shares the story of his struggles, how he's worked his way up to where he is now. The lyrics connect with listeners about how his earned freedom and success as an artist were never handed to him; instead, he had to fight for his way. But despite the struggles he's had, he was able to overcome them all thanks to his fans, otherwise known as Monbebe. Although the song is intense, it still manages to contain an uplifting and encouraging message as he celebrates his hard-earned freedom.
The music video starts out with a prophetic note, with the rapper walking up a flight of glowing, white stairs in front of a cloudy, blue sky as the wind blows against his flowy white clothes. When he reaches the top of the stairs, he screams out for freedom and in a split-second, the video is cut to a bold, new JOOHONEY going feral inside of a cage, with white-out eyes. This clearly refers to that suffocating sense of confinement that the rapper mentions in his lyrics, and how this led to his feelings of frustration and anger.
The scene is then followed by a more mellow JOOHONEY, one that's crowded with various scrolls of words looming over him, pondering in his reflection in front of a rotating mirror. Perhaps in reference to moments of reflection and doubts the musician faces on his journey. But once he has spent enough time trapped in this melancholy, the rapper charges ahead, leading a crew of dancers in various performance sets. From this point on, we see a confident and triumphant JOOHONEY, who has achieved his freedom and is celebrating it wholeheartedly through his passionate performance.
Voices to Listen
Aside from the title track, the debut album also contains 5 b-sides all written by the rapper himself. The album kicks off with "HYPE ENERGY," a hard-hitting electronic hip-hop track that's dominated by JOOHONEY's signature tough and gritty rap. It's then followed by "Voice," a powerful track with a harmonic vocal choir looped throughout, paired with heavy guitar chords and riffs — a song that would make the perfect soundtrack to a protagonist's rise from the ashes. Next up is "진화 (Evolution)," a track that starts out as a chill R&B song, blending JOOHONEY's soulful vocals with a sleek guitar but is then accompanied by an energetic drum track and chorus guitar, turning it into a pop rock song. In a way, listeners get to hear the song evolve through its layers of instrumentation. He then slows it down with "독백 (Monologue)," accompanied by jazzy instrumentals featuring a light piano and brass that is contrasted with the rapper's deep-tone rap. To close the album off, JOOHONEY gets lighthearted with "Don't Worry, Be Happy" a cheerful acoustic track where the musician showcases his crisp vocals in this feel-good listen.
Overall, the debut clearly showcased how versatile JOOHONEY can be — be it as a rapper, vocalist, or even a songwriter. Though he explores various genres in this album, his distinct individuality shines through from his recognizable voice. With a remarkable solo debut, we can only anticipate what the new soloist has up his sleeve next.
For more updates on MONSTA X, check out EnVi's latest coverage of their year-opener album, "REASONS" here.