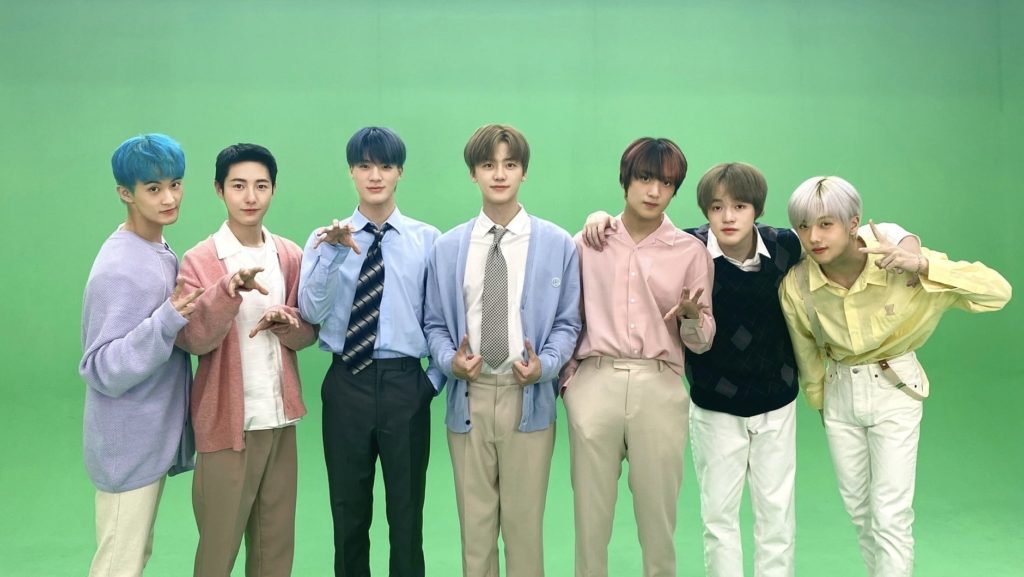 Singers, dancers, and now dinosaur connoisseurs, NCT DREAM wear many caps. The seven-member boy group, who recently released an album in late March, are back in time for Children's Day in South Korea. Returning to pre-historic times, NCT DREAM released a new version of Pinkfong's "Baby T-Rex." They will also release a child-friendly version of their futuristic hit, "Glitch Mode," on May 25.
An Anthem For Baby T-REX
When the septet debuted, all members of NCT DREAM were between 14 and 17 years old— the youngest among NCT units, by average. Five of seven members were also part of The Mickey Mouse Club prior to their debut. Their experiences as young entertainers will always be there, thus making them the perfect people to perform child-friendly songs. Their rendition of Pinkfong's "Baby T-Rex" illustrates this.
The single reinterprets Pinkfong's smash single, "Baby Shark," which took the world by storm a few years ago. Instead of being about the shark family, "Baby T-Rex" introduces its younger audience to the RED REX and his family.
The NCT DREAM version does that, and more. After the septet lists out each T-Rex with unique animations, Renjun, Mark, and Haechan get hunted by the RED REX with Chenle and Jisung in tow. The mix of animation and live-action acting makes for a cute, childish atmosphere, bringing NCT DREAM to the world of RED REX. Throughout the video, the members dance and make big gestures and expressions to suit the mixed media music video. NCT DREAM embodies the dinosaur education theme through their light-colored formalwear that makes them look like professors.
Scratch That, Bring It Back: NCT DREAM's History With Pinkfong
While their first official collaboration came last year with "Hot Sauce," NCT DREAM's Pinkfong promotion precedes 2021. For their 2018 DREAM SHOW, the group performed a "Baby Shark" relay dance. The then youths gifted fans a dance practice of their performance of the Pinkfong children's anthem.
Fast forward to 2021, and the team collaborated with the well-known children's production company for a special Children's Day project. On May 5, they released "Dinosaurs A to Z" alongside Pinkfong— an educational and catchy children's song. The music video features the dream team, who sport matching tan explorer outfits as they dance and sing about dinosaurs, who also coincidentally pair up to each NCT member and unit.
Later in May 2021, the team released their second Pinkfong collaboration singles— two children-sang versions of their 2021 hit "Hot Sauce." The animated NCT DREAM performed before the animated dinosaurs in the Pinkfong verse, illustrating the power and deliciousness of the spicy condiment.
Not to mention, fans also got this timeless video of NCT DREAM dancing with a big red dinosaur, the REDREX himself. (Also, it was among the first renditions of the "sseuka sseuka" dance that was jokingly named after NCT Doyoung's infamous stirring scene.)
Most recently, NCT DREAM and Pinkfong collaborated on "Hot Sauce"-inspired snacks. The NCT-REX and CU food collaboration was topped off with a challenge where fans were asked to submit pictures of their food to get the chance to win NCT DREAM and Pinkfong merch.
On The Glitch Mode
Part of NCT DREAM's second full-length album, "Glitch Mode," is their first comeback of 2022. It is both a celebration of their second year back as a group and a promise to fans that they will continue down their neo path of innovative and flashy music.
Through their second album, NCT DREAM hit a number of career milestones and records. They sold over 2 million copies of their album within a week, becoming among the top-selling groups in Hanteo history. As a direct consequence of their high sales and streams, the group charted on numerous international charts and won prizes at Korean music shows. Though prizes and numbers are not always important, these milestones show NCT DREAM's upwards trajectory and further illustrate their potential as global stars.
The seven-member group is currently working on their repackaged album—the date to be announced. On LYSN's fan messaging platform Bubble, Chenle revealed that he likes it most out of NCT DREAM's title tracks. With that in mind, many fans are anticipating what the new song will sound like. Of course, this is just a regular thing for NCT DREAM—they always push past fans' expectations with refreshingly youthful singles that highlight their skills in new ways.
The music they release next will certainly continue to boast NCT DREAM's power as seven. 

Want more on NCT DREAM's latest activities? Check out our review of their Glitch Mode album here.