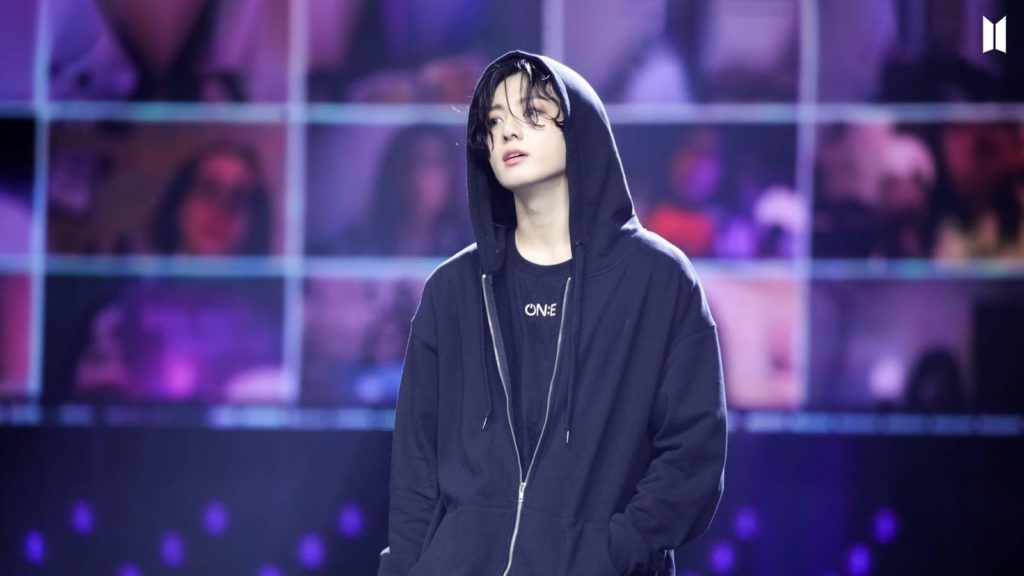 On October 28, BTS member Jungkook dropped a surprise cover of "Falling" by Harry Styles. In the audio-only video, Jungkook showed off his smooth-honey vocals leaving fans stunned. 
Within 27 minutes of the cover dropping, the Youtube video surpassed one million views. Soon after, at the one-hour mark, the video reached over 1.6 million views and over 890k likes. At one point the music video became the top trending music video on Youtube US.    
A Surprise For Everyone
Not only was this cover a surprise for fans but also Jungkook's fellow members. BTS member J-Hope took to Weverse to question when the cover was recorded. 
weverse 211029 @bts_twt

hobi: and when did you record this.. 😇 it's so nice~

(hobi's listening to jungkook's cover of "falling!") https://t.co/TPIBmpNyYY pic.twitter.com/Q5koeXxVwp

— 「 claire ⁷ 」 (@btstranslation7) October 28, 2021
After the initial surprise wore off, it didn't take long for fans to start posting their reactions. 
the adlibs and all layers he puts into the song. JEON JUNGKOOK extremely talented 😭💙 pic.twitter.com/xtq0XVyR9B

— kya 𖥸 | 06/10 (@kingshadowtae) October 28, 2021
me listening to jeon jungkook's cover of "falling" by harry styles: pic.twitter.com/yq3uetcmBI

— ًac ⁷ 🎀 (@vminggukx) October 28, 2021
The emotions, the accent, the English, vocals, the high notes, the voice, the EVERYTHING?!?!?!?!?!?!

NATIONAL VOCALIST JEON JUNGKOOK #JUNGKOOK #JK pic.twitter.com/uG5Qr6ZOyK

— BTS_UPDATES⁷ 💜 (@BTSupdate_7) October 28, 2021
golden maknae golden vocals Jeon Jungkook!!!!! pic.twitter.com/JWuNc3EVYN

— 로메달콤뀨🌙 (slow/busy) (@lovemazejikook) October 28, 2021
Within minutes ARMY trended "JEON JUNGKOOK" worldwide. 
JUNGKOOK DOMINATING WORLDWIDE TRENDS occupying 6 trends

#5 – JEON JUNGKOOK
#7 – JK of BTS
#8 – Original Song
#15 – Falling
#26 – OMG JUNGKOOK pic.twitter.com/5elJ1pAENG

— JUNGKOOK DAILY 𝄞ʲᵏ🦋⁹⁷ (@Daily_JKUpdate) October 28, 2021
Some fans even made artworks to go with the cover. 
falling #jungkook @BTS_twt pic.twitter.com/gFvpTK69Yu

— circa⁷ ✨💜☄️ (@circadraws) October 28, 2021
🐰Falling #libby_art pic.twitter.com/p6xXrWZx1j

— 馬鈴薯化的粒比 (@lilililibby_00) October 28, 2021
A Familiar Feeling
BTS are not ones to be shy of doing covers. BTS has recently done a cover of "I'll Be Missing You" by Puff Daddy, Faith Evans, and Sting. They have also recently covered Coldplay's "Fix You" which led to the collaboration song, "My Universe."
Jungkook has released multiple solo-covers throughout the years on Soundcloud, Youtube, and Twitter, in both English and Korean. Many of his covers have been acknowledged by the artists themselves and have also led to collaborations. Some of his more notable covers being, "Paper Hearts" by Tori Kelly, "Never Not" by Lauv, and "Purpose" by Justin Bieber. 
Want more BTS coverage? Read about "Friends" on the Marvel Soundtrack here!
Thumbnail courtesy of HYBE.