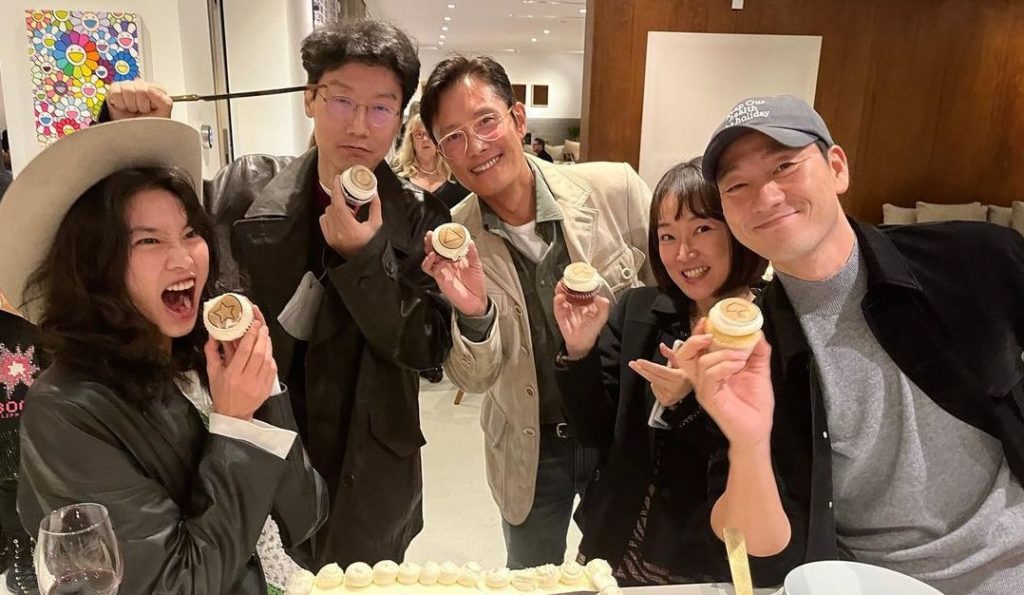 On November 6, the Los Angeles County Museum of Art (LACMA) held its 10th annual Art+Film Gala, welcoming a roster of notable Korean actors and directors. Well-known figures came to the celebration of honoring artists Amy Sherald and Kehinde Wiley, alongside filmmaker Steven Spielberg. Renowned creatives were all in attendance, with familiar Hallyu faces also gracing the LACMA red carpet— the most notable being the cast of the hit Netflix show, Squid Game. This year, the gala raised $5 million. All proceeds will fund the LACMA's work towards providing educational programming and future exhibitions that delve in art and film. Check out the list of K-entertainment stars along with their past and current works in the making below! 
Lee Jung-jae
All eyes were on Lee Jung-jae this year, dressed to the nines in a dapper black-and-white tuxedo. High off of the success of Netflix's Squid Game (2021), the 48-year-old K-actor attended LACMA with his partner and vice chairwoman of Daesang Group, ​​Lim Se-ryung. Aside from his role as Lee Gi-hun, Lee Jung-jae is no stranger to success in Korean cinema. His career, spanning over two decades, has him in film noirs like New World (2013), romances like Il Mare (2000), and fantasy films like the blockbuster Along With The Gods franchise. 
View this post on Instagram
It's also not the K-actor's first time at LACMA — he and Lim have attended the gala together since 2018. Though he has no new projects lined up just yet, that's on purpose. "Now that I'm nearly 50 […] I've decided that I'll only do one job at a time," he told Variety. Nevertheless, fans can expect to see Lee Jung-jae make his way through a few of this year's postponed award shows. He earned a Best Actor nomination at the 26th Chunsa Film Art Awards for the 2020 action film Deliver Us From Evil, and Outstanding Performance in New Series for Squid Game at the 31st Annual Gotham Independent Film Awards. 
Jung Ho-yeon
Jung dressed impeccably for the gala, decked in a black Louis Vuitton gown and jewelry. Captured alongside her castmates, she looked stunning. Jung even found time to snag a quick photo with her close friend, BLACKPINK's Jennie, who was also in attendance. The model-actress has been in the limelight since her extraordinary debut as Kang Sae-byeok, a.k.a. Player 067, in Netflix's Squid Game.
Louis Vuitton's Global House Ambassador, Korean model and actress HoYeon Jung at The 10th Annual LACMA Art + Film Gala pic.twitter.com/o381dwgyRK

— MODELS (@ModelsFacts) November 8, 2021
Her first steps into the entertainment industry were as a budding model at Seoul Fashion Week. She understandably attracted the attention of the likes of Louis Vuitton, Chanel, Vogue, and more powerhouse fashion names. Now that acting's on her list, Jung has become an unstoppable rookie. As of now, the 27-year-old star has no announced shows or films she'll be participating in anytime soon. Until then, fans can rewatch her as a feisty survivalist in Squid Game and in variety content online. 
"Squid Game" Hoyeon Jung and JENNIE (BLACKPINK) have released photos. Both of them are black dresses. The two attended the "LACMA Art + Film Gala" held in LA. .. ..

「#BLACKPINK」Summary: https://t.co/tARWgWGXpq pic.twitter.com/LSVEGRpWTg

— KpopCeleb (@kpopceleb) November 8, 2021
Park Hae-soo 
The Squid Game star was seen smartly dressed, smiling alongside his castmates and fellow colleagues at the event. The actor recently shot into international stardom with his role as Cho Sang-woo, a.k.a. Player 218, on the hit Netflix show. 
LACMA Gala pic.twitter.com/s95nDKwB6Z

— Eric Nam (에릭남) (@ericnamofficial) November 8, 2021
Park started off in the industry 14 years ago, debuting in musical theater. Later, he expanded his career by starring in various films and shows. His lead role as Kim Jehyuk in the highly rated Prison Playbook snagged him the Best New Actor prize at The Seoul Awards in 2018. 
Park's upcoming projects haven't strayed far from the ambiance of the drama that has brought him so much recognition. At the moment, the actor can be currently seen on the small screen in the dark crime-filled K-drama, Chimera. Park will also be returning to the Netflix platform sometime next year. He is set to star in the Korean adaptation of Money Heist and Yacha, a spy action film. 
Jung Woosung
The handsome 48-year-old K-actor looked dapper as he enjoyed the LACMA gala with his fellow colleagues. At the start of the year, Jung was spotted overtaking a lead role in the TV show Delayed Justice. 
via.qflava IG stories
The 10th Annual Art+Film Gala 2021 at @LACMA Los Angeleshttps://t.co/3ecrBh7CzP#LeeJungjae #ParkHaesoo#JungWooSung pic.twitter.com/UsLwRq2yf1

— machi (@machi6221) November 7, 2021
Jung has evolved into a renowned leading man as a star in numerous box office hits. His most notable works include the heartbreaking A Moment to Remember, Steel Rain, Padam Padam, and action packed Athena: Goddess of War. His spectacular accolades and awards prove his well deserved recognition. In 2019, he received the Daesang (Korean's Grand Prize) at the 2019 Baeksang Arts Awards. Fans can expect to see Jung teaming up with Squid Game star and his close friend, Lee Jung-jae. The two will be starring in Lee's directorial debut, Hunt.
Lee Byunghun
Critically-acclaimed K-actor Lee Byunghun joined the cast of Squid Game on the LACMA red carpet in Los Angeles. The 51-year-old possesses a diverse filmography and a laundry list of awards and accolades. Recently, he joined the Netflix global phenomenon as the Front Man. 
Lee Byung Hun at 2021 LACMA Art + Film Gala 2021 📸 pic.twitter.com/cyxLDhNVIi

— 이병헌 (@byunghun_0712) November 8, 2021
While Squid Game may have brought Lee back to western audiences, he's no stranger to Hollywood. As a Hollywood action staple, Lee Byunghun has had roles in big-budget franchises like G.I. Joe: The Rise of Cobra (2009), RED 2 (2013), and Terminator: Genesys (2015). Filmography aside, he was the first South Korean actor to present an award at the Academy Awards. He is also a member of the Academy of Motion Picture Arts and Sciences. 
Fans of Lee Byunghun will have no shortage of content to look out for–he's set to star in the upcoming K-drama Our Blues. He will also be back on the silver screen to star in Concrete Utopia, The Match, and Netflix's I Believe In a Thing Called Love.
Lee Min Ho
One of Korea's long-standing romantic leads, Lee Min Ho is one of the Hallyu wave's bonafide superstars. Following his military discharge in 2019, he took to the small screen once again in his most recent series, The King: Eternal Monarch (2020). 
[#leeminho]
2021 아트+필름 갈라에 참석한 이민호 배우!
현장에서 만난 이민호 배우의 반짝반짝 빛나는 모습을 공개합니다✨#이민호 #2021_Art_Film_Gala pic.twitter.com/9yGnbkWnrW

— Lee Min Ho (@ActorLeeMinHo) November 7, 2021
The 34-year-old is best known as the lead in the 2009 drama Boys Over Flowers, portraying the iconic "bad boy with a heart of gold" Gu Junpyo, which shot him to global stardom. But Lee Min Ho is nothing if not versatile. In 2016, he made his film debut in the action film Gangnam Blues, followed by the multinational co-production Bounty Hunters (2016). His impact on Hallyu cannot be understated — in 2013, he was the first Korean celebrity to perform on China's CCTV Lunar New Year Gala. Since then, he has been an ambassador for various philanthropic and government campaigns. Fans will be able to catch Lee Minho next in Pachinko, an adaptation of a Korean novel, on Apple TV+ soon. 
Hwang Donghyuk
The mastermind behind Squid Game, Hwang Donghyuk was surrounded by his cast of actors on the red carpet. The director has been drawing immense attention this year for creating Netflix's most watched show to date. 
Although most known for Squid Game on an international scale, Hwang has also created a variety of domestically successful and influential films. From the comedic musical Miss Granny (2014) to the action heist movie Collectors (2020), he's invoked all sorts of emotions in his audiences with his works. His 2011 film, Silenced, not only told the very real chilling story of sexual assault of disabled minors but also sparked a change in South Korean legislation with the Dogani Bill being passed a month after the film's release. Viewers' outrage sparked the creation of the bill. It reopened old cases and abolished the statute of limitations on sex crimes against minors and disabled people. 
On the LACMA red carpet, Hwang confirmed that Squid Game would be back for a second season He acknowledges that "it would be crazy if I don't do it (Season 2) knowing the fact that people around the world like it."
COMEBACK SQUID: Hwang Dong-hyuk, the director, creator, writer of #SquidGame says the show will be back with more Gi-hun adventures. pic.twitter.com/uqC1DIdZqy

— AP Entertainment (@APEntertainment) November 9, 2021
Until then, Netflix recently announced the addition of 3 of Hwang's films: Silenced, Miss Granny, and The Fortress being added to the platform and available for US fans to enjoy. 
Youn Yuh-jung
Also in attendance at LACMA was veteran actress Youn Yuh-jung. An accomplished actress in her own right, with accolades that include an Academy Award, a Screen Actors Guild Award, and a British Academy Film Award for her performance in Lee Isaac Chung's Minari (2020). 
With a career spanning five decades, Youn has solidified herself as one of Korea's most beloved actresses, with standout roles in her debut film, Woman of Fire (1971), A Good Lawyer's Wife (2003), and the critically acclaimed family drama Canola (2016), just to name a few. Her American credits are nothing to be scoffed at, either — Minari aside, Youn also appeared in the Wachowski production Sense8. Youn is also set to star in the Apple TV+ production of Pachinko alongside fellow LACMA gala guest Lee Minho. 
Actress Youn Yuh-jung's next film, who won the Academy Awards 2021 for Best Supporting Actress, is a drama based on Lee Min Jin's "Pachinko", Apollo). Check out the book review! #이민진 #파친https://t.co/gxsmmNL6sO

— LTI Korea (@ltikorea) May 1, 2021
This year's London Korean Film Festival has a "special focus" on Youn and her acting career — lucky U.K.-based fans of Korean cinema can catch in-person screenings of six of her greatest hits, including a remaster of Woman of Fire.
Gang Dong-won
Fresh off the success of zombie thriller Peninsula (2020), 40-year-old Gang Dong-won oozed charisma on LACMA's red carpet, dressed head to toe in Louis Vuitton. A model-turned-actor, Gang rose to popularity in his breakout role as Taesung in 2004's Temptation of Wolves, and is also known for his recent roles in A Violent Prosecutor (2018) and Golden Slumber (2018). 
061121 Press | ©Presley Ann/Getty Images 📷🤵#GangDongWon @ 2021 LACMA Art + Film Gala pic.twitter.com/U0lhkVLXns

— 강동원 kang dong won fanpage (@kdwarchive) November 7, 2021
In Peninsula, Gang is in the lead as a former marine, Jungseok. The film is a standalone sequel of cult-classic horror Train to Busan (2016) and was screened in the Panorama section of the 25th Busan International Film Festival in October 2020. Gang is set to make his Hollywood debut in Tsunami LA, directed by Simon West (Tomb Raider, Con Air), though production was halted due to COVID-19. 
Although the pandemic has forced the cancellation of the Gala, LACMA has worked hard in order to successfully hold the event this year. Congratulations on a decade of celebration and appreciation of art and film by the LACMA gala. We can't wait to see next year's! 
Interested in the latest K-drama and movie updates? Read our coverage of NCT's Jaehyun's upcoming drama here.
Thumbnail courtesy of alisonmartino on Instagram.